Last updated on August 3, 2023
Tiny homes are very trendy these days, but sometimes living in such cramped quarters can become frustrating. After a while, your things start to pile up on top of each other and you feel like you've barely got any wiggle room left.
To make your home feel and look bigger, here are seven exclusive tips on how to create the illusion of extra space.
Table of Contents
Paint Your Walls White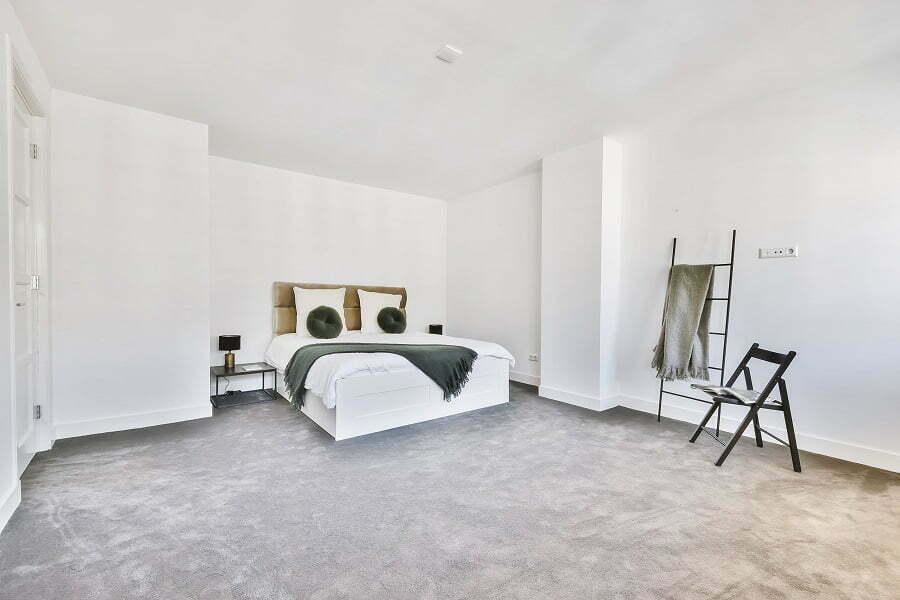 Light-colored walls not only make the room look brighter, but they make everything look wider as well. 
Give your home an airy ambiance by simply painting your walls with a crisp coat of white. This also allows you to make the most of the natural light that comes in through the windows, as it will bounce off the white walls and reflect it throughout the area.
If you're not a big fan of all white walls, then you can always go for other light colors, like nudes and pastels. As long as it's not a dark hue, this will instead create the opposite effect and make the room feel even more cramped.
Declutter
You know how it goes – if it no longer sparks joy, toss it.
Throwing out things that don't serve you any purpose anymore easily frees up more space. In the process, you're not just decluttering your house, you're also decluttering your mind.
Once you're done, each room will feel like a blank canvas where you're completely free to bask in the open space
Minimize the Furniture
Naturally, if you live in a small home, it is important to keep the furniture at a minimum. Any extra furniture should depend on how many guests you can accommodate at once.
Look at it like this: if you only usually have about two or three people over, then a 3-seater sofa is more than enough. You're not going to need that extra recliner, especially if you have to awkwardly walk around it just to get to another room.
Smaller-sized furniture also helps a room feel more spacious and there are tons of ways that you can go about it. Switch out your queen size bed for a double mattress and watch your room transform. Choose a small, circular coffee table instead of an oversized rectangular one to give yourself more legroom. The possibilities are endless as long as you know how to look!
Play Around with Contrasts and Colors
Contrasting colors will give any room of the house more depth. As we've mentioned before, dark-colored walls and accessories are a no-no, so you should stick to experimenting with soft tones, such as off-whites, blues, greens, and yellows.
Unsure where to begin? How about placing some light blue cushions on your white couch? Or decorate your dining table with a bright yellow centerpiece? You can even elevate your bed space simply by throwing a soft green blanket over the sheets. This brings beautiful color into your home without absorbing the light, meaning everything will look more spacious and more stylish!
Invest in Mirrors
More mirrors around the house don't indicate vanity – they actually create a much larger and open-looking space.
Be strategic by placing a large mirror directly across a door or window. The reflection will make it look further than the room in which it's displayed in, instantly making the space feel double its original size.
You can also find subtler ways to place mirrors, like a tabletop on your coffee table to make the ceiling feel higher. You can even place a mirror on the floor for an elongated illusion within your home.
Hang an Extra Large Art Print on the Wall
Make a bold statement and create a stunning focal point over your furniture with an extra-large wall art print.
This not only provides a beautiful display of art, but also makes the room feel much larger. It may even instigate pleasant conversation when you have guests over. Go for horizontal art pieces so that the room looks longer. 
If you're a fan of the abstracts, check out Sunlight Mountains. It's a breathtaking depiction of whites and soft blues which will blend well with your decor.
For the fine art connoisseurs, you might like a print of Monet's Water Lilies in your living room. It's guaranteed to be a great ice breaker for dinner parties.
To give your home an outdoorsy feel, how about putting your favorite vista on display, like Cool Breeze by the Beach or White Sand Walkway? These prints will make it feel like you're looking out the window and into your dream destination. You can explore more art options if you want as well.
Storage Furniture is Your Friend
Want extra space to store your items in without having to add more furniture in the house? Get a two-in-one deal by choosing storage furniture. They're incredibly handy and especially useful for creating more space in a smaller home.
There are tons of furniture with hidden storage compartments available, such as storage couches, storage ottomans, and even storage beds! Easily keep your linens, towels, tools, and more inside these clever furniture pieces. You easily free up space and gain extra spots to keep your items in.
We hope you found these tips to be helpful in making your space look and feel more spacious. Have fun transforming your home!
You may also like to read: