Last updated on June 22, 2023
Are you searching for inspiration for decorating the towels in your bathroom?
Perhaps you have recently moved into a new one, and you want to spruce up your new bathroom.
Or maybe you have lived in your home for a while now. You have decided that now is the time to redecorate your bathroom.
You might even have recently upgraded your bathroom with new units, such as a quality one-piece toilet, and now you want to make sure that your towel decoration is also up to scratch.
Well, you have come to the right place! Here, we will show you the many different ways and benefits of decorating your bathroom with towels.
Towel decoration can improve your mood or create entirely different atmospheres, depending on the style, when done correctly.
So if you are keen to improve the look and feel of your bathroom, you will want to read about how you can use tools to show off your creative side! Towels are no longer just for drying. Instead, they have the power to be utilized for decoration and style.
Using your creativity, you will be able to sculpt a gorgeous bathroom that perfectly reflects your taste.
Table of Contents
How to Decorate with Towels in a Basket
One great way to decorate your bathroom with towels is by using a basket. It is also a quick and easy solution!
To get started, all you need to do is fold your towels, either into tight roles, rectangles, or squares. From there, arrange them within your baskets.
The impact of this style is that it will add texture and color to your bathroom.
How to Decorate a Bathroom Towel Rack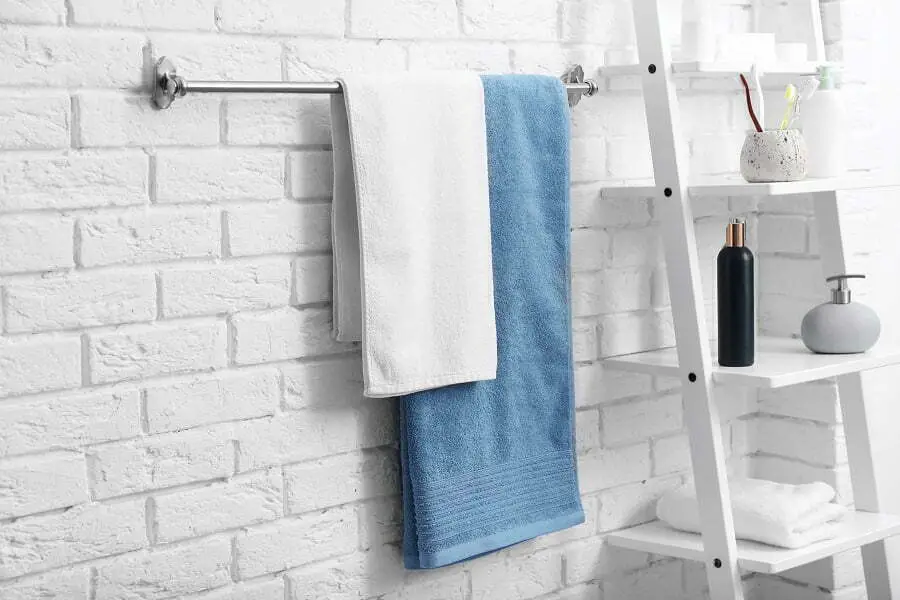 Another excellent option available to you is using a towel rack. Any guest or visitor will feel special if they see a perfectly decorated towel rack.
We recommend a white and navy color combination, but you can use any colors that go with your bathroom decor.
How to Fold Towels Decoratively
Have you ever stopped to think about how hotels can fold those beautiful towel displays? This option is an excellent way to spruce up any bathroom, regardless of its size or color scheme.
There are plenty of videos online that you can follow to learn how to fold towels in this way.
How to Decorate a Small Bathroom
If you happen to have a bathroom that is on the smaller side, you might be worried that you will quickly run out of space. If this is the case, even simply folding towels in a neat stack is an excellent way to improve the look of your bathroom.
The best part? Stacking towels that have been folded neatly takes up a small amount of space.
Hanging Bath Towels for Display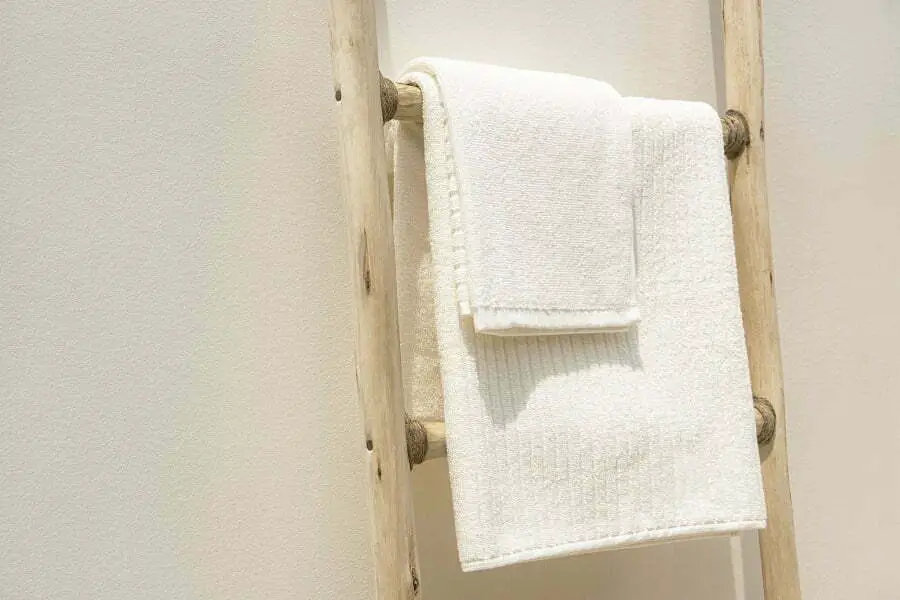 There are several different ways to hang up your towels that will create a beautiful displacement of your towels.
Ladder Towel Rack
A ladder towel rack is an excellent choice for showing off your towels in a way that looks good but also allows them to be grabbed easily.
You can make your towel ladder with an old ladder and a little bit of DIY. This decoration style lets you utilize all the space at your disposal while providing a fabulous farmhouse style.
The Takeaway
These are just some of the creative ways that you can use towels to decorate your bathroom. The great news is, even if none of these options fit your needs, there are so many options for you to try; all you need to do is get creative.
Take your time and be willing to try thinking out of the box, and before you know, you will have a beautifully decorated bathroom that all of your guests will be jealous of!
You may also like to read: