Last updated on November 4, 2023
Unleashing the untapped potential of a grey-brown coffee table is easier than you might think because it serves as a versatile centrepiece that can revitalize any living room, instantly adding a dash of elegance and modernity.
As the author and designer of these 20 unique Grey Brown Coffee Table Ideas, I sincerely hope you find them as inspiring and enjoyable as I did creating them.
Grey and brown coffee tables are a versatile choice for any home, effortlessly blending with a multitude of decor styles. Whether you're looking for a rustic farmhouse feel or a sleek, contemporary vibe, a grey-brown coffee table can be the perfect centerpiece for your living space.
This article will explore a variety of ideas for styling your grey-brown coffee table, from choosing the right accessories to pairing it with the perfect rug. We'll delve into every detail, ensuring you have all the inspiration you need to make the most of this stylish piece of furniture.
Table of Contents
Distressed Grey-brown Wood Coffee Table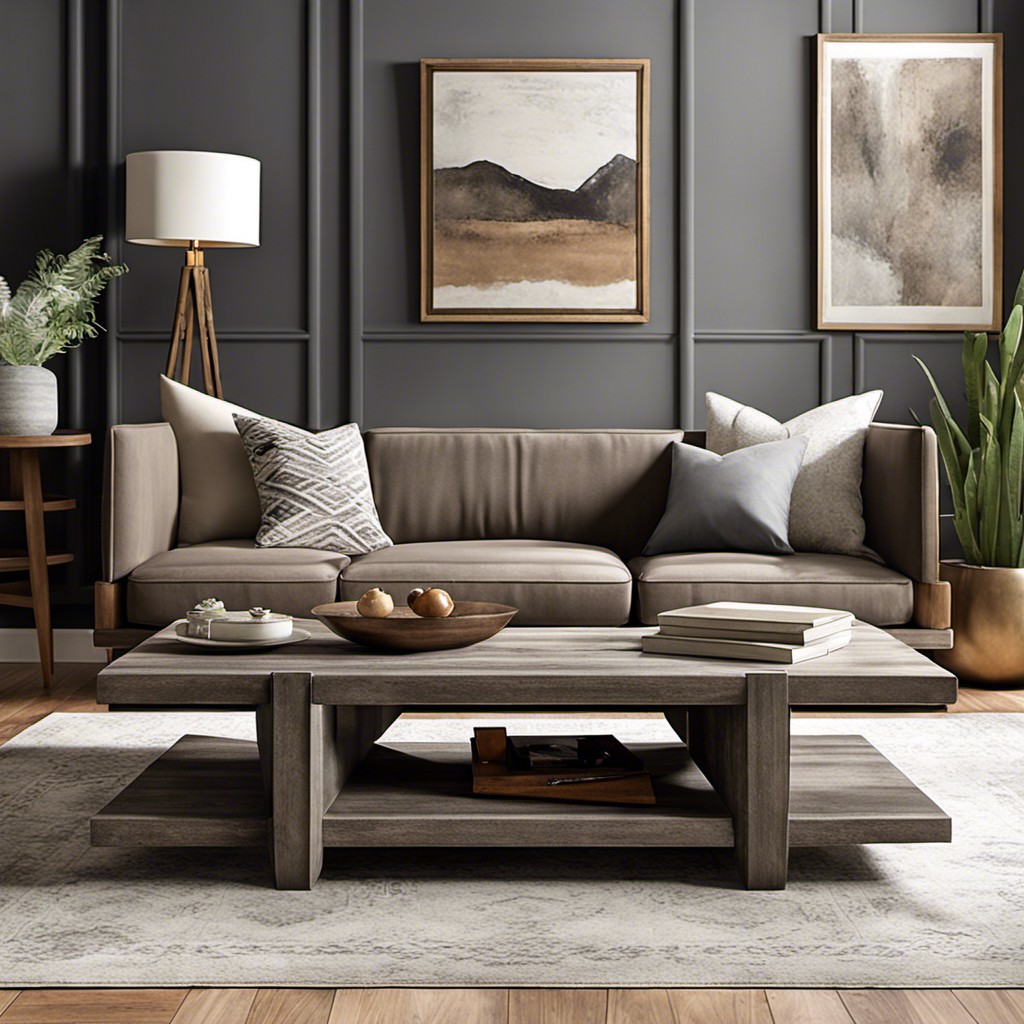 Enhancing a living space with a distressed wood coffee table can bring a touch of the rustic and the vintage into the heart of your home. The rich texture and intricate designs inherent in this style of furniture add a layer of sophistication and character.
The distressed look is achieved by various techniques, typically involving sanding and scraping to create an appearance of age and wear. This emphasizes a well-loved, worn-in charm that helps to cultivate a comfortable, homey atmosphere.
This table's grey-brown hue balances neutrality and warmth. The grey asserts a contemporary appeal while the brown retains the natural charm of wood. This combination allows it to blend seamlessly with various decor styles.
A distressed wood coffee table can be styled with vintage accents like an old-fashioned candle stand or a stack of worn-out hardcover books to bring out its old-world charm. Simultaneously, modern, minimalist pieces, such as a monochrome vase or geometric coasters, could provide a stunning contrast.
Remember, as each distressed piece is handcrafted, individual tables will provide unique focal points, ensuring an exclusive touch to your room's decor.
Grey Marble Coffee Table With a Brown Wooden Base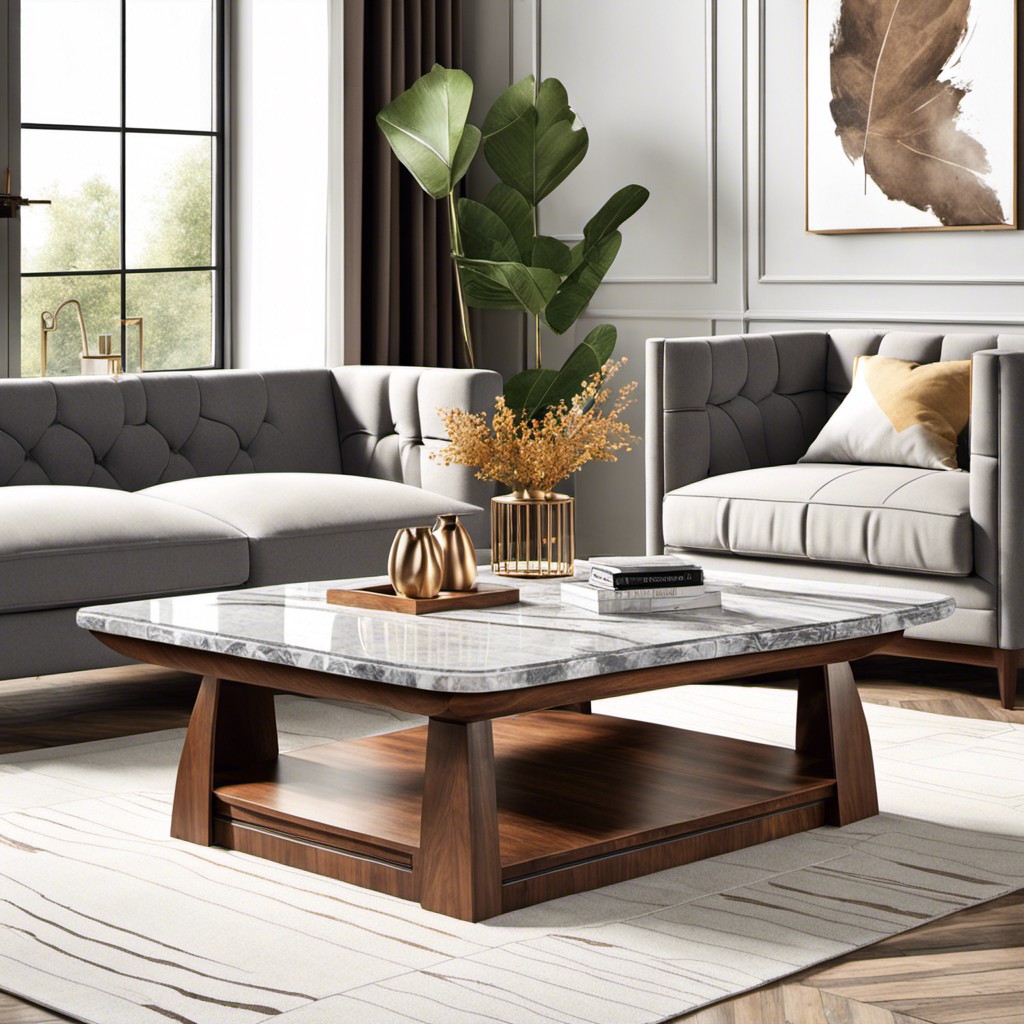 Characterized by its luxurious aesthetics, this coffee table option offers both function and style. The cool grey marble, known for its durability and heat resistance, forms the tabletop. Its contrasting veins add a level of depth and sophistication to any living space.
Meanwhile, the warm brown wooden base offers the perfect contrast, creating an elegant blend of rustic and contemporary design. This striking juxtaposition is optimal for those seeking a signature piece that will stand out yet seamlessly fit in with various decor styles. Typically designed with sturdy wooden legs, it offers a stable and reliable structure.
For care, a simple wipe down with a damp cloth keeps both elements looking as good as new. But remember, avoid acidic cleaners on the marble as they may etch the surface. Lastly, place it in a central spot, allowing its distinctive design to shine and become a visual anchor in the room.
Rustic Grey-brown Coffee Table With Storage Drawers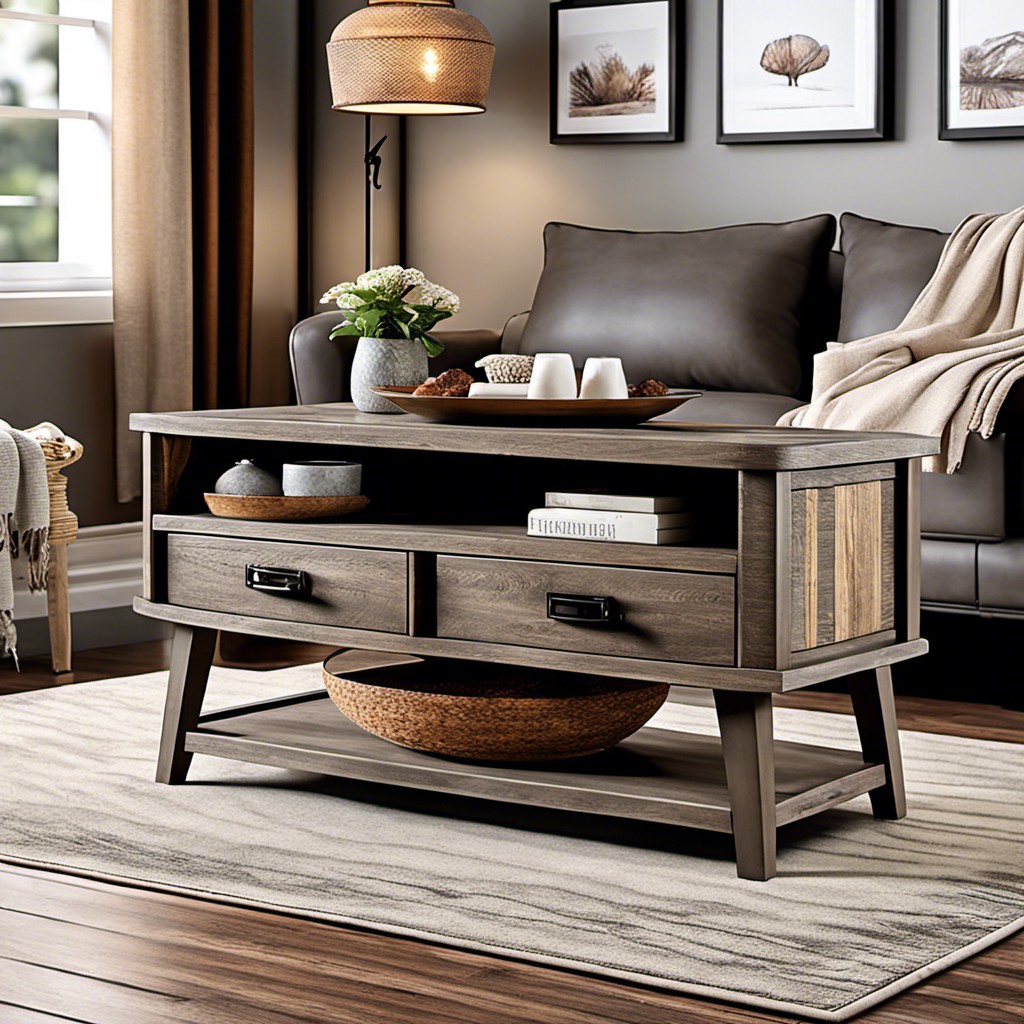 Several unique features make this design stand out. Firstly, the combination of grey and brown synchronizes with a wide range of color palettes, allowing this coffee table to blend effortlessly into your living room decor.
The rustic style, commonly associated with a farmhouse or cottage aesthetic, brings a sense of warm and homely familiarity. Its distressed finish adds character and reveals a touch of the table's history.
Storage drawers are essential additions which serve dual functions. They enhance the table's structure and also provide a neat solution to minimize clutter. Items like remote controls, magazines, and coasters can be tucked away neatly yet are easily accessible when needed.
Constructed from solid wood, this coffee table guarantees durability. The sturdy character of wood ensures your table can withstand daily usage without losing its rustic charm. Its hardiness also means it will develop unique markings over time, contributing to its rustic look.
Industrial Style Metal and Wood Coffee Table in Grey-brown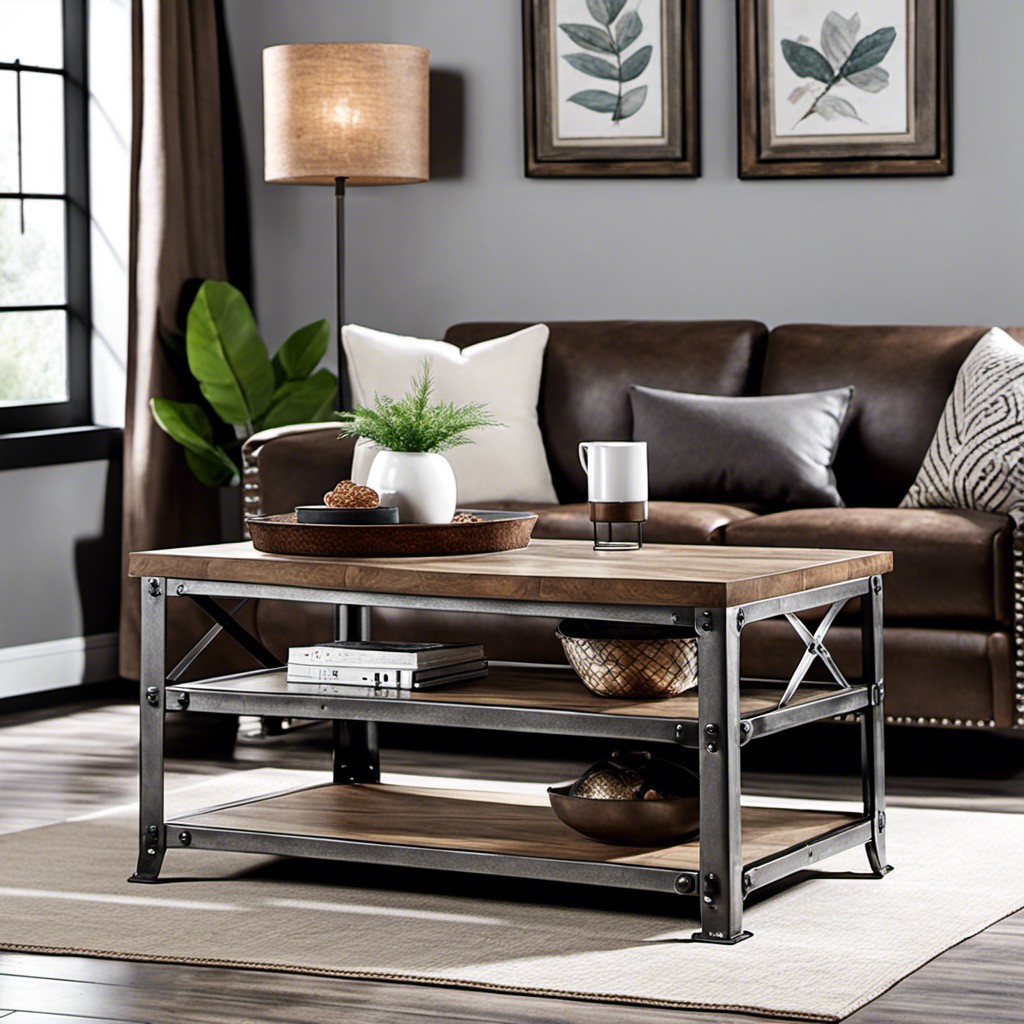 Marrying the raw charm of wood and the edgy aesthetics of metal, this coffee table is a masterpiece in itself. The grey-brown shade harnesses the cozy warmth of brown and the contemporary sleekness of grey, settled seamlessly into industrial design.
1. Material Blend: Crafted with top-tier wood and metal, this table guarantees both long-lasting durability and fascinating visual appeal.
2. Design Detailing: With the metal framing providing robust support, the grained wooden top adds a touch of rustic texture.
3. Versatile Application: It's a perfect addition to loft apartments, modern farmhouses, or any space seeking an industrial touch.
4. Easy Maintenance: With its neutral color palette, occasional dusting or wiping is all it needs to keep its beauty intact.
5. Size Variability: Available in various sizes, it can be tailored to fit any area, making it ideal for both spacious living rooms or small studio apartments.
Remember, this piece isn't just functional, it's a representation of excellent craftsmanship and a fusion of divergent materials into a harmonious industrial staple.
Grey-brown Coffee Table With a Glass Top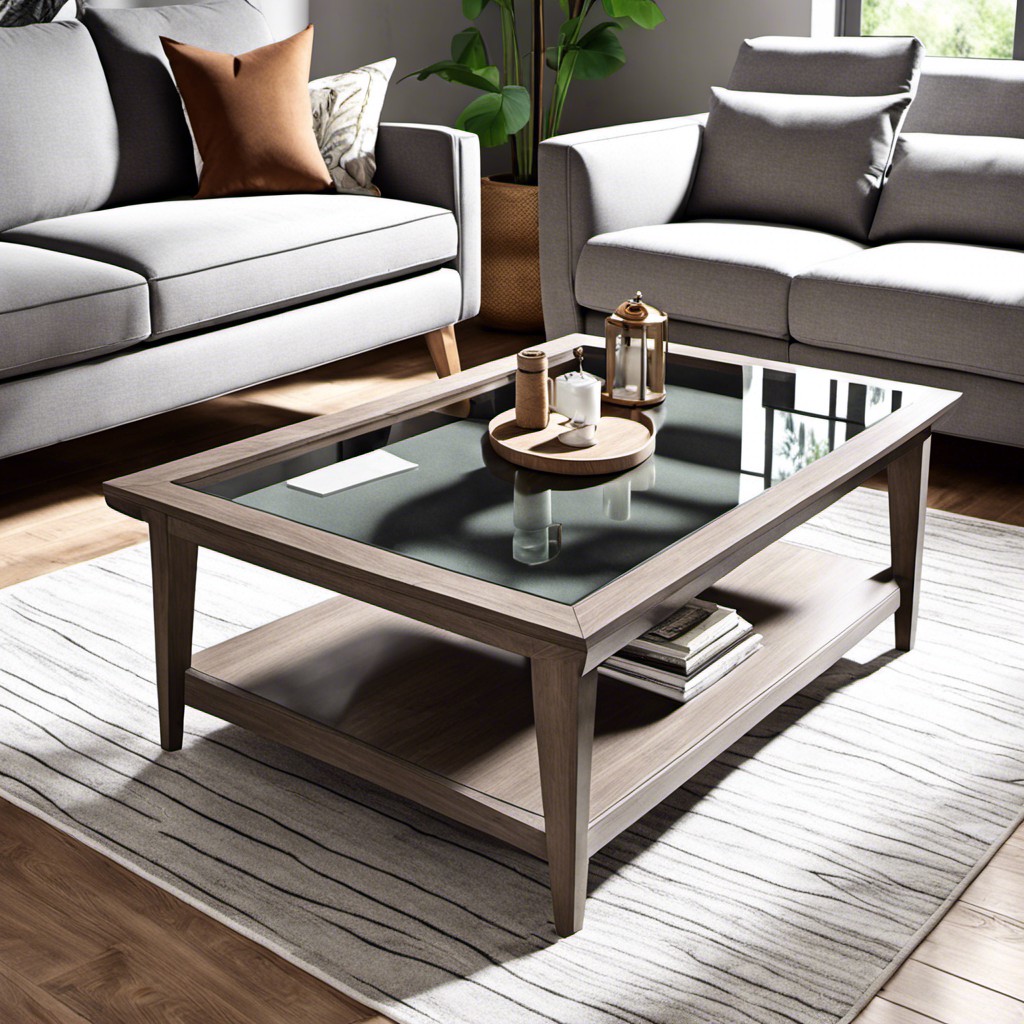 This distinctive design perfectly balances the sturdiness of wood and the delicacy of glass. The underframe, constructed from a discounted combo of grey and brown tones, endows a sophisticated rustic feel. The glass top manifests class, openness, and doesn't block the view of your beautiful rug.
Because the surface is transparent, coasters are recommended. You can also place a stylish runner on it to prevent scratches.
The upkeep is generally less demanding; a soft cloth and gentle window cleaner will maintain the shine of the glass top, while the wooden base can be wiped clean with a damp cloth and allowed to air-dry.
This type of coffee table effortlessly becomes the room's centerpiece and easily complements any decor from shabby chic to modern minimalist. Whether adorned with decorative accessories, coffee table books, or kept clean for an uncluttered look, it is a great piece to showcase your interior design flair.
Oval-shaped Rattan Coffee Table in Grey-brown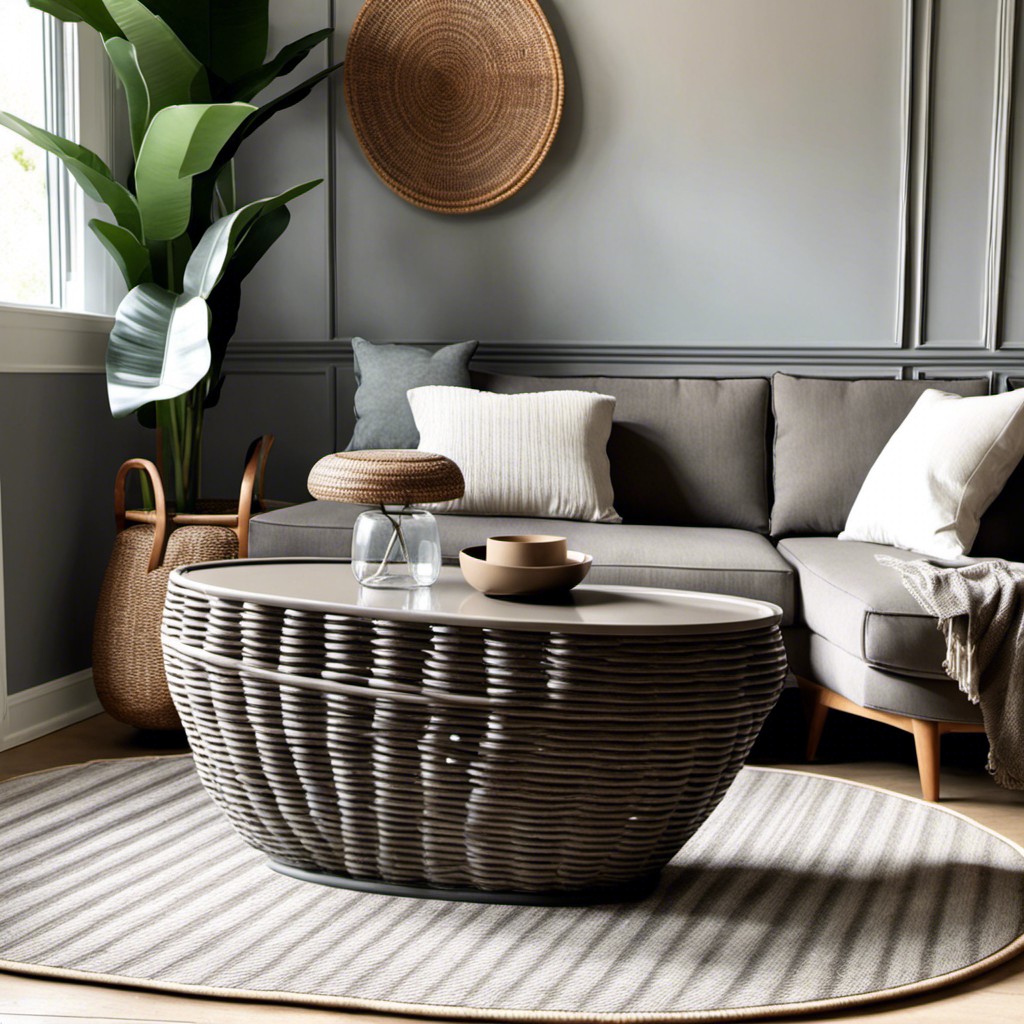 Pairing the earthy charm of rattan with a modern oval shape, this table makes an undeniable statement in any living space. The grey-brown color palette subtly enhances the natural texture, while providing a neutral base that complements various decor styles. Further, the outdoor-friendly nature of the material adds a practical edge.
For a harmonious look, consider pairing this table with earth tones, soft textures like linen or cotton, and organic shapes for accents and decor. This choice is an opportunity to add a touch of nature-inspired elegance to your interior while enjoying the easy maintenance of rattan. The oval shape, apart from being a unique design element, also ensures seamless movement around the table, lending a functional advantage.
Concrete Grey Coffee Table With a Warm Brown Trim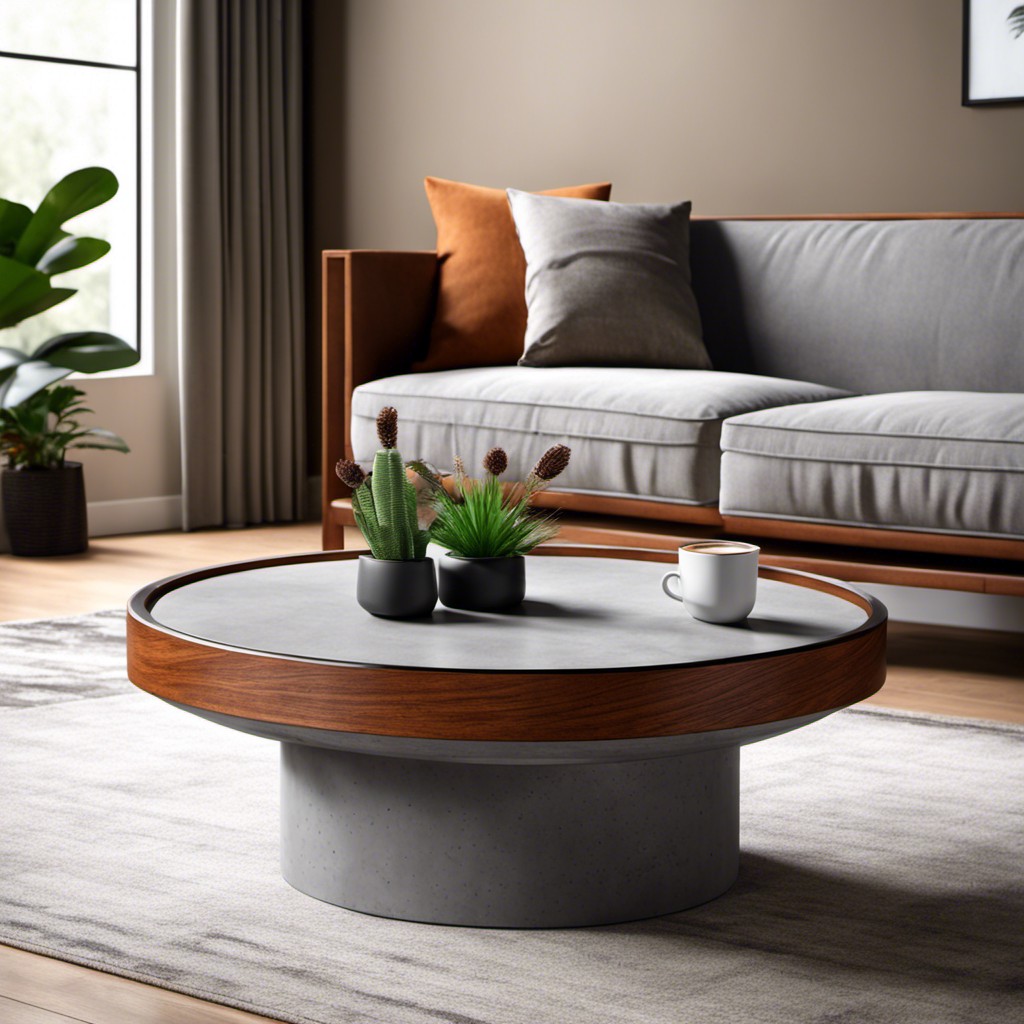 Sporting a unique aesthetic, this table marries the urban charm of grey concrete with the rustic appeal of brown trim. It's a fantastic pick for rooms featuring a mix of modern and rustic décor.
The grey concrete top presents a pleasing contrast – its cool, industrial hue pairs well with the warmth of the brown trim. The trim is available in various finishes, such as sleek varnish or rugged distressed wood, offering diverse style choices.
As for functionality, the durable concrete top can withstand daily wear and tear, making this table a solid choice for high traffic living rooms. On the other hand, the warm brown trim, usually made from wood, adds an inviting appeal and softens the sturdy look of the concrete.
Accentuating its design with textiles adds to the table's allure. Pair it with a cream-colored area rug or plush throw pillows to dial up the coziness, or utilise metal decorative pieces to emphasize its modern industrial edge.
Overall, it provides a bold visual statement with robust practical usability, lending any living space the charm of a beautifully blended style.
Grey Brown Coffee Table With a Pop-up Top for Storage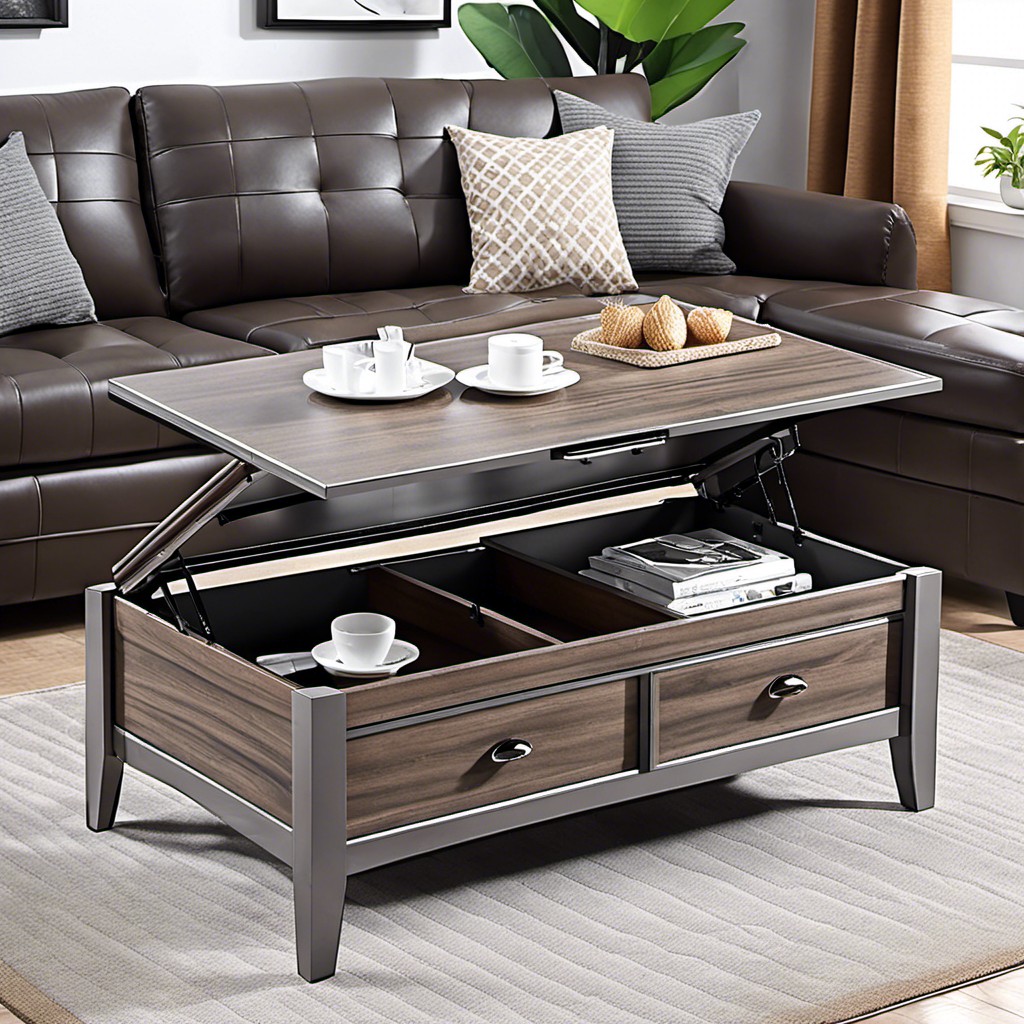 Inspired by modern designs, this table's dual purpose functionality comes into play with its pop-up top feature. This allows for unexpected but welcome storage space, perfect for tucking away remote controls, magazines or coasters.
Crafted with a sleek surface, the grey-brown hue of the table resonates a warm inviting feeling in the room. It also boasts an accessible height adjustment mechanism that is practical for when you want a makeshift workspace or dining table.
The sturdy construction guarantees durability, making it ideal for everyday use while the minimalist design adapts seamlessly to a variety of aesthetics. It's truly a clever piece of furniture that combines style, practicality, and adaptability.
Slab-cut Grey Brown Coffee Table On Hairpin Legs
The charm of this particular design lies predominantly in its unique blend of industrial chic and rustic elegance. First, the slab-cut style creates a raw, natural aesthetic, preserving the character of the wood's grain and knots. Each piece, therefore, is completely one-of-a-kind, like a slice of nature transported directly into your living room.
Moreover, the juxtaposition of the wood with hairpin metal legs hails to mid-century modern design. These delicate but durable structures offer slim, clean lines that beautifully contrast the robustness of the wood. They also lighten the visual weight, preventing the table from seeming too bulky for your space.
Finally, the grey-brown color scheme offers understated versatility. This neutral palette can tie together white, black, or colorful settings, as well as dovetail seamlessly with different materials like leather, fabric, glass, or metal.
This coffee table is both a conversational centerpiece and a practical feature, thanks to the large, flat surface that slab-cut tables provide. A muted floral centerpiece or a stack of your favorite hardbacks could be the perfect finishing touches.
Antique Hexagonal Coffee Table in Grey-brown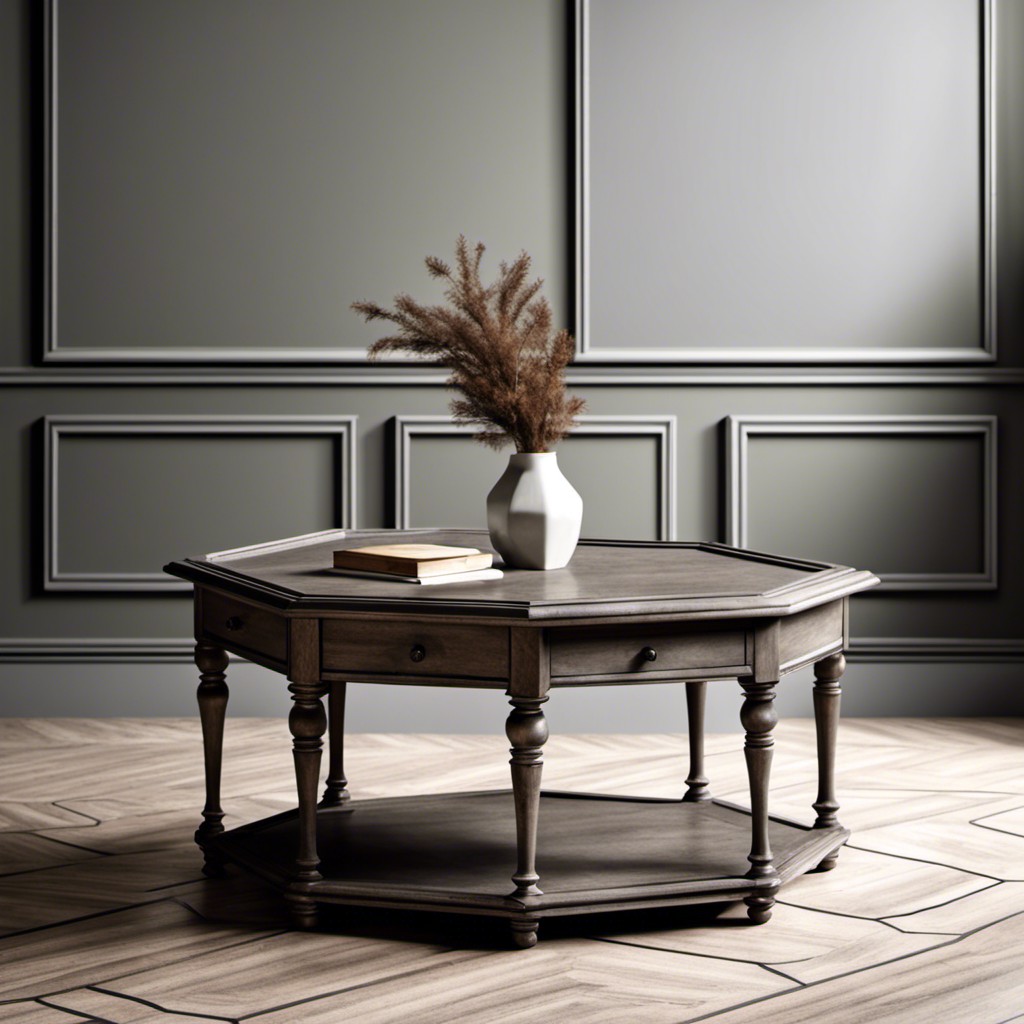 Originating from times gone by, this furniture piece offers a unique charm that adds character to any living space. The grey-brown hue emphasizes the intricate design, lending a touch of elegance and sophistication. The six-sided structure provides ample surface area for decor items and everyday essentials, while also giving the room a distinct aesthetic break from traditional rectangular pieces.
1. Design Versatility: Whether you're going for an eclectic decor style or a more traditional feel, this table pairs well with a variety of aesthetic preferences.
2. Nostalgic Charm: Bearing echoes of the past, it invokes a warm, inviting atmosphere, perfect for cozy evenings and conversation sparks.
3. Shape Advantage: The hexagonal shape allows for versatile placement options in the room – besides a sofa, amidst armchairs, or in a corner, creating an intriguing visual interest.
4. Solid Structure: Despite the age, its sturdy build ensures durability and lasting use, a testament to the quality craftsmanship of antiques.
5. Decor Matching: A grey-brown palette seamlessly integrates with most color schemes, and supports a range of accessories – from classic books, ornate bowls, to modern geometric sculptures.
6. Potential Value: Antique pieces often hold or increase their value over time, making this a potential investment piece as well as a functional furniture item.
Reclaimed Teak Grey-brown Coffee Table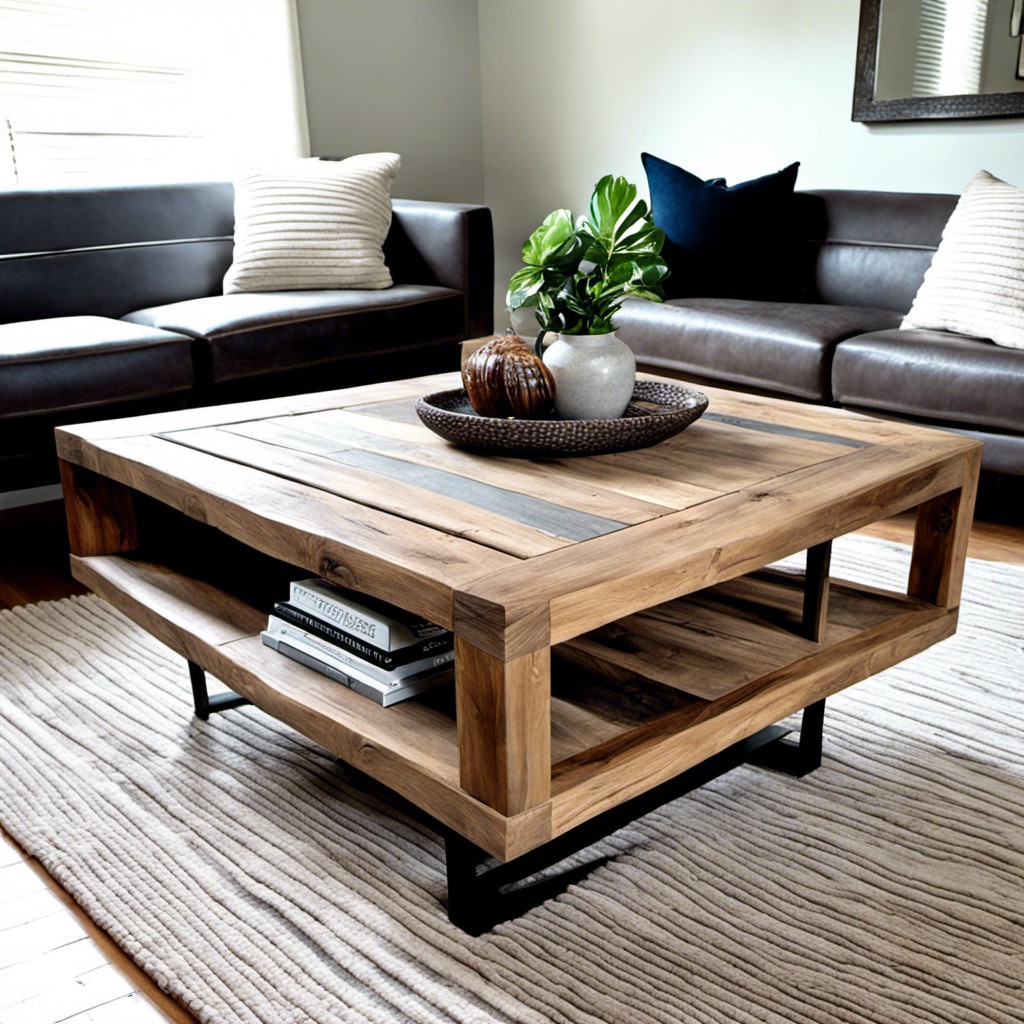 Crafted from salvaged teak wood, this coffee table offers a unique combination of rustic charm and environmental consciousness. Each piece of wood used tells a distinct story through its knots, grains, and texture, with the grey-brown finish enhancing its character and warmth.
Here are some key features to consider:
Unmatched Durability: Teak wood is renowned for its resilience, ensuring the table remains sturdy over time.
Rich History: The salvaged wood used brings an element of history to your living room, providing a distinct charm.
Eco-friendly: Using reclaimed wood reduces demand for new timber, thus promoting sustainability.
Versatility: Its grey-brown hue makes it blend seamlessly with different décor styles – be it rustic, modern, or contemporary.
Maintenance: While teak is naturally resistant to decay and pests, regular dusting and occasional oiling can help retain its luster.
Remember, every reclaimed teak coffee table is unique, with its imperfections and marks adding to its appeal. It's more than just a table – it's a conversation starter.
Multilevel Grey-brown Coffee Table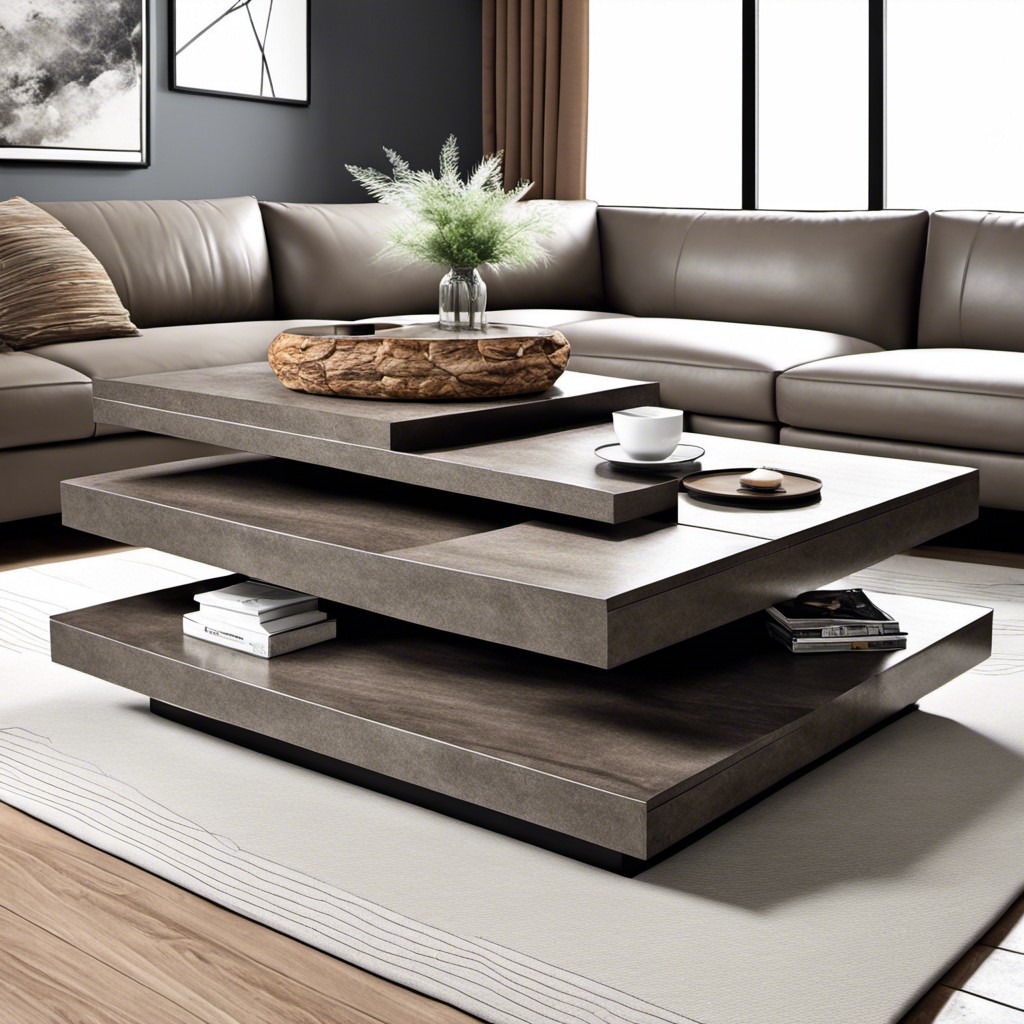 Elevating the aesthetic appeal of living spaces, the multilevel design carries an added flavor of sophistication. The tiers serve as an accessible hub, making it ideal for the organization of magazines, books, or remote controls.
Carved from a blend of grey and brown tones, the piece harmoniously fits into various color schemes and styles, from modern to rustic. The differing levels also spark an interesting visual contrast and add dimension to the room. Depending on the model, additional features may include drawers for more discreet storage or detachable pieces for flexibility to cater the setting as needed.
Crafted with the intent to marry functionality with stylish design, this table type encourages a highly personalized arrangement of decorative items or everyday essentials. Its dynamic nature and practical design strategy will surely capture the attention of anyone stepping into your living room. Remember, the key is to balance the décor while keeping the table from appearing cluttered, making it a statement piece without overwhelming.
Grey Brown Coffee Table With Built-in Bookshelf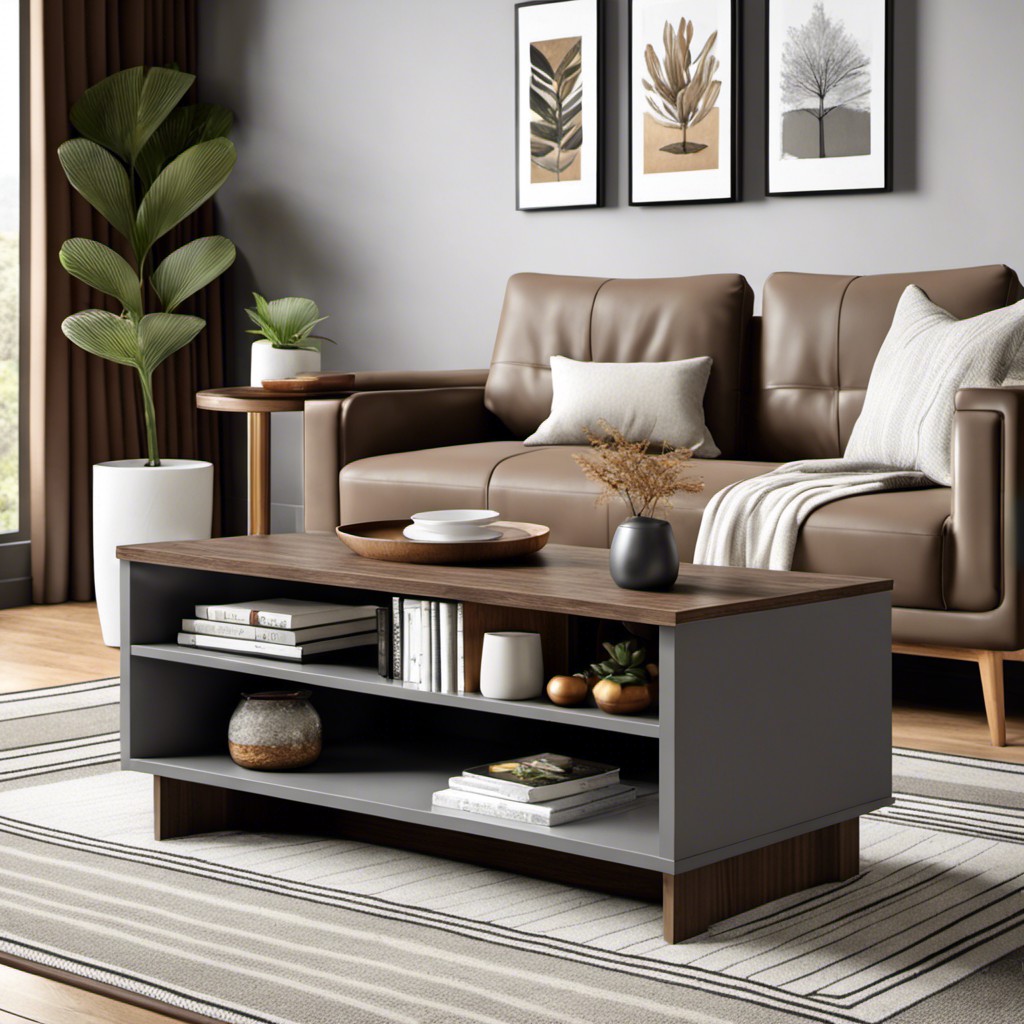 A built-in bookshelf in a coffee table creates an opportunity to showcase personal style, while providing functional, dual-purpose storage. Perfect for small apartments where space is at a premium, this fuses with the grey-brown color to effect an eclectic, but cozy living area.
Highlight favorite reads: This design element makes the table a home for beloved books, creating an enticing display of literature or art books.
Limit Clutter: Use it to nestle remotes, coasters, or gaming accessories, fostering a neat living room environment.
Enhance Decor: Adding themed trinkets or small decor pieces on the shelves introduces accents and personalizes your space.
Promote functionality: Store board games or puzzles, making family game night easily accessible and fun.
Design versatility: Suits various decor styles, whether rustic, industrial, or contemporary.
Enjoy the practical and aesthetic benefits offered by these tables, and watch your living room transform into a personalized oasis of comfort and style.
Grey-brown Gilded Metal Coffee Table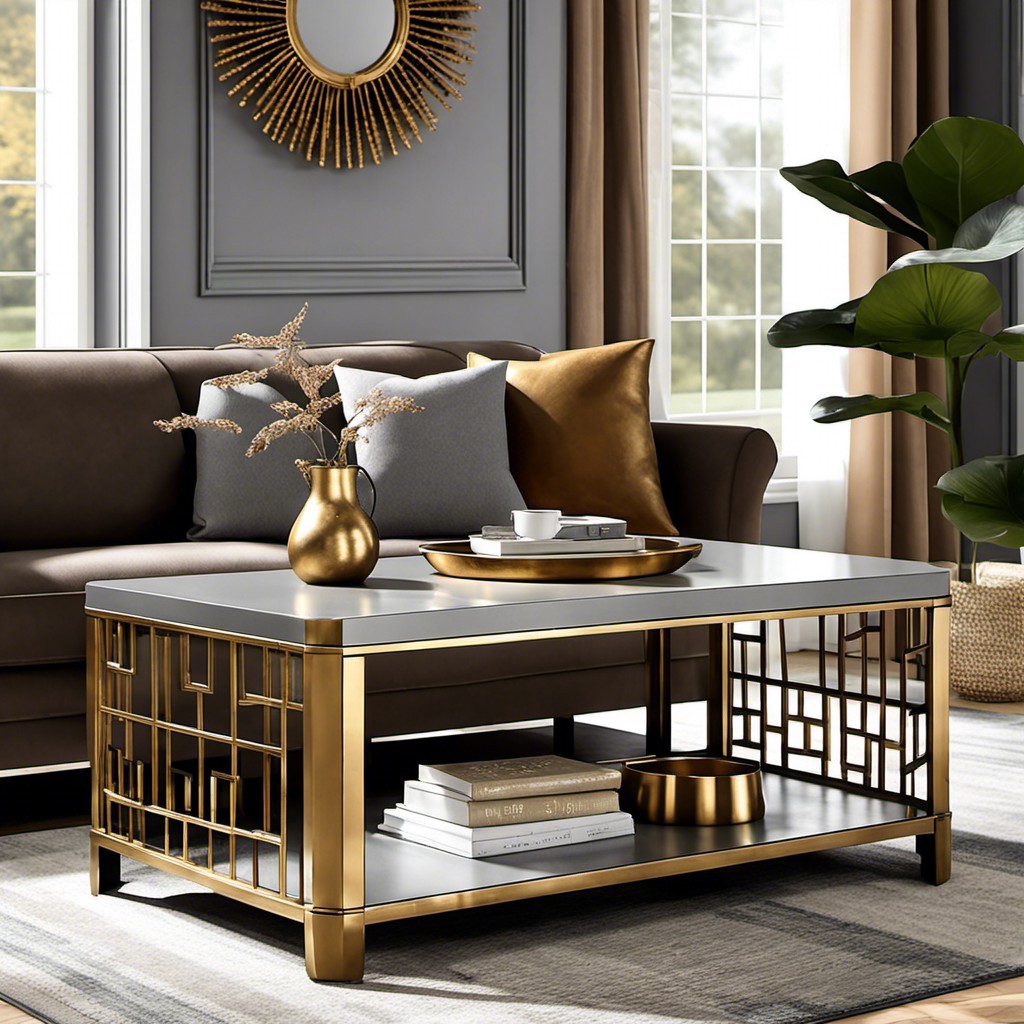 Gilded metal coffee tables provide a touch of luxury while their grey-brown finish maintains a sense of neutrality and versatility. The gold leaf details create an eye-catching contrast, adding a level of sophistication. Perfect for contemporary settings, these tables exude elegance but can easily blend with diverse decor styles.
Sleek lines and a well-proportioned silhouette make this style of table a stunning focal point in the living room. Choose one with abstract geometric forms for an artistic touch.
The metallic glimmer strikingly stands out against natural materials like leather and wood, so feel free to pair it with such décor. Alternatively, styling it with a neutral-toned rug under could enhance the gold accents. Adequate lighting, preferably soft warm tones, could amplify its glamour, making it a dream piece for any space in your home.
Minimalist Square Grey-brown Coffee Table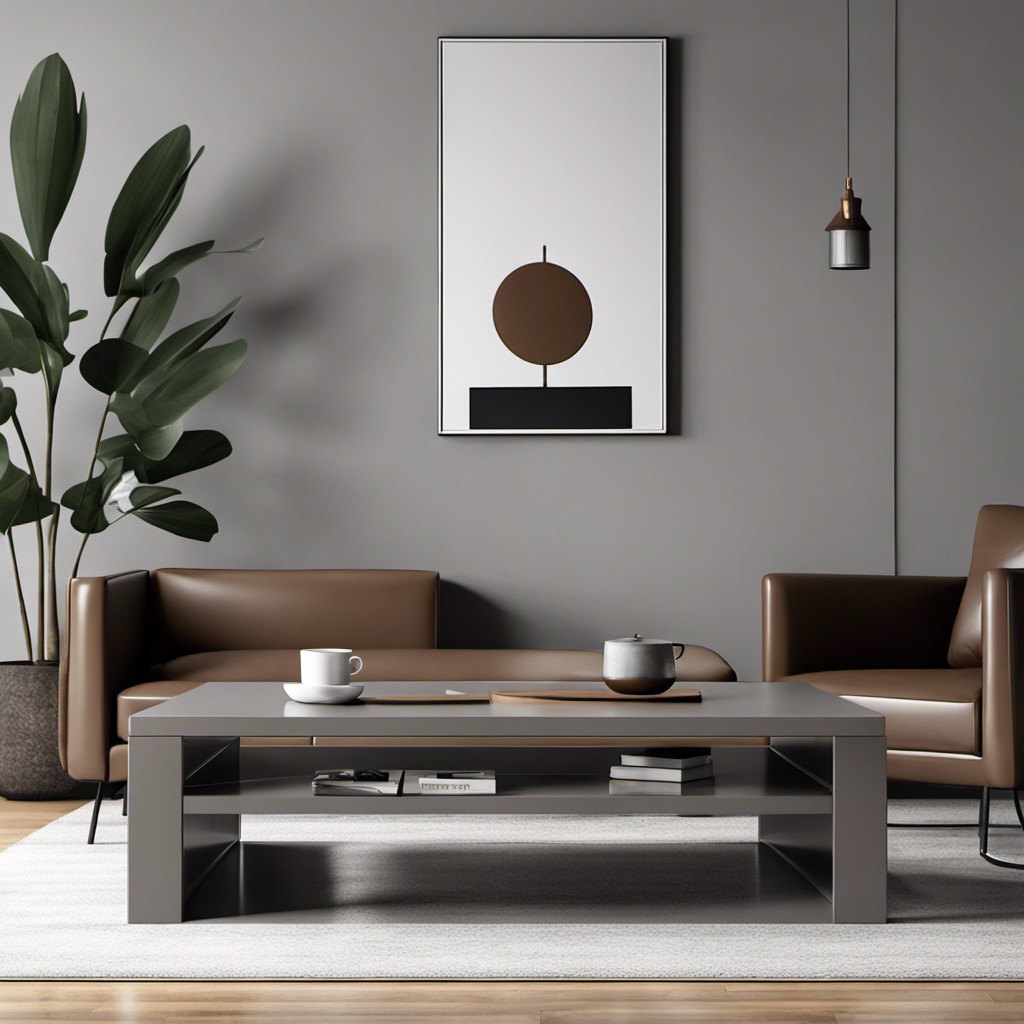 Offering a stripped-down aesthetic, this table design is celebrated for its simplicity. With the focus on functionality, it makes complementary use of the grey-brown scheme to provide a sense of tranquillity and earthiness. An angular design dominates, making the piece comfortably fit in any corner of the room.
The magic of this table relies on the 'less is more' approach. Clean lines and contemporary elegance are coupled with the subtle blend of color enhancing its minimalistic allure. Effortlessly versatile, it creates a harmonious match with any furniture style while introducing a serene, grounded feel to the decor.
Such a piece typically features a straightforward square shape devoid of ornamentation. Opt for matte finishes to complete the look. The low-profile height invites lower seating arrangements, fostering an intimate setting, and the spacious flat top is perfect for displaying books or decorative objects.
Combining modern design principles with an old-world color scheme, this approach breathes new life into ordinary living spaces. It successfully creates a blend of timeless elegance with a fresh, contemporary atmosphere.
Remember, although flattering, the minimalist look needs strategic positioning in the room. Pair it with sleek elements that share its simplicity, such as a geometric rug, low-profile sofa. In lighting, use statement-making, functional pieces that provide ample illumination without crowding space visually.
Grey-brown Pallet Coffee Table On Wheels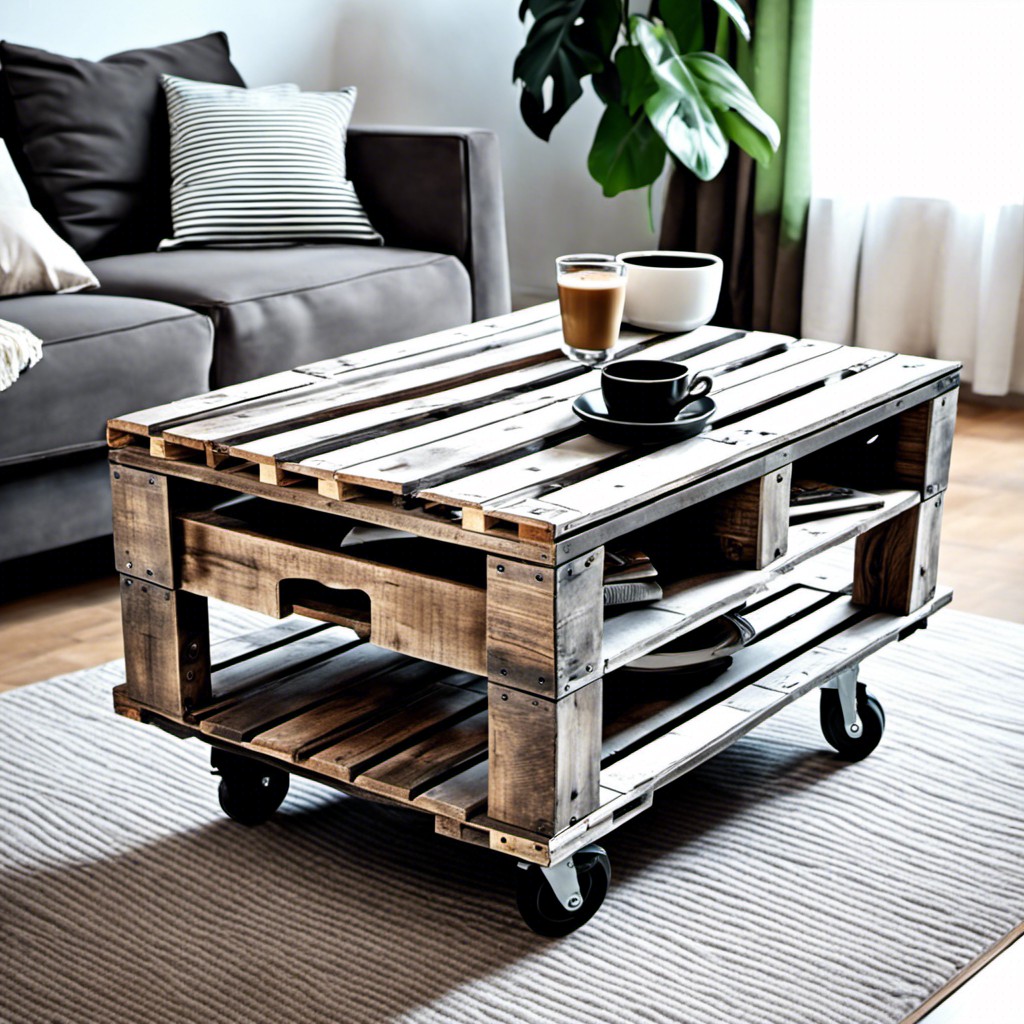 Moving on the gamut of grey-brown coffee tables, we introduce the handy, flexible, and stylish alternative – tables on wheels. Think of it as a mobile platform for your cozy mugs, magazines, and decorative pieces, to traverse between the conversations, from one end of the room to the other.
The eco-friendly, and budget-friendly pallets offer a rustic-industrial appeal, while the grey and brown tones provide the perfect neutral backdrop. The pallets bear intriguing imprints, nail holes, natural variations and patinas that invite visual interest.
Incorporating casters not only aids in easy mobility, it also elevates the height of the table, suitable for sectional sofas. When selecting the wheels, ensure they have a heavy duty construction to support the table and its content. For a secure hold, choose casters with a locking mechanism.
Consider finishes that enhance the grain and guard against stains. So, a clear polyurethane coat, or a grey-brown wax or oil finish would do the trick. Play with the planks' arrangement for a checkerboard or a herringbone pattern, or simply go for a uniform layout.
To increase functionality, hollow the center of the pallet to make a secret storage box or keep the second-tier of the pallet visible for a shelf to display or stash. Trim this trendy piece with metal or leather strips for a handsome touch.
Remember, a pallet table is versatile, so let it adapt to your needs. Enjoy the simplicity, the ease, and the conversation piece for your space.
Convertible Grey-brown Coffee Dining Table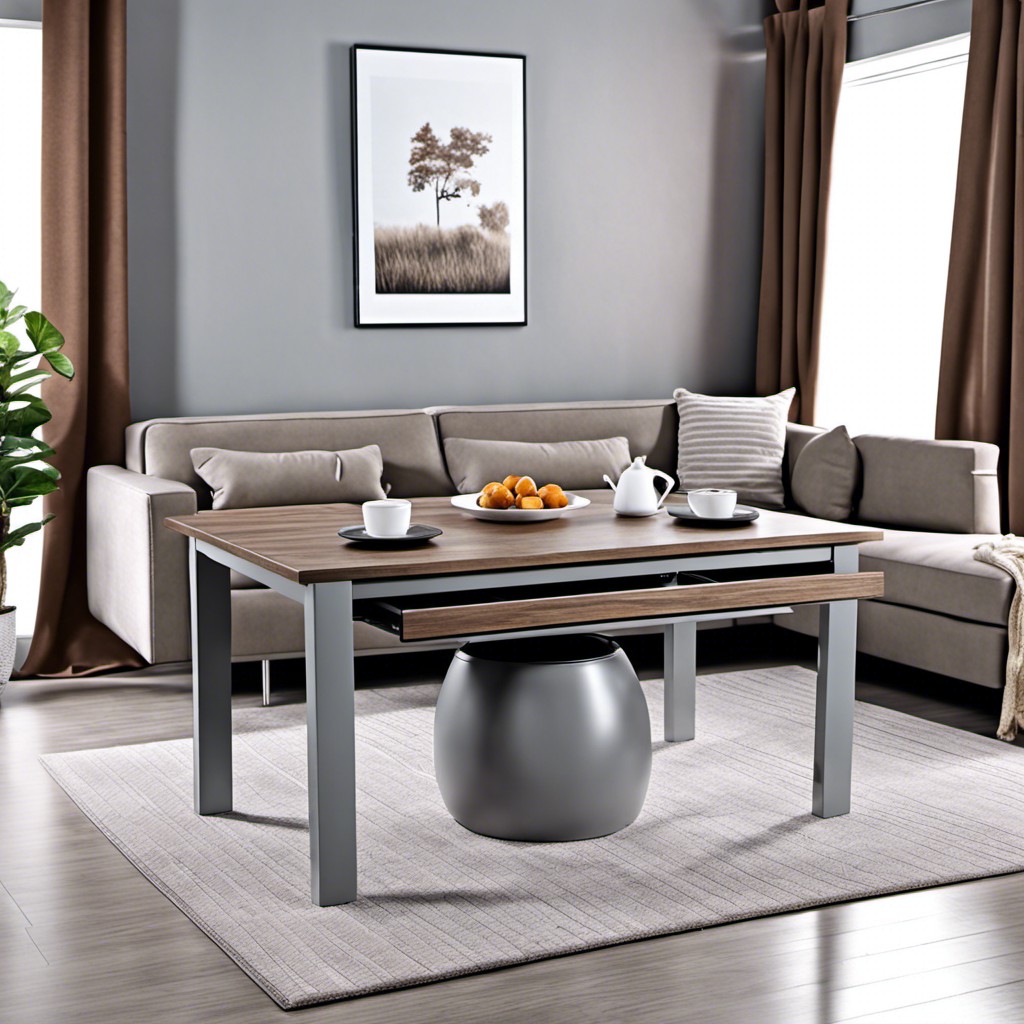 As an embodiment of functional design and style, convertible tables provide versatility to any living space. When painted in grey-brown, they introduce a contemporary, yet warm touch, perfectly blending in various decor styles.
Their transformative feature allows for a two-in-one function, serving both as a coffee and dining table.
This type of table is ideal for small living areas thanks to its space-saving capabilities. At first glance, it might look like a regular coffee table, but it can be easily adjusted to serve as a dining table as well.
The transition is typically smooth, with mechanisms that allow you to raise, lower, or extend the table top, depending on the design.
Using this type of table, you can effortlessly alter your living room setup according to your needs. It provides an open space during the day for a casual coffee break, and when the dinner time arrives, it can quickly transform into a dining table.
The grey-brown design brings a visually appealing blend of neutrality and earthy tones making this piece a standout yet easily complementary to most decors.
Regardless of your living space dimensions or decor style, a grey-brown convertible coffee table can be a clever and stylish choice that offers practicality and vibrant design in one neat package.
Coastal Themed Grey Brown Coffee Table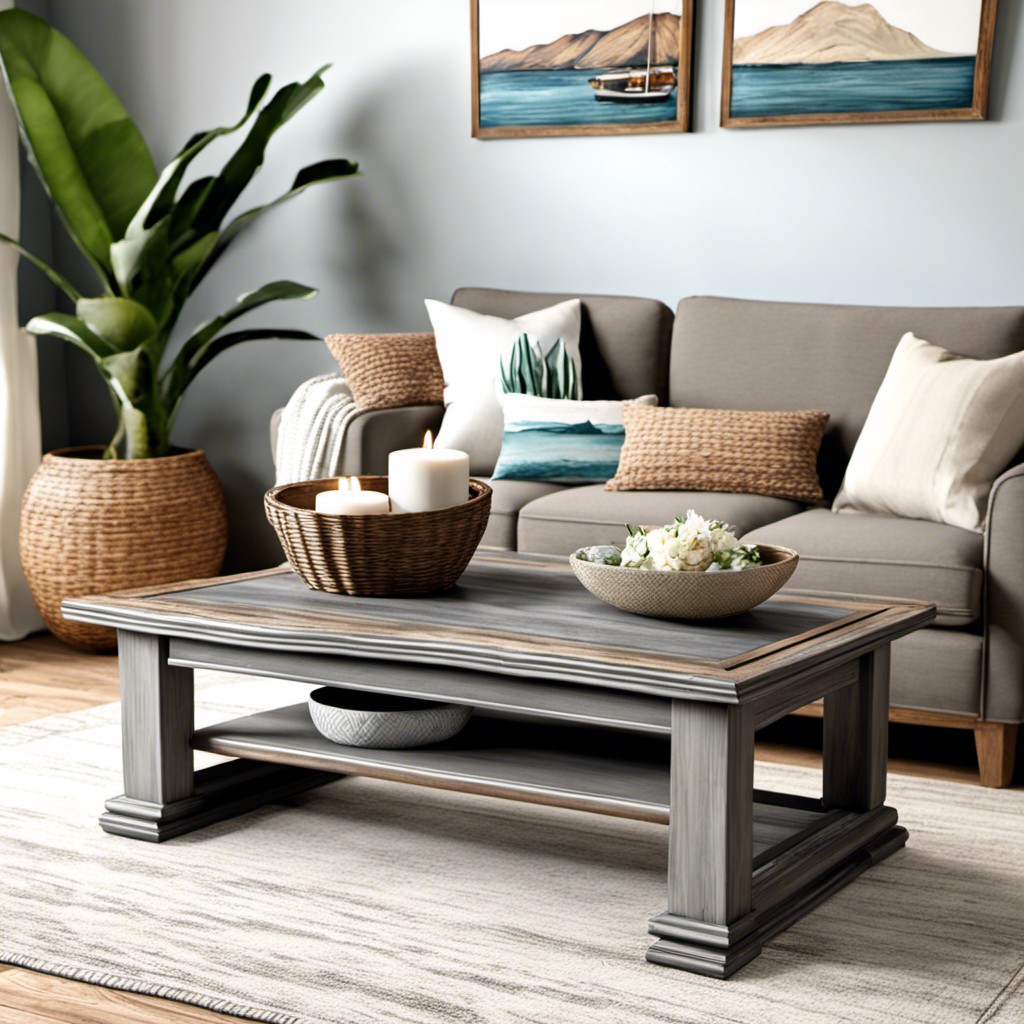 A coastal-themed coffee table provides an immediate breath of fresh air, reminiscent of the serene tranquility offered by the beach. The key here is to nail the combination of quiet elegance and simplicity, resonating well with the oceanic theme. Opt for a grey-brown table that mimics the hue of driftwood. This works beautifully with the coastal theme, adding depth and a hint of nostalgia.
To further accentuate the theme, consider tables with rough, weathered finishes, capturing the charm of a piece washed up ashore. A table with an intricate design, akin to whorls of sea shells, would make for a perfect centerpiece. Integrating glass or clear acrylic touch, reflecting the transparency of the ocean, also enhances the nautical appeal.
Last but not least, pair your beautiful coffee table with beach-themed accessories like a bowl of seashells or coral, lanterns, or a woven rug underneath. Remember, your goal is to capture the essence of a windswept beach house – breezy, calming, and effortlessly beautiful.
Grey-brown Coffee Table Set With Matching Side Tables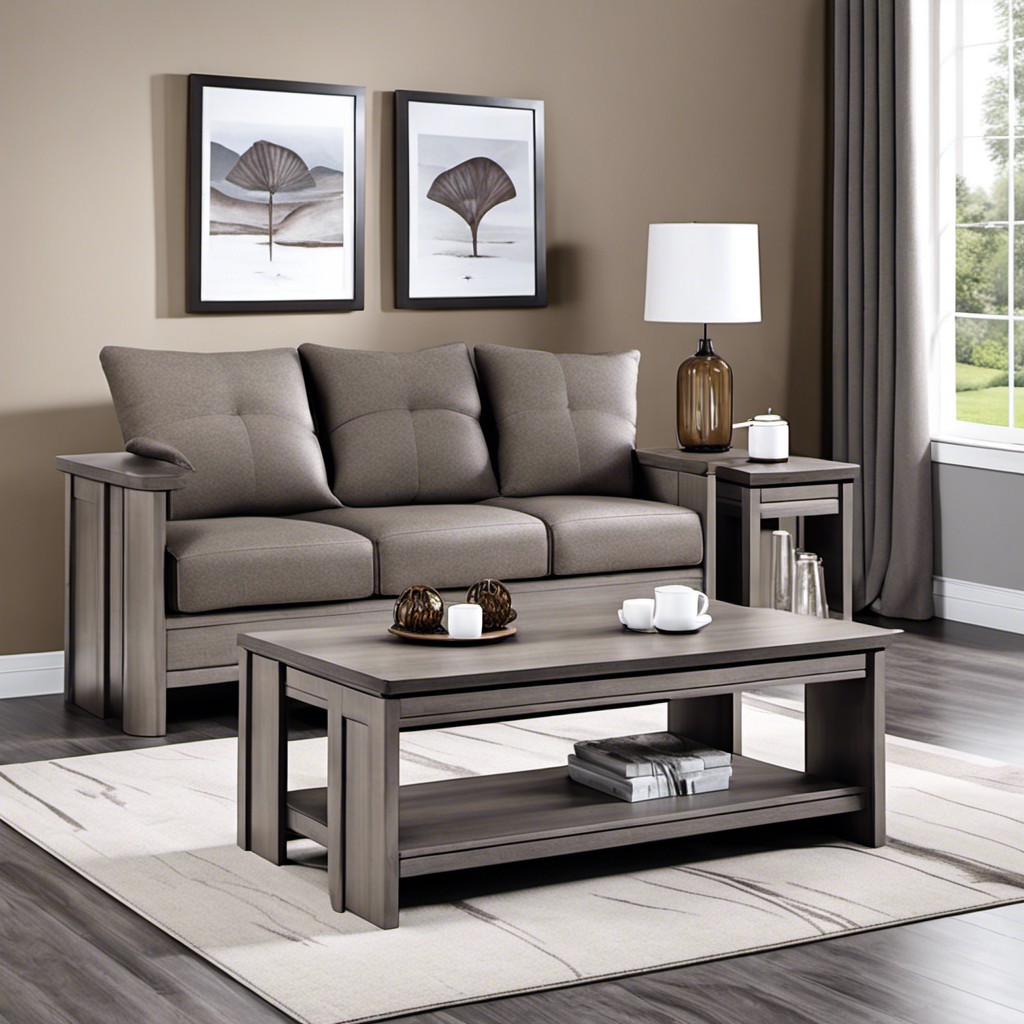 Pairing a grey-brown coffee table with matching side tables can imbue a room with a refined sense of consistency. The matching elements serve as visual anchors, providing balance to a space. This furniture choice works excellently with various decorating styles, from rustic farmhouse to sleek modern, due to its easy-to-blend color palette.
Whether the coffee table stands as a room's centerpiece or nudges up against an inviting sofa, its corresponding side counterparts complete the look. They not only serve a functional purpose as additional display areas or storage but also deliver an aesthetic contribution. These tables can hold table lamps, family photographs or a selection of your favorite books, allowing for a touch of customization.
Opting for a set doesn't mean sacrificing individuality. Many sets come with side tables differing slightly in height or design, injecting a playful vibe that avoids any sense of monotony. Some feature added textures with grainy wood finishes and smooth lacquer tops, enriching the hue's dynamics. So, while the color may unify them, their distinct characteristics ensure each piece of furniture stands on its own.
For an effortless cohesiveness and versatile decorating potential, you simply can't go wrong with a grey-brown coffee table set with matching side tables.
Tufted Grey-brown Ottoman Coffee Table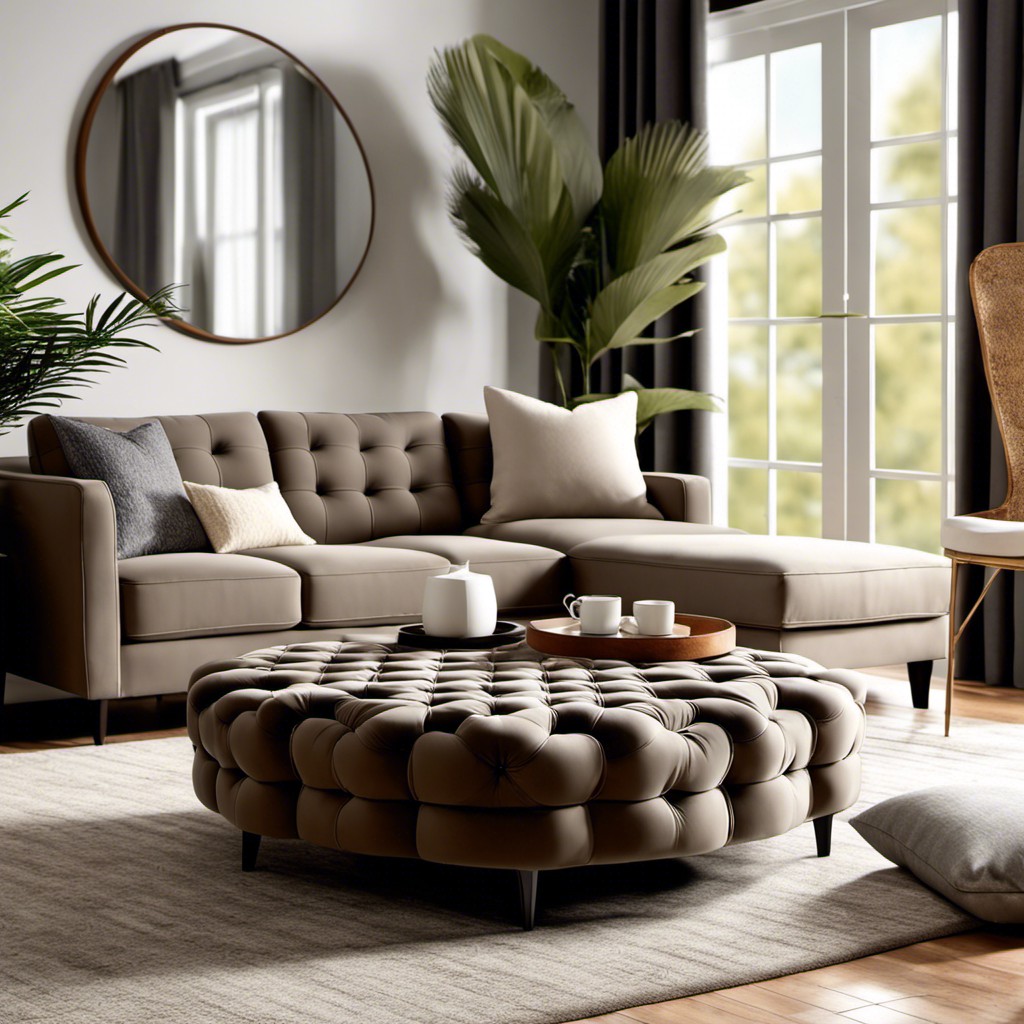 Exhibiting a unique blend of style and function, tufted ottomans in soft grey-brown tones infuse grace with practicality. Integral to this design is the fine detailing of the tufting, which not only contributes to an opulent aesthetic but also offers enhanced comfort.
Crafted with luxurious upholstery, these pieces often afford surface space for trays, books, or decorative items. Comparatively, the firmness can be varied from soft for comfort to firm for durability and longevity.
The color scheme poses a versatile quality, effortlessly complimenting a range of decor styles. Whether it's to accompany the rich warmth of rustic browns or the smooth aesthetics of modern greys, this versatile hue easily navigates between various interior themes.
Equally important, is its potential for providing additional storage space. Models with a lift-top or open shelf can house throw blankets, magazines, or remote controls, meeting both aesthetic and functional demands.
Whether in a compact city condo or a sprawling suburban residence, a tufted grey-brown ottoman table can be an exquisite choice, marrying the utilitarian with the plush.
You may also like to read: