Last updated on October 31, 2023
Dive into this article because it is brimming with a variety of innovative and stylish window treatment ideas for your back door that guarantee a balance of privacy, light control, and design.
I am proud to have crafted this article and the accompanying unique designs, and I earnestly hope that it inspires your creativity and brings you as much pleasure in exploring as it did for me in creating them.
Choosing the right window treatment for your back door can significantly enhance the overall look and feel of your home. Whether you're aiming for a modern, minimalist look or a more traditional, warm aesthetic, there are countless options to suit your style.
This article will provide you with a myriad of ideas, from blinds and curtains to frosted glass and shutters. Each option has its own unique benefits and considerations, such as light control, privacy, and maintenance.
So, whether your back door leads to a patio, a garden, or a simple backyard, you're sure to find a window treatment solution that matches your needs and complements your home's decor.
Table of Contents
Vertical Blinds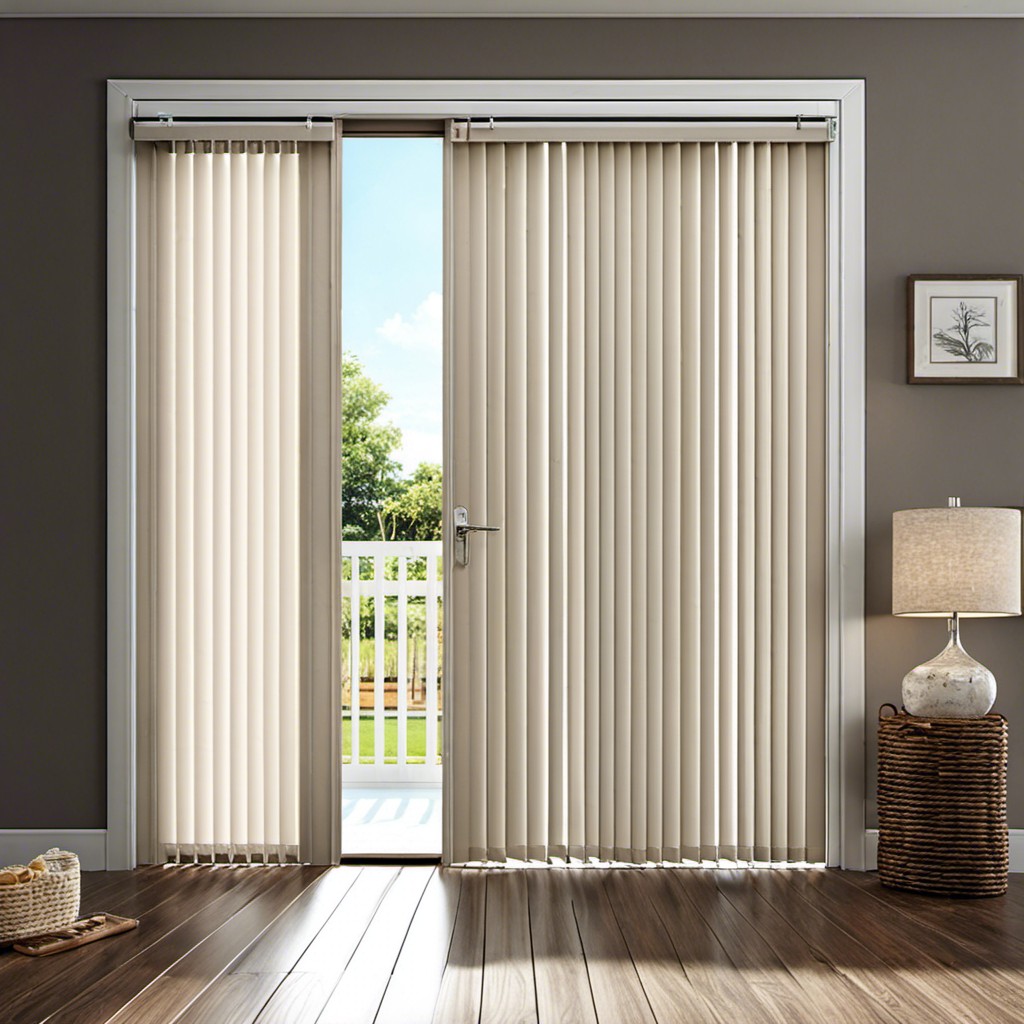 In terms of flexibility and control over light, these blinds excel. Allow just the right amount of illumination with individually adjustable slats. Rotate them to any angle to allow the sunlight in or pull them up for a full view of the outdoors. They're particularly suited for back doors with large glass panels.
Made from tough materials like PVC, they can handle heavy use, making them an ideal and practical choice.
The streamlined look works well with modern and minimalist decor styles, serving not just a practical but also an aesthetic purpose. Available in varying widths and lengths, they can accommodate doors of all sizes. Don't forget, their maintenance is incredibly simple – a quick dusting or wipe down is all they require.
Roman Shades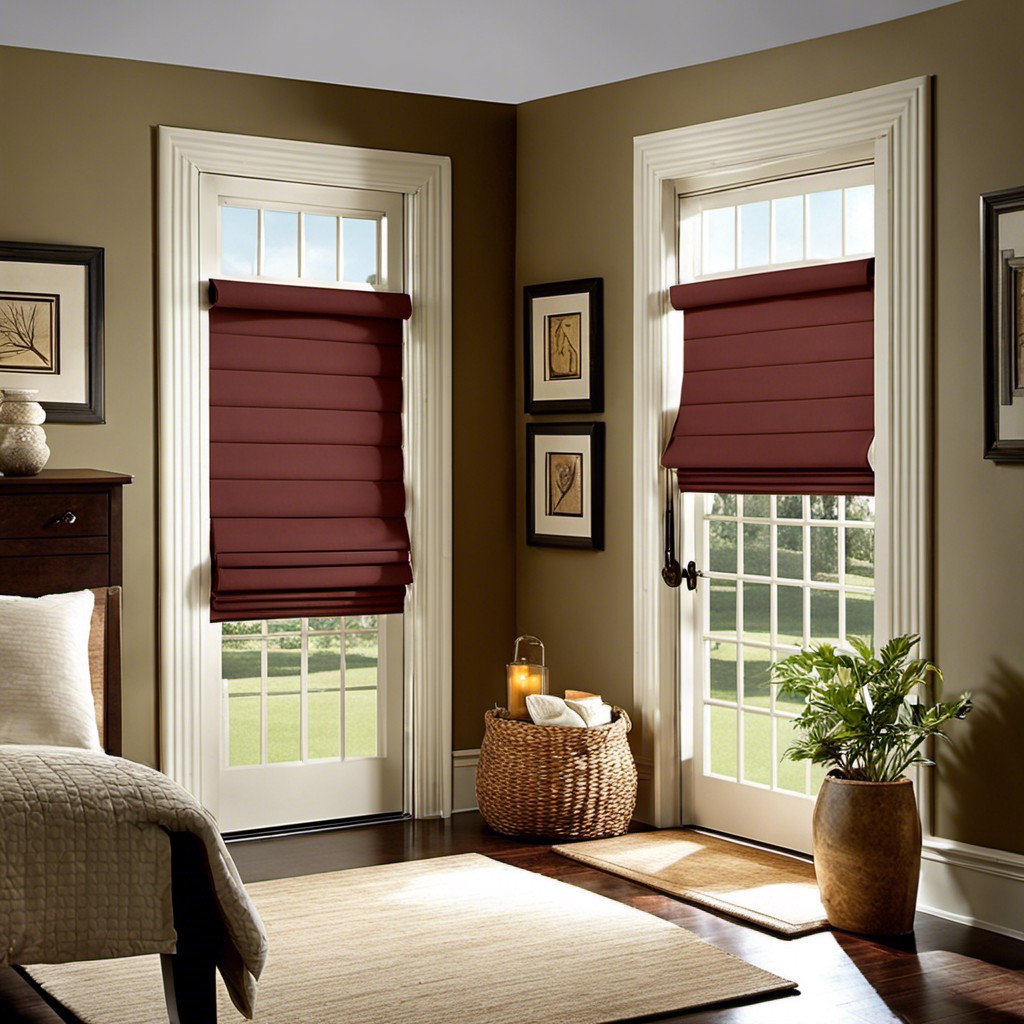 As an elegant solution, Roman shades are tailored and streamlined, making them an excellent fit for backdoors. Particularly useful for doors with windows of varied sizes, these shades draw neatly into horizontal folds, ensuring they consume less space.
1. Privacy and Light Control: Roman shades come in various opacity levels, meaning you can choose how much light to let in and have heightened control over your privacy.
2. Aesthetic Appeal: Available in a wide array of fabrics, colors, and patterns, Roman shades can easily match any home decor theme.
3. Ease of Operation: With their simple up-and-down mechanism, these shades are straightforward to operate.
4. Insulation: The fabric used in Roman shades offers insulation, helping maintain room temperature, ultimately contributing to energy efficiency.
5. Easy Installation: Roman shades can be installed without the need for professional help, making them an economical choice.
Remember, it's the small details like these that make Roman shades a worthy consideration for your backdoor window treatment.
Sheer Curtains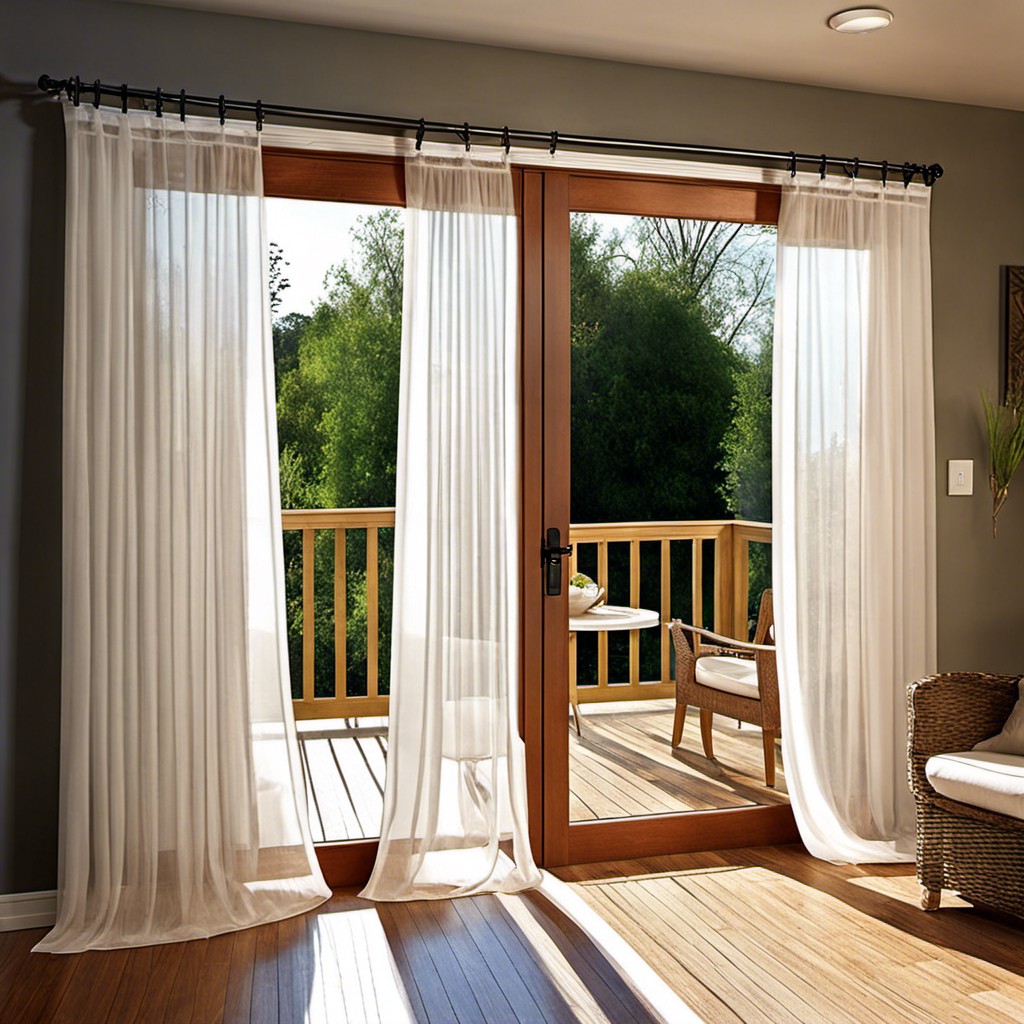 Light, breezy, and timeless, these curtains offer an ideal solution for back doors. As they softly diffuse daylight, they maintain an airy ambiance within the room, preserving a sense of openness. This makes them perfect for spaces where natural lighting is valued, yet some degree of privacy is also important.
While they are ideal for letting daylight pass through, they offer limited privacy during night time when the indoor lights are on. Therefore, pairing them with a secondary, opaque curtain or a blind can be an effective strategy for evening-use.
Available in a vast array of colors, patterns, and styles, they can be easily tailored to match the overall decor of your home. Whether you have a minimalist modern setting or a traditional theme, there's a sheer curtain that fits the aesthetic.
One added advantage is their easy maintenance. Machine washable and rapidly drying, they are a practical choice for those who want a low-maintenance option.
Last but not least, as they aren't obstructive, they are a safe window treatment option for homes with pets or children. Despite being elegant, they're fairly sturdy, handling day-to-day wear and tear remarkably well.
Frosted Glass Treatment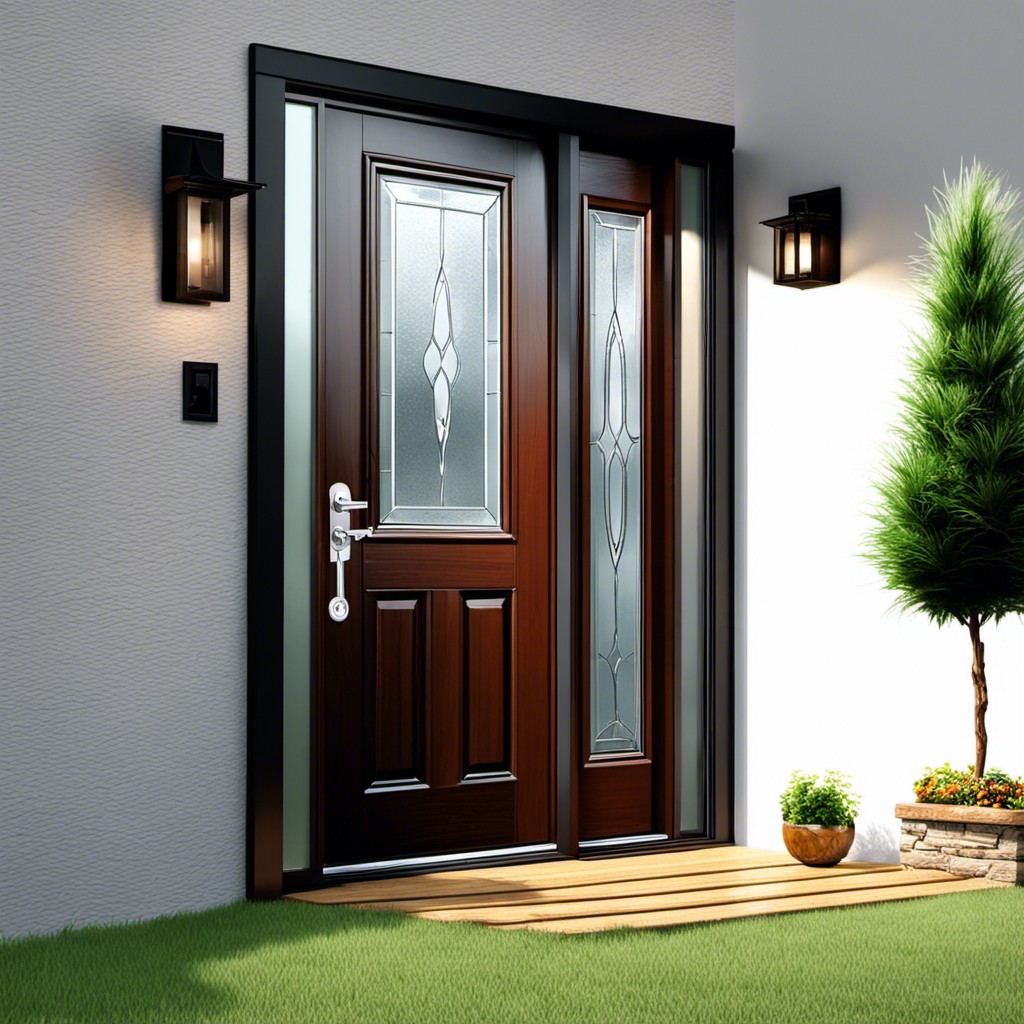 Offering an equal blend of practicality and aesthetic appeal, this particular treatment serves a twofold purpose. It obscures an often less than picturesque view from the back door while letting in plenty of natural light. This is perfect for maintaining a light, airy feel in your home without sacrificing privacy.
Now let's explore the key points behind it:
Privacy: The frosted effect blurs the view from both sides, ensuring limited visibility and enhancing privacy from prying eyes.
Light Diffusion: Even though it prevents a clear view, it evenly disperses sunlight across the room, reducing glare and bright hotspots.
Decorative Element: Frosted glass can come in various patterns and designs, adding an extra decorative touch to your back door.
Easy Maintenance: Unlike fabric-based window treatments, cleaning frosted glass is simple and straightforward, saving time and effort.
Temperature Control: Lastly, it serves as an insulating layer that helps to moderate indoor temperatures, making your home more energy-efficient.
Faux Wood Blinds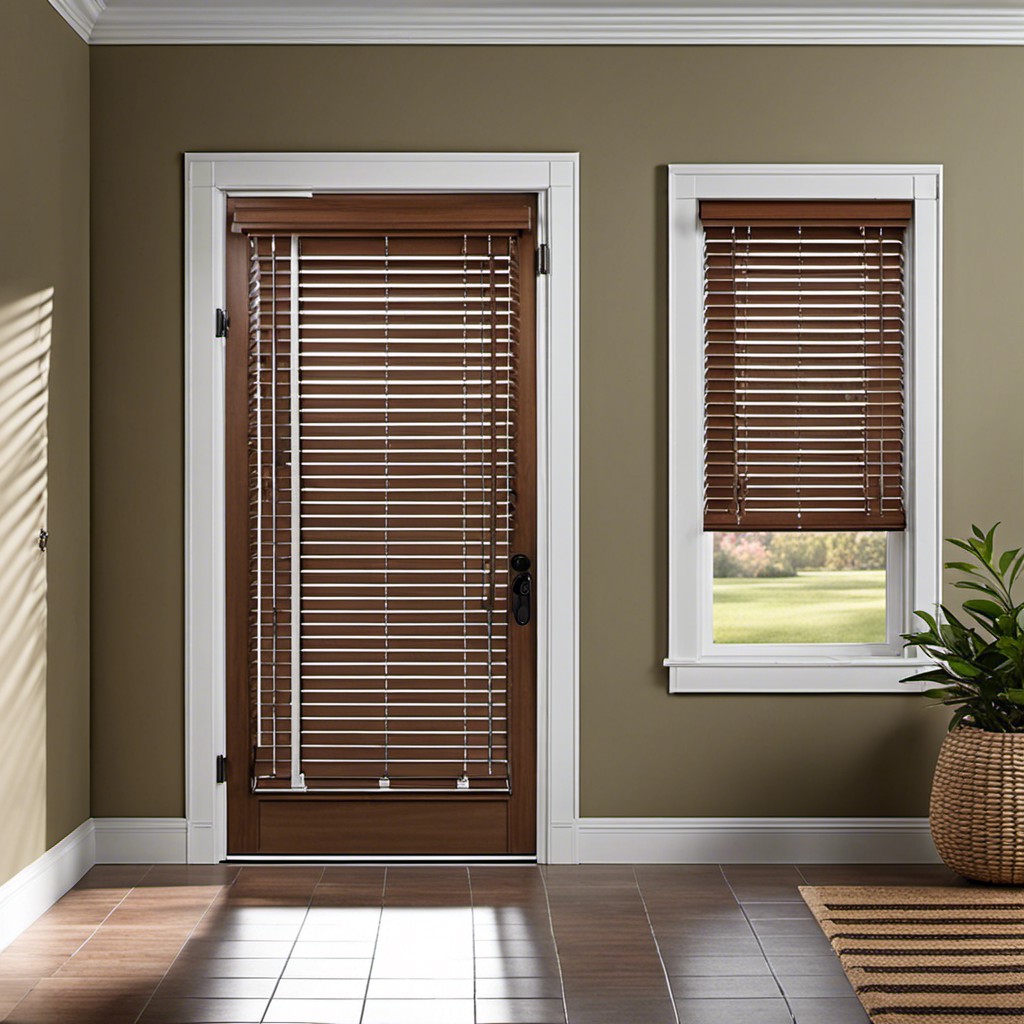 Highly durable and resistant to moisture, faux wood blinds are an optimal choice for back doors, especially those exposed to varying weather conditions. They excellently mimic the aesthetic of real wood, lending a warm and natural feel to the space. Their robust design complements both traditional and modern decor styles, thus offering versatility in design.
While they might come at a slightly higher cost than their real wood counterparts, they make up for it in the long run with their low maintenance requirements. A simple dusting or wipe down is usually enough to keep them clean. Moreover, they come in an array of colors, from whites to deep mahogany, and different slat widths, giving you plenty of options to match your decor.
Faux wood blinds also provide ample control over the amount of light entering through the back door. You have the flexibility to adjust the blinds for complete privacy or to allow a desired amount of light in. Customizable lengths and mounted options enable them to fit well for both windows and doors, making them a practical and stylish choice for your back door window treatment.
Woven Wood Shades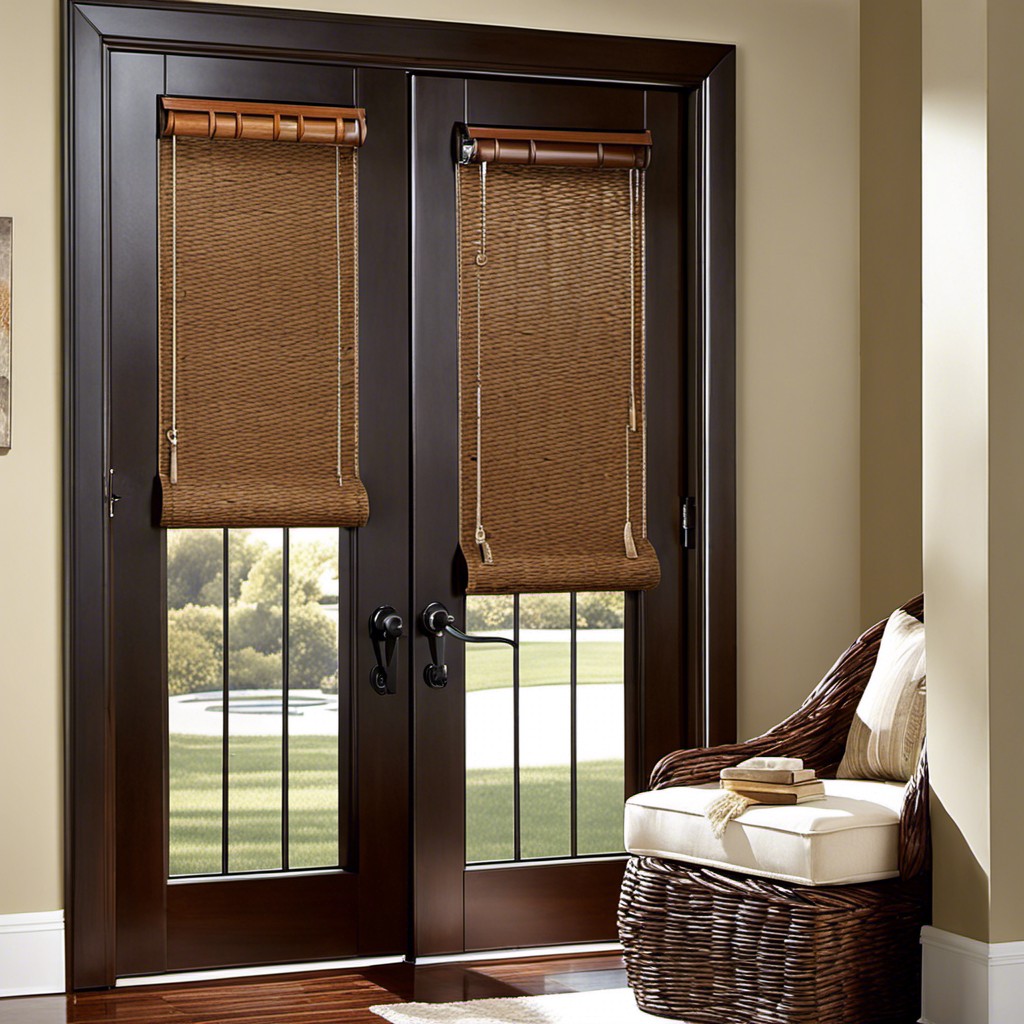 Available in materials such as bamboo or reeds, these shades can add a natural warmth to the back door area. Woven materials gently filter the daylight, creating a cozy, diffused glow inside the room.
If privacy is a concern, opt for a style with a privacy liner attached. Installation is generally straightforward, making these a popular DIY project choice.
Importantly, it's crucial to note that the material's inherent variations in texture and color contribute to the final aesthetic appeal of these shades, offering a unique, organic touch to the space.
When considering maintenance, regular dusting and occasional vacuuming on a low setting suffice to keep these shades in top shape.
Smart Glass Window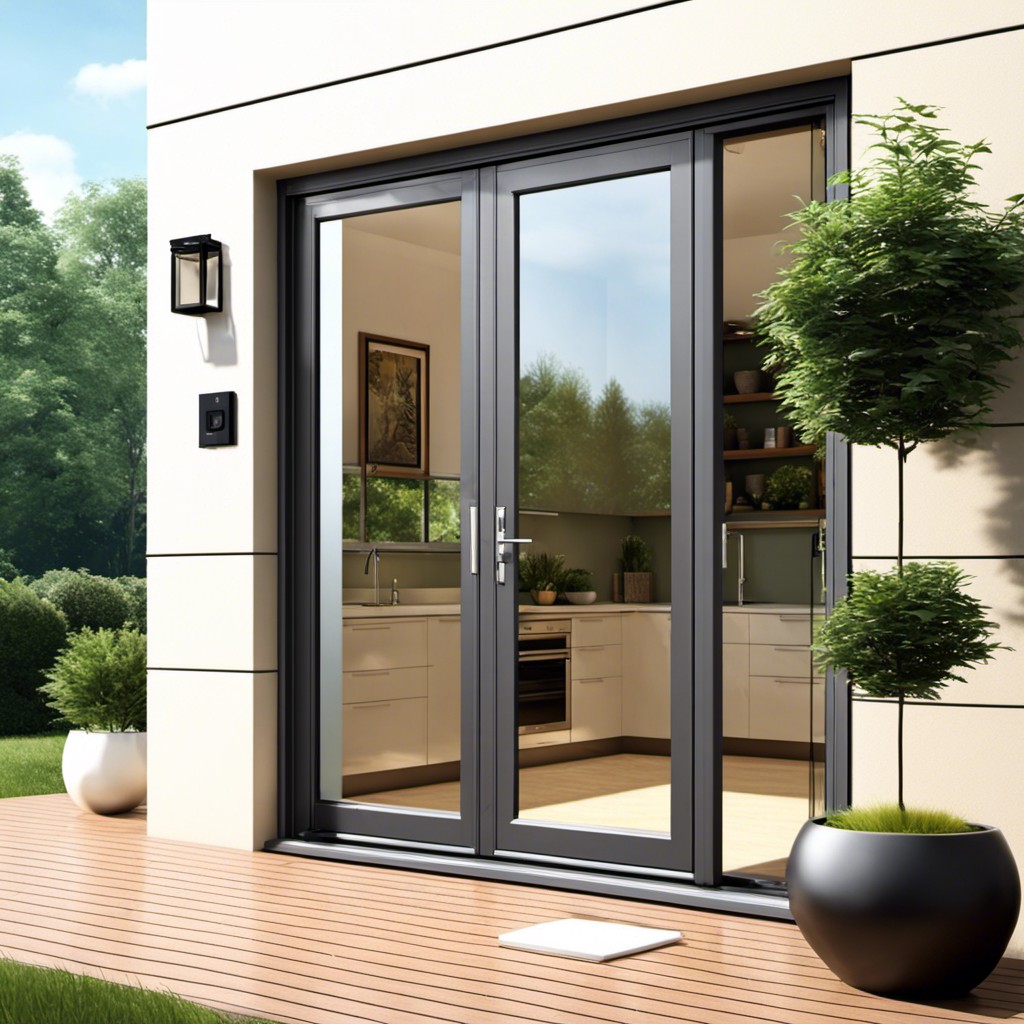 Implementing this innovative technology is bound to up your back door window treatment game. The smart glass window operates by transitioning from transparent to opaque with a simple click of a remote or a smartphone app, providing convenience at your fingertips. When transparent, it performs like any regular glass, allowing maximum sunlight. When opaque, privacy is ensured while still permitting light to pass.
Three key concepts to understand in relation to a smart glass window are:
Control privacy: Instantly switch between clear and frosted mode depending on your need for privacy.
Energy efficient: In its frosted state, it can help reduce solar heat gain, potentially lowering energy costs.
UV protection: It automatically filters out harmful UV rays, protecting your interiors from potential fading.
Factors like cost, installation procedure, and flexibility may impact your decision for this treatment. Nonetheless, this is undeniably a stylish and efficient option to consider.
Stained Glass Door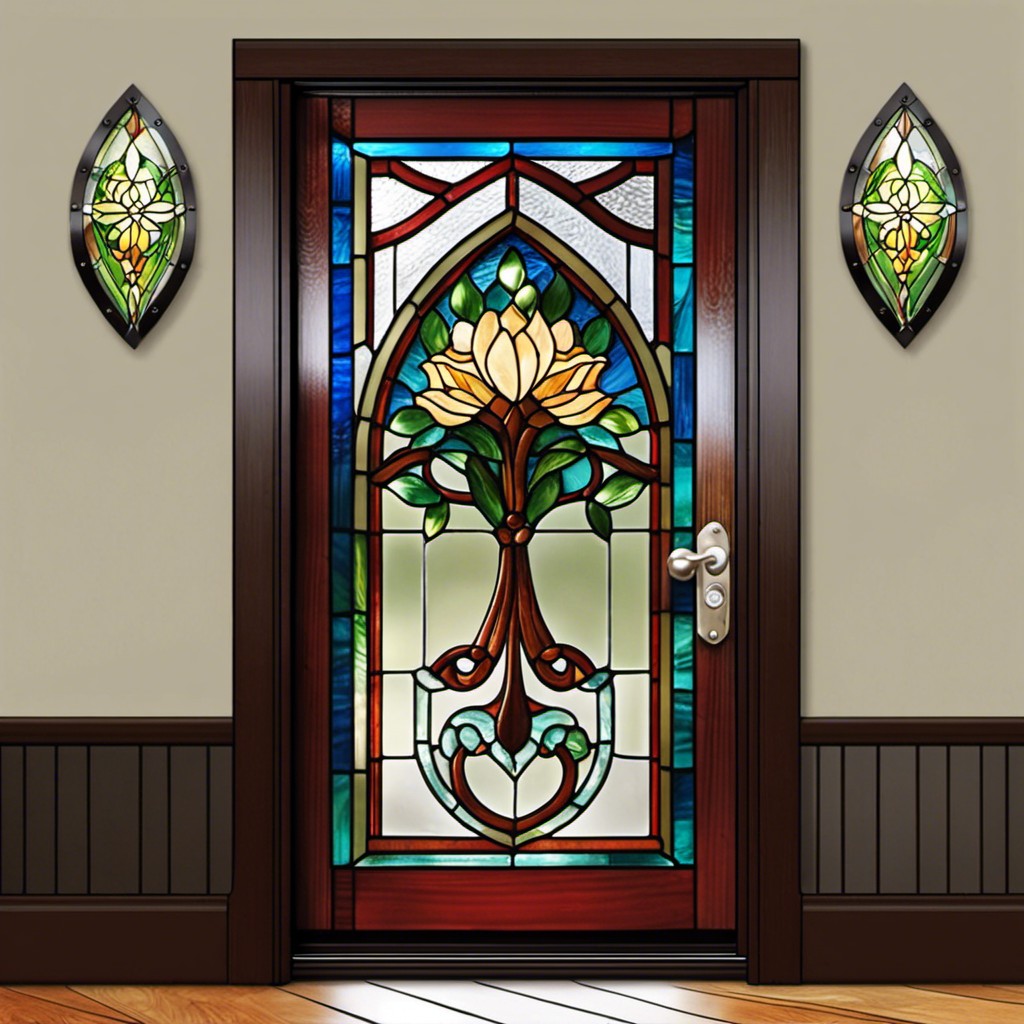 As an option that tilts towards the more artistic and colorful side, stained glass offers a unique blend of privacy and aesthetics.
With a wide array of designs to choose from, each featuring an array of colors and intricate patterns, it can provide just the right amount of light to keep your back door area well-lit.
It's not just about the visual aspect; this option also promotes energy efficiency by reducing the need for artificial lighting during the day.
Each piece of glass is distinct, creating a stunning mosaic when the sunlight filters through.
While adding personality and vibrancy to your space, stained glass remains a durable and easy to clean solution, lending a long-lasting elegance to your back door.
Rattan Blinds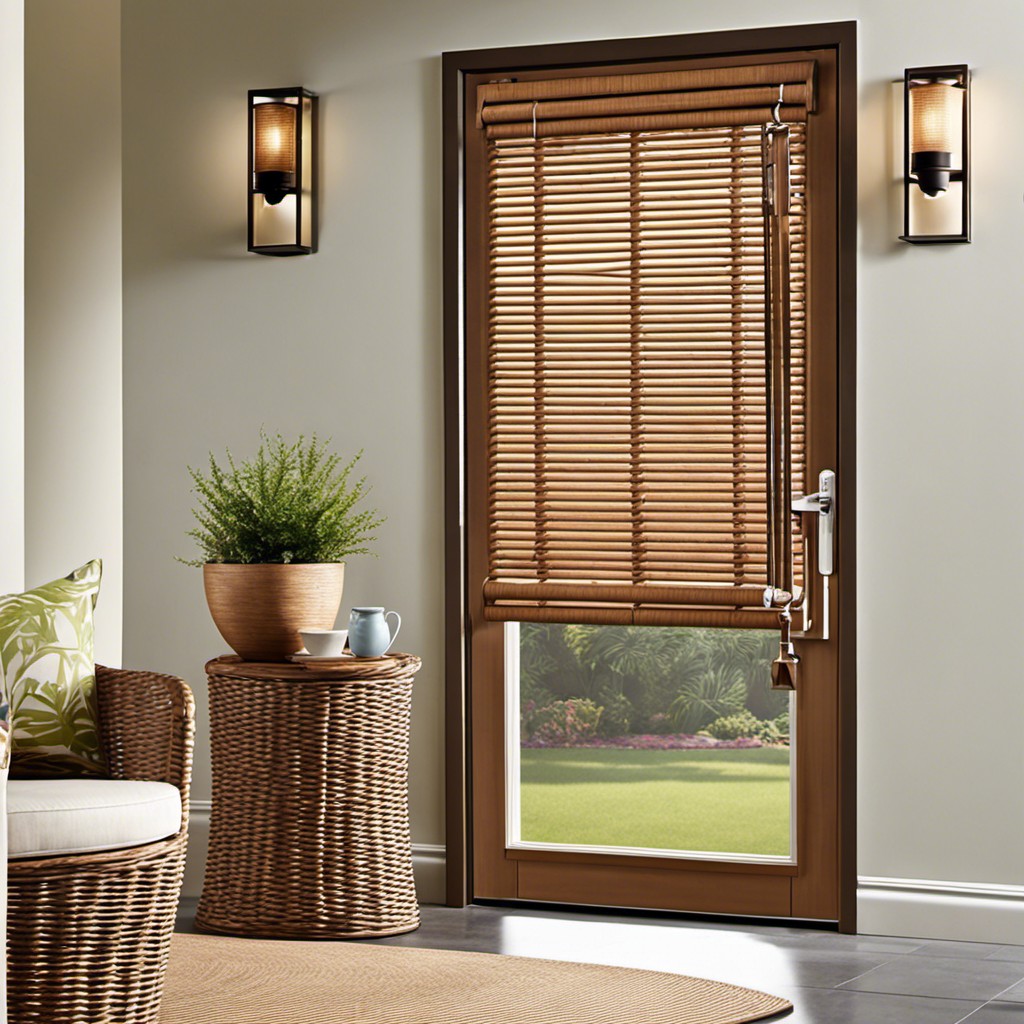 Offering a unique blend of aesthetics and functionality, these blinds infuse a hint of earthy charm into your interior decor. Crafted from a type of palm plant, they are both eco-friendly and lightweight. The natural texture beautifully diffuses sunlight, casting a cozy, calming ambiance throughout the room.
Despite their delicate appearance, these blinds are relatively robust and guarantee a long lifespan. They are ideal for back doors as the woven patterns can provide ample privacy. They require a gentle dusting or vacuuming for maintenance and are susceptible to moisture damage if not treated properly.
Installing rattan blinds is a simple process. Most come with easy-to-use fixtures, which allows for both inside and outside mount. This makes them a versatile window treatment for both traditional and modern home styles. Their chic, rustic look can effortlessly blend with a range of color palettes and accentuate your door design.
Keep in mind, however, that despite their versatility, these blinds might not be the best fit if you require complete blackout. Their inherent design allows a small amount of light to filter through, making them more suitable for homeowners seeking a softer touch to their lighting control.
Plantation Shutters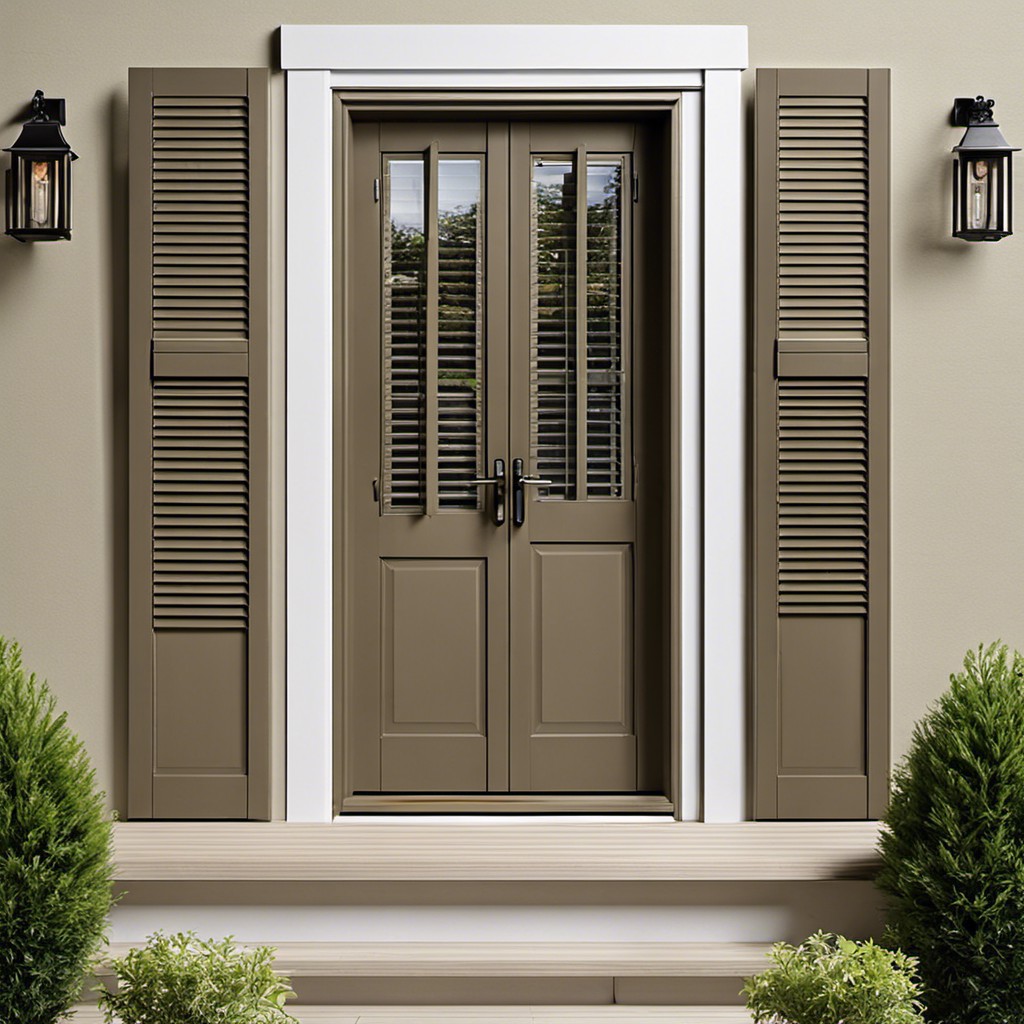 A popular choice for back doors, plantation shutters not only provide privacy but contribute a stylish aesthetic. They cover the whole window, with broad louvers (or slats) that can be tilted to manage sunlight and air flow effectively.
Easy to clean, durable, these shutters are perfect for those with pets or children due to their robust nature. Beyond practicality, their chic design gives any space a touch of southern charm. Available in different colors and finishes, it's a breeze to match them with your existing décor theme.
While they tend to be more expensive than other options on the list, their longevity and style make them an investment. The insulating properties of these shutters also help in energy efficiency, potentially saving you money on heating and cooling costs, adding to their value.
Sliding Panels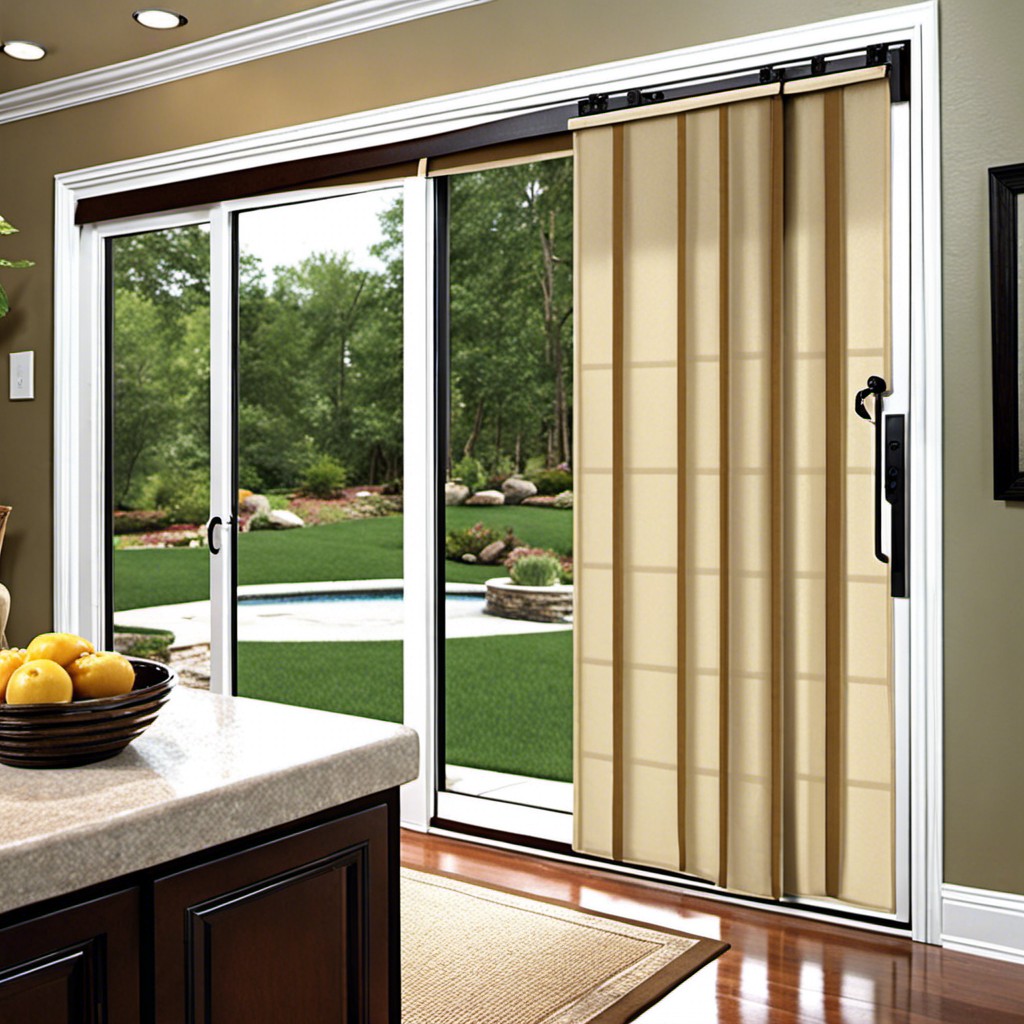 Perfect for back doors that have a wide expanse of glass, sliding panels offer a modern and clean-lined approach to the window treatment. While traditional curtains could bunch up and feel heavy, these panels slide open and close with ease, enhancing practicality. Made in a variety of fabrics or even bamboo, sliding panels can seriously up the style quotient of your back door.
These panels are customizable to your door size, offer excellent light control and provide just the needed privacy. If you're aiming for a minimalist or contemporary décor aesthetic, consider this great option.
Bamboo Blinds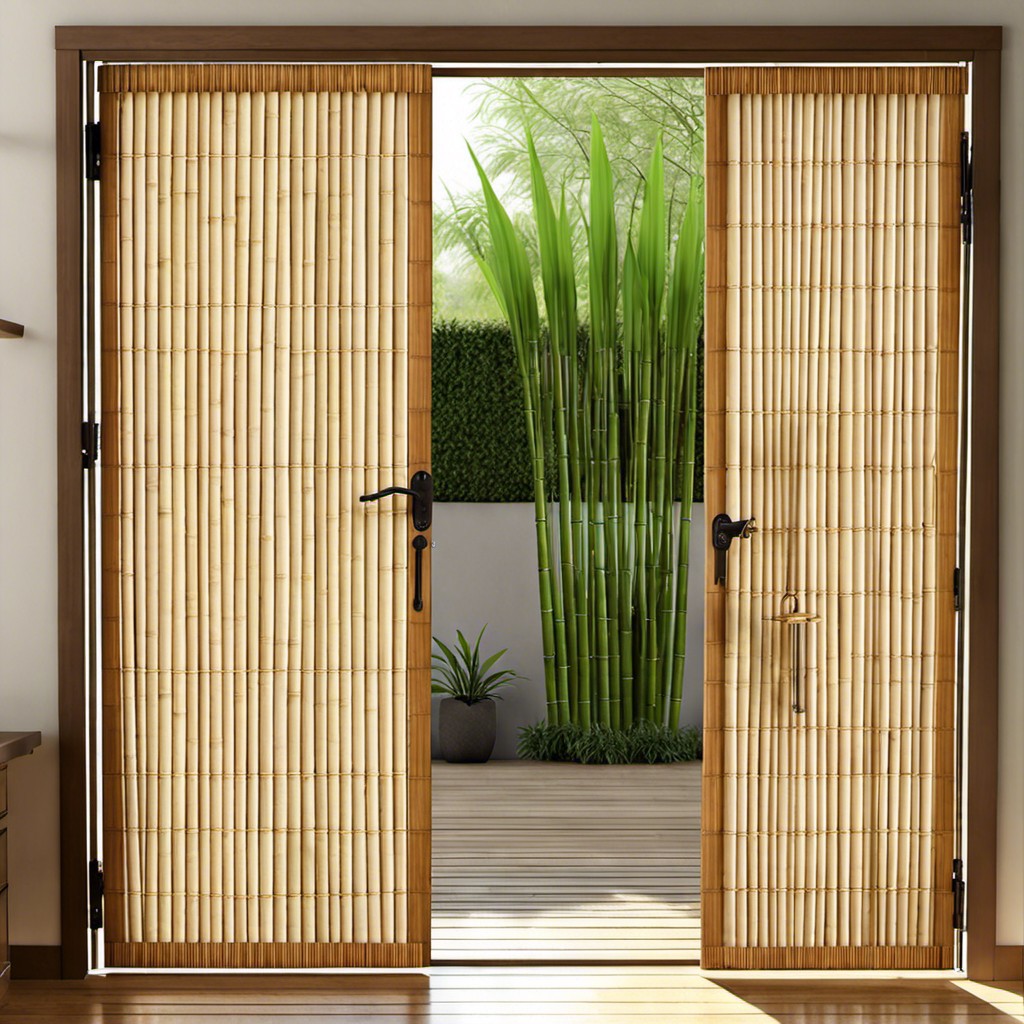 Bamboo blinds aren't just sustainable, they also offer unique aesthetic appeal. Their natural composition instills an organic, earthy feel to a space which cannot be replicated by synthetic materials.
The benefits extend beyond aesthetics. Bamboo blinds are a high performance choice when it comes to light filtering and privacy. They can be maneuvered to allow as much or as little sunlight as desired during the day. At the same time, they provide excellent privacy as evening falls, preventing inside views to outsiders.
They're also versatile, fitting well with a variety of decor styles. Whether the interior leans toward traditional, modern, or rustic, bamboo blinds can enhance the overall scheme effectively.
Easy to maintain and relatively durable, bamboo blinds provide a sensible and stylish solution to back door window treatments. Simply dust them off periodically to keep them looking fresh and new.
Remember, before making a purchase, measure your back door window precisely to ensure a good fit. Blinds that are too large or too small will detract from the overall appearance and functionality.
Decorative Film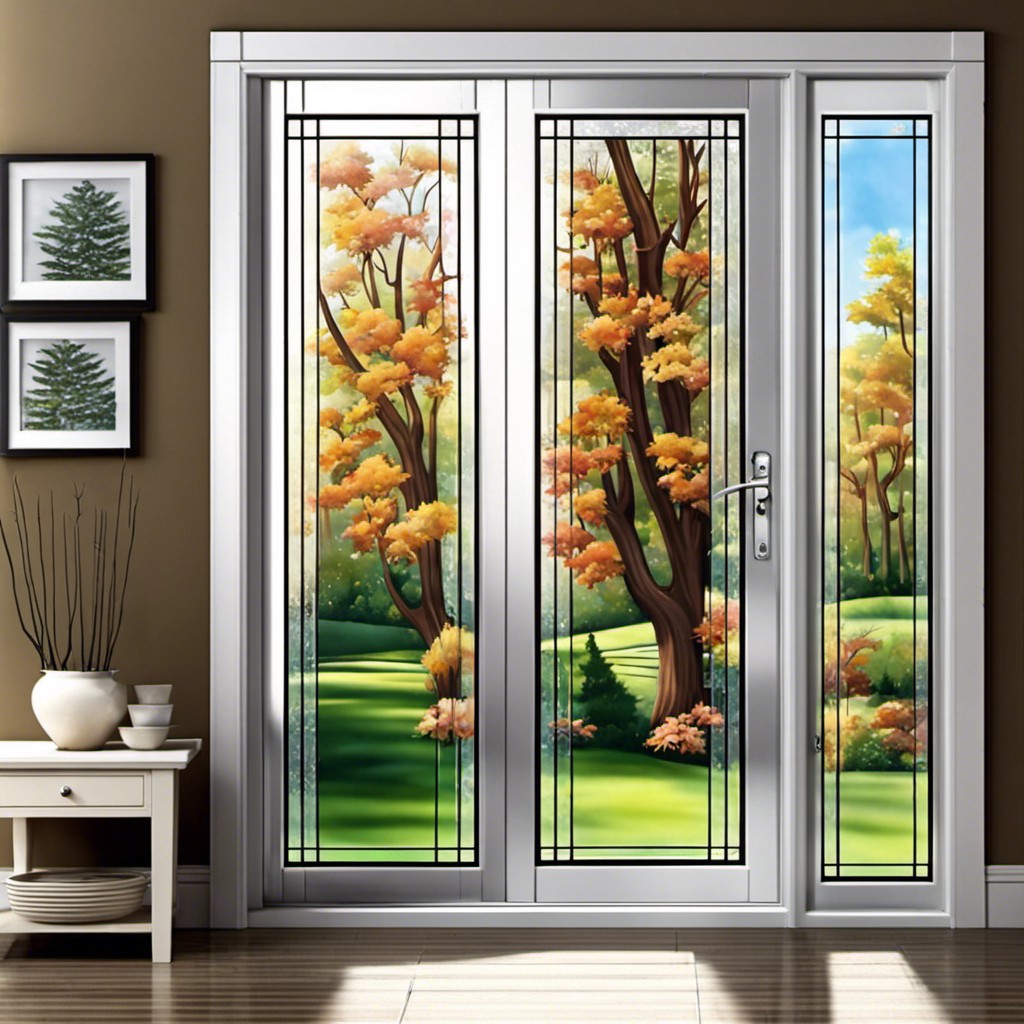 Adopted widely for its simplicity and versatility, decorative film is an inventive and cost-effective solution for back door treatments. Made out of self-adhesive vinyl, these films come in an array of designs – from intricate patterns to vivid colors. They not only upgrade your decor but also add an extra level of privacy by obscuring the view from outside. Yet, they allow natural light to filter in, creating a bright and welcoming environment.
Installation is easy and mess-free, offering a flexibility to switch styles as it aligns with your evolving tastes. Durability and minimal upkeep make decorative film an alluring choice for many homeowners.
Roller Shades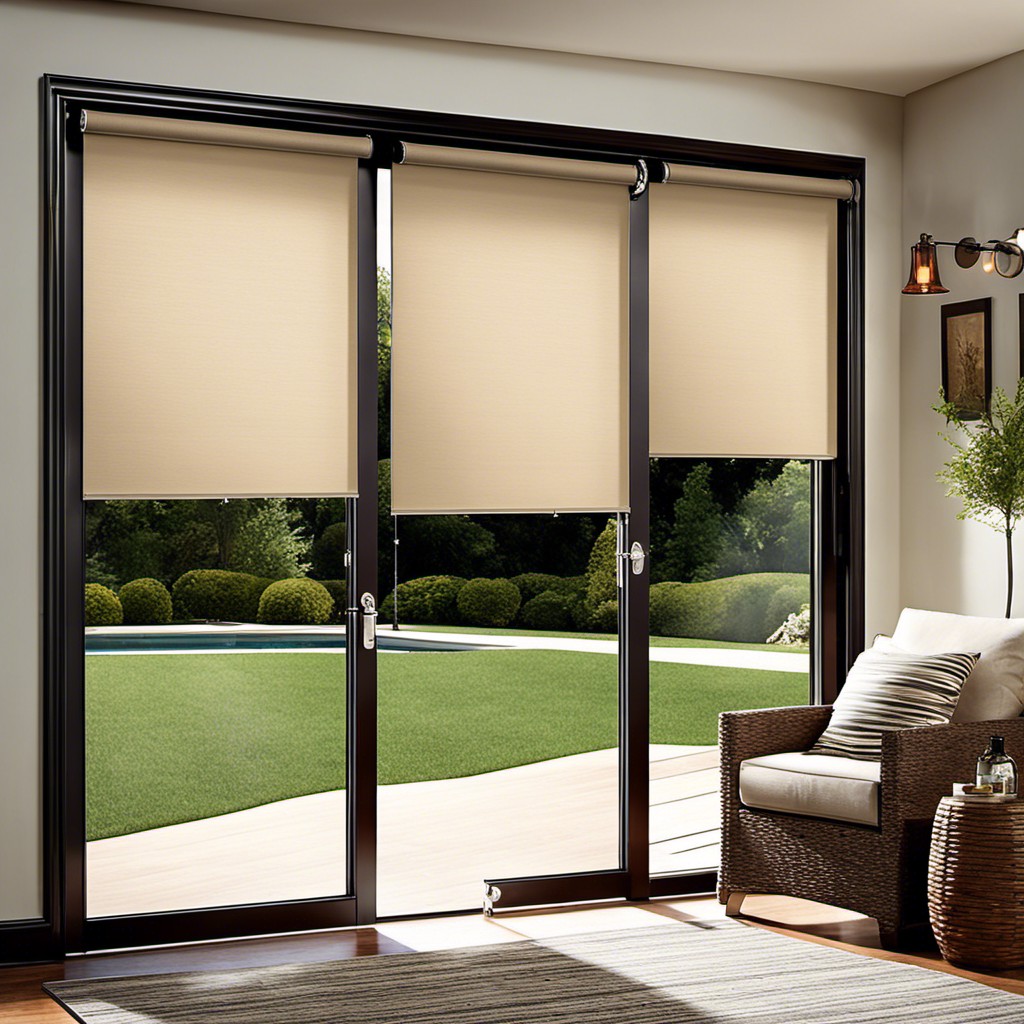 Streamlined and elegant, roller shades offer excellent light control and privacy without compromising on style. They are customizable, ranging from light-filtering to room darkening materials. Thanks to their simple, uncluttered look, they are perfect for adding a clean, contemporary accent to any style of room.
1. Versatility: These shades are ideal for all door shapes, making them a popular choice.
2. Light Control: Choice of fabric provides various degrees of light filtering or blocking options.
3. Customizable: Available in a vast array of colors, prints, and fabrics to match every décor style.
4. Space-Saving: Narrow and compact, they save valuable space around your back door area.
5. Easy to Operate: With cordless options available, they're safe for families and easy to use.
6. Privacy Control: Lower from the top to let light in without sacrificing privacy.
Half Window Shutters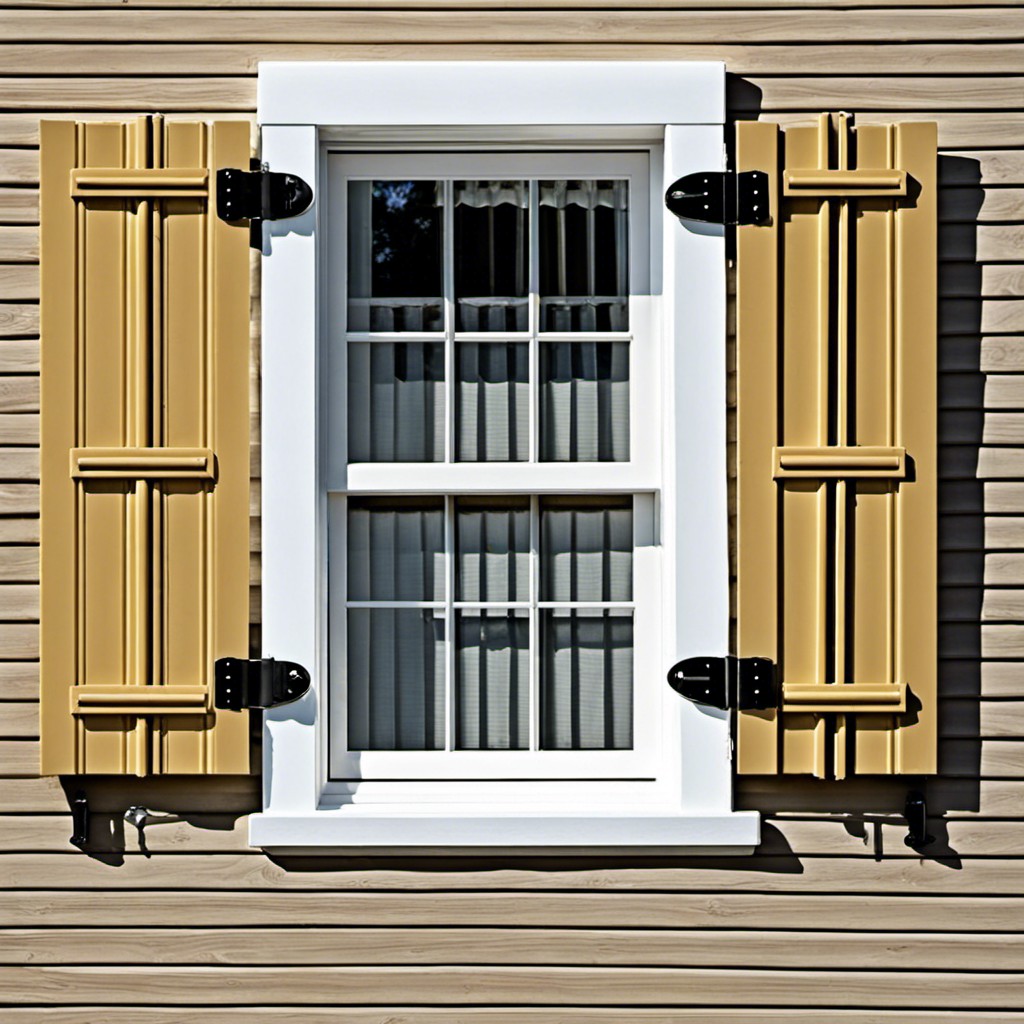 Half window shutters, often referred to as café-style shutters, offer a unique blend of privacy and light control. Positioned at the lower half of the window, they leave the top part open, allowing for ample sunlight while still concealing the interior view from outdoor eyes.
Constructed from a variety of materials including wood, vinyl, or composite, these shutters provide durability and resistance to moisture or damage. Due to their traditional aesthetic appeal, they can help enhance the look of any backdoor while offering practical functionality.
The semi-permanent nature of half window shutters also lends a level of security to your home. With professional installation, they fit snugly within the window frame, making forced entry more difficult than with typical blinds or shades.
Blackout Curtains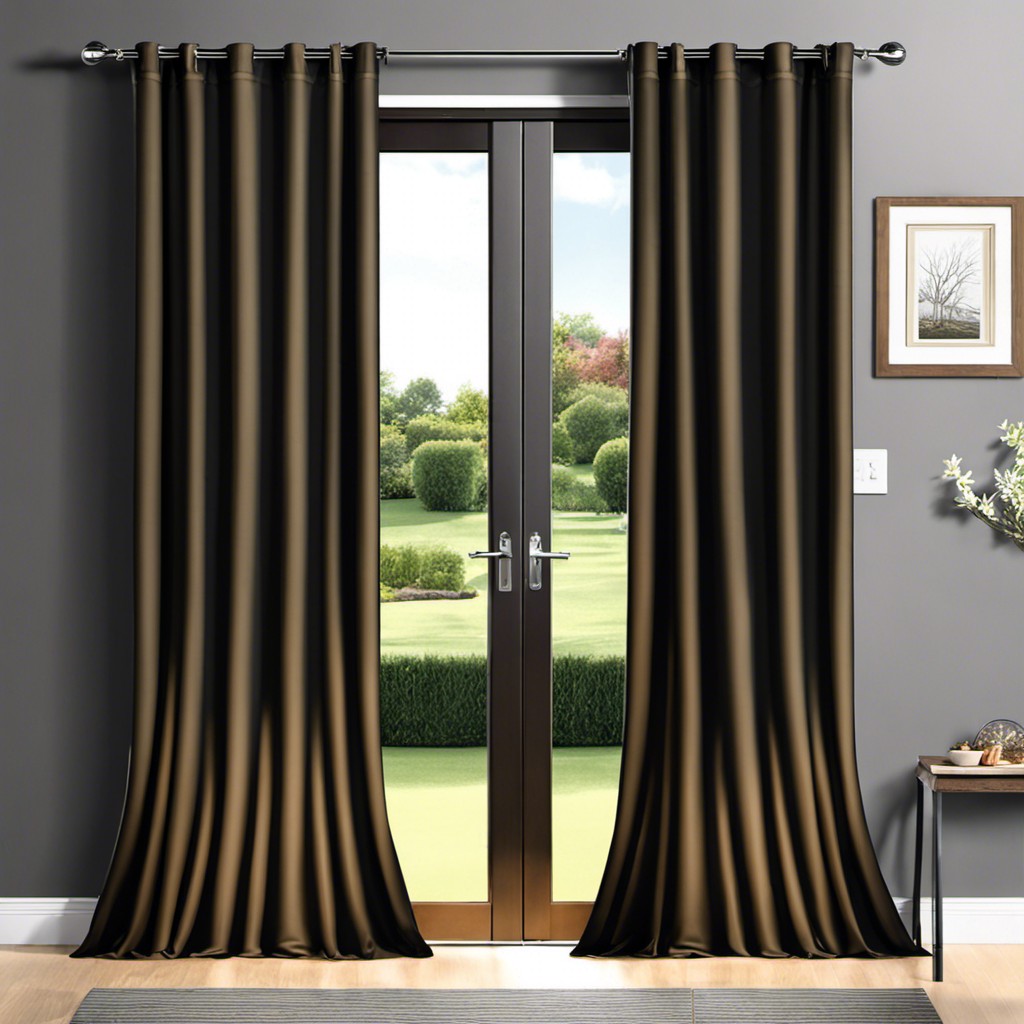 Designed with a special type of fabric that obstructs any kind of light, these curtains are highly effective for back doors facing direct sunlight. They not only ensure total privacy but also help in saving energy by insulating against heat and cold. Blackout curtains assist in noise reduction by limiting the amount of outdoor noise entering the house, thus making the house quiet and serene.
1. Blackout curtains feature tightly woven yarns that create a total barrier against the light. Opt for ones with layered construction or foam-backed setup for optimum light blockage.
2. While they are available in several solid colors, patterned variants have also gained popularity. They add a bit of flair to any room, making a bold statement even while being practical.
3. Keep in mind, the heavier the curtain, the better it is at insulation. Choosing heavyweight blackout curtains can contribute significantly to energy saving efforts at home.
4. For an added aesthetic touch, consider pairing the blackout curtain with a translucent curtain or sheer drapes. This allows a compromise between having a well-lit space during the day and ensuring total privacy at night.
5. Lastly, as functional as they are, these curtains need proper care. Always follow the care instruction as per the manufacturer's guide to maintain their efficacy and longevity. Some are machine washable while others require professional cleaning services.
Geometric Patterned Curtains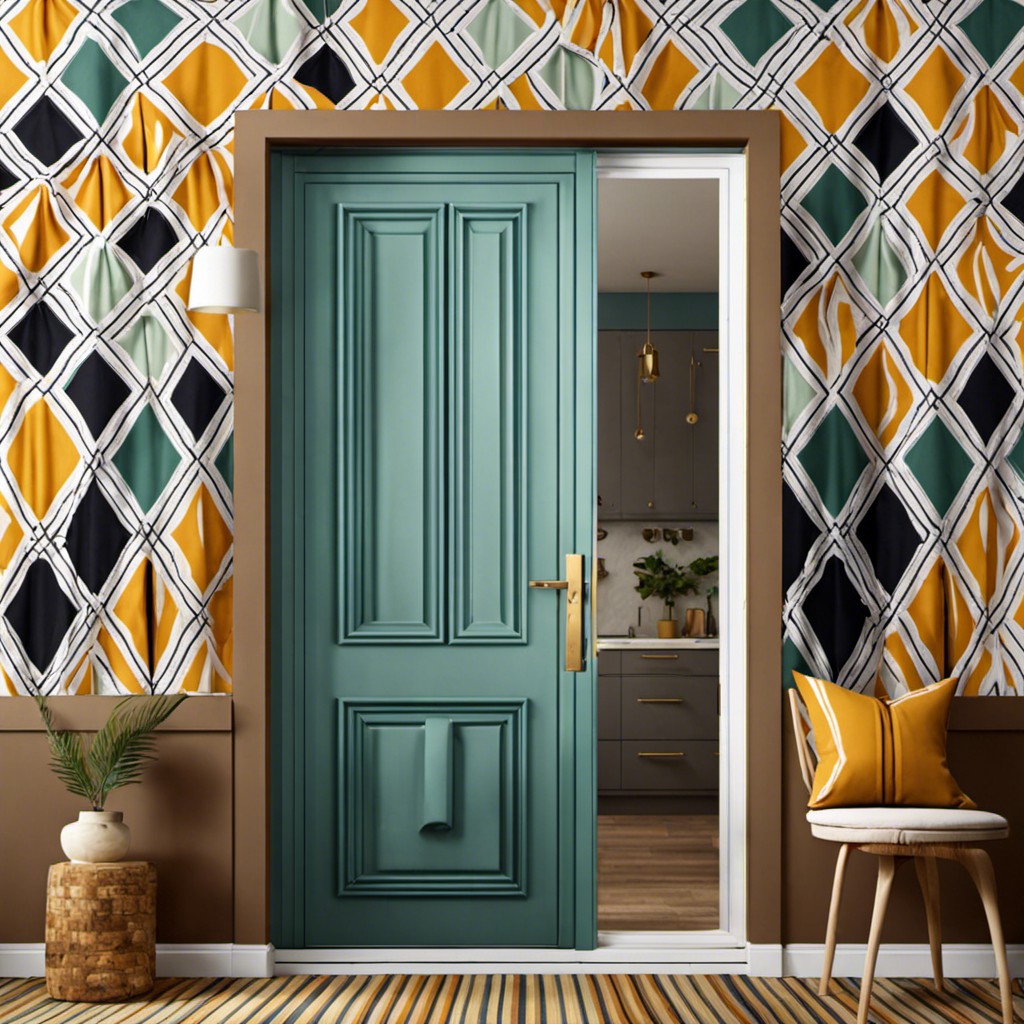 Adding a bold finish to a backdoor, these curtains make quite a statement. The eye-catching designs can range from intricate kaleidoscopic patterns to simple shapes, bringing depth and aesthetic appeal to the decor. They become the focal point and instantly update the space with a burst of color or a sleek monochrome palette.
One can opt for lightweight cotton or heavy silk, depending on the light filtering and privacy needs. They can cover the full height of the door or only the window area for a less dominating appeal. Be sure to match colors and styles with existing decor elements to ensure harmony. Moreover, with easy-to-install options available, transitioning your space can be as fun and effortless as choosing your favorite pattern.
In all, these curtains serve not only as a practical window treatment but also as an artistic element that sets the tone and character for your backdoor area.
Thermal Insulated Door Blinds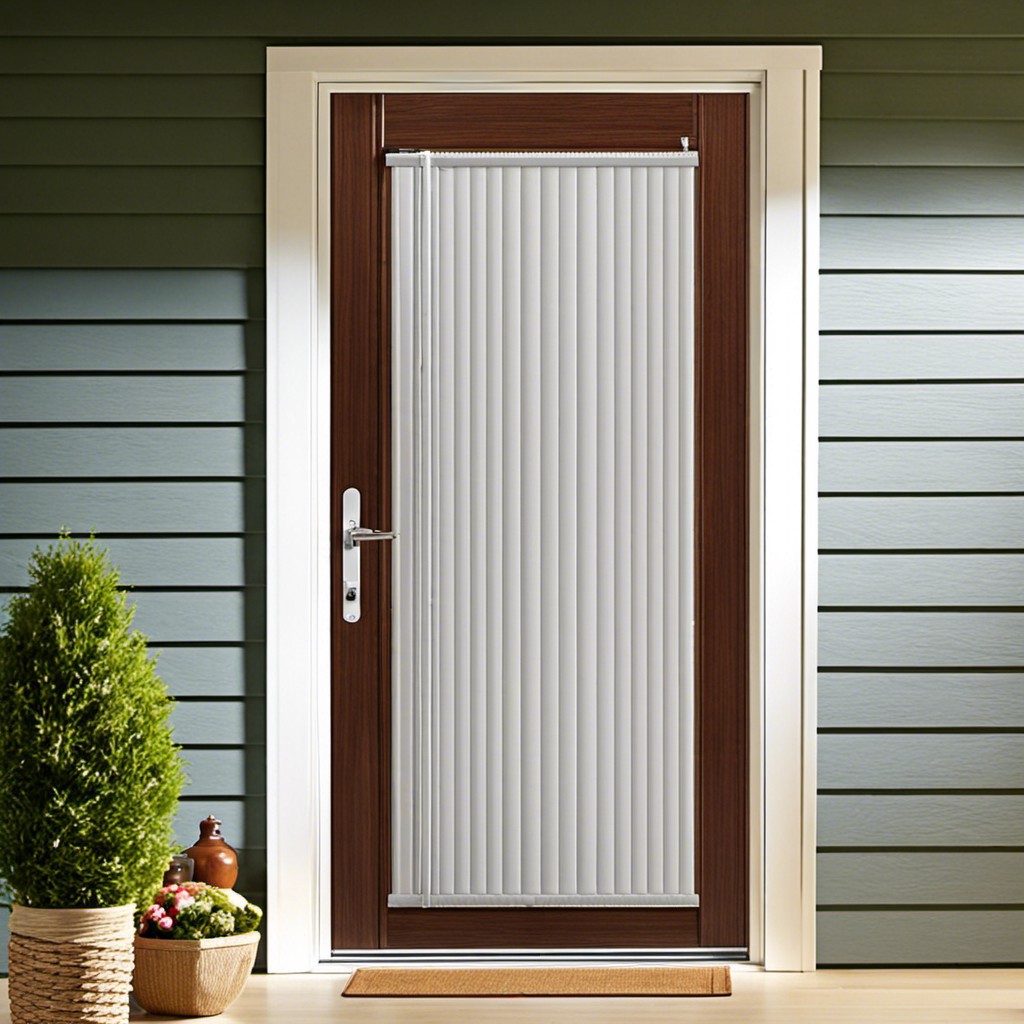 Prominent for their energy efficiency, thermal insulated door blinds offer a twofold functionality – guarding against harsh sunlight and maintaining indoor temperature.
They work as thermally-insulated barriers, keeping the heat out in summer and trapping the warmth inside during winter.
Hence, they significantly contribute to lowering heating and cooling costs.
Also crucial is their role in privacy, reducing glare and minimizing sunlight damage to furniture.
These blinds are available in a spectrum of colors and patterns ensuring an aesthetic match to any décor.
Fashion and function unite effortlessly with thermal insulated door blinds.
Rest assured, they add an element of sophistication while being incredibly practical.
Furthermore, they are easy to install and require minimal maintenance, making them a popular choice among homeowners.
Venetian Blinds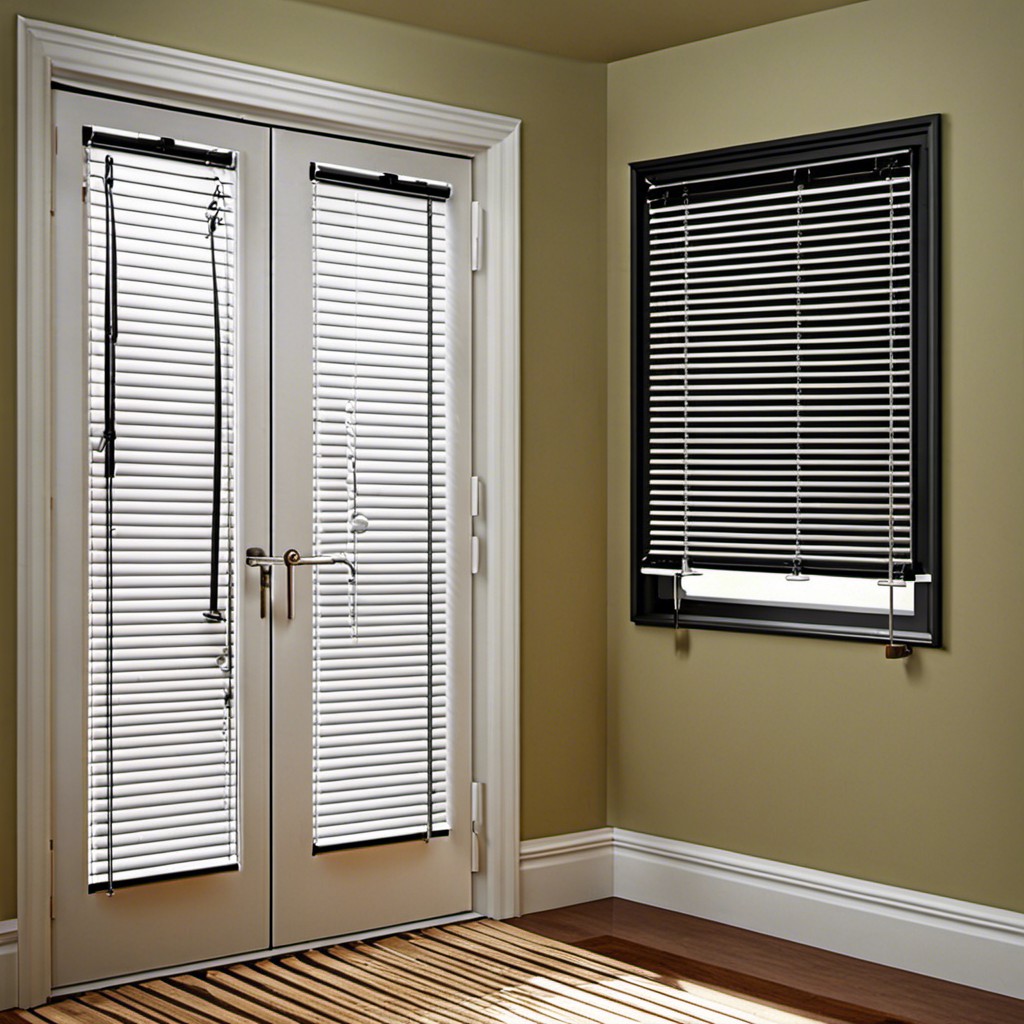 Characterized by its horizontal slats, this option is well loved for its simplicity and functionality. A cord mechanism allows for regulation of light and privacy levels with utmost ease.
Venetian blinds are typically available in metal, plastic or wood making them an adaptable choice fitting numerous design schemes. Wood adds a classic air, while plastic and metal can accommodate more contemporary aesthetics.
Maintenance is generally straightforward: a simple dusting or wiping down with a damp cloth is all that's needed. Consider Venetian blinds, a wonderful blend of style, versatility and ease of upkeep.
Tinted Window Film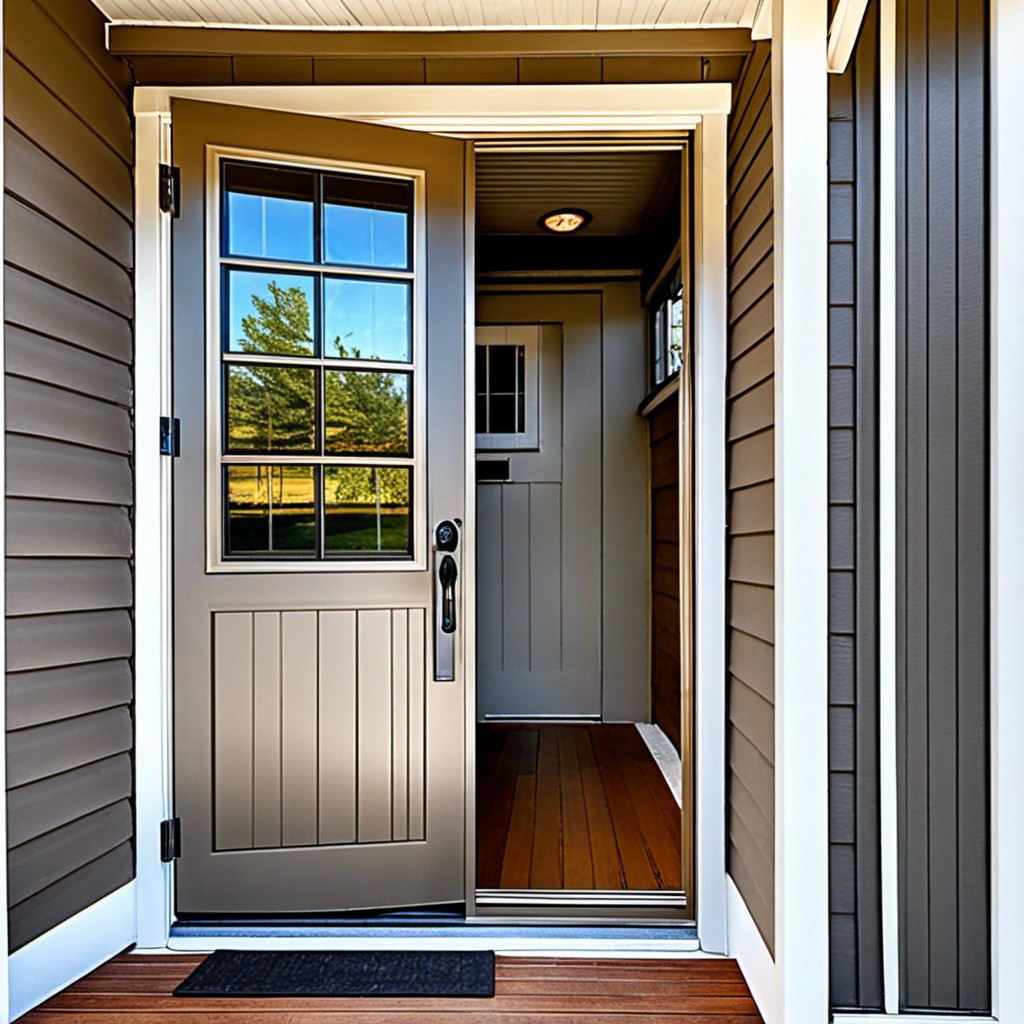 Transitioning from the clear view provided by traditional glass, tinted window film imparts a subtle shade to your back door. This choice benefits from adding privacy without losing the element of natural light. They can be installed with ease, causing minimal disruption to your home routine. This film is durable, which markedly lowers the chances of scratches or other wear.
In terms of aesthetic versatility, these films are available in a wide variety of colors and shades. This allows homeowners the freedom to select a tint that harmonizes seamlessly with their overall decor. Beyond the aesthetic aspect, they offer utility by reducing the amount of harmful UV light that enters your home, making them a stylish and practical solution.
Perhaps one of the most enticing benefits is energy efficiency. By barring powerful sun rays, these films regulate indoor temperature, thus reducing the load on cooling appliances during hot weather. This can lead to considerable savings on energy bills over time.
You may also like to read: