Last updated on October 31, 2023
Adding a decorative access panel cover to your interiors is a must, because it stealthily conceals utilities without compromising on the aesthetic appeal of your space.
I'm thrilled to share with you the 20 stylish decorative access panel cover ideas I've created, and it's my sincere hope you'll find them as inspiring and fun to explore as I did in creating them.
Decorative access panel covers serve a dual purpose in your home – they provide easy access to hidden utilities and add an aesthetic touch to your decor.
Whether you're looking to blend the panel with your wall or turn it into an artistic statement, there are countless creative ideas to choose from.
This article delves into a variety of decorative access panel cover ideas, from painting and wallpapering to repurposing vintage items.
Each idea is accompanied by detailed instructions, making it easy for you to transform your access panel into a decorative element that enhances your home's overall aesthetic.
Read on to find the perfect idea that suits your style and space.
Table of Contents
Patterned Fabric Covers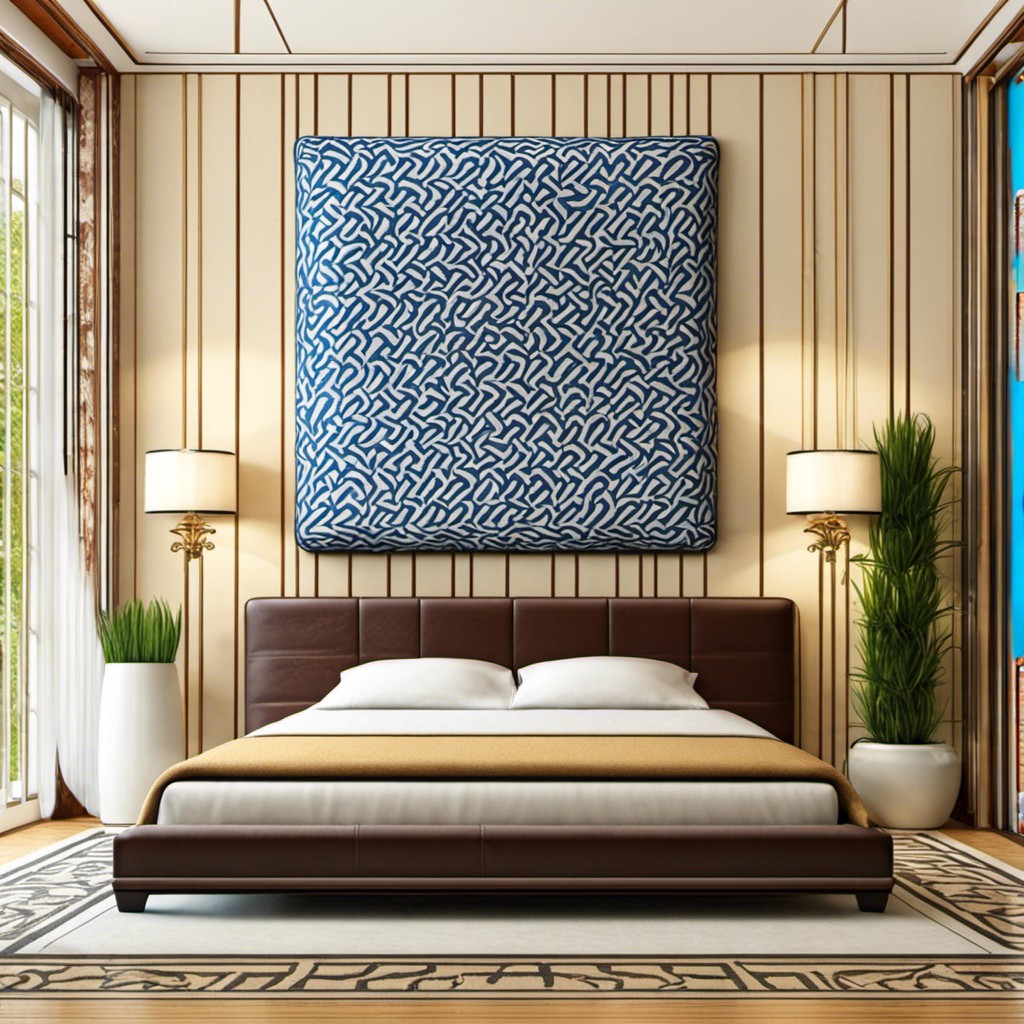 Utilizing a patterned fabric provides a simple and cost-effective solution to conceal your access panel. The beauty of this option lies in its versatility. Regardless of the existing design scheme, there's a vast selection of patterns, colors, and textures to choose from allowing you to find a harmonious match with ease.
The application process too requires minimal effort. You can upholster a cut-to-size lightweight board and attach it to the panel. Alternatively, you can construct a frame over the panel and stretch the fabric over it.
A plus point for this method is the ease of access. As an access panel needs frequent or occasional opening, using fabric ensures this task does not become a chore. When required, you can simply lift or slide it.
When opting for a pattern, consider the size of your room and its overall feel. A large, bold pattern may overpower a small room. On the other hand, a gentle, understated design may get lost in a large space with bold colors.
In addition to this, cleaning is also straightforward – a quick vacuum or brush-down does the job for most fabric types. Do remember to check the cleaning instructions for the chosen fabric to maintain its condition.
Patterned fabric covers are a truly versatile, easy-to-achieve and dynamic solution that seamlessly integrates the access panel into your room design.
Decorative Metal Sheets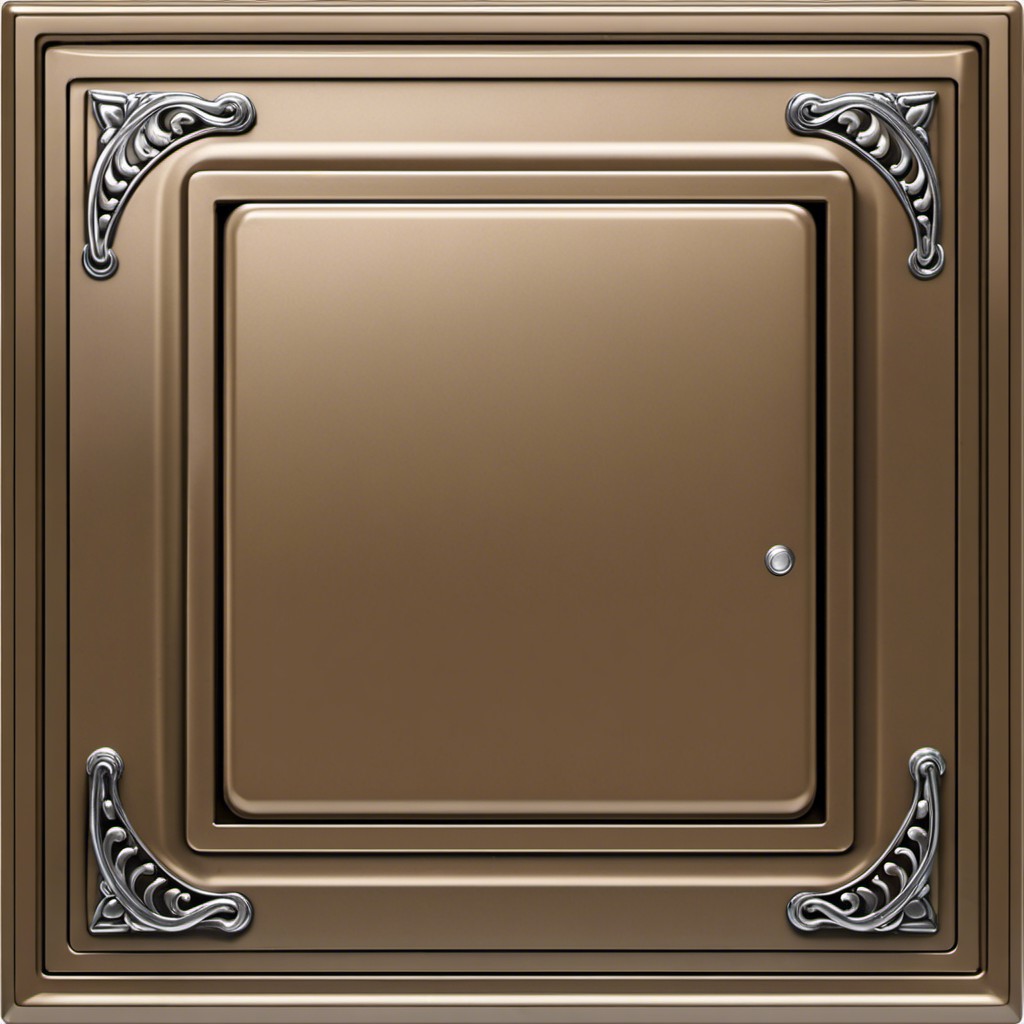 Metal sheets provide a visually pleasing and robust solution for camouflage. They are available in various patterns and finishes, including ornamental, contemporary, and industrial styles. This flexibility allows for the effortless blending of the panel with the overall design aesthetic of the room.
For a more rustic look, consider utilizing corrugated metal sheets, which offer a unique texture.
Moreover, metal sheets are easy to install and maintain, making them a practical choice. To add a touch of elegance, consider a brushed metal finish, which can reflect ambient light to brighten the room. To achieve a more edgy, modern feel, gunmetal or blackened steel can be an excellent option. Always consider the other design elements in the room to ensure a seamless integration.
Metal sheets can also be repainted, providing flexibility for future decor updates.
Custom Paintings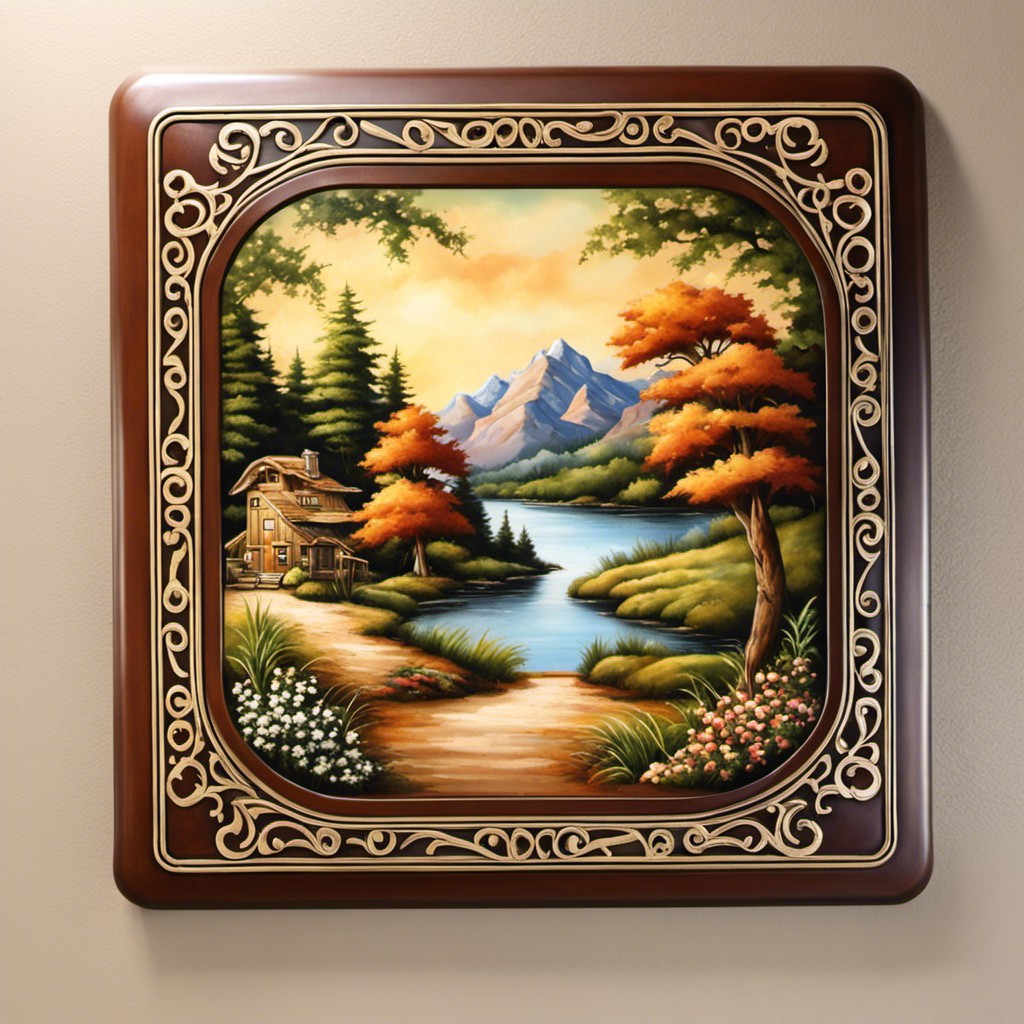 Infusing a burst of artistic flair into your home decor, custom paintings can disguise access panels spectacularly.
Start by measuring your panel accurately to avoid sizing issues.
Hire an artist or, for the artistically inclined, unleash your creativity right onto the panel.
Select a design that reflects your taste – abstract, landscape, or portraiture, the possibilities are limitless!
Acrylic paints work exceptionally well due to their durability and versatility; however, ensure you seal the artwork with a protective layer to maintain its brilliance.
The best part? It can be a seamless extension of your wall art collection bringing an unexpected dimension to your space.
Magnetic Chalkboard Covers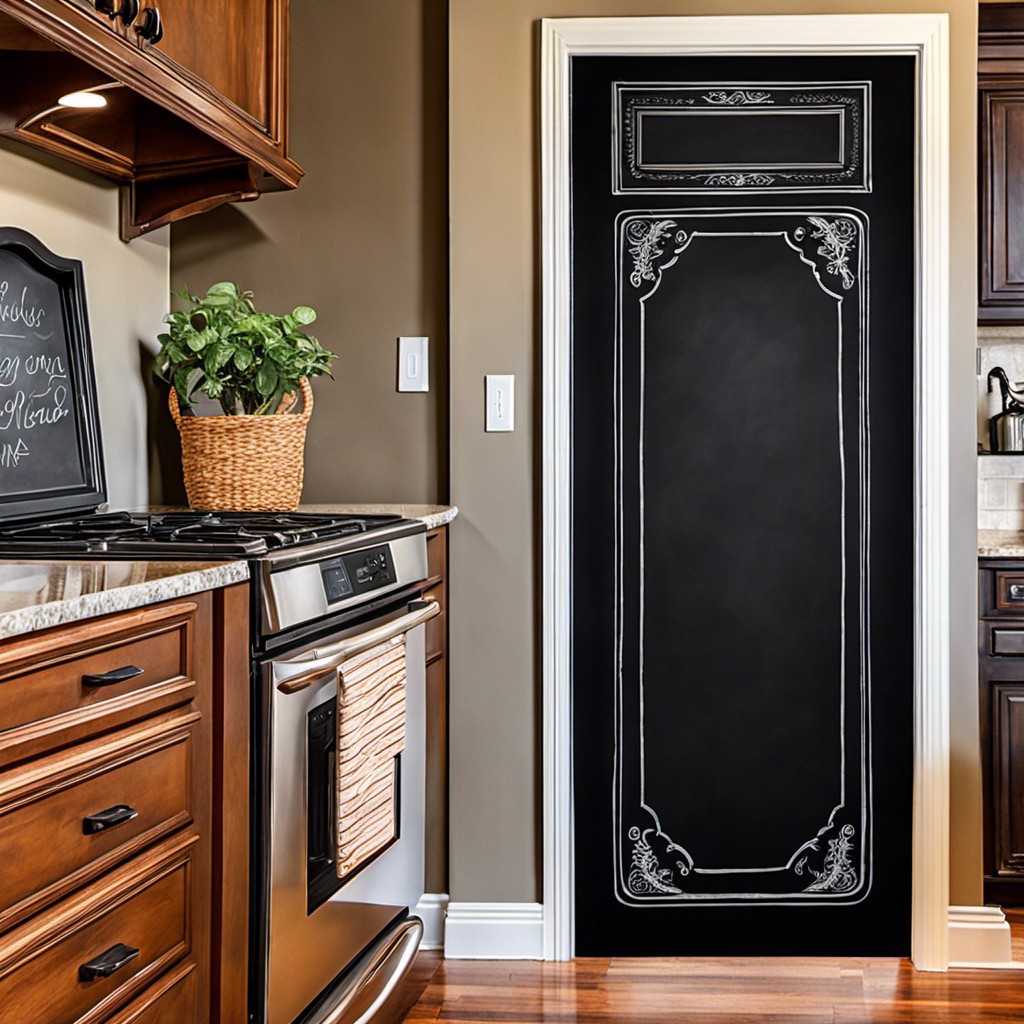 An all-time favorite, these covers carry a dual virtue of both functionality and aesthetics. They transform a plain, dull panel door into an interactive, eye-pleasing element in your space- be it in the kitchen, a kid's room, or your home office.
Coat it with a magnetic primer first, followed by a chalkboard paint. This creates a perfect surface where you can stick magnets, scribble notes, doodle drawings, or jot down schedules. Plus, it's quite easy to install and manage.
This choice gives an added benefit of keeping your living space organized while modernizing the area with a sophisticated touch. Your personal customization possibilities are virtually endless, enabling you to blend the panel seamlessly with the rest of your decor. It indeed brings a fun and unexpected twist to a mundane access panel.
Custom Wallpapers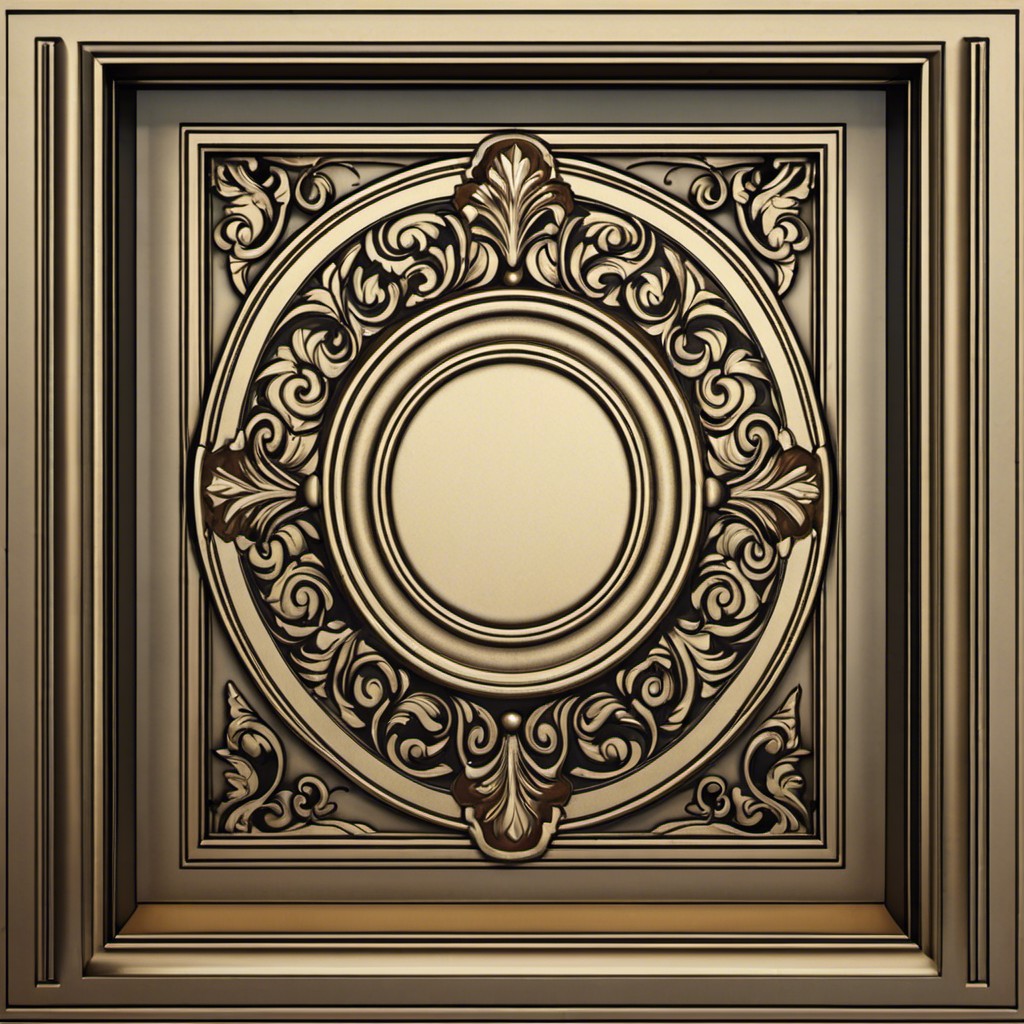 Custom wallpapers offer a creative way to disguise access panels. They can seamlessly blend into the surrounding decor while offering a stylish touch.
Here are some key points:
Personalization: Choose designs that reflect your taste, from intricate patterns to soft pastels and more. The sky's the limit!
Seamless Blend: Match the wallpaper with the rest of the wall, thereby camouflaging the panel.
Easy Installation: Unlike traditional wall treatments, custom wallpapers are easy to apply and remove. Ideal for access panels that require frequent accessibility.
Cost-effective: A cost-friendly alternative for high-end aesthetic appeal, working well with different budgets.
Versatility: It works well for all room types, whether it's a living room, kitchen, or bathroom.
Remember to carefully cut and align the wallpaper to ensure the panel remains operational while adding to the room's aesthetic appeal.
Bamboo Panel Covers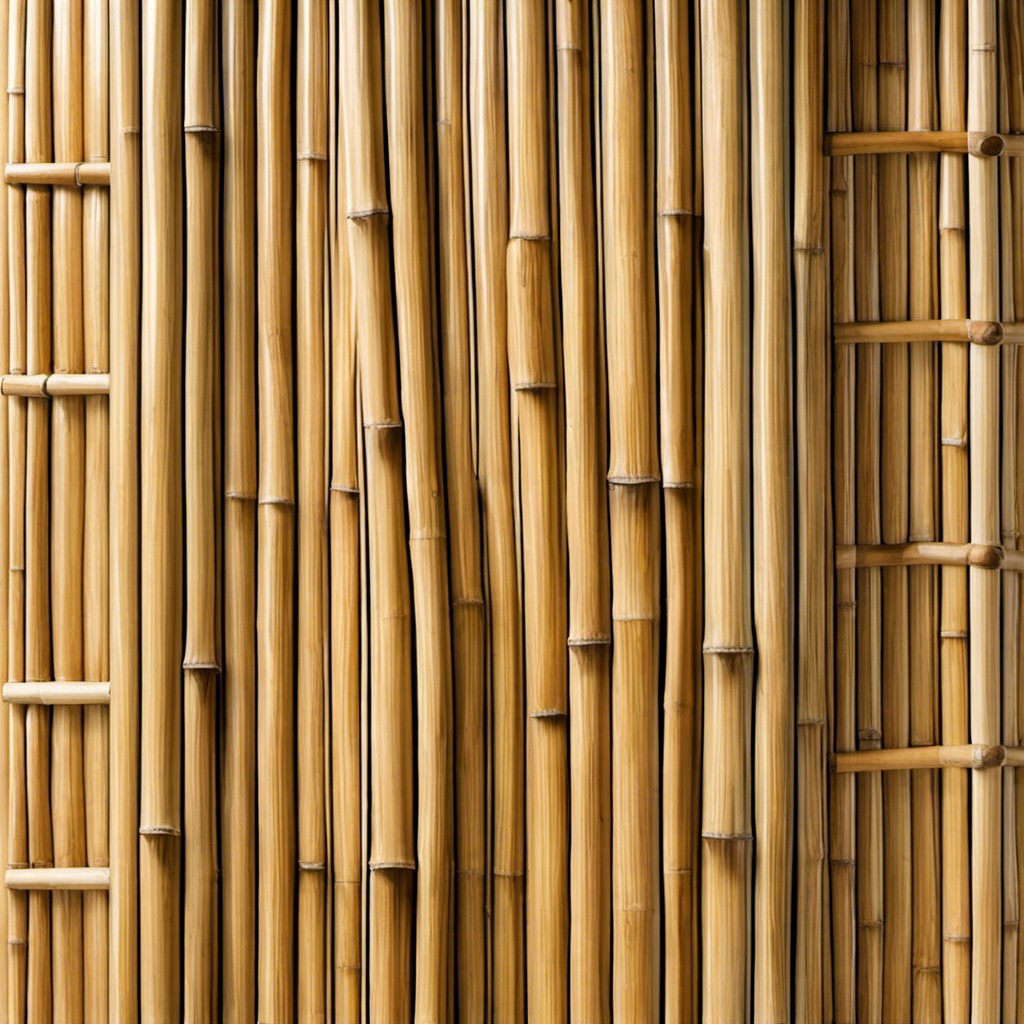 As a naturally durable and lightweight material, bamboo has much to offer for covering access panels. Its versatility allows it to blend seamlessly with various interior design styles, be it traditional or contemporary.
The trick to implementing bamboo effectively is to consider the surrounding aesthetic. For a modern look, consider a polished, carbonized bamboo cover. If aiming for a rustic or coastal vibe, untreated bamboo with its natural texture might be the more fitting choice.
Installation tends to be straightforward: these covers can be attached via simple mounting brackets or industrial-grade adhesive. It's worth mentioning that – being a sustainable material – bamboo covers offer an eco-friendly solution for those conscious of their environmental impact.
Maintenance is another advantage: periodic dusting and occasional wiping with a damp cloth are all it takes to keep bamboo panel covers looking their best. Considering functionality, some craftsmanship may be required for access; a hinged or removable design could be ideal for ease of use. Lastly, ensure that the bamboo's finish complements the existing decor for a unified appearance.
3D Wall Art Panels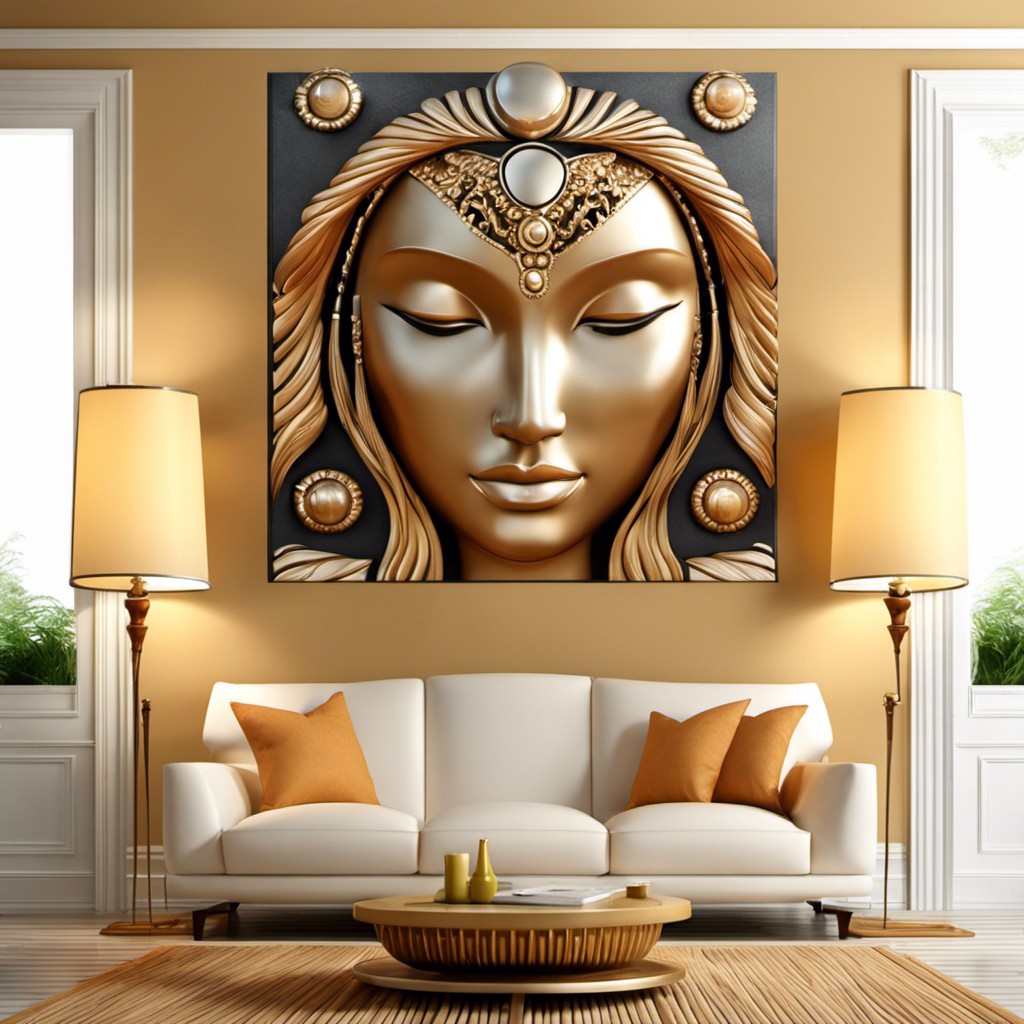 For an extraordinarily immersive aesthetic, consider incorporating these intricately designed covers into your home decor. With a stunning range of designs available, you can choose from geometric patterns, faux brick or stone, floral design, and more. These panels not only hide access panels seamlessly but also add a statement piece to your walls.
The panel's materials, commonly PVC or fiberglass, create a sturdy and lightweight solution. Their 3D elements can mimic a variety of textures and materials, presenting boundless possibilities for any décor style.
Installing these covers is typically straightforward, with methods ranging from glue, silicone adhesive, or simply hanging like a picture. Furthermore, these panels can be painted to match or contrast with your existing color scheme, providing added flexibility in your decorative choices.
Remember, lighting plays a key role in showcasing 3D wall art panels. Use directed light to highlight the 3D aspects and create a captivating play of light and shadows. This strategic lighting will enhance the visual depth and overall allure of your space.
As a cost-effective and innovative solution, 3D wall art panels offer endless potential to transform your access panels into a stunning piece of art while maintaining their utilitarian purpose.
Decorative Wooden Slats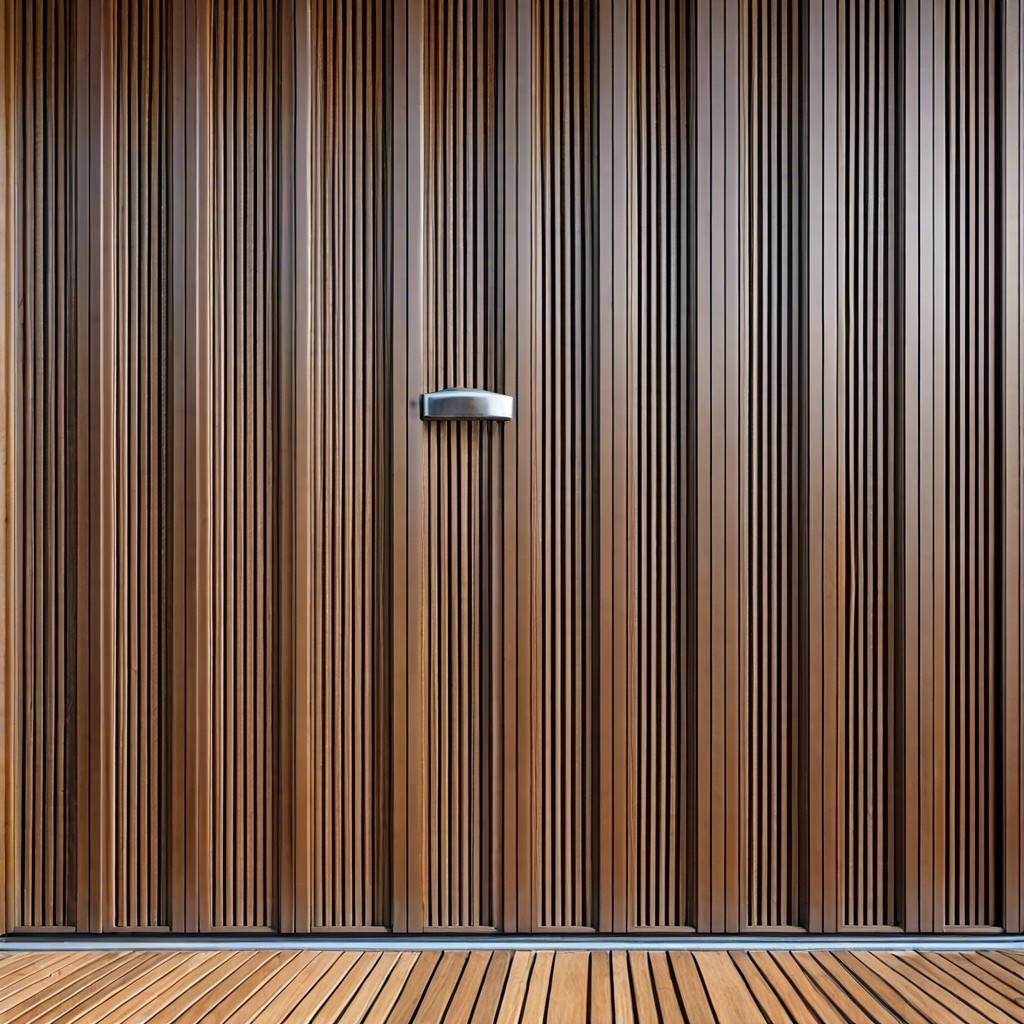 Serving both aesthetics and functionality, this type of cover champions versatility. Not only does it effortlessly blend with most decor styles, it also adds a subtle rustic charm to any setting.
It's simple—you can align them horizontally or vertically to match the existing wall design. Make sure they're lightweight to ensure easy access to your panel. Using reclaimed wood or bamboo offers an eco-friendly bonus to this choice.
For an even more cohesive look, you can stain or paint them according to the room's color palette. If you have a knack for DIY or woodwork, you might opt to create intricate patterns or designs onto the slats. Even without additional decor elements, these covers make for a stylish feature in the room.
For maintenance, a simple dusting or quick wipe down with a damp cloth is sufficient. It's cost-effective, easy to install, and blends seamlessly into the interior—bringing beauty to an often overlooked functional element in the home.
Remember that it is important to follow safety measures when installing these on your own, especially when accessing electrical panels. It may seem like a simple task but always prioritize your safety first.
Mirrored Access Panel Covers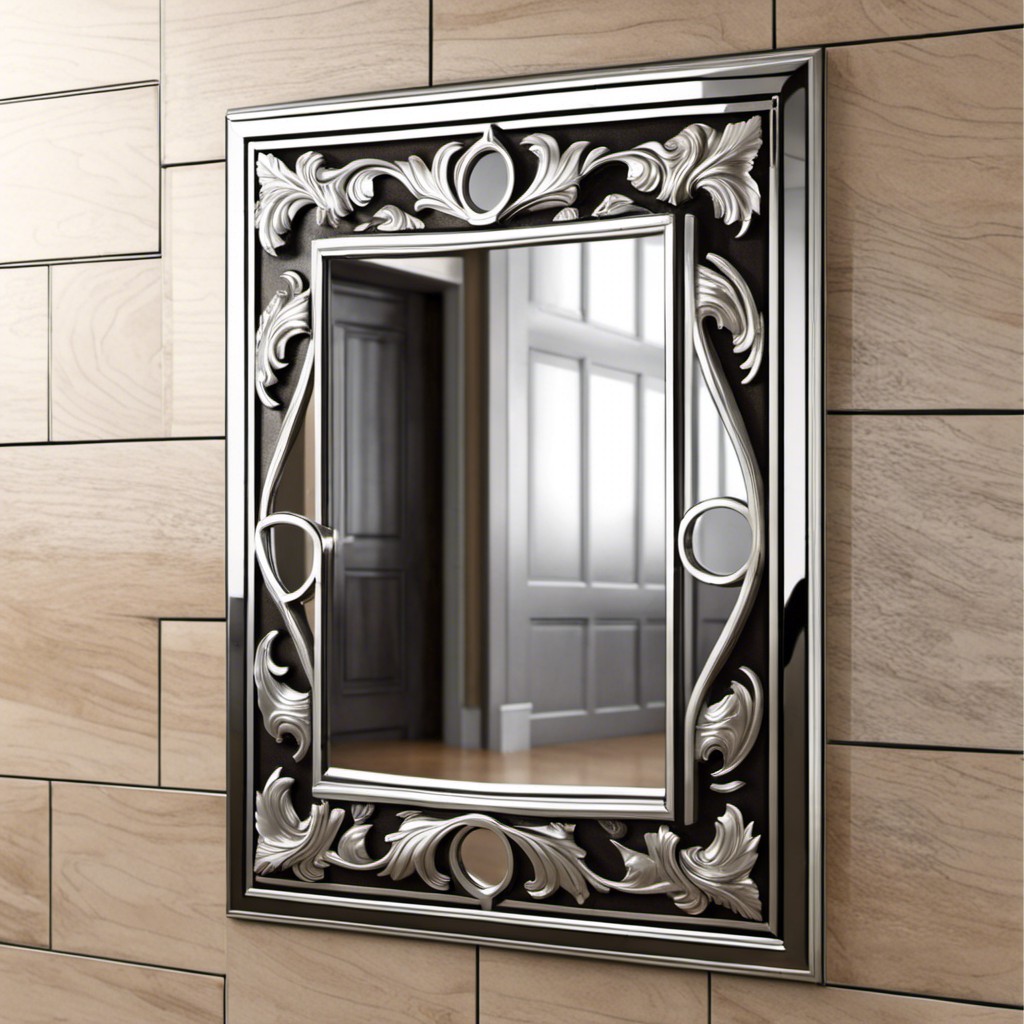 Mirrored covers are not only eye-catching but also practical. These mirrored panels blend seamlessly with any decor and dramatically enhance a room's sense of light and space. Their reflection capabilities work to make any area appear larger than it is – especially advantageous for small or cramped spaces.
They can conceal an unsightly access panel without the need for any additional art or decoration.
When choosing a mirror, one can opt for plain, tinted, or even antiqued finishes for an added aesthetic touch. Installation is typically straightforward, the mirrors being adhered directly onto the panel or fixed with mirror clips. Consider pairing these with attractive light fixtures to further complement the mirroring effect.
It's important to carefully measure your access panel before purchasing to ensure a perfect fit. Also, remember safety is key. Therefore, always choose a mirror designed for wall mounting, which will likely be backed with safety film to prevent shattering. This way, even in the case of an accidental bump or fall, you avoid dangerous shard spills.
Faux Brick Covers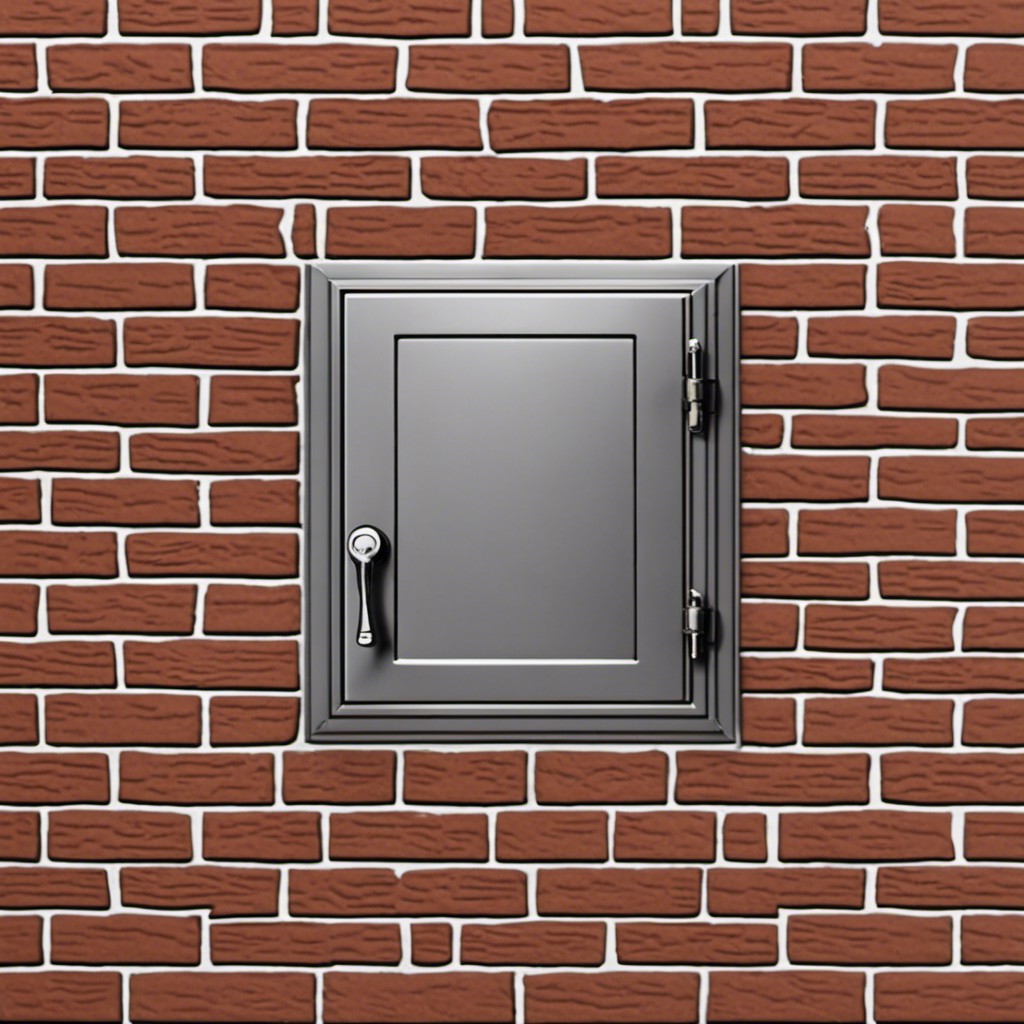 Creating a faux brick access panel cover offers numerous aesthetic benefits. It effortlessly enhances any space by adding a rustic, industrial feel. This option is also quite versatile as faux brick panels can complement different design styles, from traditional to contemporary.
The panels are textured to mimic the rough tactile quality of real bricks. They are typically made from lightweight materials such as polyurethane foam or PVC, making them easy to handle and install. The faux brick panels are available in various colors and sizes, increasing the opportunities for customization according to your home decor.
While being visually appealing, a faux brick access panel cover is also practical. It combines the best of both worlds by disguising the access panel and contributing positively to your interior design scheme.
Installing a faux brick cover can often be a DIY project. However, if you plan on integrating the cover seamlessly with existing wall finishes, you might want to consider getting expert help to ensure a professionally-finished look.
Floating Shelf Covers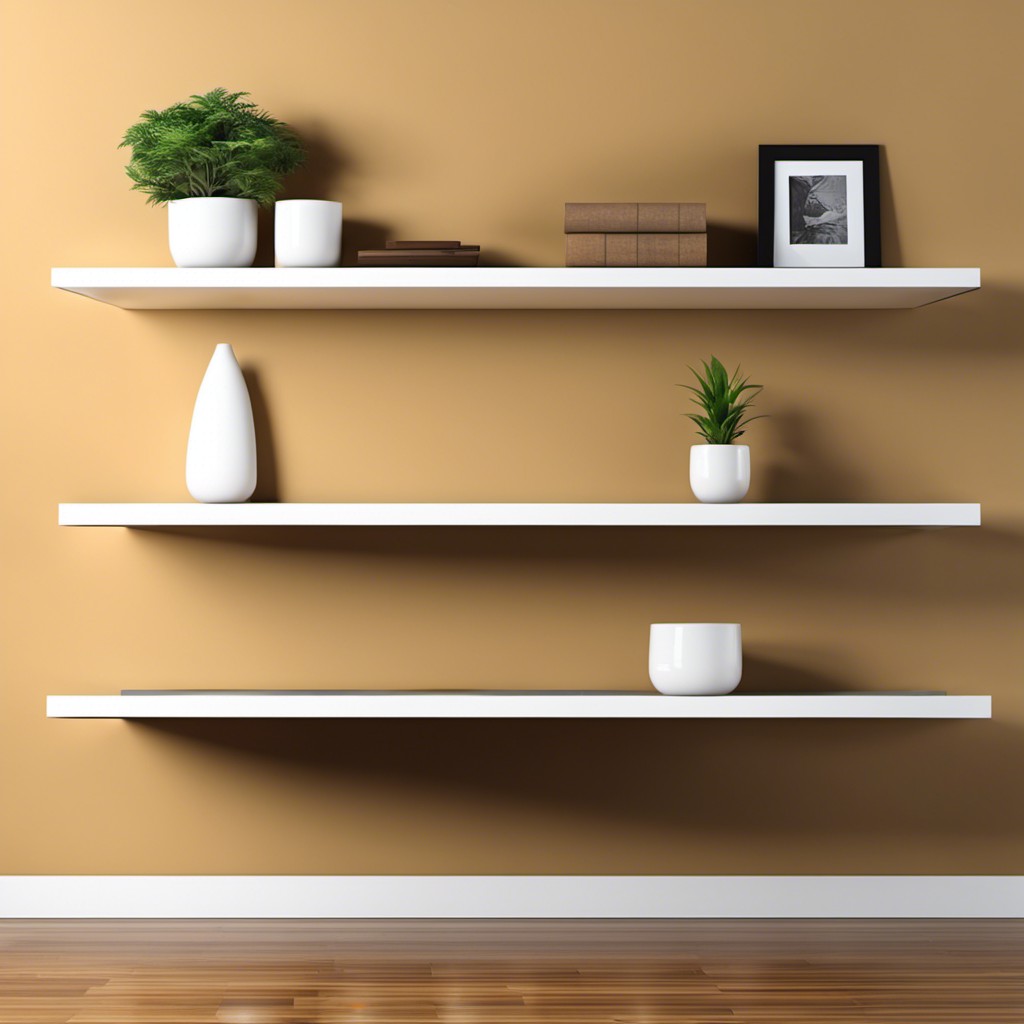 Cleverly hiding access panels is achievable through the strategic placement of floating shelves. Aesthetically pleasing and highly functional, these covers offer both concealment and additional storage.
Here are the key features to consider:
Measurements: Ensure the shelves correlate with the dimensions of your panel. For panels of unusual sizes, consider custom-made shelves.
Material & Finish: Options include wood, metal, or glass, and can be finished to match your room's color palette.
Installation: Installing floating shelves is often a straightforward DIY task. This allows disassembly for access panel use. Also, remember to use sturdy brackets for heavier objects.
Positioning: Installing the shelf slightly above the panel enables easy coverage and access.
Dual Purpose: Display books, decor items, or framed photos on the shelves for added functionality.
These points ensure the floating shelf not only covers the panel, but blends seamlessly into the room's design while adding a practical storage solution.
Magnetic Photo Frames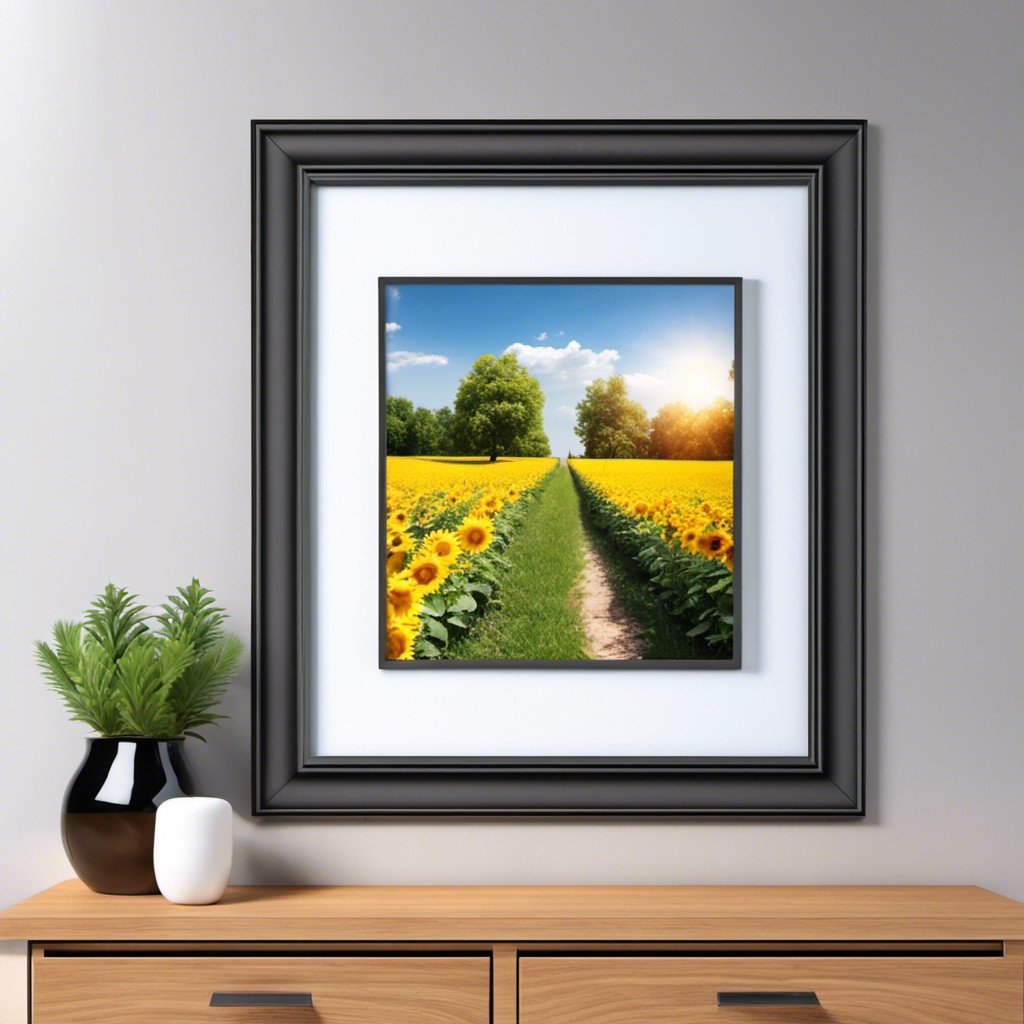 Making an inventive use of the situation, you can repurpose a magnetic photo frame to hide an unsightly access panel. A sizable magnetic photo frame has two advantages: first, it offers a quick and easy access to the panel when needed; and second, it does an excellent job of concealing the panel in plain sight.
Choose frames that match your room's decor. Perhaps, a slick black frame for a modern aesthetic or a distressed wood frame for a rustic vibe. Opting for collage frames can allow for a larger coverage area, perfect for deceiving the eye. For metal access panels, the magnetic nature of the frame will allow it to adhere directly. If the panel is non-magnetic, a simple layer of sheet metal will fix that. Ensure to secure this layer appropriately for safety.
Remember, the idea is to create an illusion of normalcy. To uplift this look, use photos or art that blend in with your room's theme. This will surely turn a functional necessity into an eye-catching focal point.
Stained Glass Panel Covers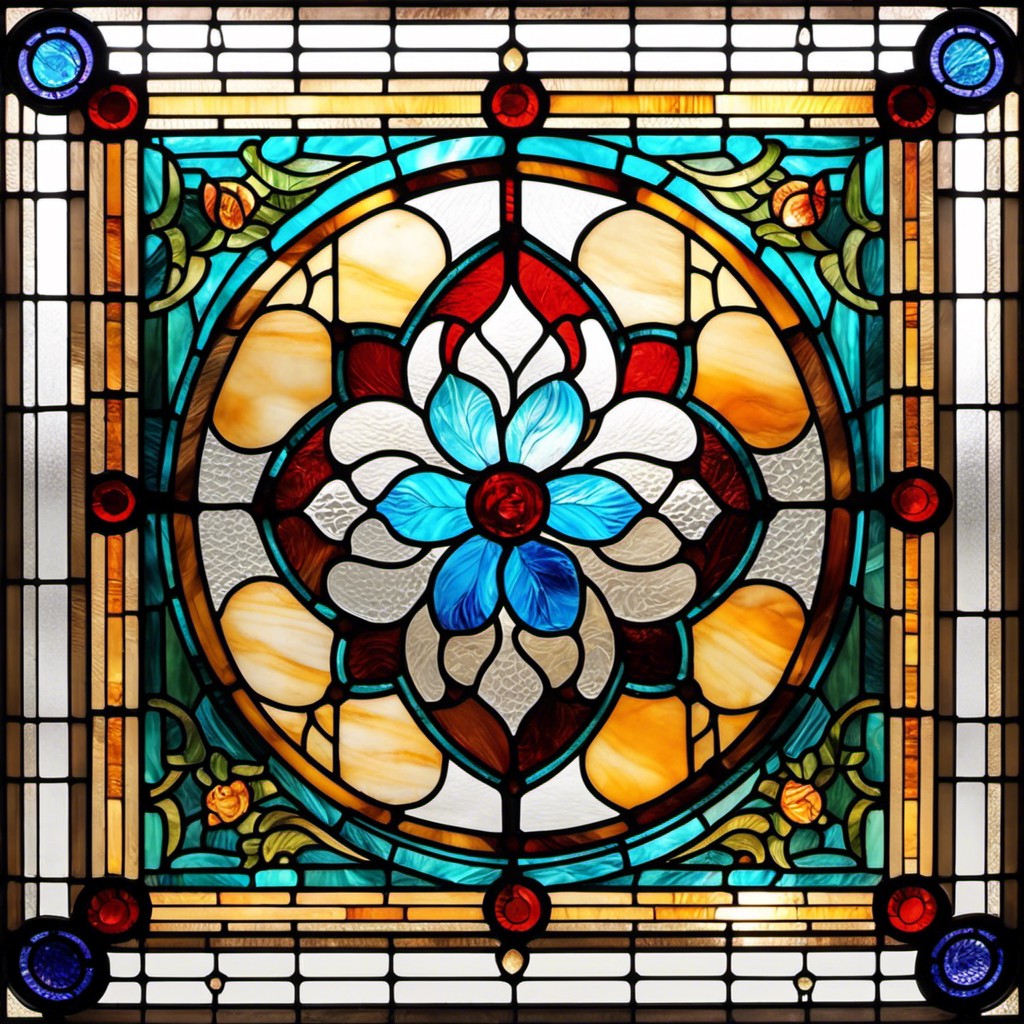 Positioned strategically, this unique twist on access panels offers a stunning visual appeal by day and a warm, inviting ambiance when backlit by night. Key factors to consider include:
1. Opacity: Stained glass can either be transparent or opaque, allowing you to limit or increase the level of privacy.
2. Pattern: Designs range from complex, intricate patterns or abstract, modern designs to simple, traditional ones.
3. Custom Design: A benefit of stained glass is the option for personalized design. You can commission a piece that perfectly suits your aesthetic.
4. Setting: While traditionally used in churches or period homes, stained glass can fit into any décor with the right design.
5. Safety: Safety glass regulations apply if you choose to place the access panel higher up on the wall.
6. Maintenance: Cleaning is simple, but the fragility of glass means extra caution is necessary during maintenance sessions.
Remember, a stained glass access panel cover is more than a mere utility fixture; it's also a piece of art.
Decorative Tapestry Covers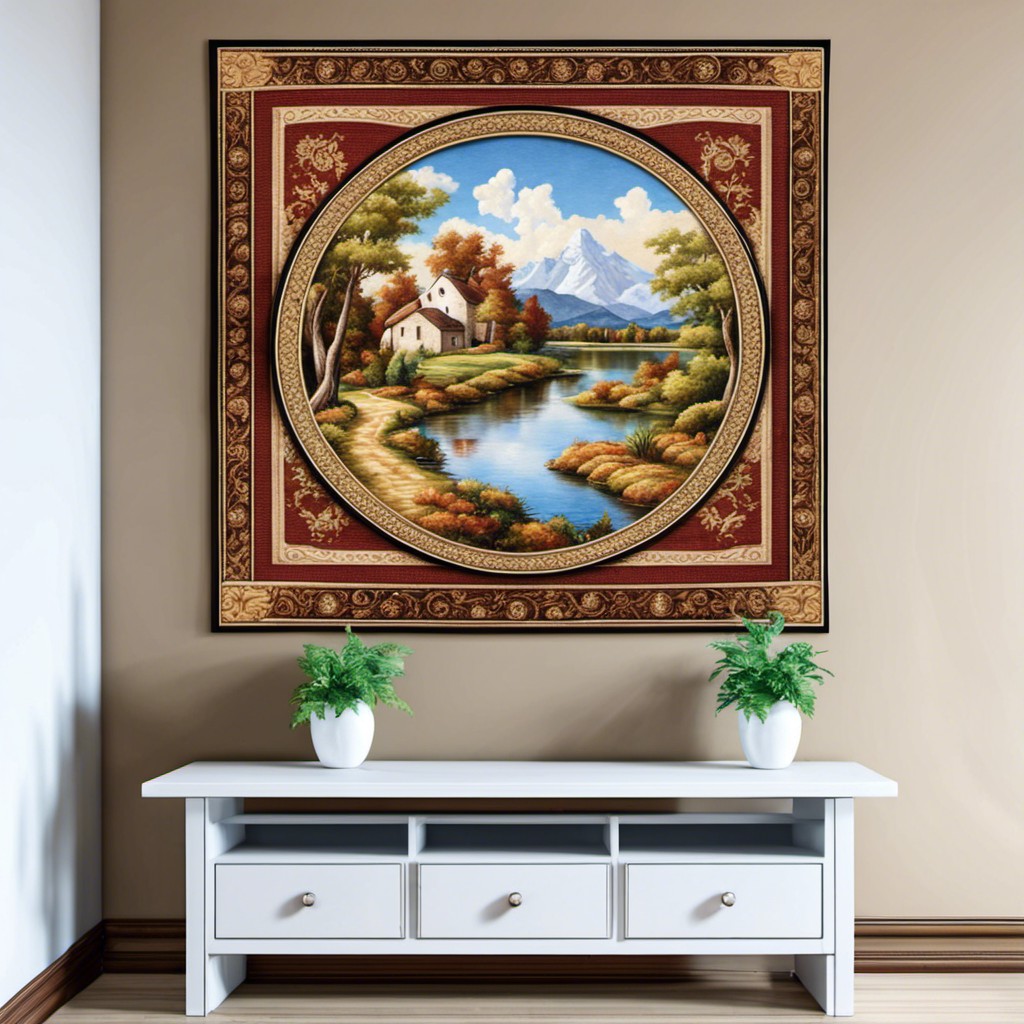 Tapestries, typically associated with grandeur and opulence, can be a unique and vibrant cover for access panels. Combining functional concealing with an infusion of personal style, tapestries blend seamlessly with various interior designs while introducing an element of texture and depth to the walls.
1. Material Variety: Tapestries come in a vast array of materials such as Chenille, Jacquard, silk, or cotton, each having its own texture and appeal.
2. Design Diversity: From abstract patterns, landscapes, classic oil painting replicas, to modern art forms – the options are endless.
3. Easy Installation: Light in weight and flexible, tapestries can be easily hung over or stuck to access panels.
4. Versatility: Can be paired with different styles – boho, vintage, modern minimalist, or eclectic.
5. Maintenance: Dust or clean them using standard procedures based on the tapestry's fabric. Not suitable for humid or moist areas due to potential weathering.
6. Personalize: You can have favorite pictures or quotes printed on tapestries, enabling a personal touch.
Remember, the goal is to make the access panel cover a seamless part of your room décor.
Themed Vinyl Stickers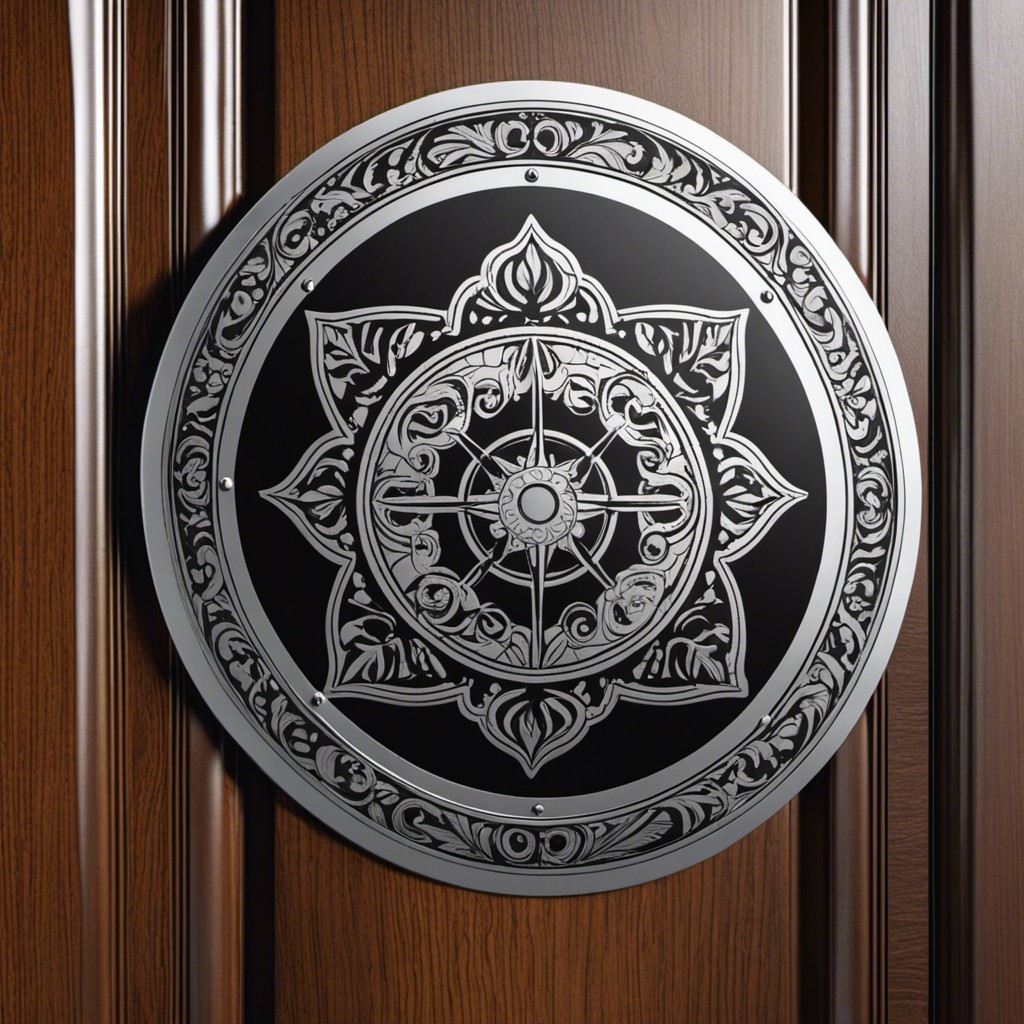 An affordable and versatile option, themed vinyl stickers offer an opportunity to showcase personality and style. They come in hundreds of designs – from nature-inspired motifs to geometric patterns – which can complement any room decor.
One can apply them directly onto the panel cover, transforming it into an exciting visual feature. Maintenance is hassle-free as these stickers are waterproof, and if your style preference changes, just remove and replace them without damaging your wall or access panel.
Whether you lean towards the contemporary, traditional, or eclectic, find a themed vinyl sticker that resonates with your design sensibility as a unique expression of your style. Another boon of these is their easy application – no need for professionals, as a basic level of DIY skills would suffice.
Upholstered Panel Covers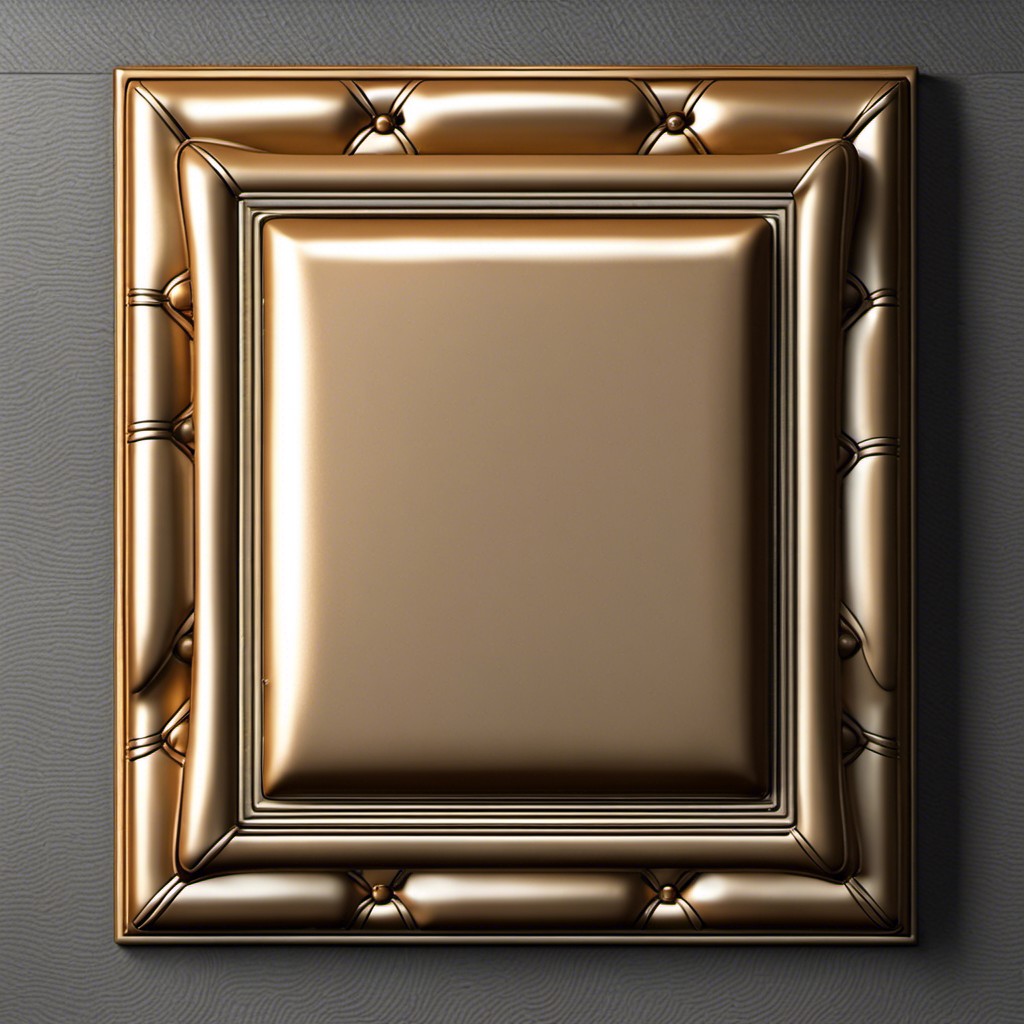 Adding a touch of luxury, upholstered panel covers introduce texture and warmth into the interior. Opt for reliable and easy-to-clean fabric, such as velvet, leather, or performance fabric. This kind of cover not only conceals, but also brings a piece of stylish furniture into the room.
Upholstered panels can be coordinated with other decor elements such as curtains or furnishings for a cohesive look. Consider adding padding for a plush, three-dimensional effect, which further draws attention away from its practical purpose. To add character, embellishments like buttons, tufting, and decorative nail heads can be added.
Various shapes and sizes are available to suit different panel dimensions, with custom designs offering a truly one-of-a-kind look. Remember to ensure easy access should maintenance be needed.
Custom Metal Grilles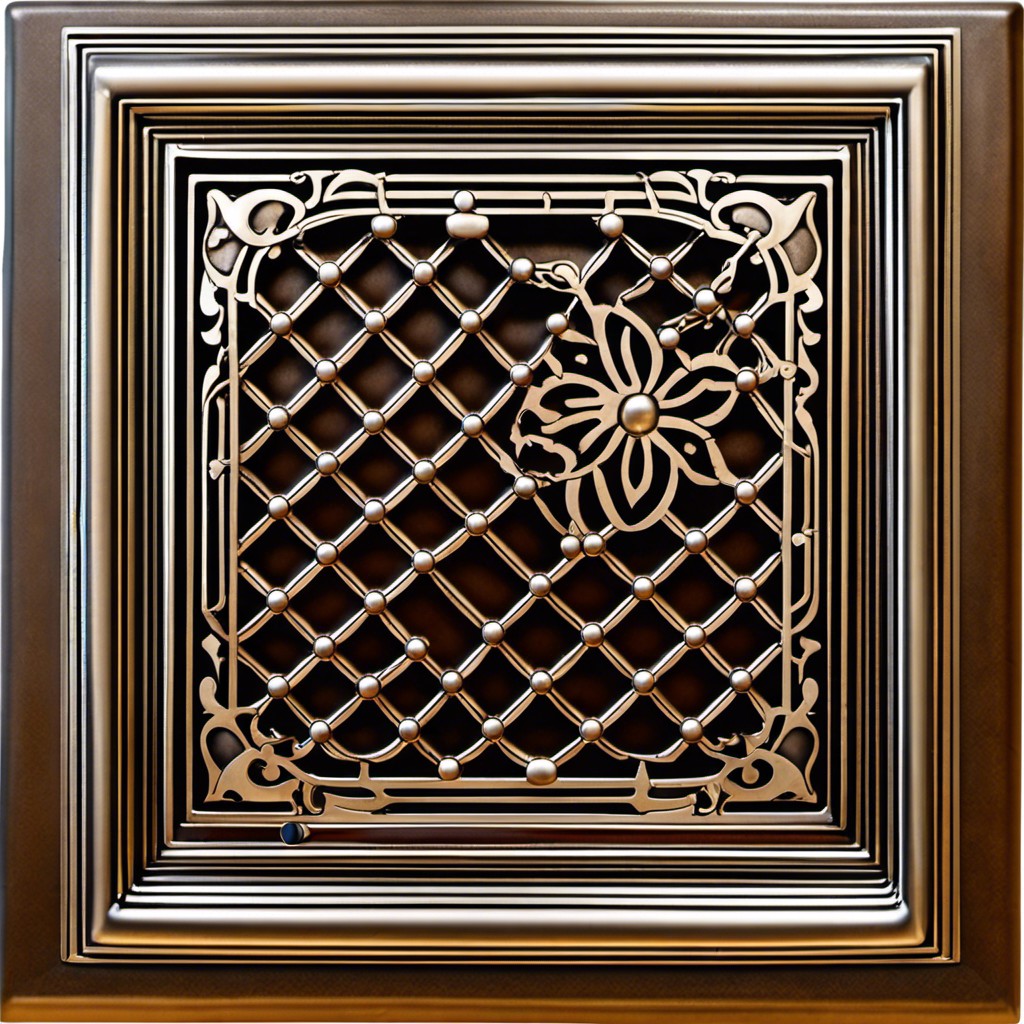 For a more refined and classy look, grilles made from custom metals provide a versatile option. They blend seamlessly with any decor style – be it modern, industrial, or even farmhouse.
The variety of metals such as copper, brass, aluminum, or steel, allows for flexibility in achieving your desired aesthetic. From intricate lacework-styled designs to the luxurious appeal of brushed patterns, the possibilities are endless.
Furthermore, these grilles serve a functional purpose, they're durable, offer excellent ventilation, and are easy to clean. Remember, the type of metal and design you choose should harmonize with your home's overall scheme for consistency.
Canvas Art Panels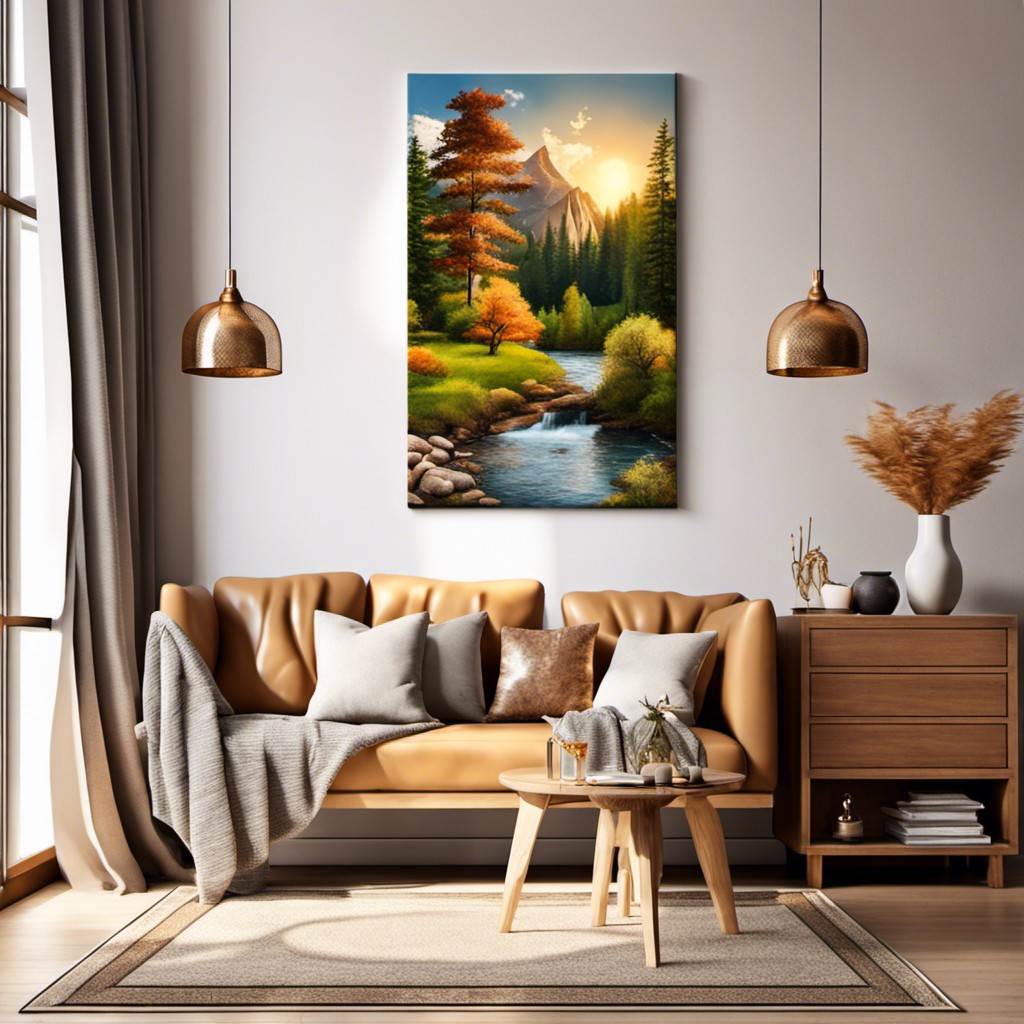 This versatile cover type allows for immense creativity. You have the option to either purchase pre-made designs or, for a more personalized touch, create your own masterpiece. With this panel cover, there are no strict design rules; you can explore abstract art, landscapes, portraits, or even minimalistic sketches.
Ideal for buildings with modern and conceptual interiors, these canvas art covers can effectively hide unsightly access panels without compromising their functionality. Moreover, these can be easily replaced, providing you with the possibility to frequently renew the decor depending on mood, season, or trend. With the added benefit of noise reduction, these practical yet chic covers contribute a stylish touch to spaces. Just remember to use a lightweight canvas to not add stress on the access panel.
Removable Wall Decal Covers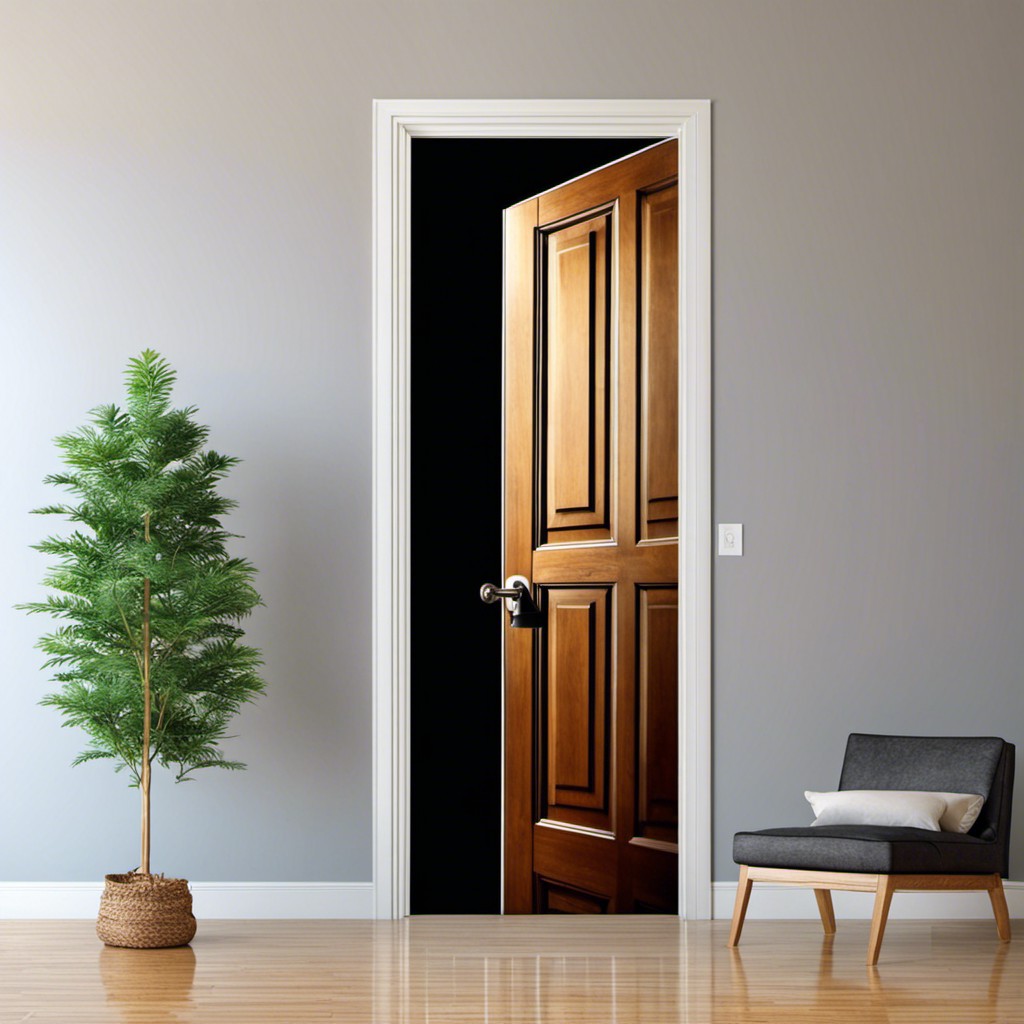 With their versatility and ease of use, removable wall decals offer a unique, trendy solution for disguising unsightly access panels. These peel-and-stick designs can instantly add a splash of style to your interior spaces. From simple geometric patterns to complex artistic scenery, the range available is impressive, ensuring a perfect match for every decor style.
Moreover, they are excellent temporary solutions for renters or those who frequently like to refresh their home decor. If your preference changes or you need to access the panel, you can easily remove and replace them without damaging the surface. Despite their temporary nature, quality decals promise durability and wear-resistance.
There's also the benefit of easy application – no professional help is needed. Clean the surface, position the decal, then peel and stick for an instant transformation. As a bonus, this innovative decor solution is budget-friendly, providing a stylish disguise for your access panels without breaking the bank.
Decorative Plaster Relief Panel Cover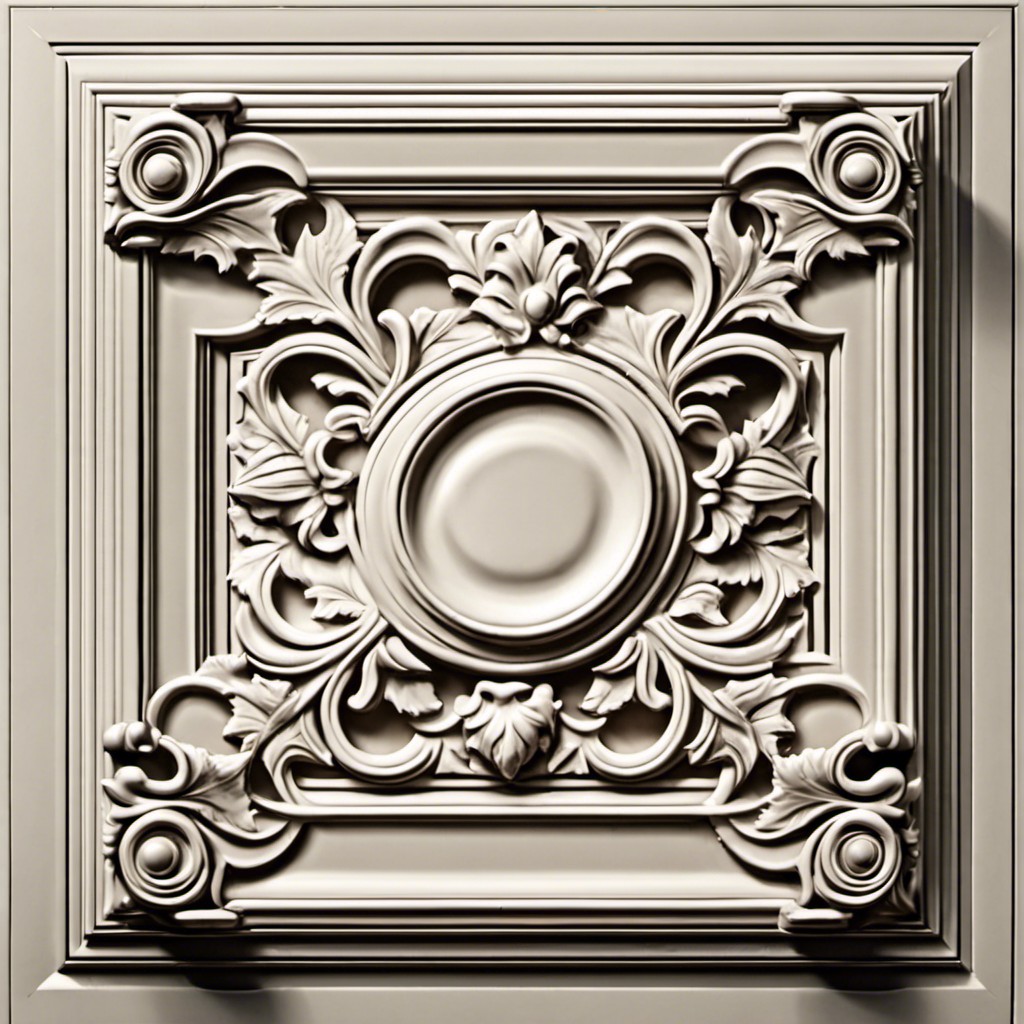 Decorative plaster relief gives a timeless appeal, adding elegance and sophistication to a panel cover. It involves creating a raised design that adds dimension and texture to the surface.
1. Artistry and Craftsmanship: This option highlights the intricate craftsmanship of traditional plasterwork. Every design is a unique piece of art.
2. Customization: The relief can be customized to match your interior. From floral motifs to geometric patterns, the choices are endless.
3. Durability: Despite its exquisite appearance, plaster relief is highly durable and can withstand changing environmental conditions.
4. Versatility: Perfect for different home styles, including Art Deco, Victorian, or modern minimalist. It instantly elevates the space by blending into your home's decor flawlessly.
5. Easy Maintenance: A gentle dusting keeps the plaster relief panel cover looking pristine, no extensive upkeep required.
Remember, a decorative plaster relief panel cover not only conceals the panel but doubles as an artistic accent piece. It's where practicality meets beauty.
You may also like to read: