Last updated on September 28, 2023
Being creative with home decor is an important component of home care since the appearance of your home is a reflection and indicator of how you feel and how well you live. It reveals how much you esteem your home and has the ability to impact the ambiance and mood of your family and yourself. 
It is vital to use innovative home decors when it comes to enhancing the appearance of your home. While designing your house can be fun, the process can become daunting when attempting to touch every location with a design.
Here are some home design ideas to help you express your creativity.
Table of Contents
Make a Gallery Wall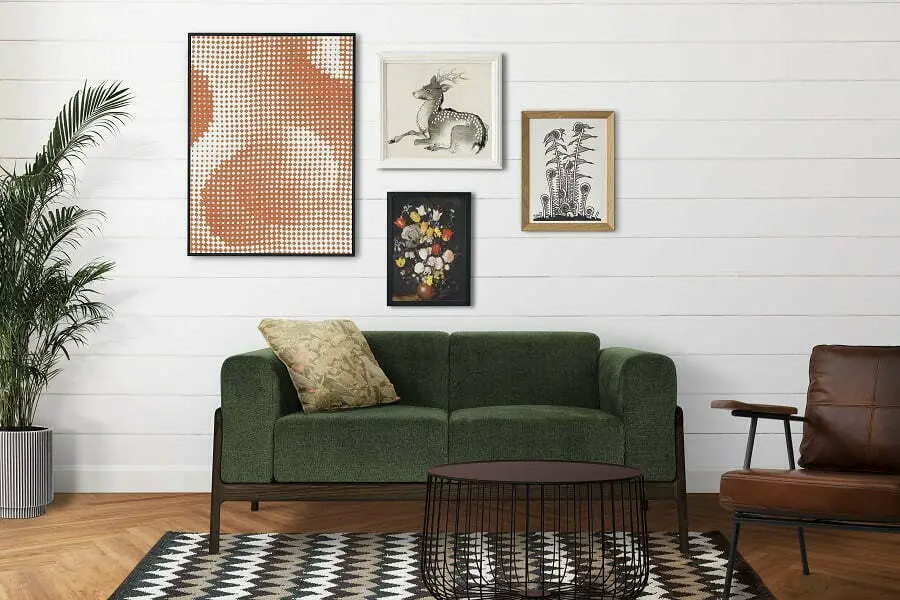 Gallery walls have been around for a long time because they look great and make it easy to show off your favorite art pieces. So, you shouldn't overlook them just because you've seen them before. There is a difference between overdone and often done, and a gallery wall of your favorite pieces would look great.
Look for pictures that have the same theme and color scheme. You can try different things with the frames, but photos, which you can find in a favorite book or from artists who sell clicks and illustrations for less money, will have a more pleasing aesthetic impact. It's a way to make your living room look like an art exhibition.
Make Your Entrance More Attractive
The entrance corridor is also significant. Making a good first impression is critical because this is your guests' initial interaction with the interior of your home. Determine which of your foyer's empty walls, nooks, and other areas may use some furniture or decor. Low-profile console tables, huge coat racks, and mirror sets can be employed to complete the look. Checkered floors and bright colors can then be used to complete the existing style.
You Can Soften Sleek Furniture with Throws
While gorgeous furniture can be found in many houses, it's not always comfortable to sit on. As the display on sawdustandwhiskey shows, when decorating, you want to opt for optimal comfort and beauty. Bring in some soft blankets and pillows if there is a spot in your home that requires extra warmth. These pieces may appear out of place in the dining room, but once you have them, you won't want to live without them.
The Use of a Full-Length Mirror
Reflective surfaces make a room feel bigger. It's a good idea to hang a mirror so that it reflects as many of the beautiful things around it as possible. If a room doesn't have enough windows, you can use a full-length mirror as an extra window. This will make your home brighter, and putting the mirror along a wall near a couple of windows will make the wall look less empty. You can also give the edges a bronze or gold finish to make them look elegant.
Using a Wallpaper
Wallpapers may provide a burst of color to any area, but if used in excess, they can become overwhelming. If you don't like a crowded look, apply colorful wallpaper in a small place, such as a powder room. You don't want your wallpaper to be overly loud or dominating when designing a small space. It's also a simple way to make your powder room stand out.
Make an Accent Wall
It is possible that decorating your home will not demand the purchase of additional furnishings. Alternatively, you might decorate a wall with paint, tiles, or another eye-catching material. Accent walls, whether little or huge, may look fantastic, and you can carefully place décor to ensure that yours blends in with the rest of the space.
You Can Use a Tropical Plant
Plants are excellent for adding style and bringing a sense of well-being to your home since they give thermal comfort, among other benefits. Tropical-style plants, as well as flowers and floral-themed fabrics, will brighten and lighten the living space. This is a straightforward solution that produces fantastic results!
Dining Room Chairs Can Be Mixed and Matched
Dining room chairs are usually sold in similar sets, but if you want something more unique, you can create your own. Six completely different chairs can be mixed and matched to create a one-of-a-kind design. Use one set on one side of the dining table and two accent chairs on the other, or mix and match two separate sets.
When it comes to house décor, it's not just about making your place look great. It offers personal advantages because developing your imagination with these house decor ideas increases your motivation to brainstorm. You'll also be able to experiment with various decorating possibilities and actively select which arrangement is best for certain home décor. You can show off your creativity with these stunning home design ideas.
You may also like to read: