Last updated on November 4, 2023
Revamping your front door can drastically improve your home's curb appeal because decorative covers are innovative ways to express your personality and style.
As the creator of these unique illustrations and article, "20 Decorative Front Door Cover Ideas: Home Entrance Transformations", I hope you find as much inspiration and joy in these designs as I did in crafting them.
Sprucing up your front door can significantly enhance your home's curb appeal. Whether you're looking for a seasonal refresh or a year-round decorative touch, there are countless front door cover ideas to consider.
From wreaths and decals to banners and door hangers, there's something for every style and budget. This article delves into a variety of options, offering inspiration and practical tips to help you choose the perfect front door cover.
Keep reading to discover a wealth of ideas that are sure to make your entrance stand out.
Table of Contents
Seasonal Wreaths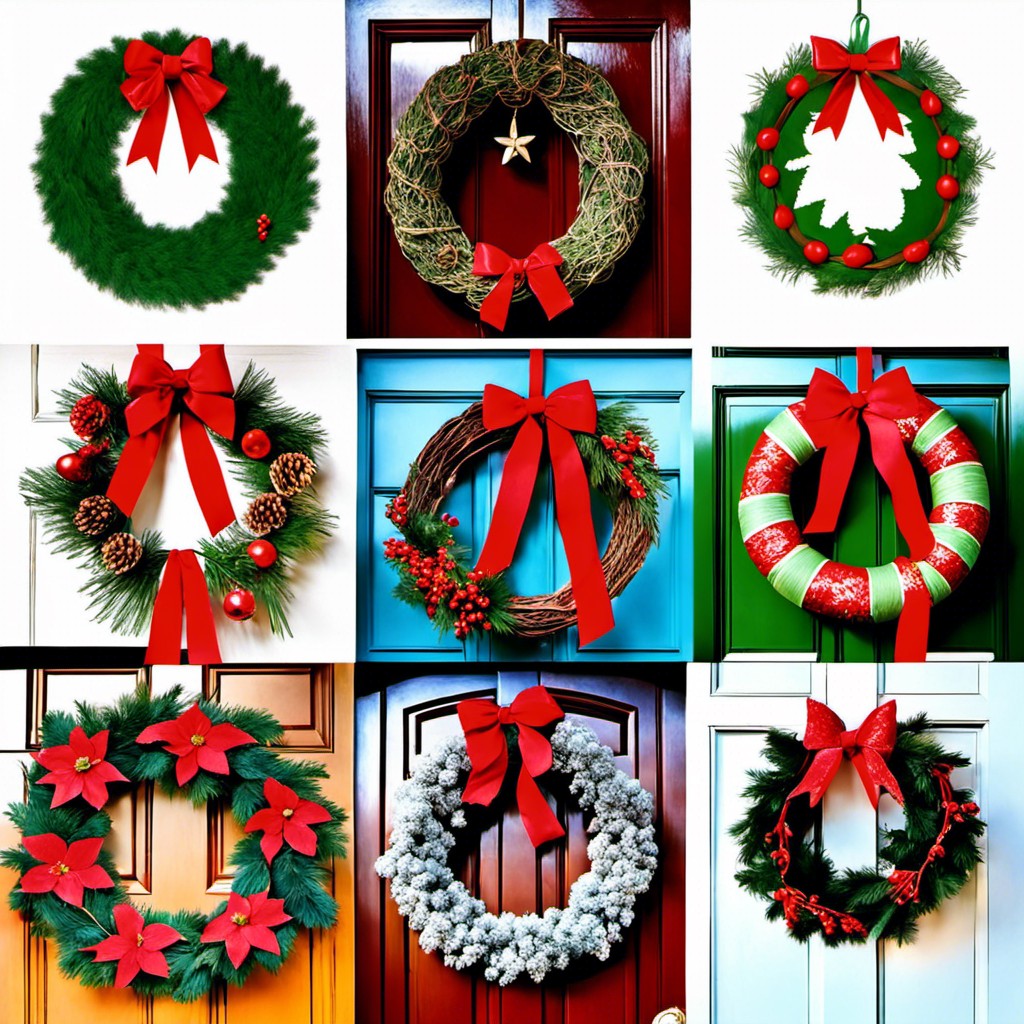 Embracing the change of seasons right at your doorstep, wreaths aren't just for the winter holidays. Visualize a vibrant flower arrangement for spring, or colorful foliage for fall.
Even summer and winter offer unique opportunities to incorporate alluring elements like seashells or pine cones, respectively.
Celebrate each season's charm with these inviting gestures in wreath form. By refreshing their look every few months, a lively atmosphere is maintained year-round.
When selecting a wreath, consider contrasting colors to make the door pop, but also complement the overall tone of the house for a harmonious aesthetic.
Remember, creativity thrives in this project, adding a homemade touch yields a heartfelt warmth every time you cross the threshold.
Monogram Door Hangers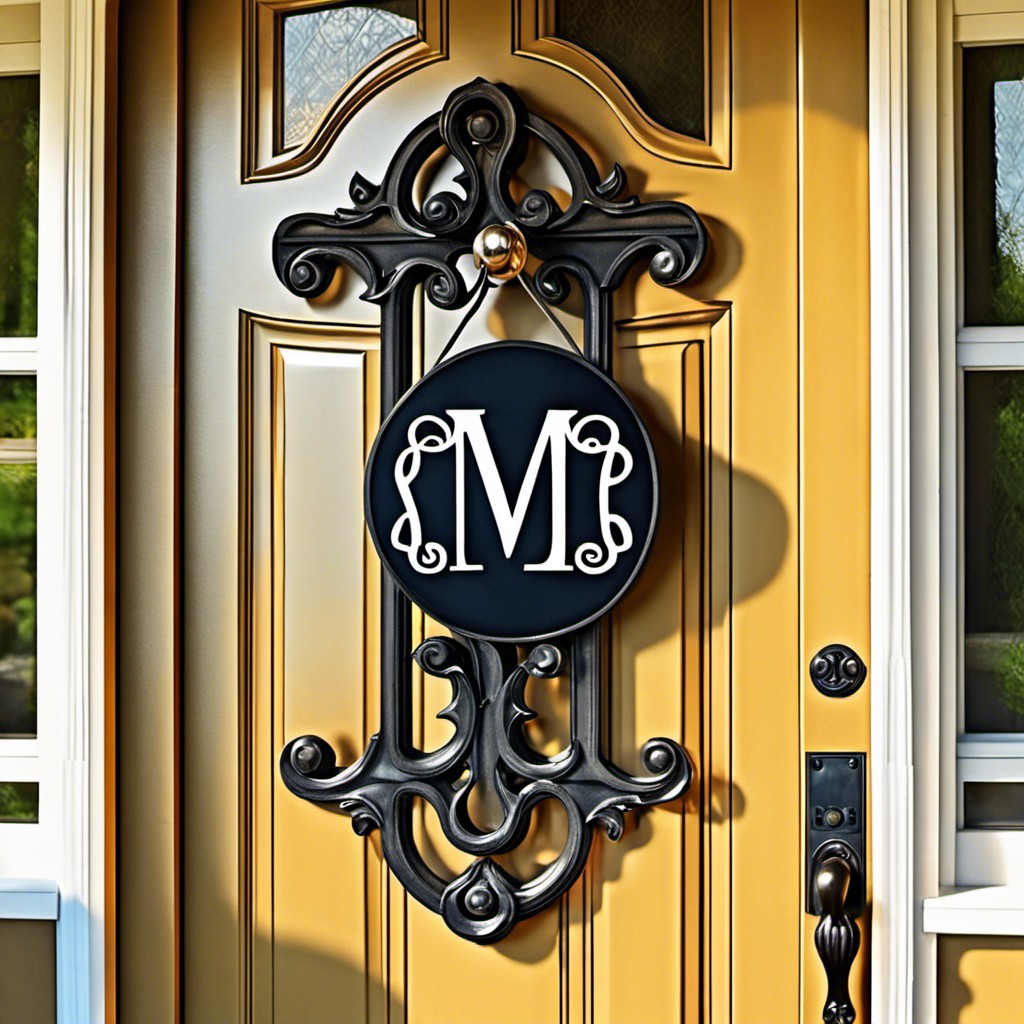 Crafted in a variety of materials like metal, wood, or foam, these alphabet initials add a personalized touch to any entrance. You can display just the first letter of your last name or go for your entire name. Play with sizes and colors to complement your front door, or add a flourish with ribbon, faux flowers, or other decorations. The options are practically endless.
Allowing for standout visibility, these charming displays make your home easy to identify, while showcasing your attention to the finer details of home decor.
Chalkboard Signs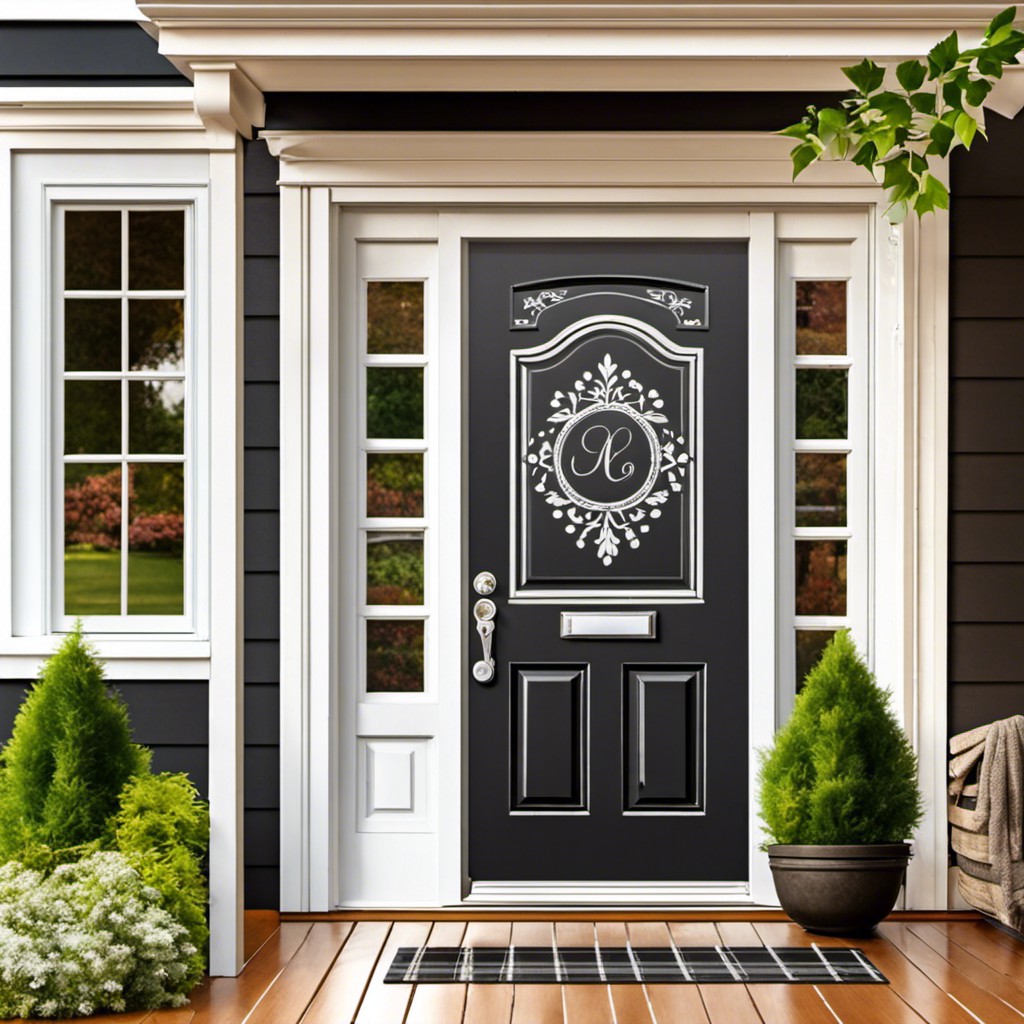 Incorporating a chalkboard as part of your front door decorations can truly breathe life into your entryway. This versatile accent piece provides a personalized way to communicate messages or display artistic sketches.
Designs can range from motivating quotes or important reminders to seasonally-themed doodles. With the use of colored chalk, make vibrant sketches, or keep it monochrome for a more classic look. Reusable and easy to change, chalkboard signs allow for creativity changes with the seasons, holidays, or just on your whims.
The size of your board matters. A smaller piece would add a subtle touch, while a larger board can function as the centerpiece of your door design. Furthermore, consider a shaped chalkboard, like a heart or an animal, to add an extra dose of personality.
Proper placement will enhance visibility and the overall aesthetic. Level with the viewer's eyes is ideal but, again, feel free to experiment. To protect your art, consider using weather-resistant chalk or placing a small roof over the signage when expecting rain. Weathering elements can add character but be sure to maintain readability.
The beauty of a chalkboard sign is the simplicity it presents. All you need is a chalkboard, your preferred chalk, and a wipe. You're all set to provide a continually evolving display to wow your neighbors, guests, and passersby!
Painted Door Murals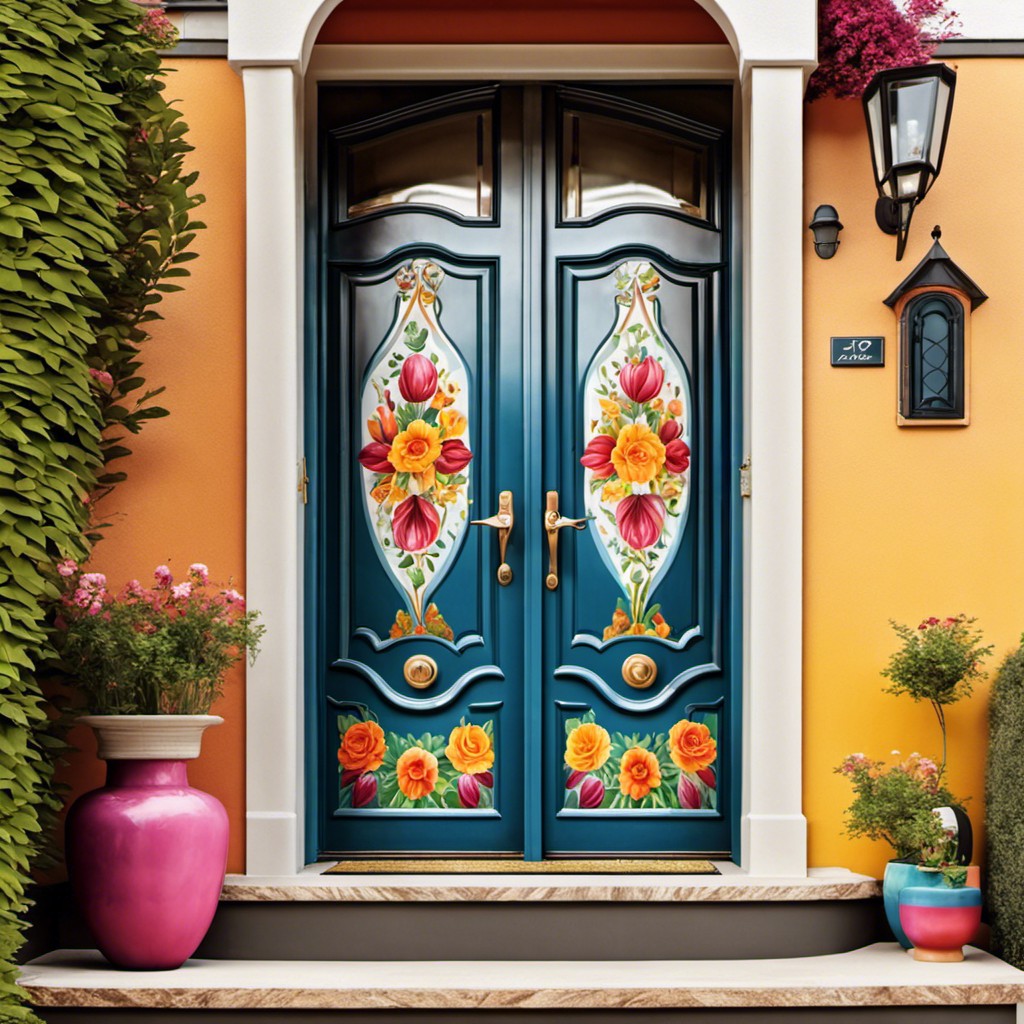 Diving right into this captivating world, there are endless options to choose from. From a terrene landscape bathed in sunlight, blossoming branches, to an abstract blend of colors – your front door can reflect any desired aesthetic.
To achieve the ideal look, always ensure surface preparation. Clean the door thoroughly before applying any paint. The choice of paint is crucial – acrylic and latex based paints are recommended due to their durability and colorfastness.
Consider hiring a professional artist for intricate designs – a worthy investment for an outstanding entrance. DIY enthusiasts can opt for simpler designs, stencils providing a useful alternative.
Lastly, a sustainable and longevity tip – use a protective weather-resistant sealant coat. This provides protection in various weather conditions and ensures your mural's vibrancy over time.
Rustic Door Hangings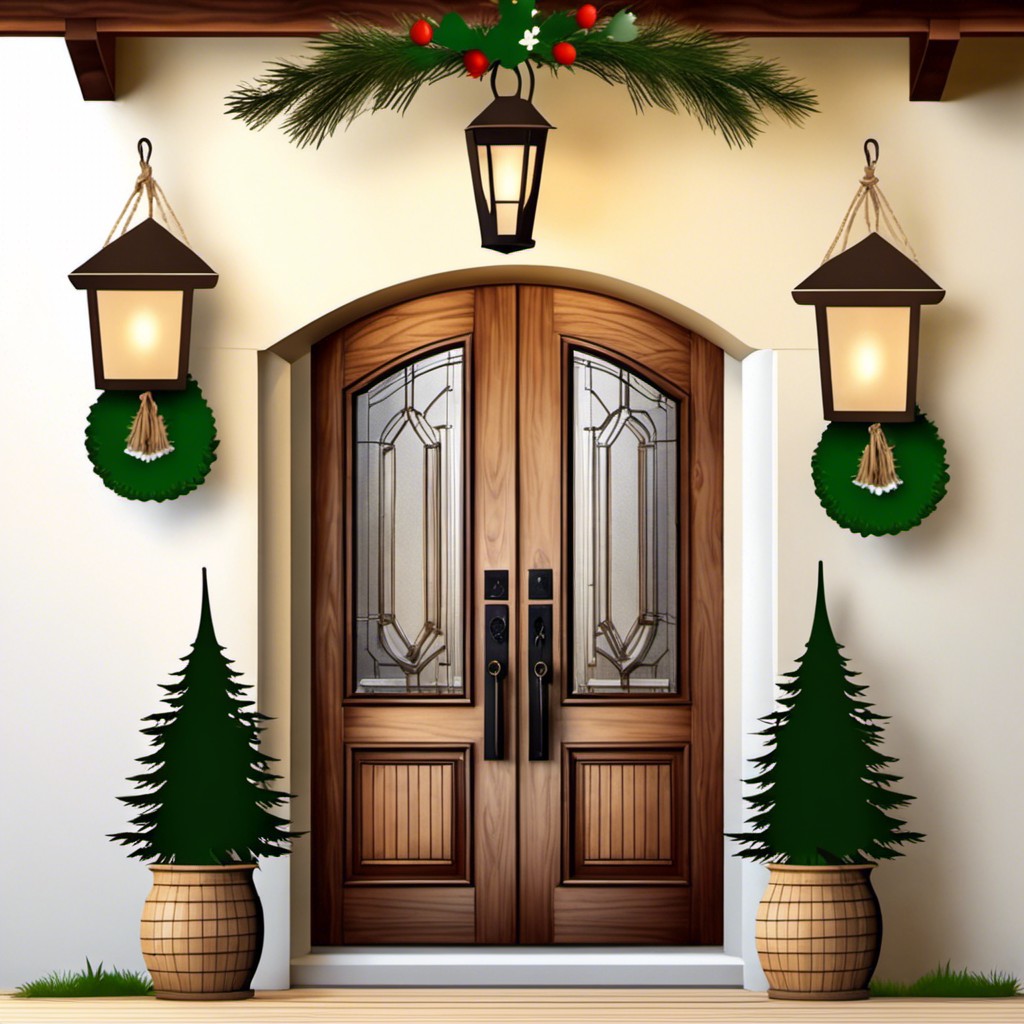 Utilizing natural elements has a distinct charm in door decor. Rustic door hangings, often handcrafted with weathered wood, rough stones, dried flowers, twine, and antique metal accents, can lend a warm, welcoming vibe right at your doorstep.
Here are some key elements defining this concept:
1. Embrace Imperfection: One characteristic of rustic decor is the beauty of imperfection. Cracked, aged wood or slightly tarnished metal does not need replacement; instead, they symbolize authenticity and bring out the charm.
2. Dried Flower Bunches: Consider incorporating dried lavender, wheat shocks, or other preserved botanicals as part of the design. Not only are they aesthetically pleasing but also subtly fragrant.
3. Natural Textures: Jute, Burlap, or Twine add a rough texture that complements rustic decor effectively.
4. Use of Antiques: From old keys to horse shoes, antique items often find a place in rustic door hanging designs. These pieces tell a story of their own.
5. Seasoned Wood: Use of weathered slabs, bark-edged wooden boards, or driftwoods can bring that desirable rural appeal to your decor.
6. Simplicity: Rustic door hangings reflect the fundamental principle of 'less is more' – a simple, handcrafted piece often makes the most significant impact.
Metalwork Art Pieces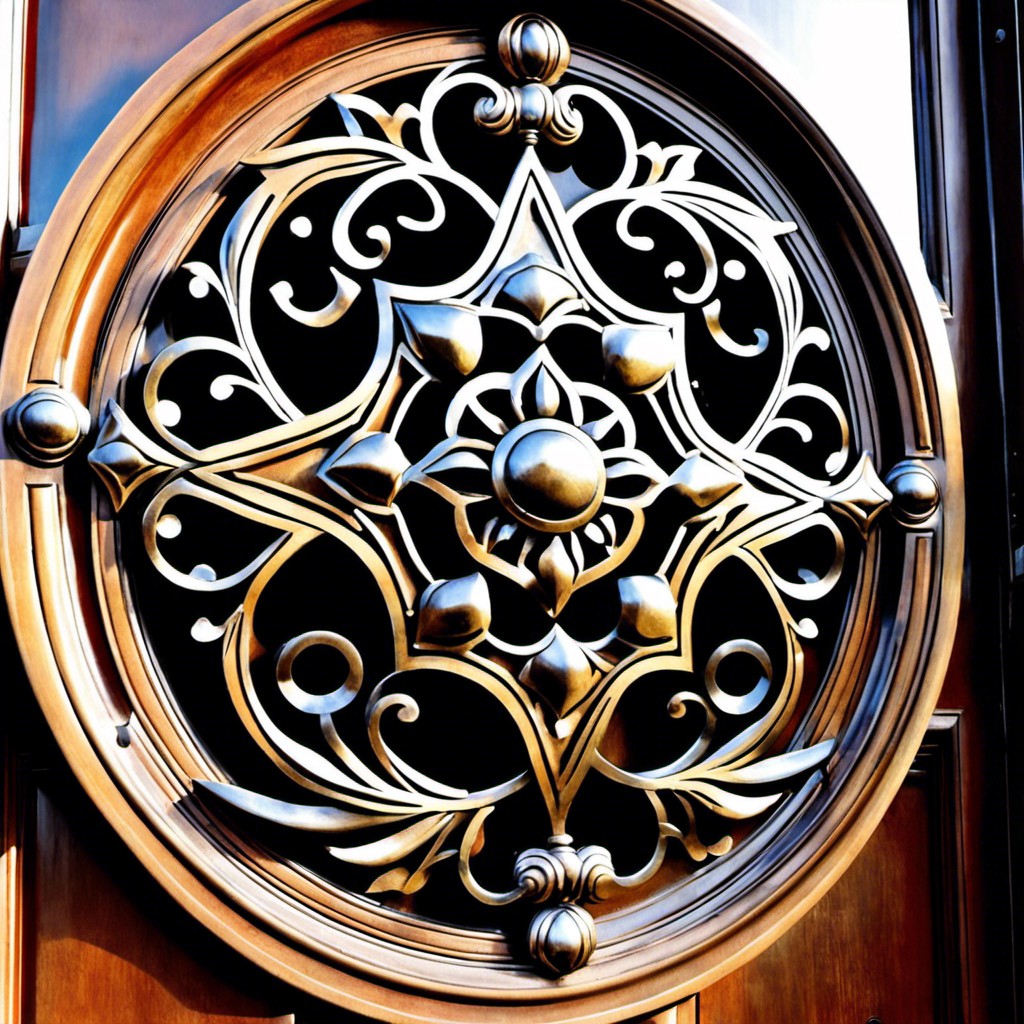 In the realm of chic home fashion, there's no denying the industrial allure that artistry in metal can bring to a front door. Iron, brass, copper, or even repurposed metallic objects can add visual interest and make a statement.
1. Durability and Longevity: Metals are naturally tough and resistant to most wear and tear, thus making metalwork art pieces long-lasting and suitable for outdoor use.
2. Variety of Designs: From whimsical shapes to intricate detailing, there is no limit to the design possibilities. Some popular motifs include flora, fauna, geometrically appealing shapes and symbolic signs.
3. Customizability: One can get a made-to-order piece to reflect personal tastes or to match the house architecture. Imagine a horseshoe for an equine lover or a leaf pattern design for someone passionate about nature.
4. Easy Maintenance: Dusting and an occasional polish are usually enough to keep the items gleaming; while those with a natural patina develop an appealing weather-beaten look over time.
5. Create a Focal Point: Placed strategically, an art piece can draw the eye and add curb appeal.
Remember, while choosing a metalwork art piece, keep in mind the size of your door and surrounding architectural details. The right piece can transform your entrance into a delightful work of art.
Fresh Flower Baskets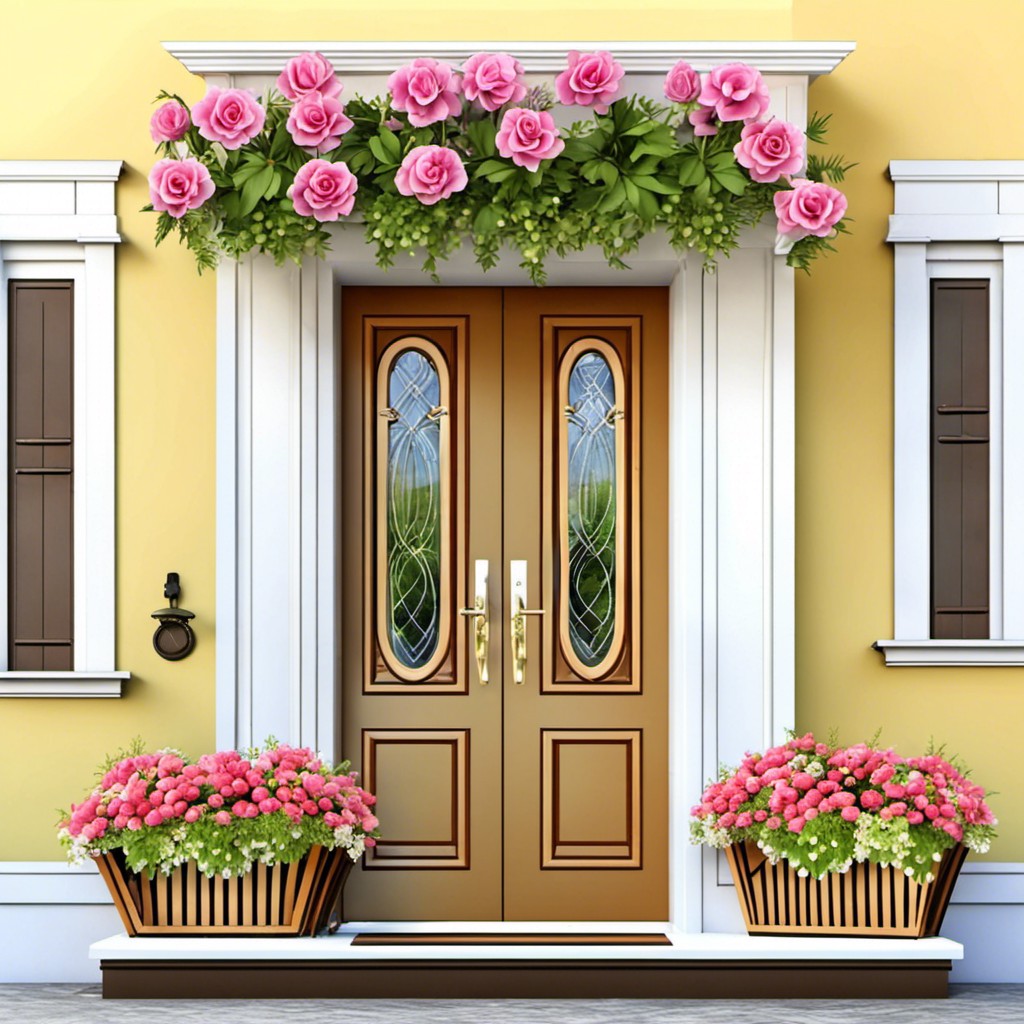 A dynamic option to invigorate your front door is through the use of Fresh Flower Baskets. They add an organic and lively touch to the overall aesthetic. Here are some key points to consider when integrating this decor option.
1. Seasonal Varieties: For a timely and authentic look, always choose in-season flowers. The options could range from daisies in spring, sunflowers in summer, chrysanthemums in fall to holly berries in winter.
2. Basket Styles: Match your basket style with your home's architecture. Wicker or bamboo would suit classic homes while metallic or ceramic options might work better for more modern styles.
3. Maintenance: Despite their beauty, fresh flowers require regular watering and care. However, opt for hearty varieties or consider using high-quality faux flowers for less upkeep.
4. Personalized Arrangements: Arrange the flowers in a way that represents you. Maybe you prefer a uniform color palette, or perhaps a wild and multicolored ensemble speaks to your taste.
5. Coordinating Elements: Your floral basket doesn't have to stand alone. Pair it with matching plants in the surrounding yard, or add a complementary wreath for added depth and sophistication.
Incorporating Fresh Flower Baskets will not only elevate your front door but also create a welcoming and lively ambiance for any visitor.
Stained Glass Designs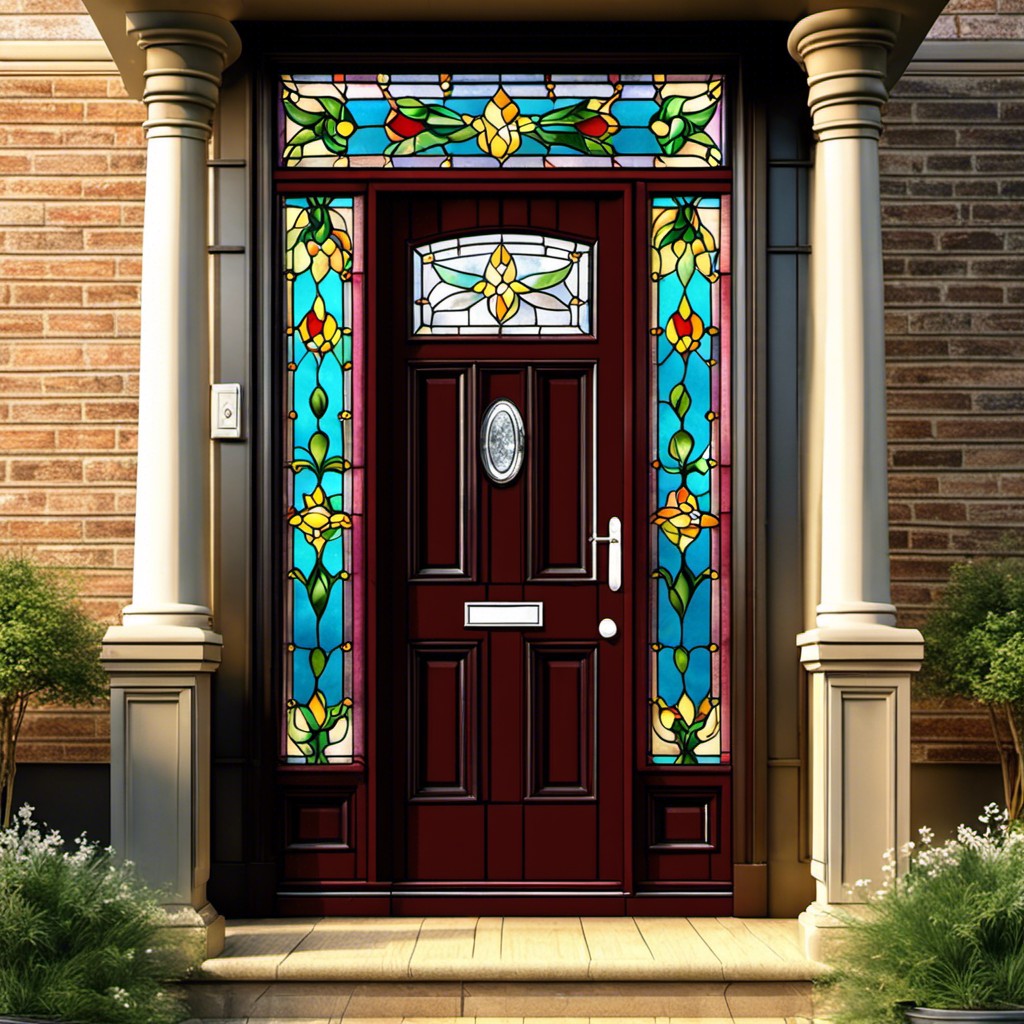 Bursts of vibrant colors, mesmerizing patterns, and a touch of antiquity; these encapsulate the charm of stained glass designs. Not limited to church windows anymore, they now serve as a stunning entryway option, casting a captivating kaleidoscope inside your home as daylight seeps in.
1. Detail and Craftsmanship: Each piece is handmade, establishing an exclusiveness to its design. Their refinement and artistry reflect on the property's overall aesthetics.
2. Color Spectrum Choice: The variety of hues available can complement your home's color scheme. Opt for warm tones for a welcoming feel or cool tones for a tranquil ambiance.
3. Durability: Unlike ordinary glass, these designs are less prone to shattering. Thus, making them a sturdy and long-lasting decorative option.
4. Privacy: Given the nature of the patterns and distortion, these doors offer an added layer of privacy without compromising the entrance of light.
5. Custom Designs: For a personal touch, you can work with artists to incorporate aspects of your personality, history, or love for certain patterns into the design.
Decorative Vinyl Decals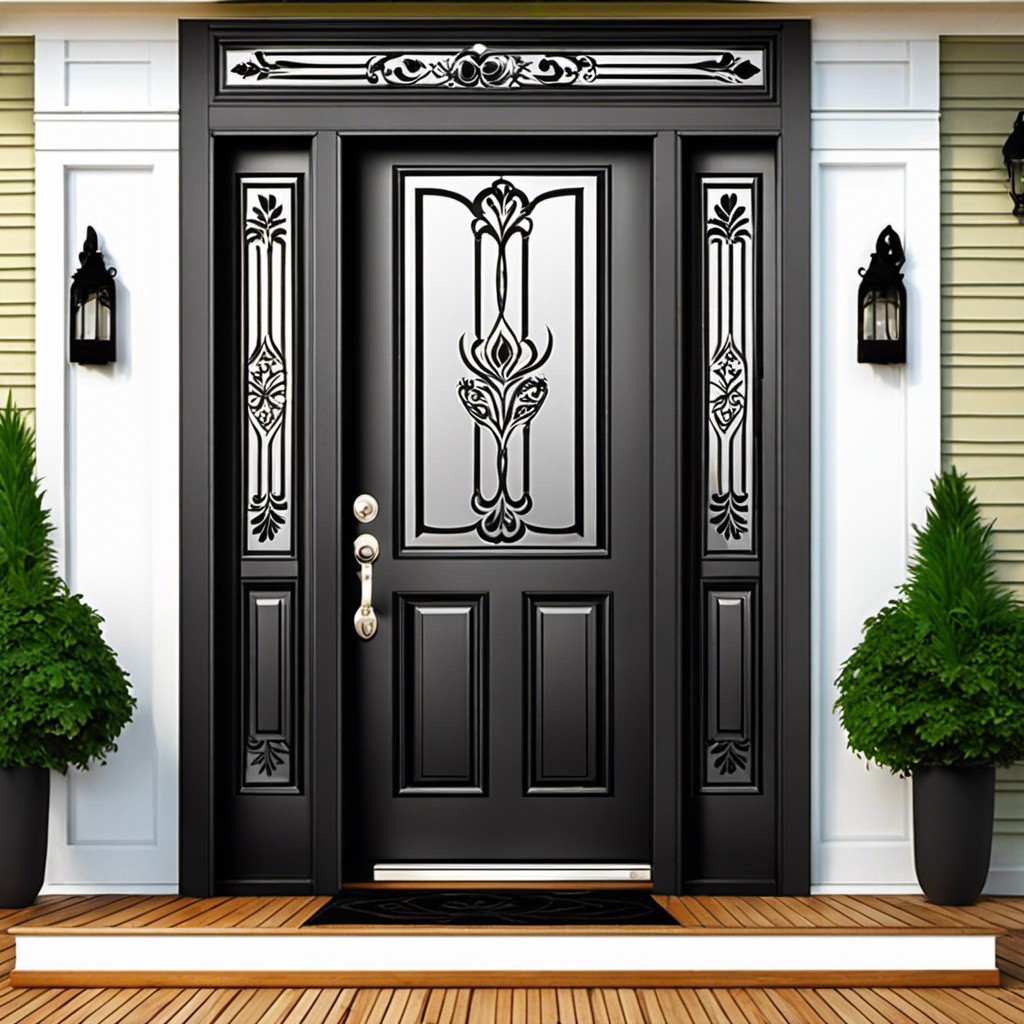 Cheerful and innovative, decals offer a wide range of designs and styles. They're a great DIY option as they're easy to apply and remove, causing no damage to your door.
Bold geometric patterns, whimsical flowers, or even your favorite quote can quickly transform the entrance of your home. They are weather-resistant and easy to maintain too.
For a more personalized touch, custom designs are also available. The best part? You can switch them up as often as your heart desires, changing the whole aesthetic of your front door within minutes.
Nautical Themed Decorations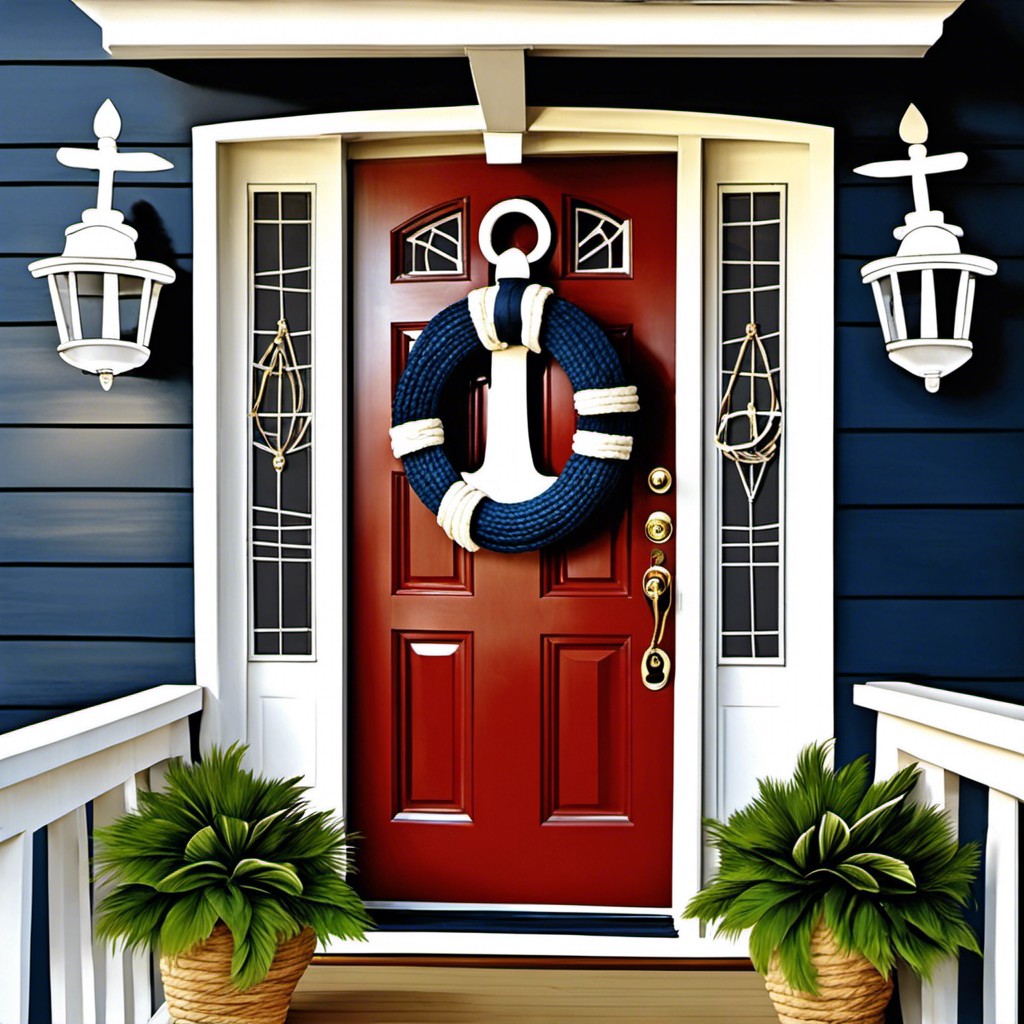 Injecting a bit of maritime charm into your entrance can bestow a coastal elegance that churns an inviting aura. Anchor motifs, ship wheels, and seashells are naturally inclined to a salty air allure. Consider a tasteful assortment of these elements in a door hanging.
A buoy, redesigned as a door number sign, with its lively hues, can disrupt a monotonous outlook and give your front door a distinctive appeal. Embrace the repurposing of old, weathered driftwood or fishing nets for a more raw, sea-worn appearance.
Ropes, with their inherent nautical association, can be woven into unique knotted mats, or used to hang a chic marine wall lantern. In the spirit of the sea, color codes of navy blue, white, and variations of beige can be followed to uphold the theme and breathe oceanic vibes into your home entrance.
Vintage Door Knockers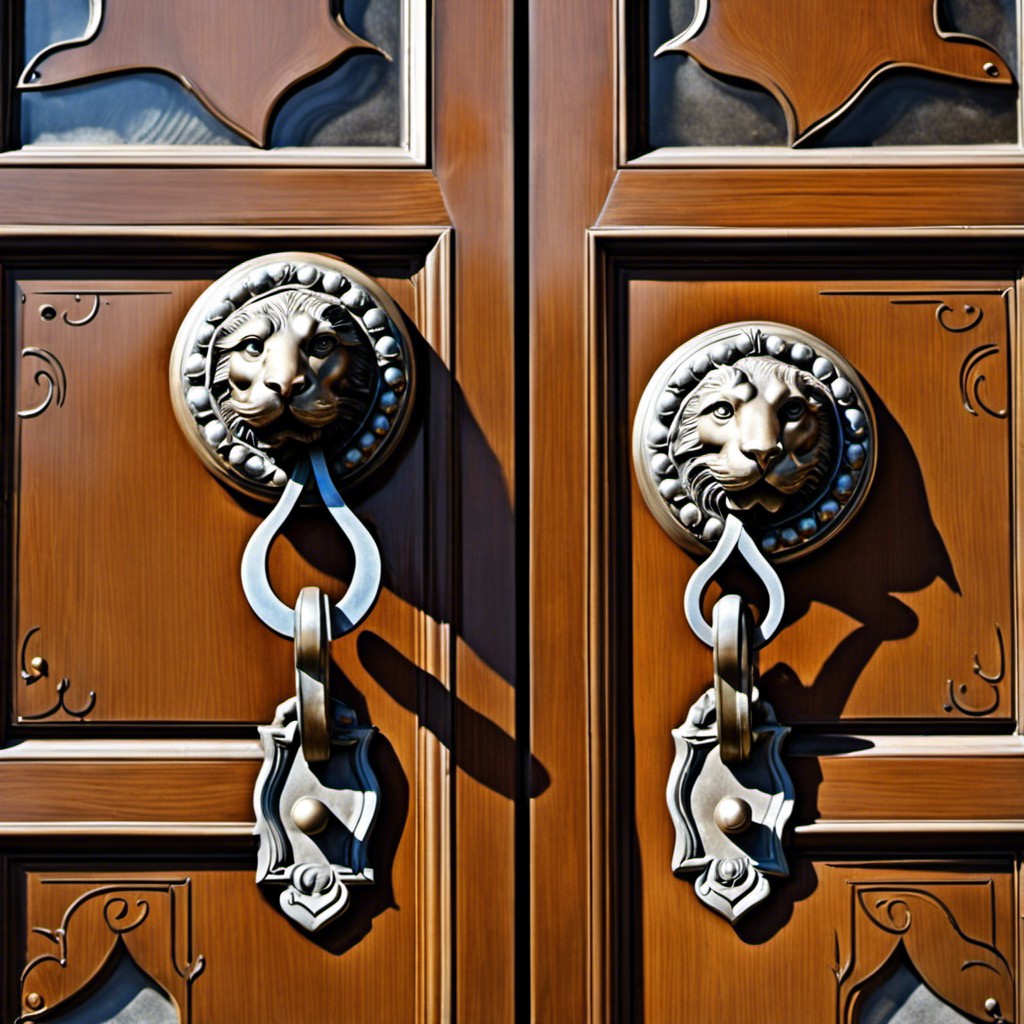 Lending a touch of time-honored elegance, these unique accessories can become a distinct focal point of your front door. Typically crafted from solid metals like brass or iron, they come in a myriad of designs, from pastoral scenes to stately lions, and even mythological figures.
One enchanting aspect of vintage door knockers is their inherent customizability. Almost any motif that holds personal significance can be incorporated, making them not just a decoration, but a storytelling element of your home.
Maintaining them involves occasional polishing to keep their beautiful patina intact. The charismatic sound they produce when used is another perk, offering a delightful alternative to the usual doorbell. Remember, installation needs careful measuring to ensure they are at an accessible height for all visitors.
Colored Door Tassels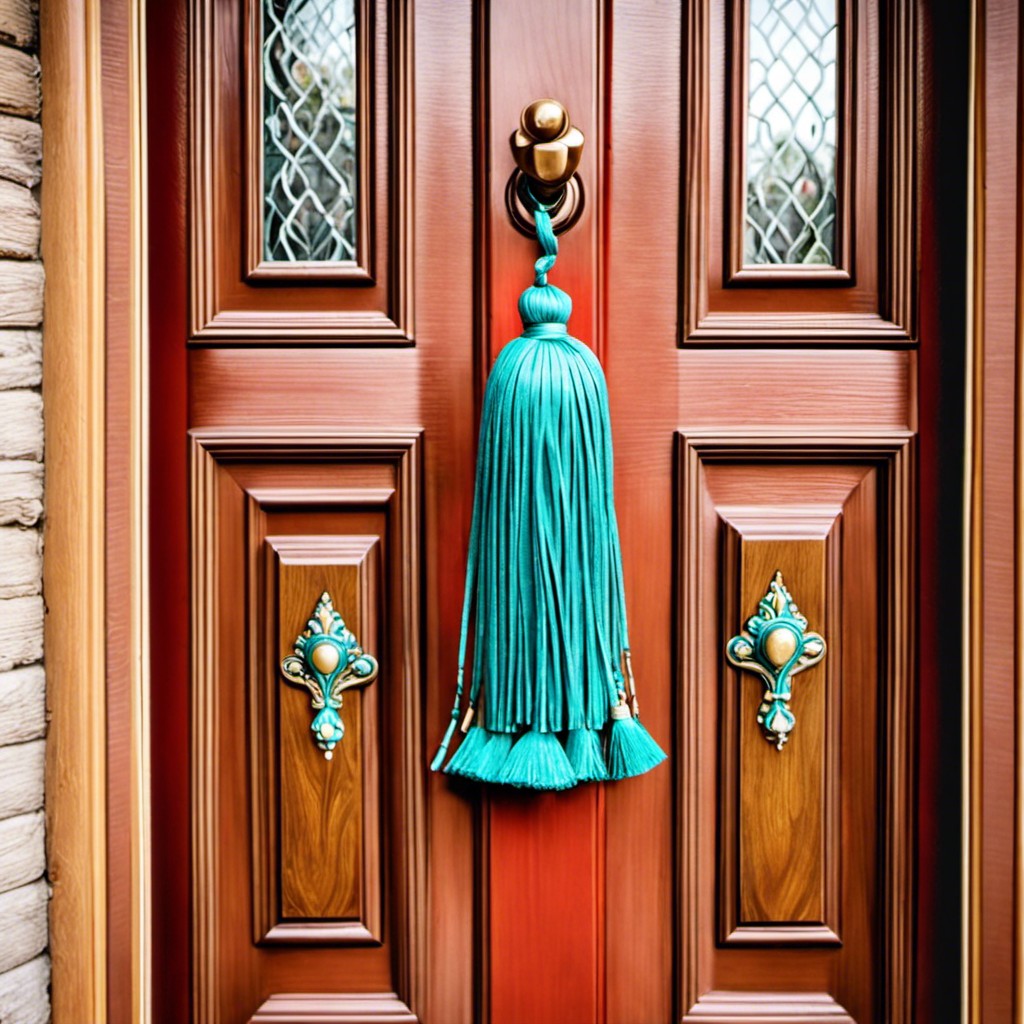 Offering contemporary charm and playful sophistication, tassels can instantly uplift your front door's appearance.
Choose from a broad spectrum of colors ranging from serene blues to vibrant reds, matching or even contrasting with your door paint.
Materials vary, too, from elegant silk to robust leather.
Length is another customizable factor; a long, dramatic tassel makes a bold statement, while shorter ones exude subtle class.
Tassels may dangle from the doorknob, keyhole, or hang at the corner for a non-traditional placement.
They can be paired with beads, crystals, or metallic elements for more pizzazz.
Easy to change, these embellishments can be swapped out to suit moods, seasons, or events.
Themed Door Banners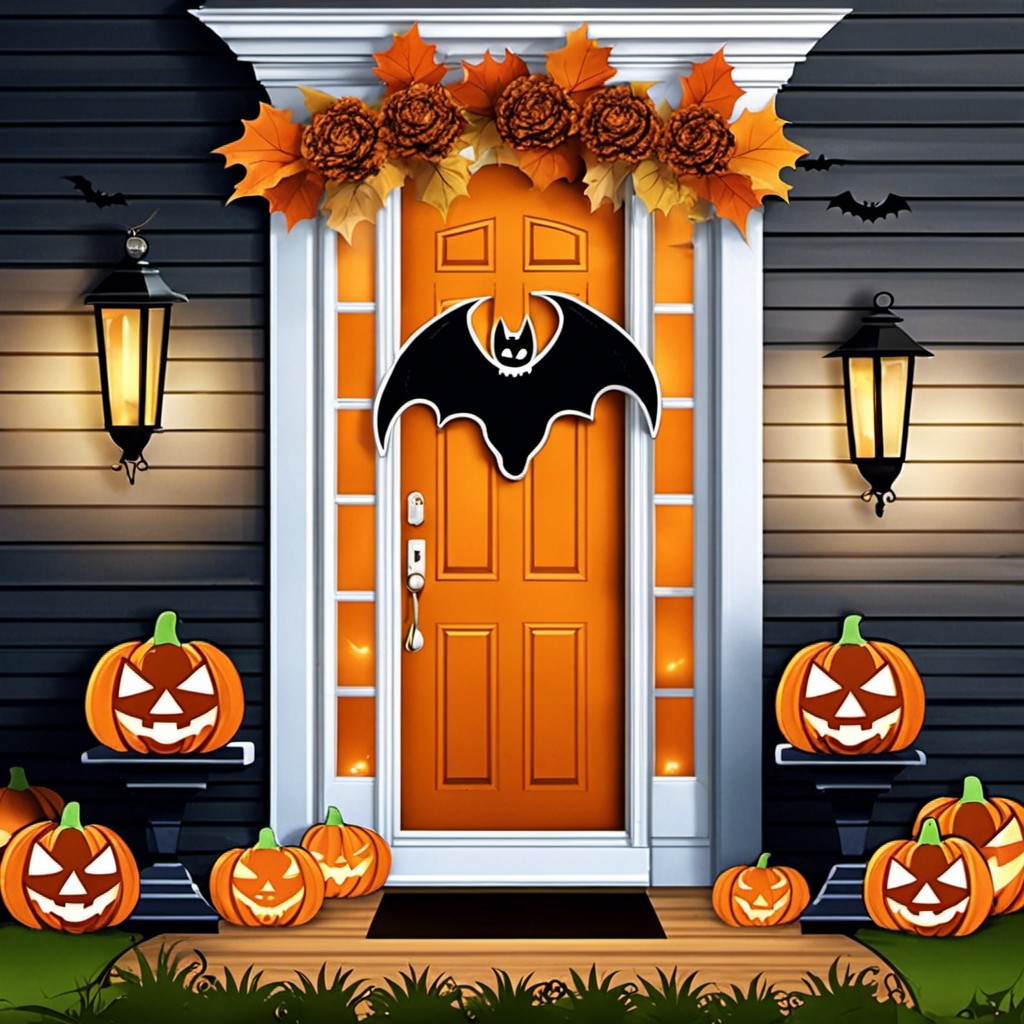 Themed door banners bring a sense of festivity and fun to your entranceway. They are notably popular during holiday seasons – whether it's illuminated poinsettias and snowflakes for Christmas, or pumpkins for Halloween.
Opt for banners that are UV and weather-resistant to ensure their longevity. They can be customized with your family name or a favorite quote for a personal touch.
One major upside is their straightforward installation – most of them simply require a nail or a hook. Swap them out as the seasons or your mood changes, they are an easy storage solution compared to larger decor items.
Personalized Welcome Mats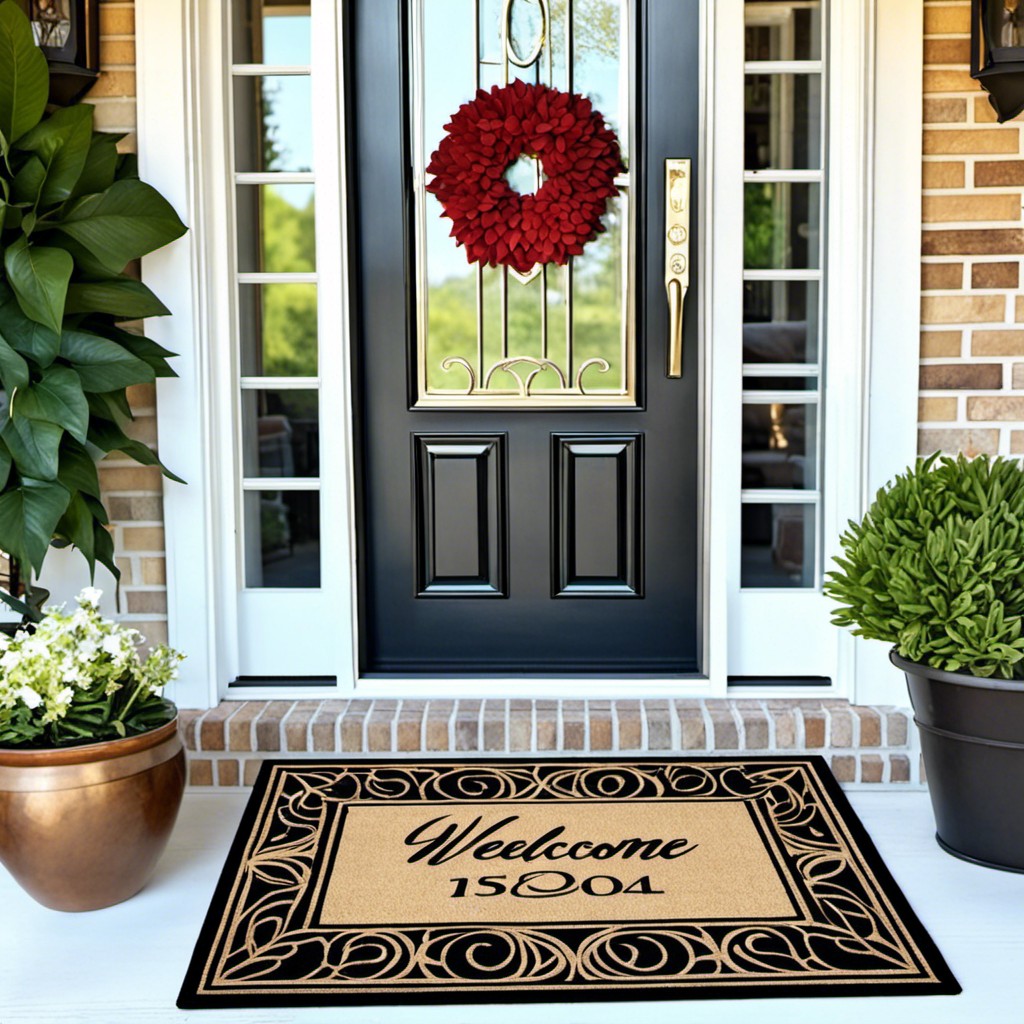 Adding a personal touch to your front door decor can be as simple as laying down a custom mat. This accessory, apart from preventing dirt from tracking inside, can be a fun, inventive way of expressing your unique personality or conveying your desired message.
A variety of designs are available ranging from quirky sayings, pet illustrations, monograms, to family names. Moreover, it's an affordable and effective way to freshen up your entryway for each season, holiday, or special occasion.
High-quality materials like coir or rubber ensure durability, while the customization aspect allows for limitless creativity and versatility in design.
Hanging Terrariums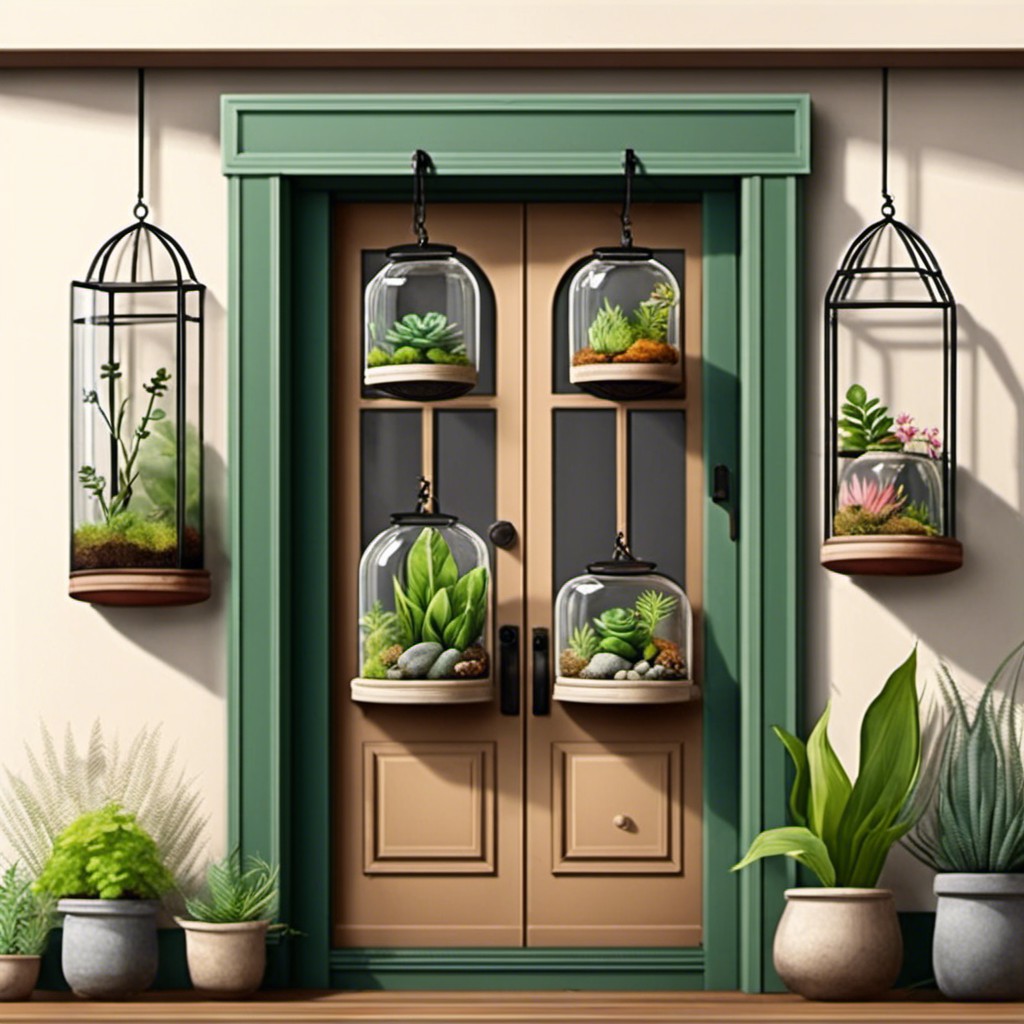 Incorporating greenery into your home decor is always a great idea, hence hanging terrariums. They are glass containers usually filled with plants, creating a mini indoor garden effect. You can hang these terrariums from doorframes, creating a unique living welcome sign.
Here are a few key points about them:
1. Versatile: They serve as a customizable piece that can hold a variety of plant species, like succulents or air plants.
2. Stylish: They come in different shapes and sizes, giving a modern touch to your entryway.
3. Low Maintenance: Most terrarium plants require minimal care, making them perfect for busy homeowners.
4. Eco-Friendly: Besides aesthetic appeal, they also help improve indoor air quality.
Consider experimenting with shapes, sizes, and plant types. Just be sure to maintain your terrariums so they stay lush and beautiful all year round. An added benefit: it's a door decoration that's also fun to build.
Ornamental Birdhouses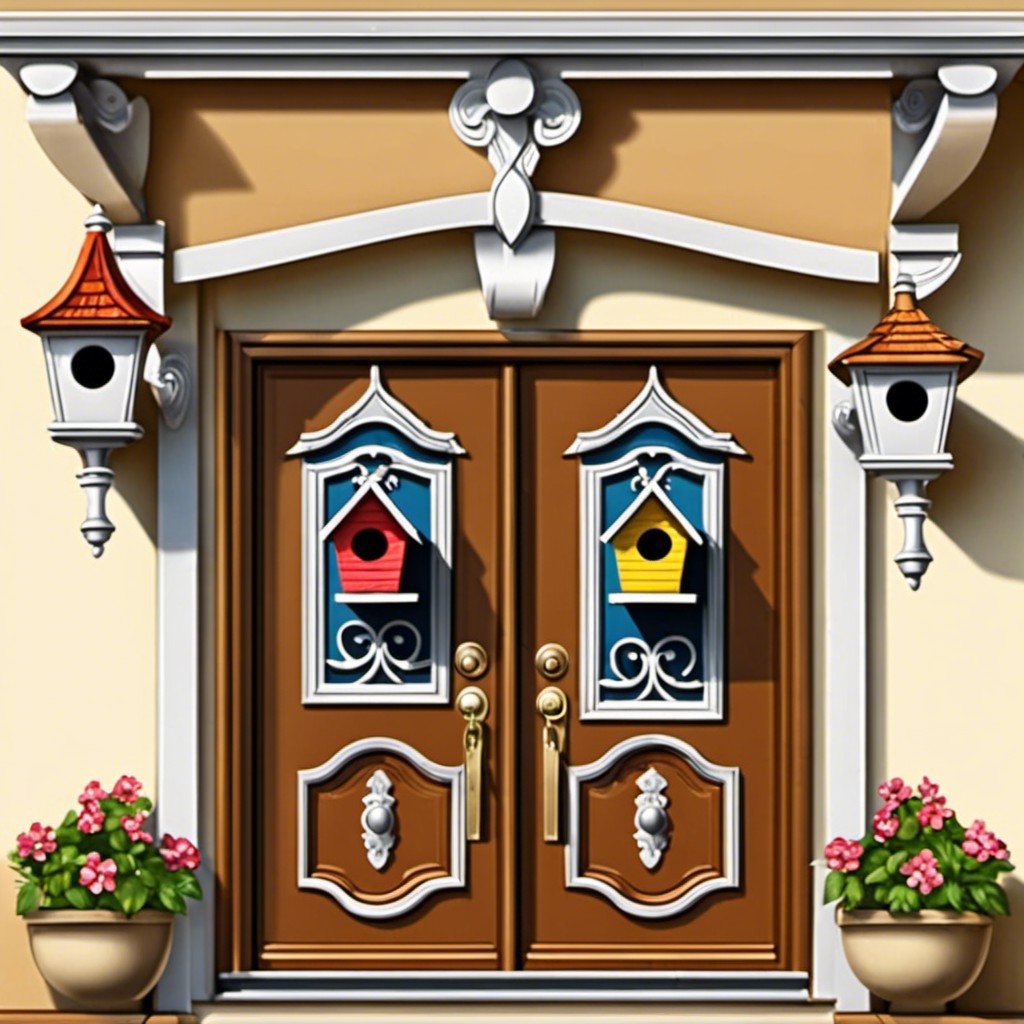 As an unorthodox yet delightful door decoration, ornamental birdhouses hold a charming appeal. They don't merely elevate the aesthetic appeal, but also function as a small sanctuary for avian visitors. Look for birdhouses with intricate designs and vibrant colors to inject personality into your front door.
Optionally, you could go for a DIY approach, building and painting your ornamental birdhouse – this adds a unique personal touch. Nesting materials or bird seeds could be added to make it more appealing to the feathered friends. Keep in mind that the size and entrance hole dimensions should be apt to attract the bird species native to your area.
Consider the material too – wooden birdhouses offer a timeless, rustic look while ceramic or metal ones are more contemporary and chic. Regardless of the design chosen, ensure it withstands the outdoor weather conditions.
Lastly, align the birdhouse style with your home's overall theme for consistency in your home decor. For instance, a cottage-style birdhouse can complement a farmhouse design, while a geometric, sleek design fits with modern architectural styles.
Decorative Iron Grills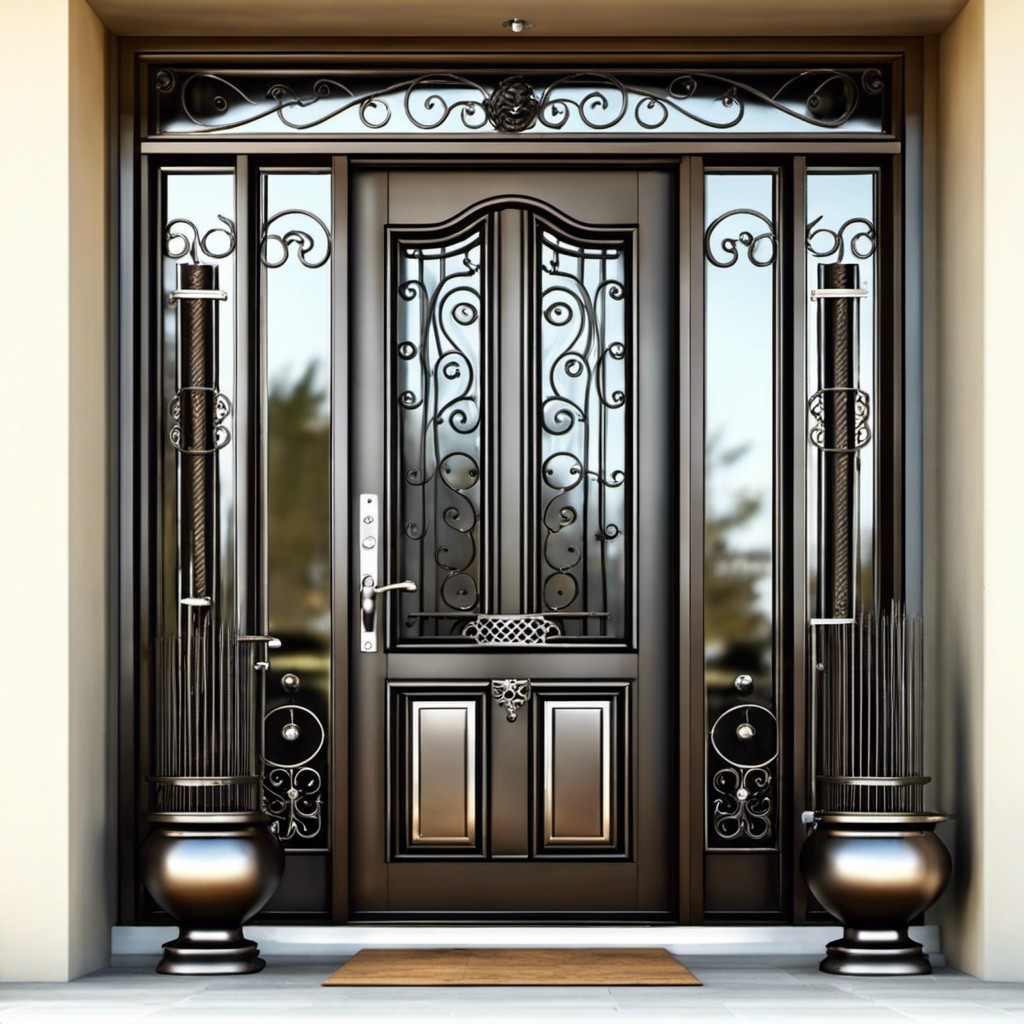 As an ornate yet protective add-on, iron grills offer both appeal and function. Traditionally used to enhance security, these intricate designs have evolved into an artistic element for home decor.
1. Endless Design Options: From baroque swirls to geometric patterns, they cater to diverse aesthetics. Whether you're after minimalism or a Victorian vibe, a design exists for every preference.
2. Durability: Iron, a robust material, stands up to harsh weather conditions. Regular maintenance can elongate its lifespan, making it an investment that enhances curb appeal for years.
3. Extra Security: Beyond beauty, a substantial benefit lies in the added protection. These grills often deter unwanted guests, emphasizing household safety.
4. Customization: Tailor-made to fit your exact door measurements and design wishes, these grills capture the uniqueness of each home.
Opting for a decorative iron grill can elevate your front door, lending a charming and secure welcome to your space.
Festive Lightings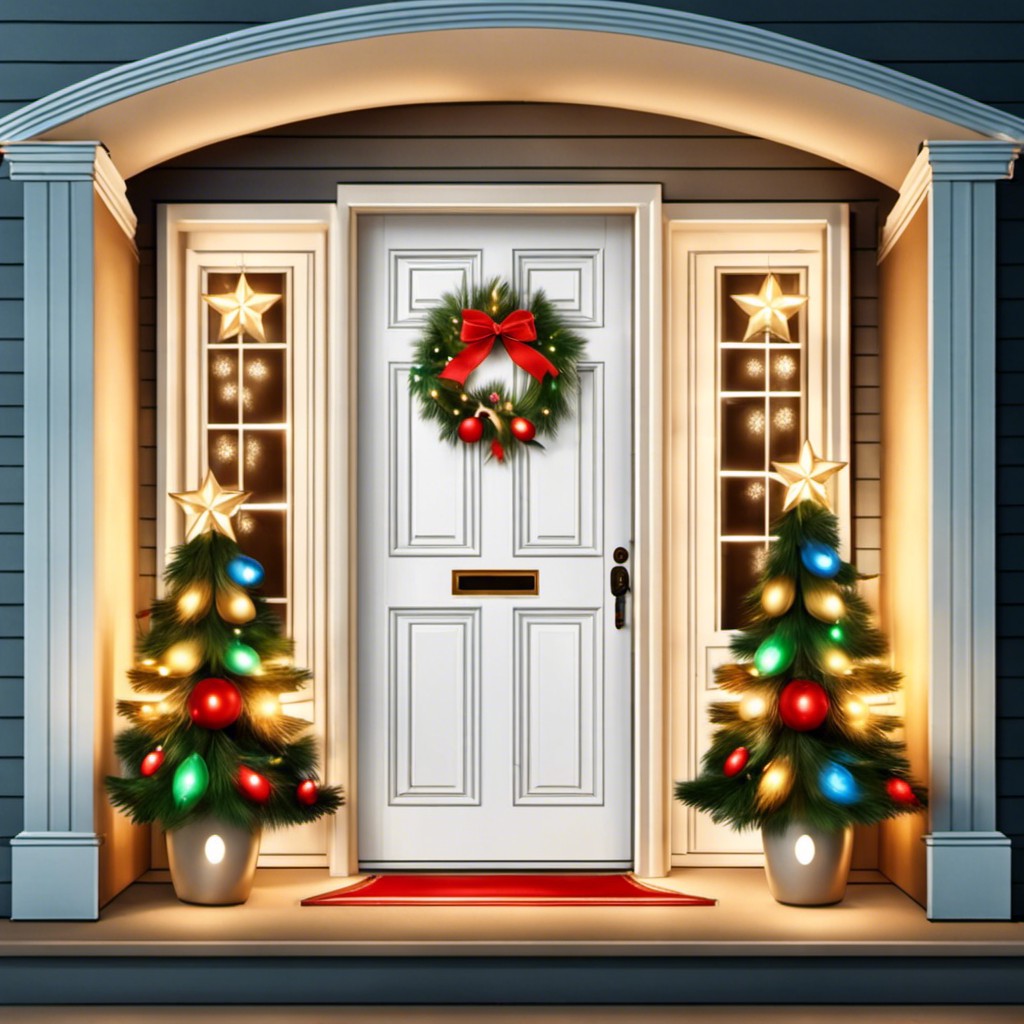 When it comes to magnifying the entrancing effect of your front door, illumination cannot be overlooked. With celebration lights, your home will exude a joyous, inviting aura, especially during the holiday seasons. Here are some points of consideration.
1. String Lights: Wrap them around your doorframe gently. They can easily add a whimsical, magical touch to your entryway.
2. Lanterns: Placing beautiful lanterns either side of your door can give a warmth, cozy atmosphere. Solar lanterns can be a great, environmentally friendly option.
3. Projector Lights: They can splash delightful patterns and colours onto your front door, creating a captivating visual spectacle.
4. Lighted Garland: Embracing a green approach, a lighted garland not only offers the charm of foliage but also the shine of fairy lights.
Remember: Safety is key. Always ensure your lighting solutions are suitable for outdoor use, resistant to weather changes, and correctly installed to avoid overheating or electrical faults.
Antique Doorbells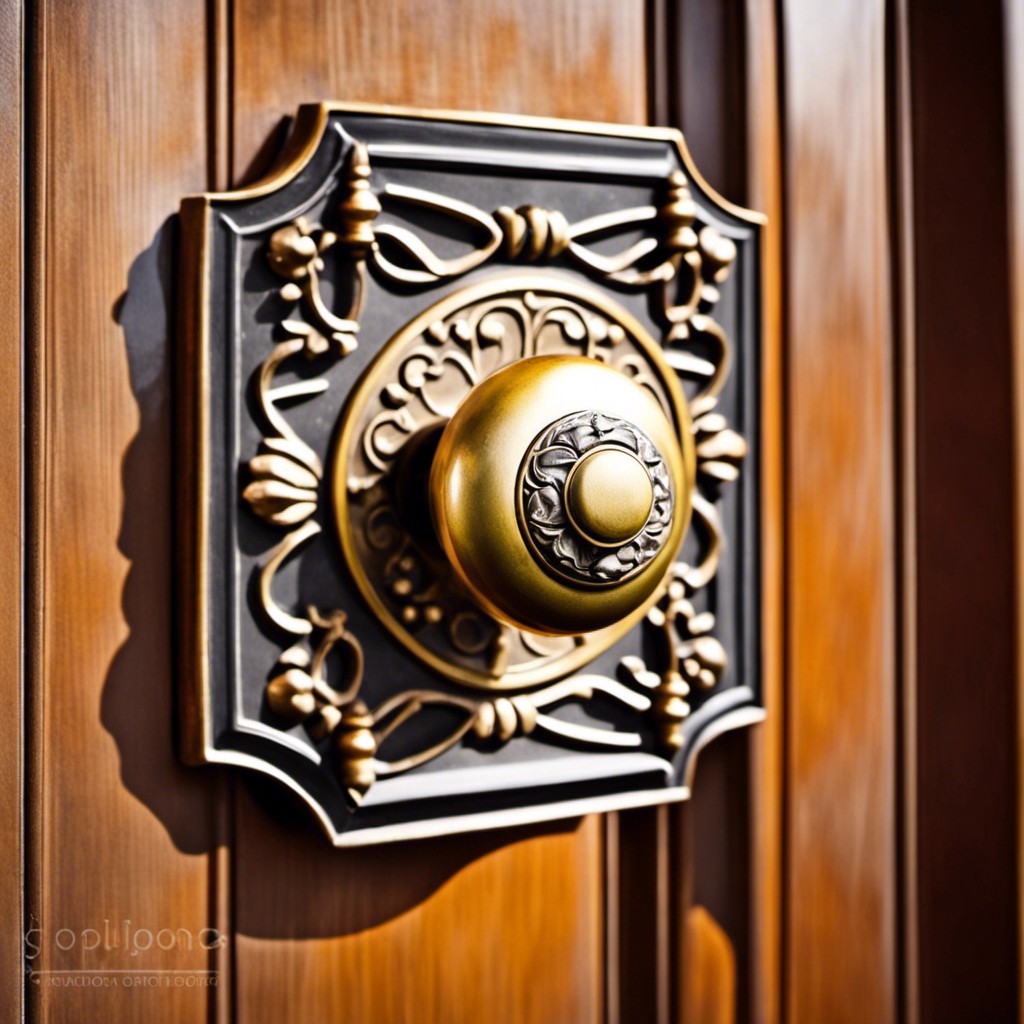 A great way to infuse your unique personality into your front door decor while maintaining the ensemble's functionality is with a nod to yesteryear. Replica doorbells, reminiscent of the Victorian or Edwardian periods, can offer that special touch.
Brass, iron, or porcelain models can bring out a delicate vintage charm.
Character shapes, like an elegant hand or a lion's head, can serve as intriguing conversation starters.
Consider the doorbell sound as well: a soft, traditional ding-dong or a unique, melodic chime can create an inviting atmosphere.
To adhere to an authentic antique aesthetic, seek out quality manufacturers or consider salvaging from architectural antiques dealers.
Remember, doorbells are not mere functional items. They can become an unexpected focal point, setting the tone for the rest of your decor. Your personal preferences and the architectural style of your house should guide your selection process. Experiment, and don't be afraid to make a bold statement with your home entryway.
Hanging Wind Chimes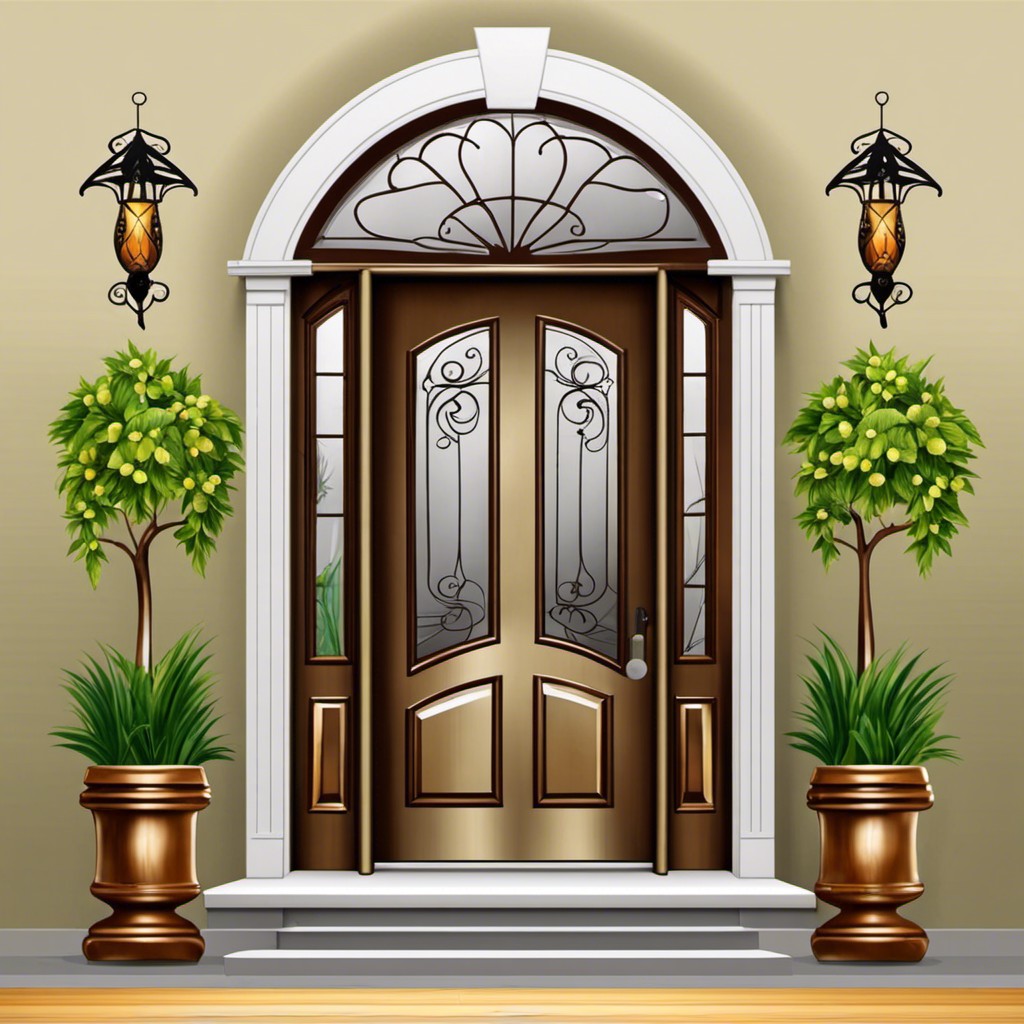 Adding an aural element to your front door décor can indeed elevate your home's welcoming feel. Wind chimes come in a wide array of designs, materials, and tunes, offering versatility in matching your aesthetic preference. You could opt for wooden chimes for a soft, mellifluous tone or go for metallic ones for sharper, resonating sounds.
Proper positioning is critical, hang them at a spot where the breeze can reach them to evoke harmonious melodies. You could also get creative by choosing chimes with engraved messages or personalized detailing for that extra unique touch.
Remember, while they are visually pleasing, their primary purpose is to produce captivating sounds. Always check the quality of sound before making a purchase, as different materials yield different tones. Don't be afraid to mix and match – pairing smaller chimes with larger ones can create a delightful symphony that greets your guests as they approach.
As simple as they might seem, wind chimes can infuse a sense of tranquility to your abode, making your home not just visually, but also audibly inviting.
You may also like to read: