Last updated on December 1, 2023
Because dark gray couches offer a sleek, versatile backdrop for various decorating styles, this article delves into compelling ideas to transform your living space.
"I'm proud to have personally written and designed this article on 20 Dark Gray Couch Ideas, hoping you'll find it as inspiring and fun as I did when creating it."
Dark gray couches are a versatile and stylish choice for any living room. Their neutral color allows for a wide range of decor possibilities, from bold and vibrant to sleek and minimalist.
Whether you're looking to create a cozy and inviting space or a modern and sophisticated room, a dark gray couch can serve as the perfect centerpiece.
In this article, you'll find a variety of design ideas and tips to help you make the most of your dark gray couch. We'll explore different color schemes, throw pillow combinations, rug selections, and more.
Stay tuned for a comprehensive guide that will transform your living space into a well-curated and visually appealing environment.
Table of Contents
Velvet Dark Gray Sectional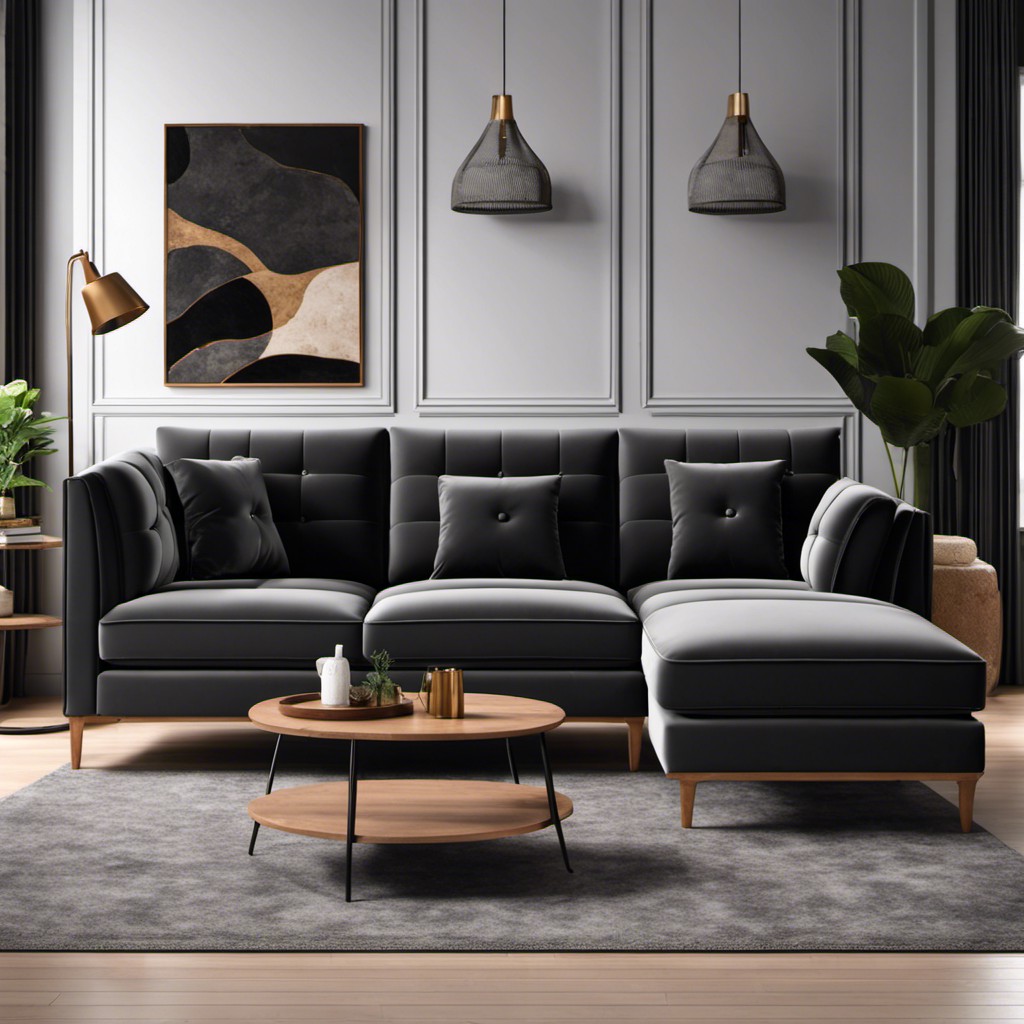 Embodying both warmth and luxury, a velvet dark gray sectional can enhance any décor scheme. This piece's plush fabric brings comfort and sophistication, while its dark hue provides a flexible foundation for various styles and colors.
For a classic look, pair your velvet sectional with pastel or neutral throw pillows. Aiming for something more eclectic? Try adding patterned textiles or vibrant hues. Even metallic accents exhibit beautifully on this versatile couch.
A practical tip: consider a high-quality protector spray for velvet surfaces to guard against accidental spills and stains! With these ideas, your velvet dark gray sectional will become a central element in your interior design.
Modern Dark Gray Leather Sofa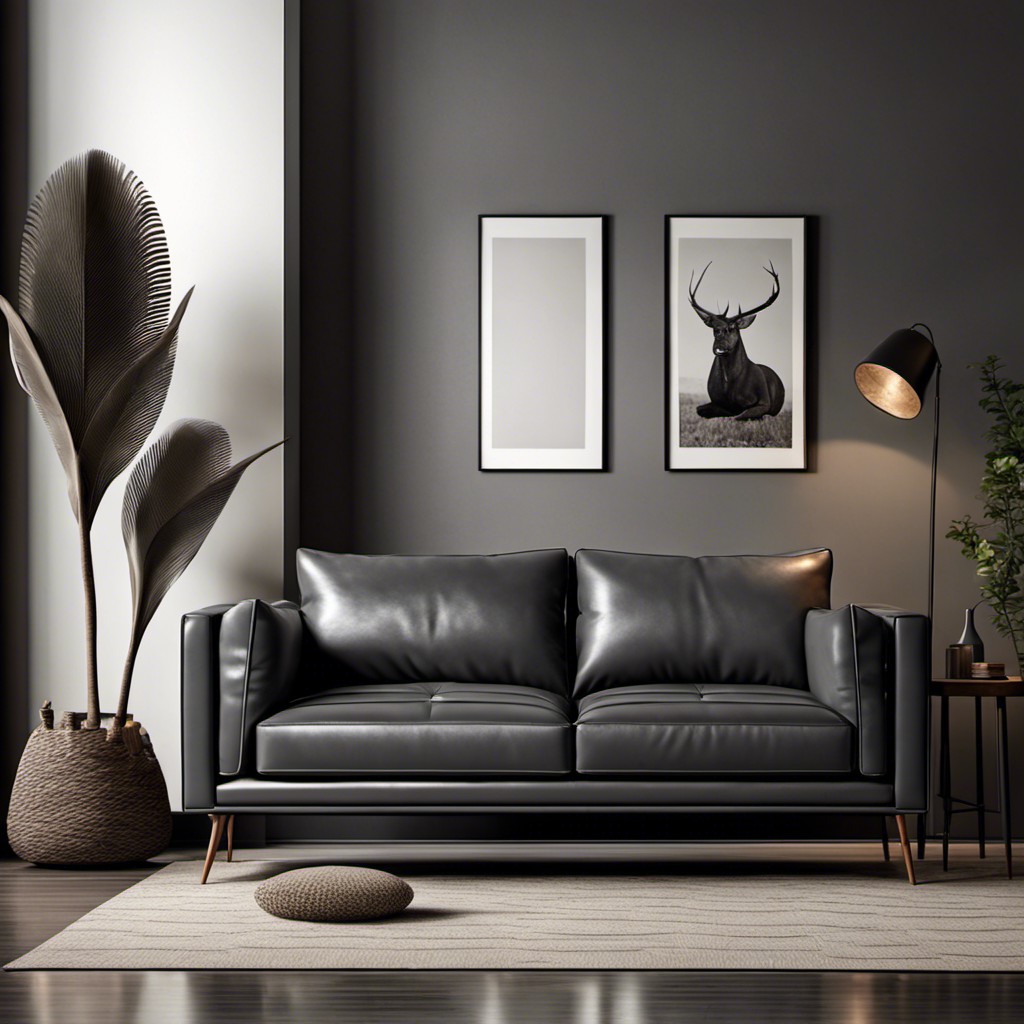 A top pick for those who prioritize both style and comfort, this type of seating lends itself to a vast array of decor schemes due to its neutral hue and streamlined silhouette. Its sleek leather finish makes for a sophisticated, yet utterly inviting atmosphere.
One can play up its modern aesthetic with metallic accents, such as a chrome coffee table or an edgy wall art piece. This piece also brilliantly harmonizes with minimalist decors, serving as a grounding force in a predominantly white interior.
For a touch of coziness, seagrass rugs and woven wall hangings can help balance the sleekness of the leather. Just remember, maintaining it requires regular dusting and an occasional treatment with a good leather conditioner.
Mid-century Fabric Dark Gray Settee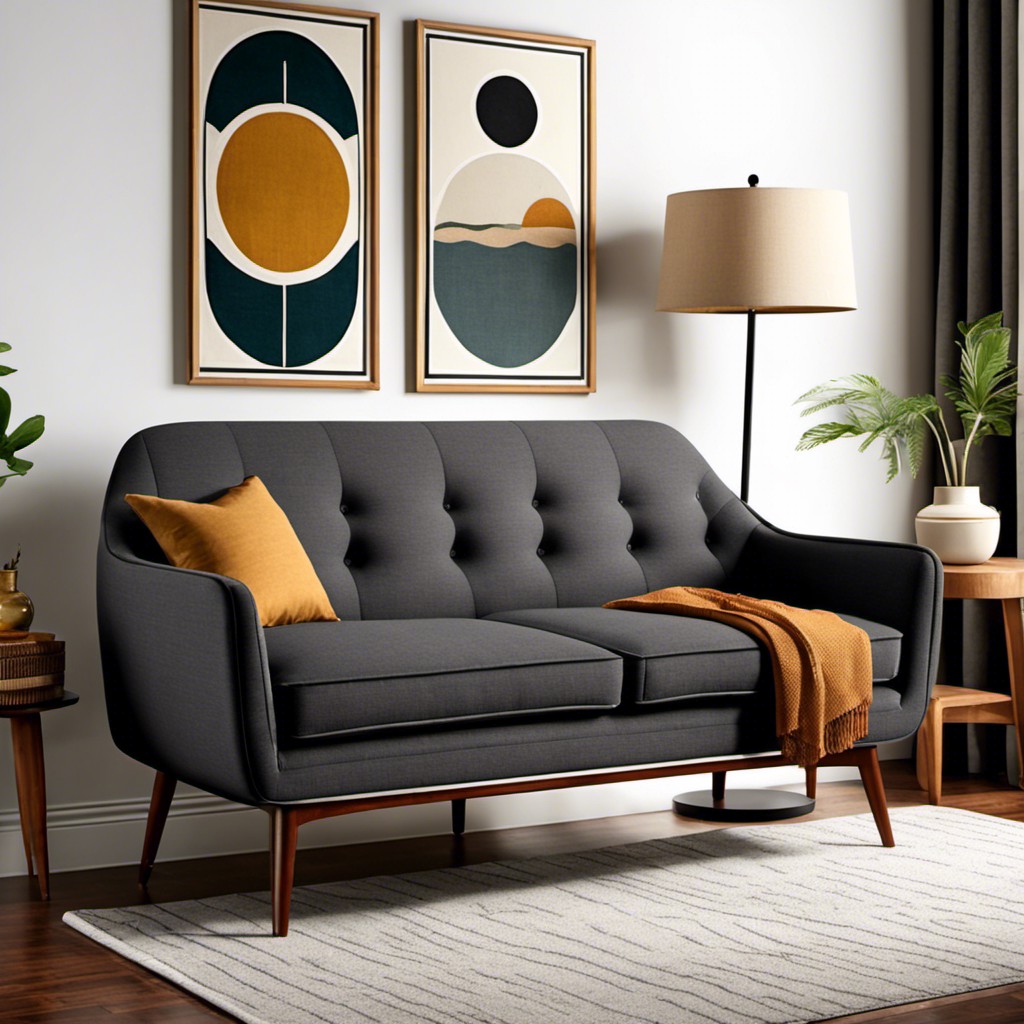 Featuring simple form, clean lines, and quality materials, this furniture piece truly encapsulates the principles of mid-century design. The understated elegance of its gray fabric works flawlessly with the distinct angular wood legs for a balanced, sophisticated look.
To enhance its appeal and functionality, one can:
Use contrasting throw pillows: Bright or patterned pillows stand out beautifully.
Pair with a modern coffee table: Mix different design eras for an interesting living space.
Position it near a retro-style floor lamp: Provides adequate lighting while adding visual interest.
Consider a white shag rug beneath: Adds textural contrast and helps ground the piece.
Surround with minimalist wall art: Complements the simplicity of the settee and brings personal flair.
Balancing old and new, this piece can easily become the focal point of your living room, creating a captivating mix of modern and vintage aesthetics.
Dark Gray Couch With Colorful Pillows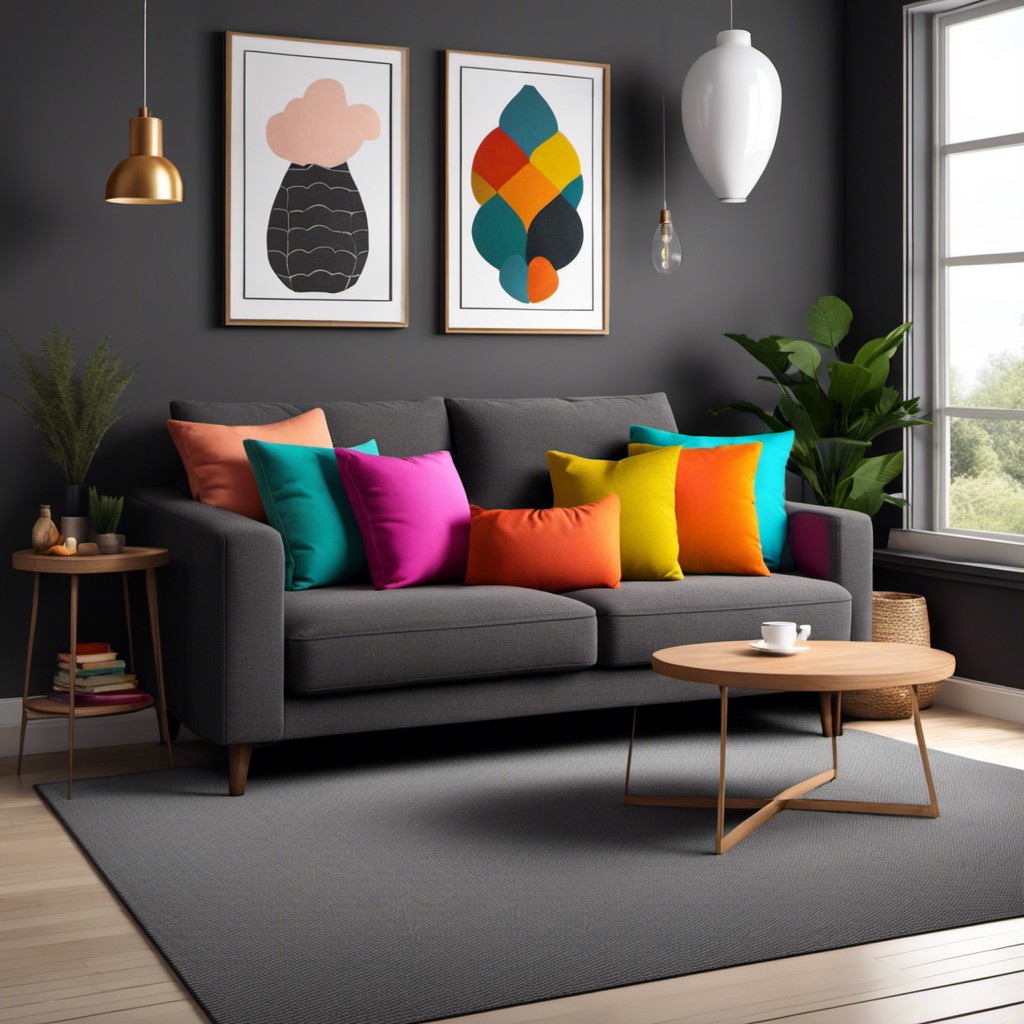 Introducing a pop of color to a room with a dark gray couch can truly transform the space. From bold reds, vibrant blues to sunny yellows, each hue creates a distinctive atmosphere when paired with dark gray.
1. Bold, geometric-patterned pillows: These can bring a modern edge to your couch and room at large, enhancing the contemporary feel.
2. Florals and pastels: They are perfect for a room with a softer look. They contribute to an overall tranquil and sophisticated vibe.
3. Mixing different textures: Velvet or sequin pillows can add an unexpected element to your couch. They provide aesthetic and tactile interest.
4. Thematic pillows: Be it nautical stripes or tropical prints; they instantly tell a visual story about your space.
Remember, there's no single right way of doing it. It's all about balance, your personal taste, and how it fits into the overall room decor. Experiment until you find the mix that lights up your space.
Reclining Dark Gray Couch
Comfort and style come together seamlessly in a reclining dark gray couch. It exudes sophistication while offering ample support. It's perfect for lounging after a long day or binge-watching your favorite series.
1. Dual-function: Aside from its aesthetics, it serves a practical function. It can switch form from an upright seat to a lounging area.
2. Space-saving: Suiting small living spaces, you can have the comfort of a bed in the form of a couch. Perfect for apartments or homes short on space.
3. Durability: Choosing a dark gray upholstery ensures dirt and stains aren't easily noticeable, making it a practical choice.
4. Versatility: It complements most interior design aesthetics. Whether modern, rustic or classical, a reclining dark gray couch easily blends in.
5. Material variety: It comes in a range of materials – from leather to fabric. This variety caters to differences in budget, comfort preferences, and maintenance levels.
Dark Gray Sleeper Sofa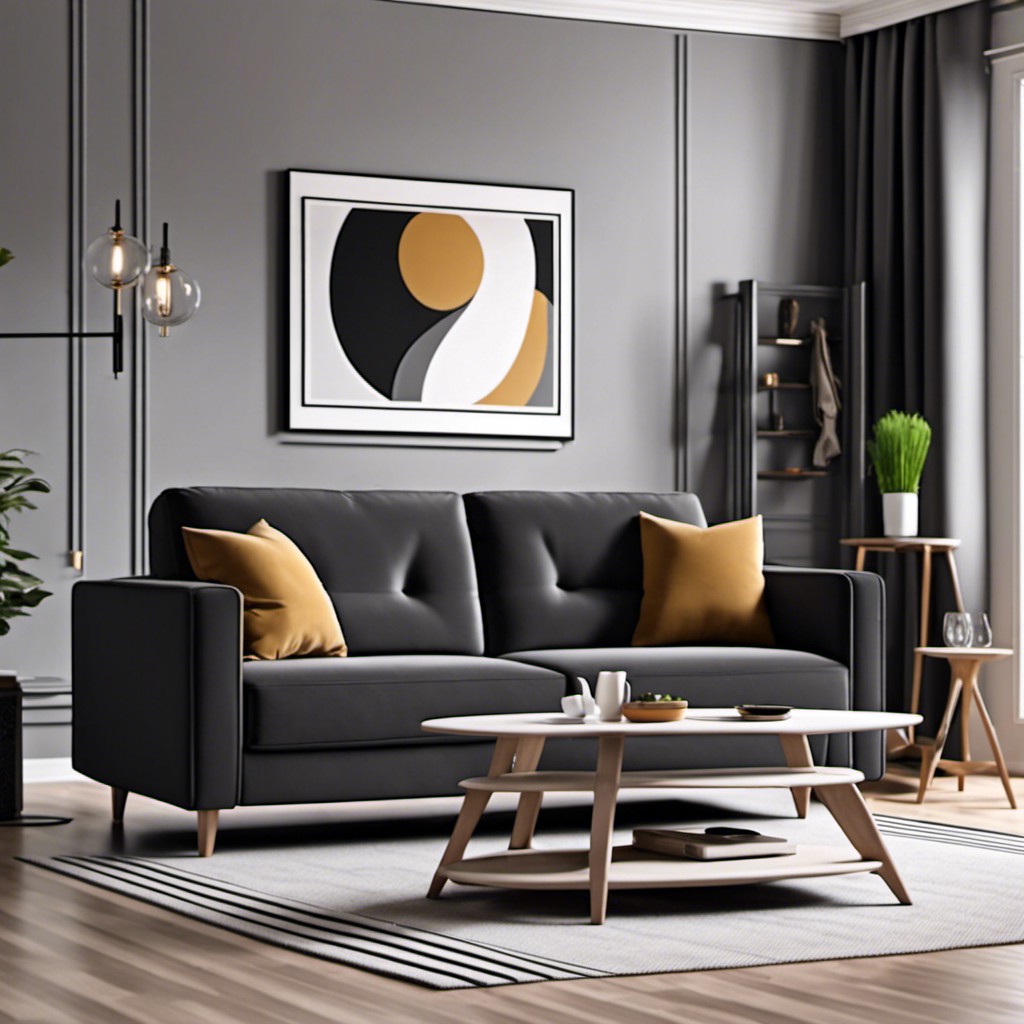 A sleeper sofa, particularly in a dark gray shade, offers a sense of sophistication and practicality, bridging the gap between style and function. Upholstered in a deep, neutral hue, it's versatile enough to blend in with any interior design theme.
Firstly, consider practicality. The invisible built-in bed allows it to multitask as a daytime sofa and a night-time bed. Therefore, it may be a handy investment for homes with frequent guests or small living spaces.
Secondly, in terms of aesthetics, dark gray introduces a dramatic and deep element to a room. It also disguises wear and tear better than its lighter counterparts, making it a good choice for areas of heavy traffic.
Lastly, it's an absolute playground for decorators. By pairing it with vibrant throw pillows or soft woolen blankets, you can create a visual interest that separates your living space from the ordinary. A contrasting rug underneath it helps to ground the sofa and tie the other elements in the room together.
Remember, it's all about balancing act—dark gray can be bold and subtle at the same time. By playing its characteristics to your advantage, this sleeper sofa can become a statement piece rather than just a piece of furniture in your room.
Dark Gray Chaise Longue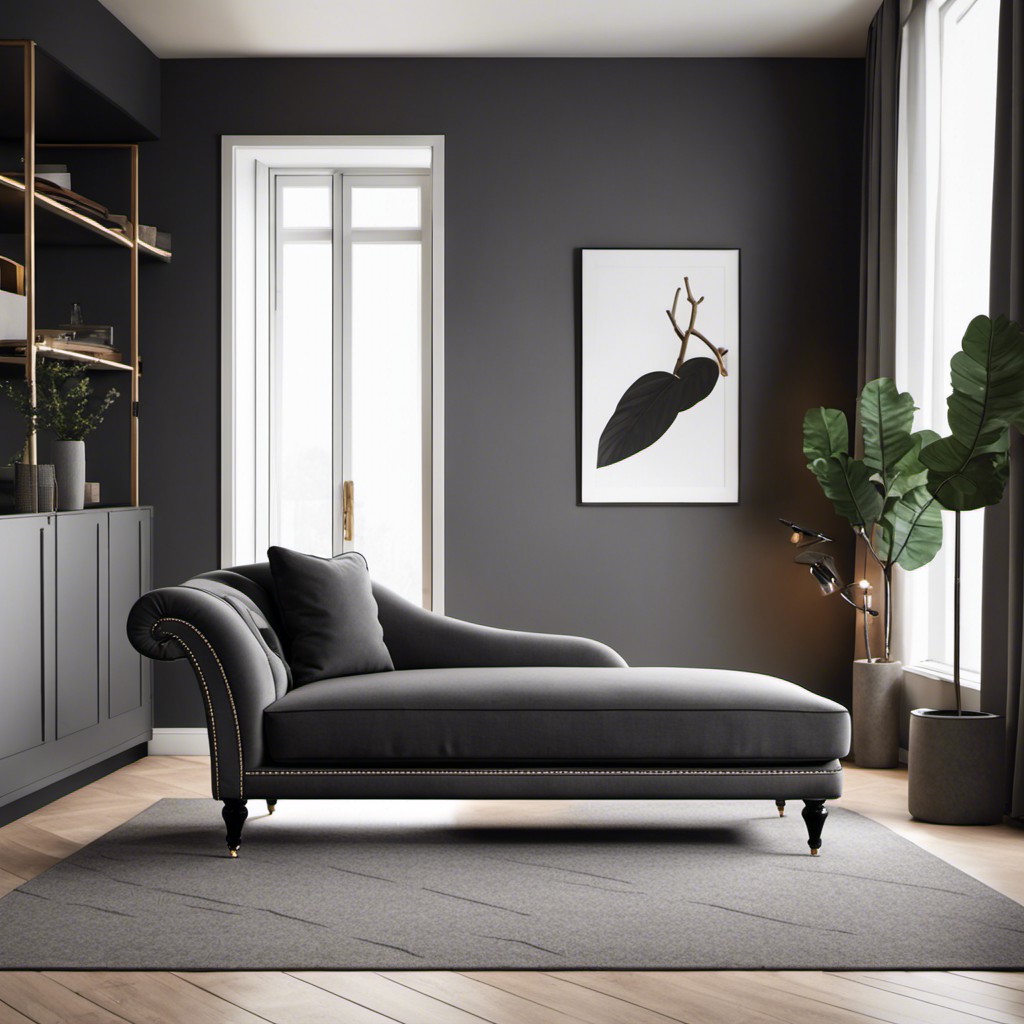 An exquisite embodiment of elegance and style, the dark gray chaise longue etches a timeless appeal into any living space. Its soft curves and tailored appearance make it an alluring choice for homeowners seeking comfort and luxurious charm in one piece.
1. Versatility: Its color allows for effortless pairing with almost any interior design scheme, from avant-garde and contemporary to antique and rustic styles.
2. Elegance: The elongated design of a chaise longue gives an air of refinement and sophistication, turning an ordinary room into a stylish haven.
3. Functionality: Benefitting from both aesthetic appeal and utility, it offers ample seating space, ideal for lounging and relaxing. Some models even feature a hidden storage compartment.
4. Comfort: This French masterpiece is fashioned for optimal comfort, with plush backrests and generous cushioning that invites one to sink in and unwind.
5. Focal Point: With its commanding appearance, the dark gray chaise longue can become the focal point of the room, capturing attention and igniting conversation.
6. Durable Material: Typically covered in durable fabric, it can withstand daily use while maintaining its sleek, attractive look.
Dark Gray Tufted Ottoman Combo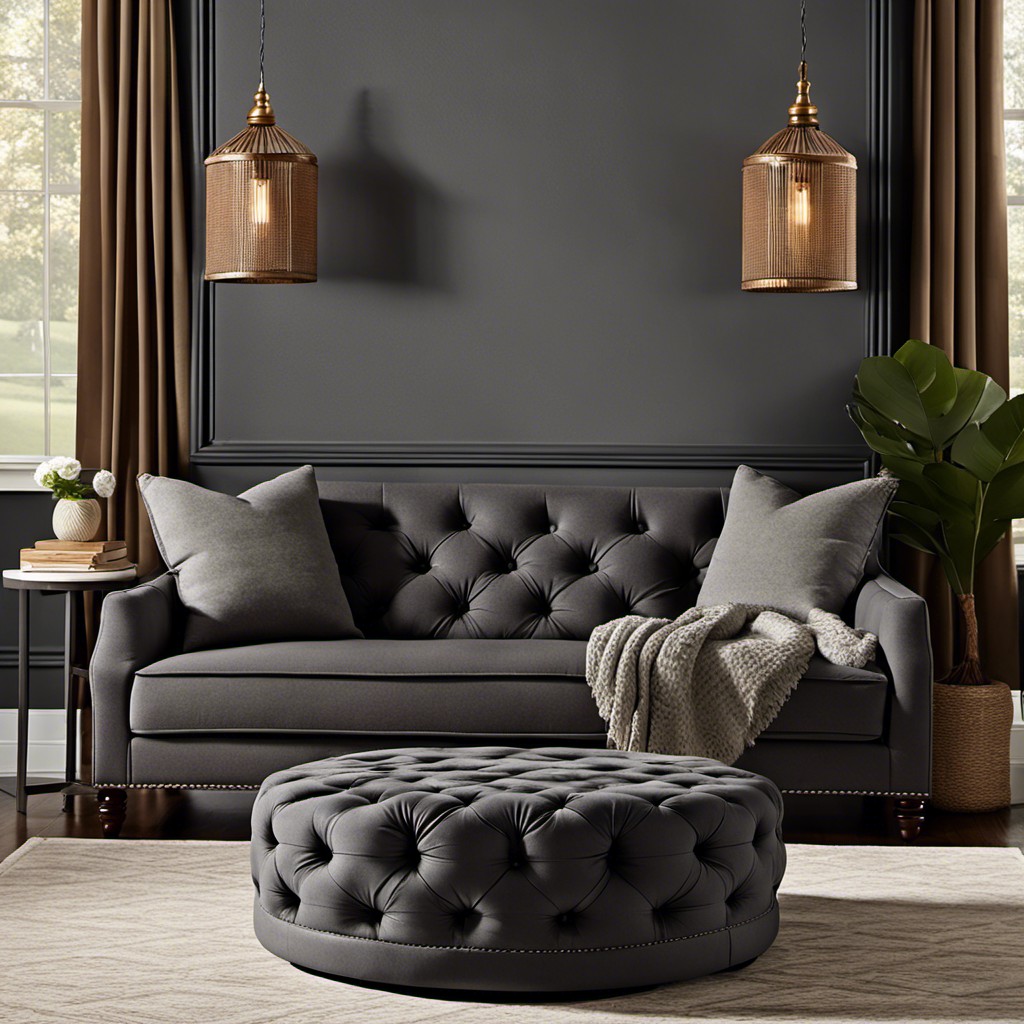 Tufted ottomans, with their intricate button detailing, lend a touch of elegance that perfectly complements a dark gray couch. They can function as a footrest, offer additional seating, or even serve as a makeshift coffee table with a stylish tray on top.
This versatile option feels luxurious while adding practicality. Pairing this with a dark gray couch not only ensures cohesion in color but also introduces texture and depth into the space, making it cozy and well-rounded.
Incorporating a velour or velvet ottoman can ramp up the glam factor, while linen or leather options can give off a more casual or modern vibe. The choice of material can be decided based on the overall decor of your living room.
Undeniably, this combo is an efficient and chic way to shape your living space.
Industrial Style Dark Gray Couch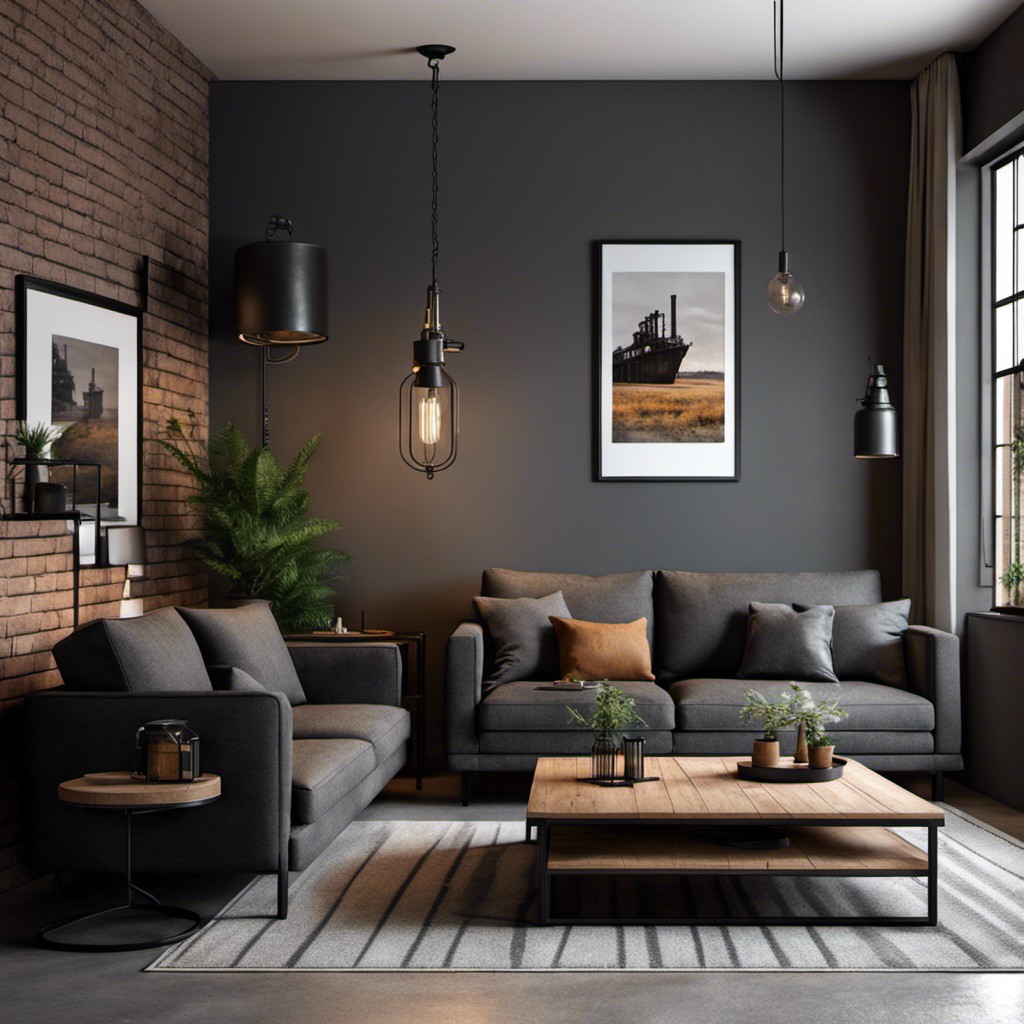 Boasting a blend of utility and aesthetics, this couch introduces ruggedness to your living room. It often features materials like metal, steel with exposed hardware, combining comfort with robust durability.
Its graphite shade ideally complements industrial elements – weathered wood, exposed brick, and concrete floors. Consider scatter cushions with geometric prints or a throw in burnt orange or mustard for added zest.
This piece not only substantiates comfort but also adds an eclectic vibe, encapsulating a design tour de force. Remember, balancing the couch with softer decor elements can offset the somewhat cold feel often attributed to the industrial design style.
Dark Gray Chesterfield Sofa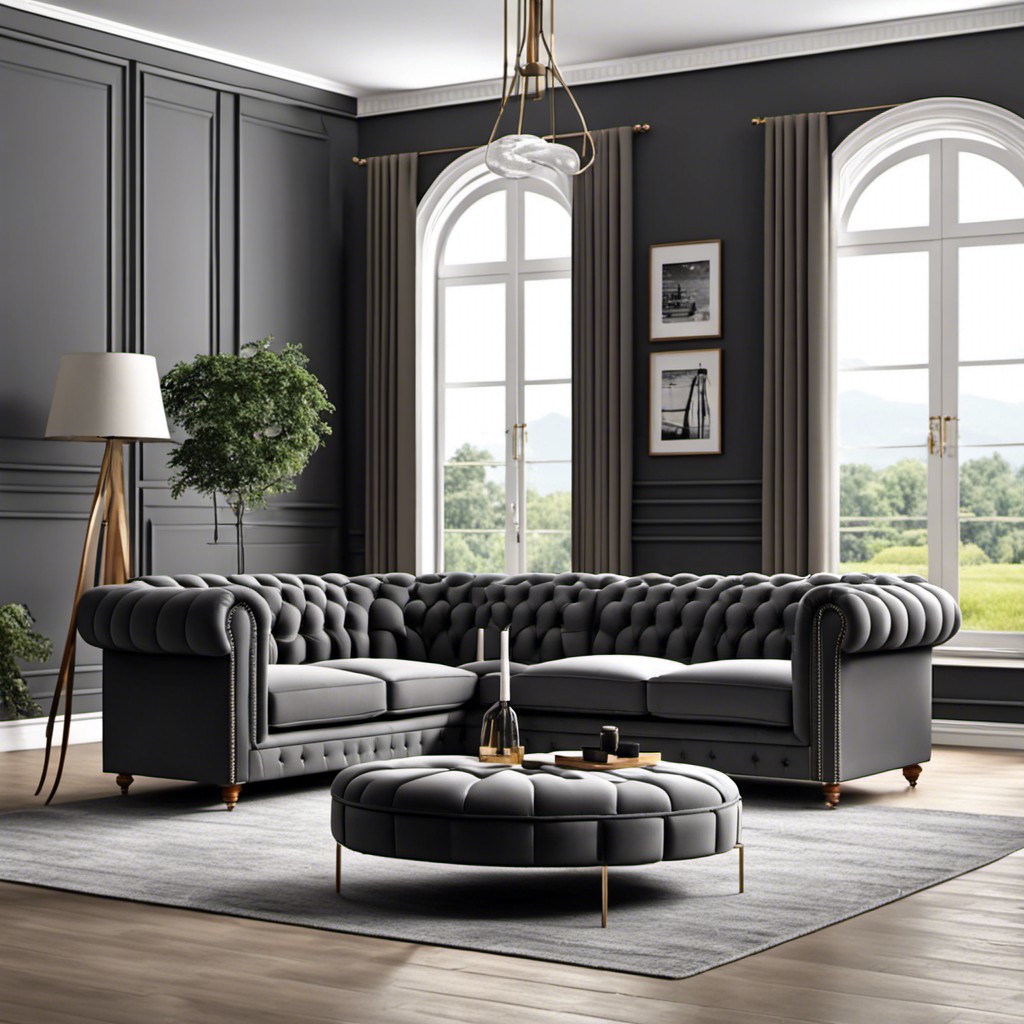 Epitomizing sophistication, a Chesterfield promises just the right mix of vintage charm and timeless design. Its distinctive rolled arms and deep button tufting, when presented in dark gray, convey an air of elegance that's gracefully understated.
The couch's dark gray hue offers versatility in terms of décor matching. It acts as a neutral base, complementing virtually any color palette while defining your living space. Pair it with metallic accents like brass or gold for a rich look. Or, add a burst of vibrancy with colorful throw pillows or a bright rug.
Besides, the leather upholstery not just offers longevity but, combined with the classic tufted design, also adds texture and depth to the room. It's a splendid choice for those who love to blend classic and contemporary styles.
Whether it's for daily use or occasional seating, its robust design can withstand regular wear and tear brilliantly. Moreover, the plush padding offers superior comfort, making it a perfect spot for those long lounging sessions.
Remember, lightings can enhance its appearance significantly. Invest in warm, soft lights to highlight the rich dark gray texture and elevate the overall ambiance of your space.
Dark Gray Couch With Wooden Legs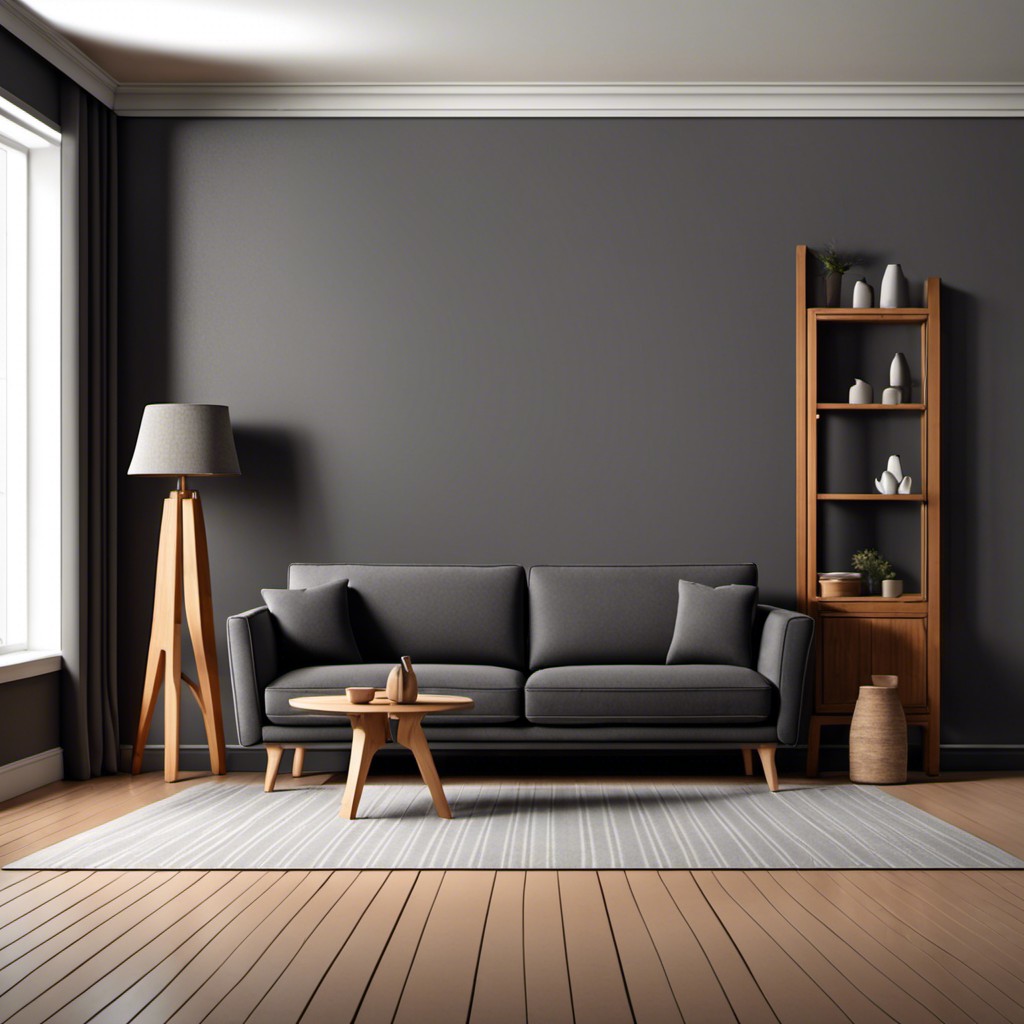 Harmonizing the natural with the contemporary, this design serves as a sublime example of balance. Wooden legs, often in lighter shades, add a touch of earthiness to the otherwise modern dark gray couch.
Consider a few key concepts:
Contrast: The light tone wood creates a striking contrast against the dark gray, thereby accentuating the couch's stand-out figure.
Versatility: This combo is friendly with most types of interior decor, from Scandinavian to Bohemian, modern minimalist to rustic.
Maintenance: Wooden legs tend to be sturdy and handle weight well, making them a durable choice.
Warmth: Wood adds a warm tone in contrast to the cold, industrial feel of dark gray.
Eco-friendliness: If sourced responsibly, wooden legs offer an eco-friendly option.
Remember, the variety of wood options allows for even more customization. Choices range from traditional oak and pine to more exotic acacia and teak. Select the one that aligns best with your overall aesthetic.
Dark Gray Couch With Light Gray Rug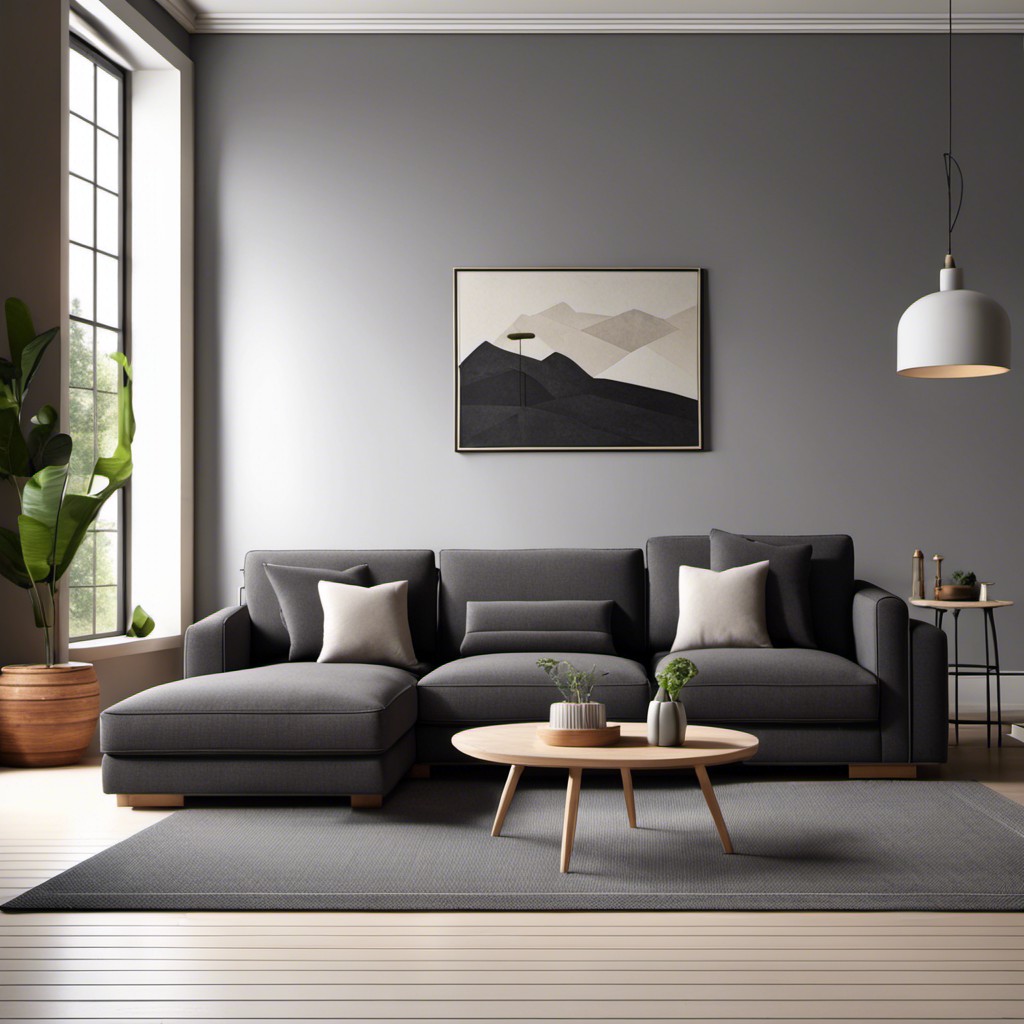 Harmony is vital in interior design, and pairing a dark gray couch with a light gray rug can establish just that. This duo provides a seamless grace that's both easy on the eyes and effortlessly sophisticated.
1. Subtle Contrast: Although the two shades are close on the color spectrum, the slight contrast enhances the visual intrigue in your living space.
2. Texture Play: Utilize rugs with different textures like fluffy, shaggy or patterned ones to create interest and diversify the aesthetic.
3. Versatility: This color combination allows for diversity in accessorizing. Bright, bold cushions or throw blankets add a pop of color, while metallic or wood accents introduce an additional layer of elegance.
4. Space Illusion: A light gray rug can also help in visually expanding the space, making the room appear bigger and more open.
In the world of home décor, this unassuming yet stylish pairing truly stands the test of time!
Dark Gray Futon for Small Spaces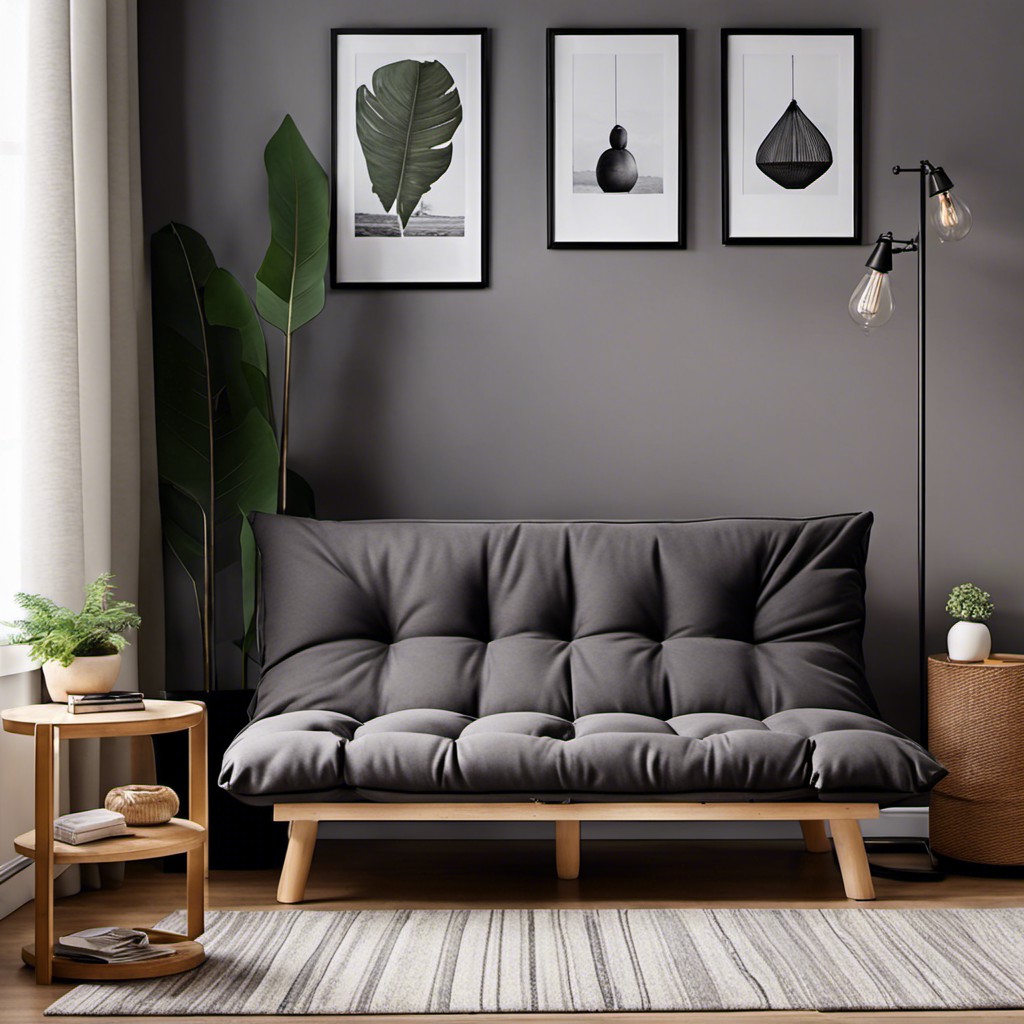 Ideal for studio apartments, dorm rooms, or small dens, the dark gray futon exemplifies masterful space-saving design. Its two-in-one functionality can easily shift from a comfortable seating option during the day, or a welcoming bed for overnight guests.
Notably, choosing a dark gray color enhances durability and stain-resistance. It also interfaces seamlessly with various interior styles – from modern minimalist to bohemian chic. This versatility is procured by layering different textures and colors – contrasting bright-colored throw pillows, or a vintage, light-hued blanket can accentuate the futon and enliven the overall room's aesthetic.
An added advantage of a futon is its easy maintenance. Removable and washable covers help in extending the lifespan and refreshing the appearance of the piece. Cooperation with space-saving furniture – multipurpose ottomans, wall mounted shelves – can further optimize small space living.
Overall, displaying a blend of style, practicality, and versatility, a dark gray futon is a smart option for smaller spaces. Quick to convert and easy to maintain, it's an ideal solution to maximize comfort and utility in constrained footprints.
Oversized Dark Gray Couch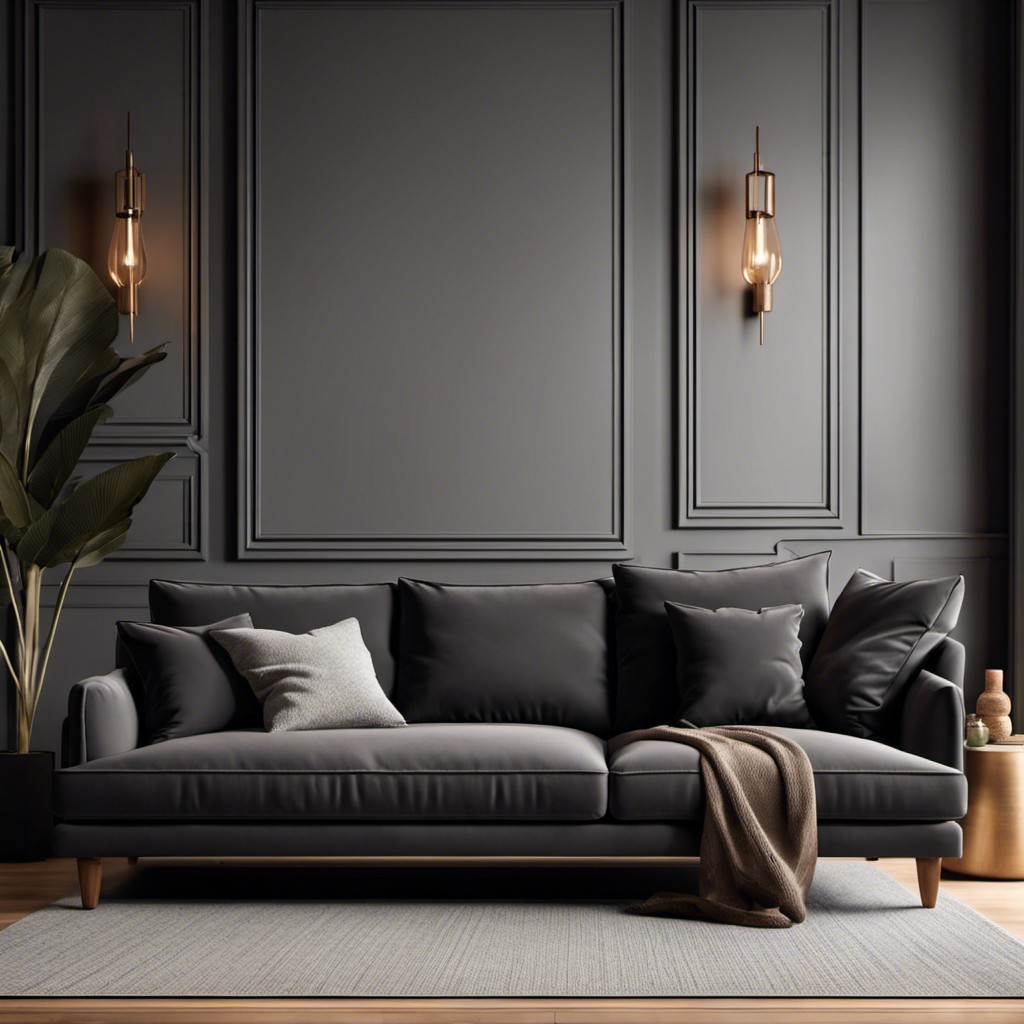 An oversized dark gray couch can truly redefine comfort and aesthetics simultaneously. It can act as a focal point in a spacious living room, making the space more inviting.
To make the most of this piece, consider these points:
Pairing: This type of couch pairs beautifully with neutral palettes. Lighter shades on walls and floors offer a stunning contrast.
Pillows and Throws: Add some bright colored throw pillows or a cozy blanket, which can enhance its visual appeal.
Accessories: A large coffee table or an area rug under the couch can help amplify its grandeur.
Lighting: Include lamp shades or ceiling lights that cast soft, warm hues around the couch to create a homely ambience.
Spacing: Ensure there's enough room around it so the couch doesn't make the space look cramped.
In essence, an oversized gray couch can be a powerful statement piece if styled tactfully.
Dark Gray Couch Paired With White Furniture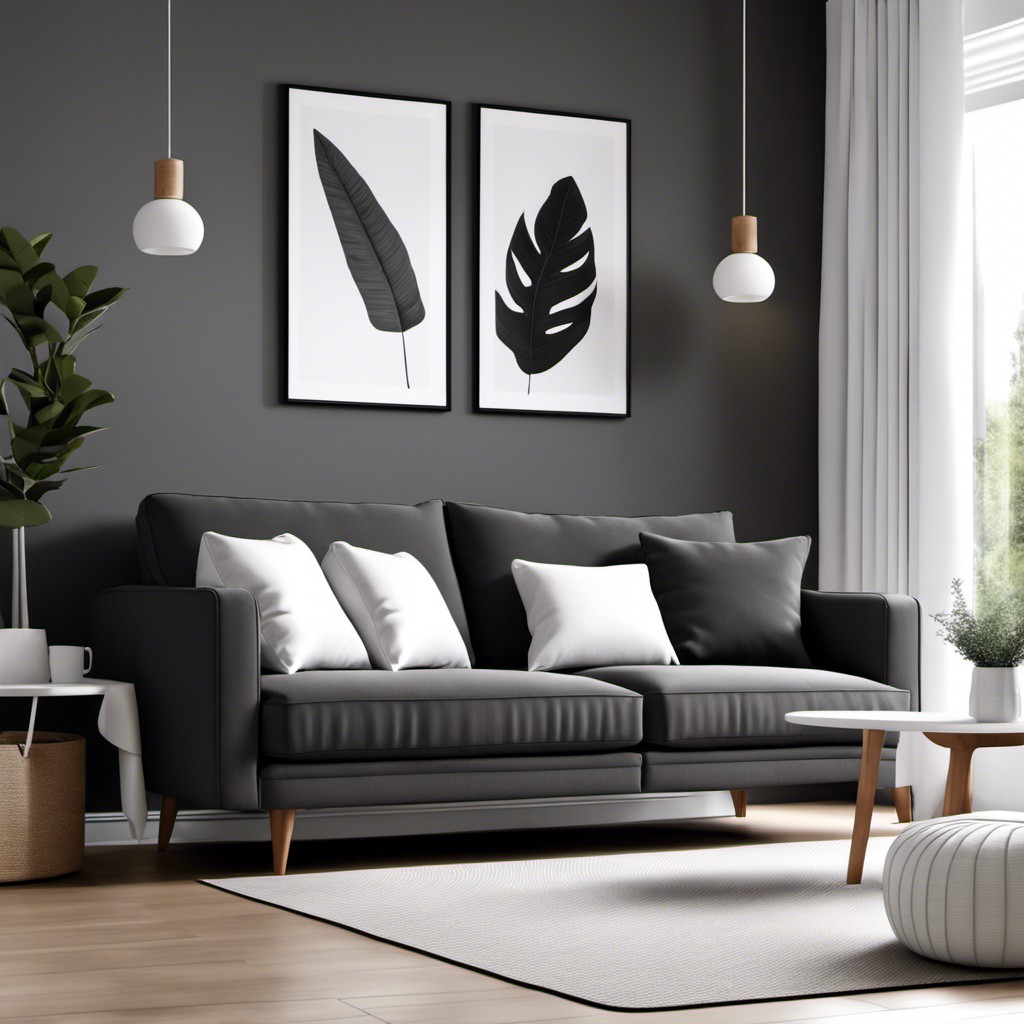 Achieving immense visual appeal in any living area is simple with the ever-stylish blend of a dark gray couch and white furniture. Furthermore, the stark contrast serves as a dynamic canvas that welcomes endless design possibilities.
1. A white coffee table maintains an unobtrusive presence against the couch, creating a harmonious balance in the room.
2. White side tables or other accent pieces grant a more subtle contrast and complement the bold dark gray couch.
3. Adorning your couch with white throw pillows initiates intriguing depth and instant style unity.
4. White wall art hanging could echo the color scheme while inviting the eye to wander across the room.
5. A white rug installed under the couch highlights its appeal and separates the living area without physical barriers.
6. A white lamp placed nearby or a white-shaded chandelier above not only provides illumination, but also serves as a stylistic echo to the pairing.
7. White curtains or blinds tie in with the overall monochrome scheme, lending a degree of airiness to the space.
Remember, lightness and subtlety are skillful allies in accentuating the sophisticated boldness of a dark gray couch.
Dark Gray Couch With Yellow Accents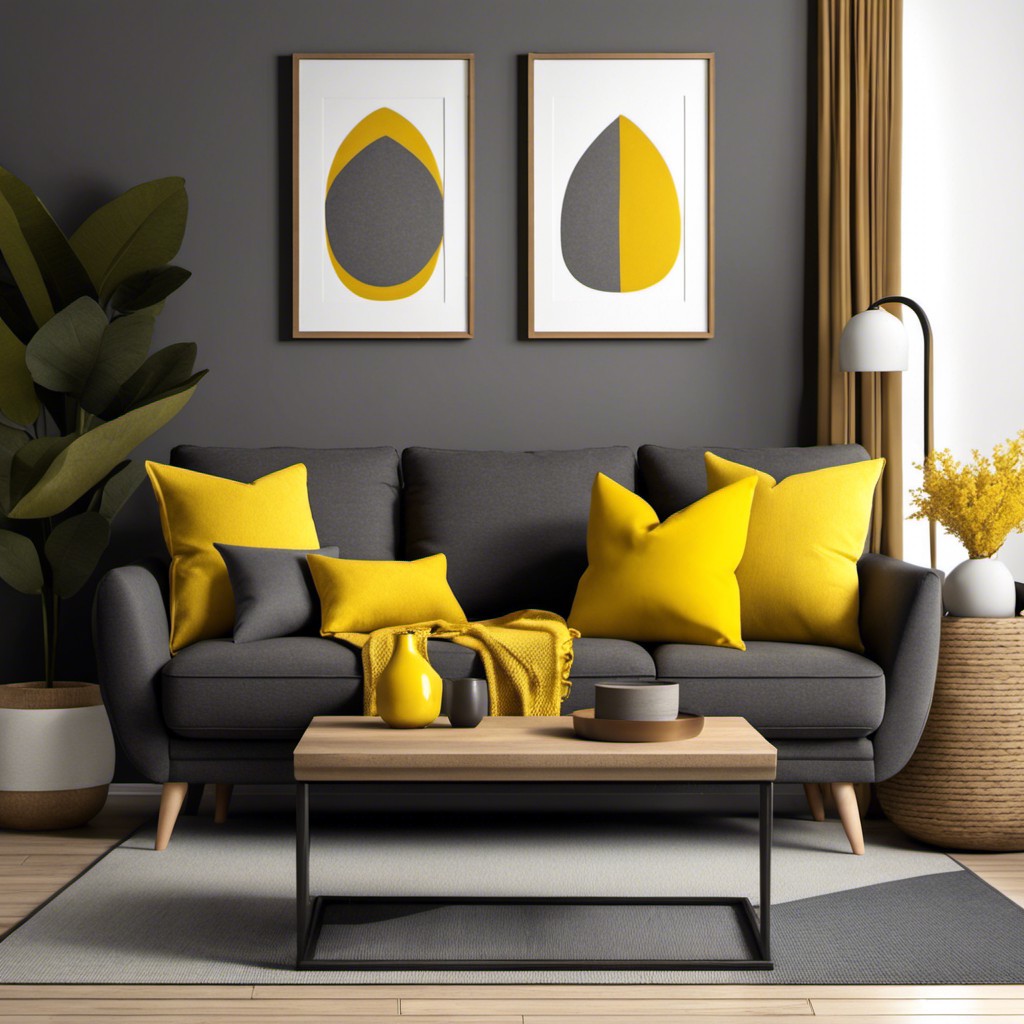 To maximize the visual impact of a dark gray couch, consider pairing it with vibrant yellow accents. Subtle, yet striking, this color combination can breathe life into any living space.
1. Use Yellow Throw Pillows: An easy way to integrate yellow into your design scheme is with throw pillows. Opt for different shades and patterns to add depth to your layout.
2. Install Yellow Wall Arts: Make the couch area focal point by placing art pieces with predominantly yellow details on the wall directly behind it.
3. Yellow Curtains: These add a brilliant contrast and a warming effect against the dark couch.
4. Yellow Accented Rugs: Place a rug with yellow hues in front of the couch. It helps highlight the area while enhancing the overall color scheme.
5. Yellow Throws: Drape a soft yellow throw over the couch. Besides adding texture, it can double as a cozy blanket during cooler days.
Incorporating these points into your design plan can help achieve a stimulating, yet balanced aesthetic in your living space.
Vintage Dark Gray Loveseat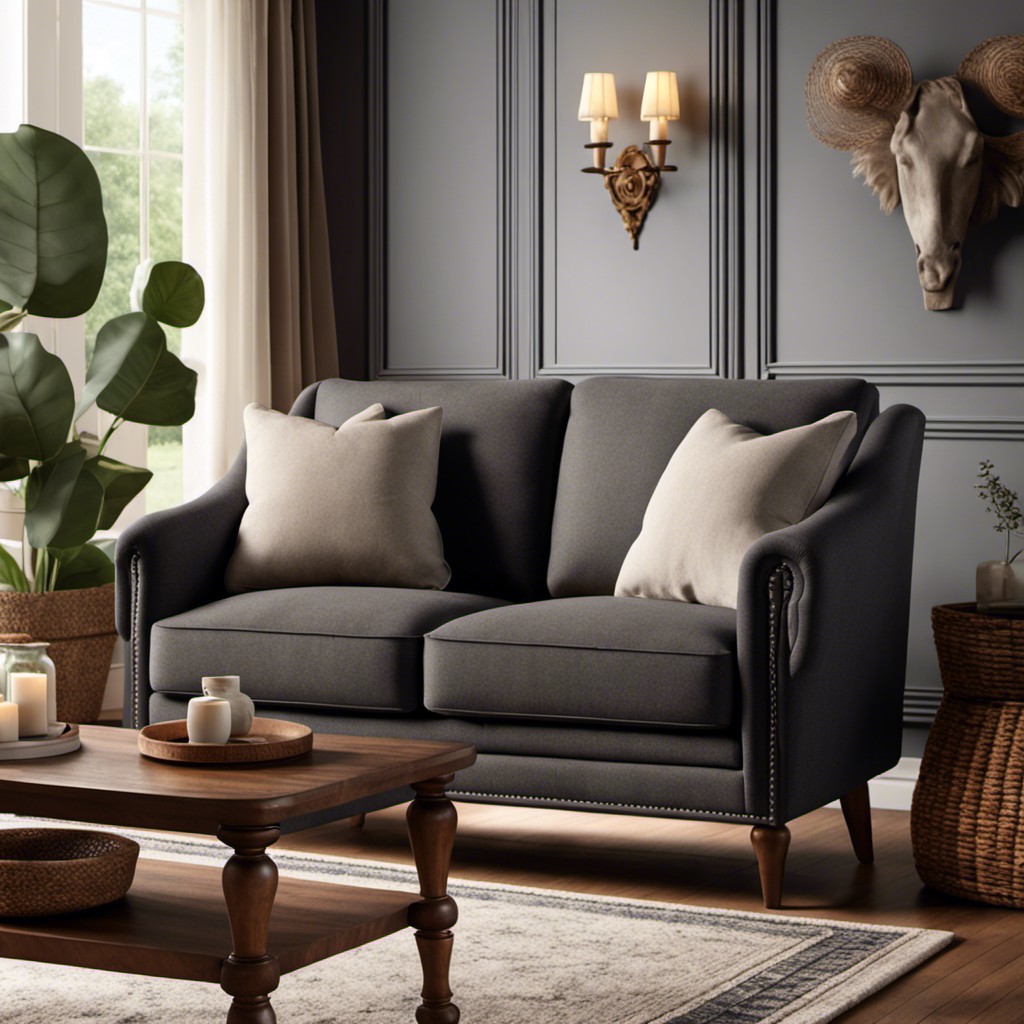 Exuding an air of timeless elegance, this piece is an ideal choice for those looking to add a touch of charm to their living space. Its dark gray hue is versatile and pairs beautifully with almost any color scheme.
While being compact enough for smaller spaces, it doesn't compromise on comfort. Durable fabric ensures it can withstand everyday wear and tear, while its classic design sets it apart from more modern offerings.
Consider these points when opting for this style:
Pair with antique wood furnishings to enhance its vintage appeal.
Light-colored throws or cushions can create an inviting contrast.
With a compact size, it's excellent for smaller rooms or studios.
Opt for a textured fabric to enhance visual interest and touch appeal.
It complements well with a muted, vintage-inspired wallpaper or wall color.
Convertible Sectional Dark Gray Couch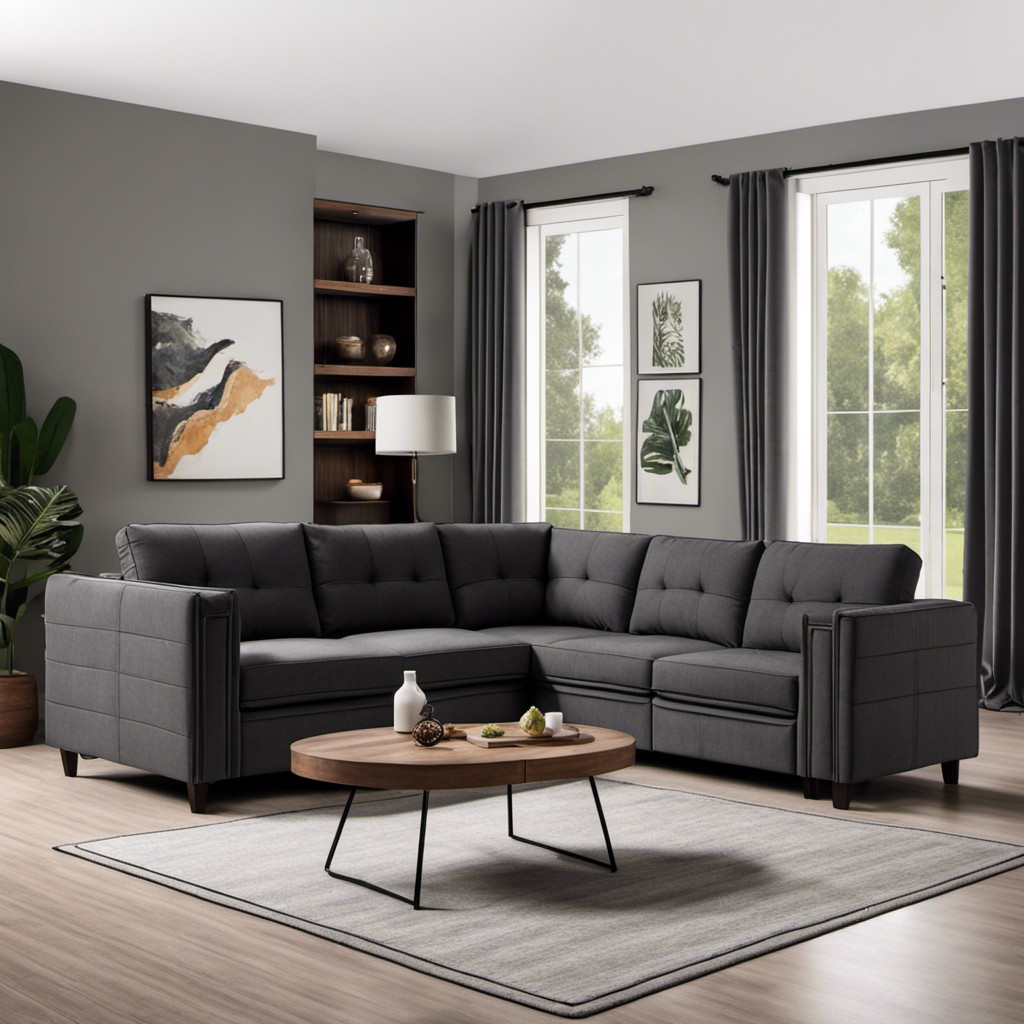 Opting for a convertible sectional couch in dark gray provides both style and functionality for your living space. Its transformative feature allows for versatility, effortlessly converting from a spacious seating area into a cozy sleeping space, perfect for visiting guests or a lazy Sunday afternoon. The dark gray hue adds a sense of sophistication and easily pairs with a multitude of interior color schemes.
1. Versatility: It can quickly shift from a comfortable day-time seating arrangement to a roomy bed. Great for accommodating unplanned guests overnight.
2. Style: With its sleek design and modern vibe, it can effortlessly enhance the visual allure of your living space.
3. Space Management: An excellent solution for smaller interiors where space is at a premium.
4. Color: Coordinates with a wide array of color palettes and decors making it a savvy choice for those who enjoy redecorating regularly.
Remember, when choosing your convertible sectional, consider the fabric type for durability, especially if it's to see regular transformation. Also, ensure it contains a user-friendly mechanism to seamlessly switch between its dual functions.
Dark Gray Couch With Chrome Details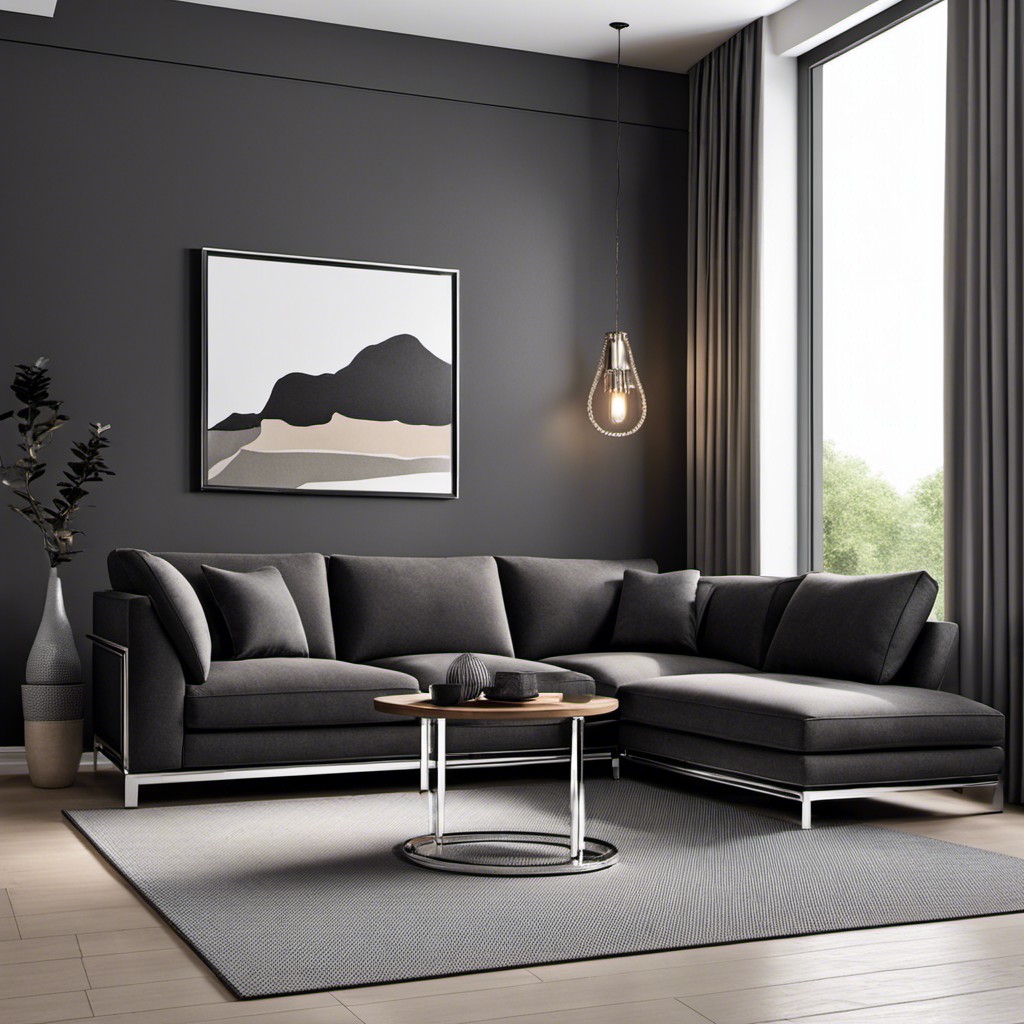 Emphasizing on chrome details can bring out the sophisticated appeal of a dark gray couch. A metallic sheen transforms an ordinary piece into an eye-catching modern statement.
1. Contrast: The sleek, metallic chrome contrasts beautifully against the dark gray fabric, creating an aesthetic balance in your room.
2. Versatility: Chrome complements most color schemes, allowing flexibility in your décor choices.
3. Durability: Chrome is not only a chic choice, but also stands up well to wear and tear, ensuring longevity of your furniture.
4. Modern Appeal: Ideal for someone with contemporary taste, this design element infuses a modern touch in the setting.
5. Subtle Bling: Chrome detailing adds just the right tint of luxury without being overbearing.
Remember to place the couch in a location where light can highlight the chrome details, enhancing the overall effect.
Dark Gray Scandinavian-style Couch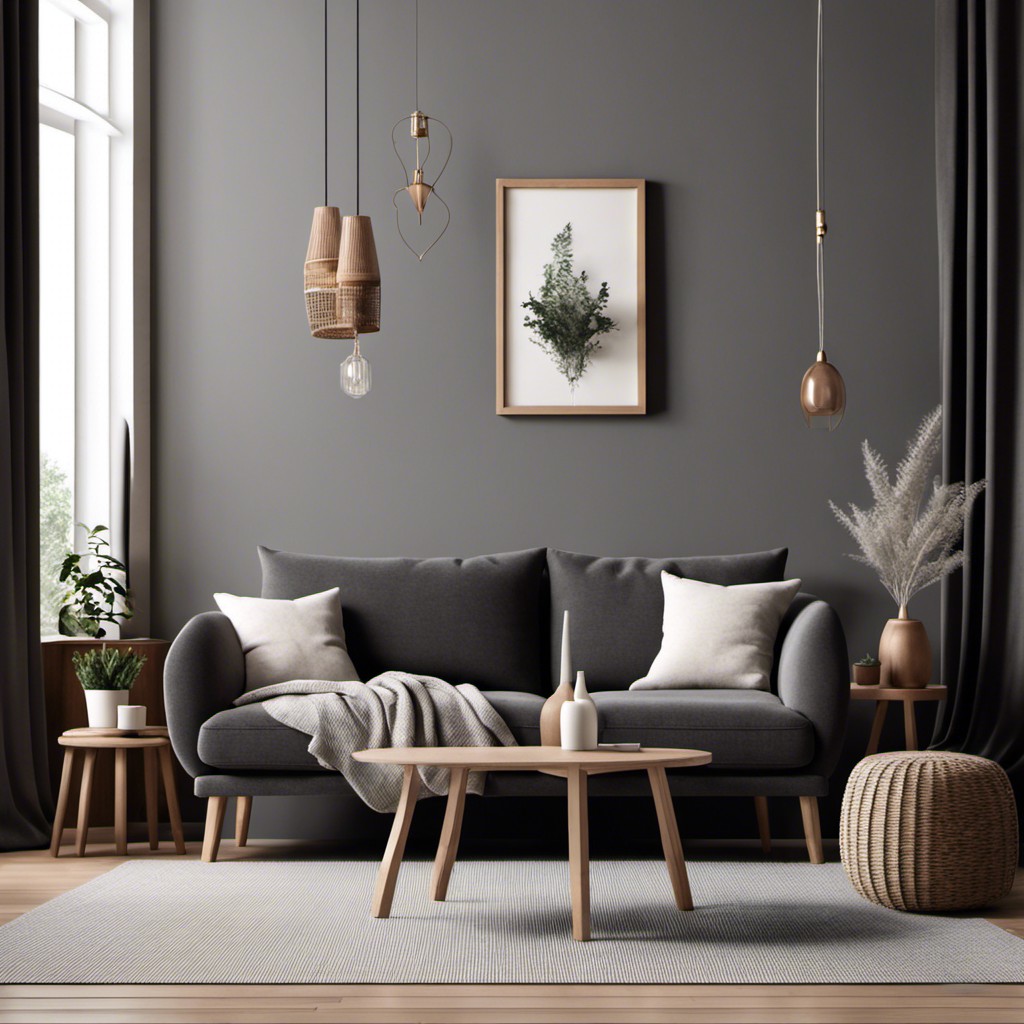 Easily recognized by simplistic elegance and minimalistic lines, Scandinavian-style couches provide tasteful design elements regardless of the room's overall decor. When crafted in dark gray, they become a cloud of comfort while still evoking a contemporary, understated persona.
1. Form and Function: This design focuses on functionality without sacrificing style, perfect for those who seek practicality and sophistication simultaneously.
2. Materials: Often featuring a combination of quality wood and comfortable fabrics, these couches are as durable as they are stylish.
3. Colors: Although it's dark gray, the color palette is complemented by lighter shades or subtle pops of color through accessories. This offers freedom to experiment with decorative themes.
4. Size: Typically, these couches offer enough seating space without overwhelming the room. This makes it ideal for any living room size.
5. Comfort: Despite their seamless aesthetic, these couches impress with their remarkably comfortable seating. Pillows and soft textiles only enhance this comfort factor.
Incorporating a dark gray Scandinavian-style couch can lend effortless elegance to any living room. Play around with different accent options like a light, neutral rug or bright, patterned pillows for a completed look.
You may also like to read: