Last updated on September 24, 2023
With more and more companies providing their employees with the chance to work remotely, a home office becomes vital. This will be a space that allows you to get your work done. It doesn't have to be a cubicle or a small space like your traditional office. Instead, the home office is yours to experiment with as you see fit.
Not only are you allowed to create your own office space, but its appearance can be decorated and customized. For those who want a professional home office, some elegant touches can turn the space into a showcase of contemporary style. There could be several themes that you can use to inspire the space's decor. Check out these design tips to maximize your home office's aesthetic.
Table of Contents
Location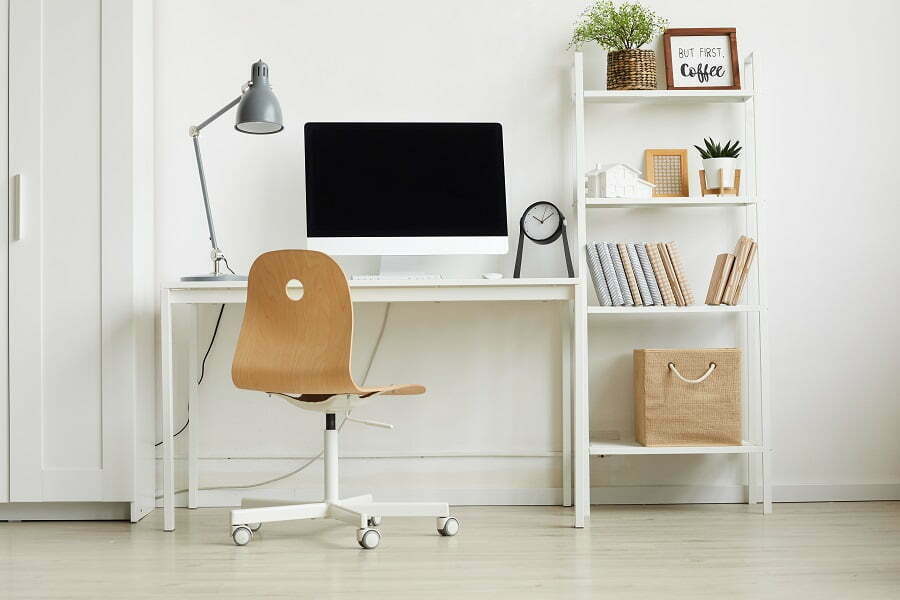 The place where you will set up your home office will be very important. You can't just decide to create an office in your kitchen, for example. The home office should have enough space around you so that video conferencing is not awkward.
Furthermore, the space you pick should not be a high-traffic area of the house. If you are a parent, the last thing you want is to have your kids running across the space. Choose a quiet, discrete location so that you will be able to work efficiently and quietly. If you have co-workers coming by, pick a room that is large enough to accommodate them.
Home Office Supplies
The best thing about the conventional office is that you will seldom run out of the items you need. From printer paper to writing utensils, all of these items are vital to a home office setup. As a result, make sure that you take the time to stock up on the necessary home office supplies.
Supplies can also come in the form of various pieces of furniture that are required for the setup. For instance, you'll always want to have a functional chair for your chosen desk. Try to find one that is ergonomic by design so that your back and neck do not suffer. All of your office supplies will end up helping you maximize the chosen workspace.
Background Color
As mentioned previously, video conferencing will, more or less, become a staple of your home office workstation. Eventually, you will be having meetings with your colleagues in an all-virtual format. To make the most out of your home office décor, ensure that your background is suitable for video calling.
Start with picking the right color for your wall, and ensure that it complements other fixtures around you. For those who love a minimalist-type aesthetic, choose a shade between the hues of black and white. These types of colors help flesh out any background, making things much simpler on your end.
Background Accessories
To make the most out of your video conferencing duties, your background should also be decorated accordingly. Sometimes, a bland background can become distasteful pretty quickly. If this happens to you, take the time to invest in its appearance using various accessories.
You have a plethora of options here. For example, if you want to keep things formal, place a bookshelf in the background. If you're going to personalize the background a bit more, use personal possessions. These could range from photos of your loved ones to various potted plants. You essentially have an empty canvas here to experiment with; always remember to have fun!
Cable Management
Exposed cords and cables will make your home office look unsightly. The more devices you have around your desk, the more exposure the associated cables will have. However, there is a way to fix this with smart and efficient cable management.
Try to hide the cables underneath your desk, using the slots to keep them in place. If there are no slots available, you can always purchase secondary devices that hide your cables. Once you have these devices, the overall appearance of your home office will appear flawless.
If there are no slots available, you can always purchase secondary devices that hide your cables like these cable trays here.
Lighting
One of the most important aspects of any home office decor endeavor is the use of proper lighting. If possible, try to place your home office next to an open window. This arrangement will provide you with as much natural light as possible during the day.
When those work hours extend into the evening, a good lamp or external lighting will be the way to go. Plus, these lighting fixtures don't just have to give out white light shining over your desk. Once you decide on the lighting apparatus used, your home office décor will inevitably shine!
You may also like to read: