Last updated on September 30, 2023
The holiday season is a time for celebration and cheer, and one of the most popular ways to show your festive spirit is by decorating the exterior of your home. From outdoor lights to wreaths, there are plenty of ways you can add some holiday cheer to your home's exterior.
Whether you prefer simple decorations or something more elaborate, these tips will help you get the perfect look this holiday season.
So grab a cup of hot cocoa and get ready to turn up the festive vibes with these creative ideas for decorating your home's exterior for the holidays!
Table of Contents
Christmas Lighting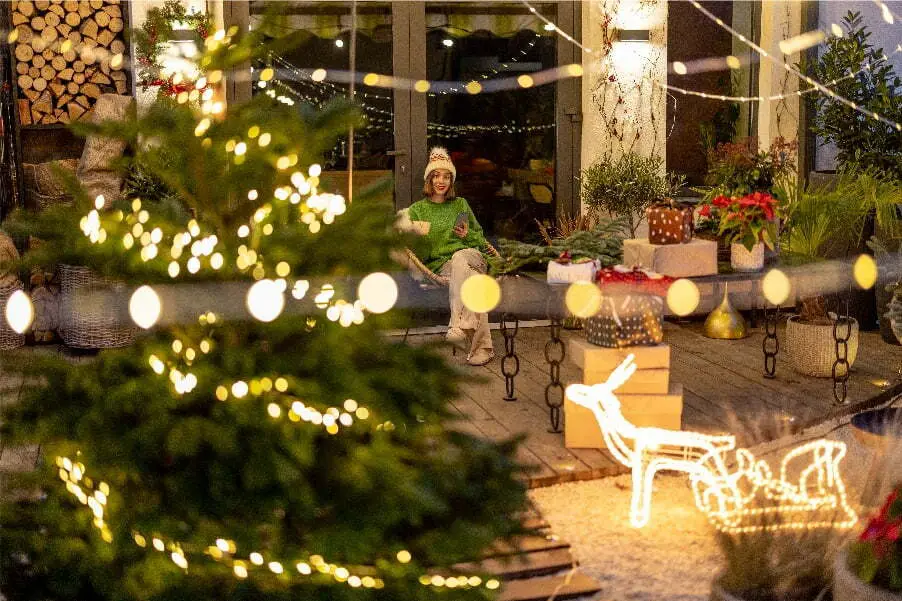 If you're looking to light up your home for the holidays, consider using Christmas lights. You can hang strands of lights from your roof or wrap them around trees and landscaping features.
For a more dramatic effect, consider installing colorful spotlights or glowing icicle lights along the eaves of your home. If you don't have an outdoor power outlet, you can purchase battery-operated lights or use extension cords for electricity.
You can find out more about the different lighting options online. If your home has a gutter system, you can hang garland and lights from the gutters to create a festive look. When deciding how much or little to light up your home's exterior, consider safety first. 
Christmas Trees and Wreaths
A Christmas tree or wreath can add a festive touch to your home's exterior. A mini tree can be placed on your porch, in the entryway of your home, or even in the garden.
You can also hang a large wreath on your front door for an extra pop of color and holiday cheer. You can choose a traditional tree or wreath with lights and decorations, or find a more modern design that fits your style.
When selecting a Christmas tree or wreath, choose one that is weather-resistant so it will last through the winter months. Furthermore, if you live in an area prone to strong winds, opt for a smaller size tree as they may be more likely to withstand strong gusts.
Consider adding a few outdoor decorations such as lighted snowflakes and reindeer on your lawn to complete the holiday look. 
Lighted Santa and Reindeer Figures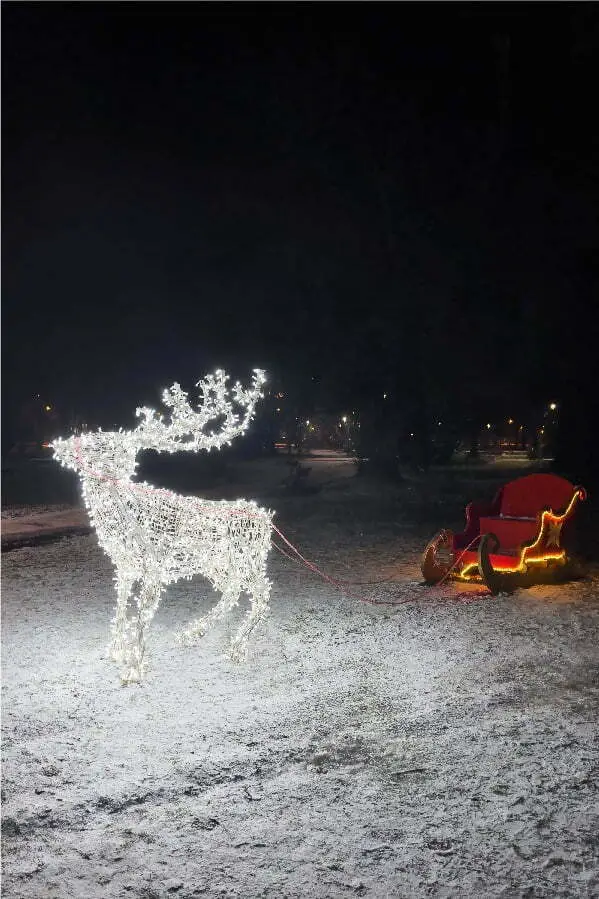 Lighted Santa and reindeer figures are a popular way to decorate your home's exterior for the holidays. These pieces come in many sizes, shapes, and styles and can be placed anywhere outside your home.
You might choose to place them along your walkway or sidewalk, around trees or shrubs, or even on your front porch.
If you decide to use lighted Santa and reindeer figures outdoors, make sure they are waterproof so they last against the elements.
Be sure to look for features such as timer-activated lighting or other small details that add a special touch of holiday cheer to your display.
One important aspect of decorating with lighted figures is to make sure that you set up and secure them properly to avoid damage or injury. Make sure your power cords are tucked away safely and never place any lighted figures near open flames or heat sources.
Snowmen, Nutcrackers, and Other Decorations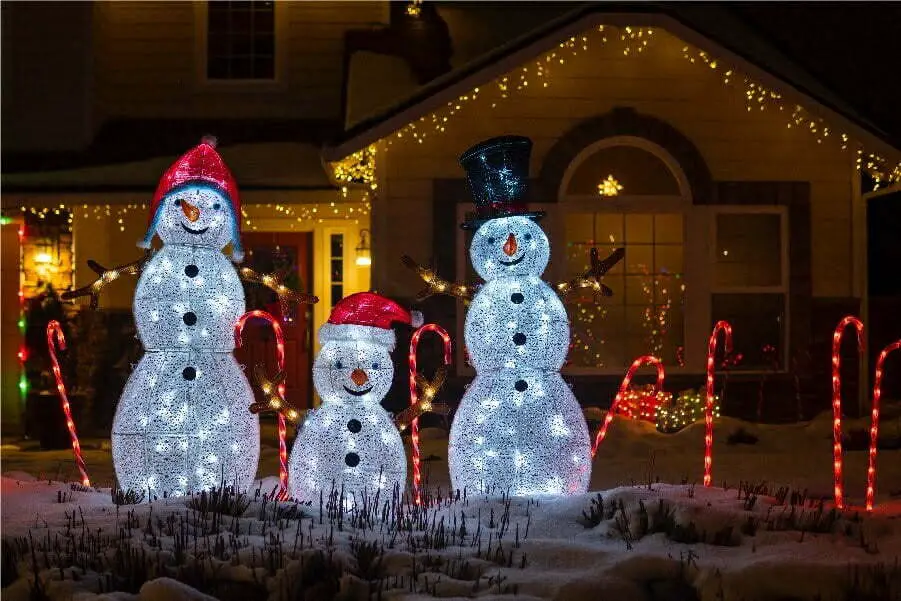 In addition to the traditional decorations such as lights and wreaths, you can also add some more creative pieces to your holiday display.
Consider adding snowmen, nutcrackers, or other festive figures around your home's exterior. You could even opt for an inflatable Santa or a giant candy cane to bring a bit of holiday cheer to the neighborhood.
Just make sure that you're taking safety and weather precautions into consideration when installing any large decorations outside.
If it's windy or rainy, you may need to take additional steps such as staking your decorations down more securely or using heavier-duty materials like concrete instead of plastic. It's also a good idea to keep an eye on any decorations made of fabric or paper, as these can be more prone to damage. 
These are just some of the many ways you can decorate your home's exterior for the holidays. Whether you choose traditional decorations like lights and wreaths or opt for something more creative, you're sure to brighten up your home and bring the holiday spirit to your neighborhood.
Take the time to research different decoration options, consider safety precautions, and have fun with your displays! With a little bit of creativity, you'll be able to create a festive and inviting outdoor display that your family and friends can enjoy.
Be sure to take pictures so you can look back on your holiday decorations year after year! We hope that this article was helpful!
You may also like to read: