Last updated on November 27, 2023
Exploring shiplap access panel ideas becomes a thrilling journey because these designs offer a unique blend of rustic charm and functional innovation.
I'm proud to have written this article and crafted these innovative shiplap access panel designs, and I hope they spark as much inspiration and fun for you as they did for me during creation.
Integrating a shiplap access panel into your home decor can be a stylish and functional choice. Whether you're looking to conceal plumbing, electrical systems, or simply want to add a unique design element, shiplap can be a versatile solution.
In this article, you'll find creative ideas on how to seamlessly incorporate a shiplap access panel into your space, from choosing the right materials to installation techniques. With careful planning and execution, your shiplap access panel can be a hidden gem that blends perfectly with your interior design, while providing easy access to vital home systems.
Stay tuned for all the details you need to make this project a success.
Table of Contents
Rustic Wooden Panel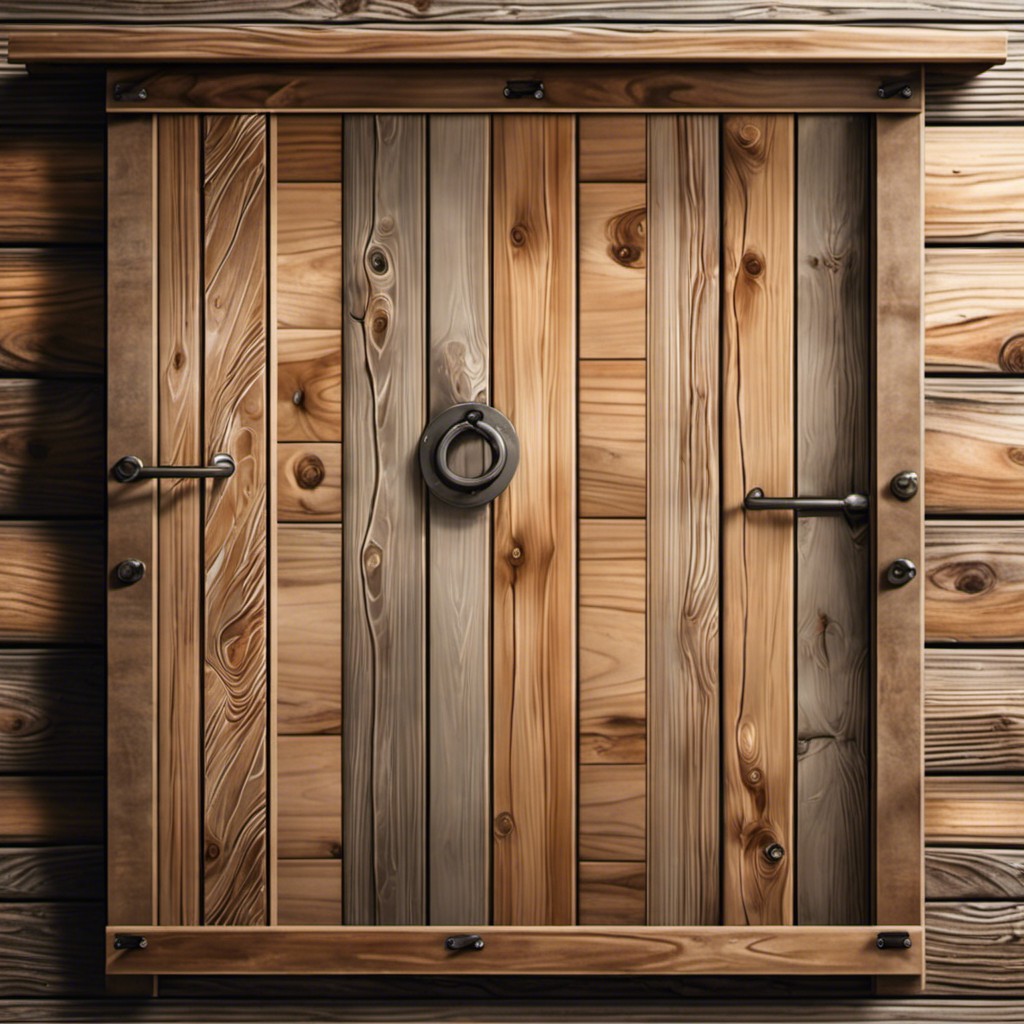 Adding a substantial charm to your space, a rustic wooden panel allows you to accentuate the textural richness of the wood grain. The natural, aged look of the wood offers an exceptional character that warms the ambiance of a room.
You can create a dramatic contrast by pairing it with modern interiors, or harmonize with a more traditional decor style for a cozy, inviting air.
A few tips for incorporating rustic panels include:
Choose a wood with visible grain details and knots for a more authentic rustic feel.
Consider a weathered or distressed finish to enhance the rustic vibe.
For a touch of uniqueness, you might angle your planks diagonally or in a herringbone pattern.
Depending on your aesthetic preference, the wood can be left unfinished, or it can be treated with a clear sealer to protect it without altering its natural hue.
Rustic panels can complement other rustic elements such as a stone fireplace or reclaimed wood furniture.
Reclaimed Shiplap Door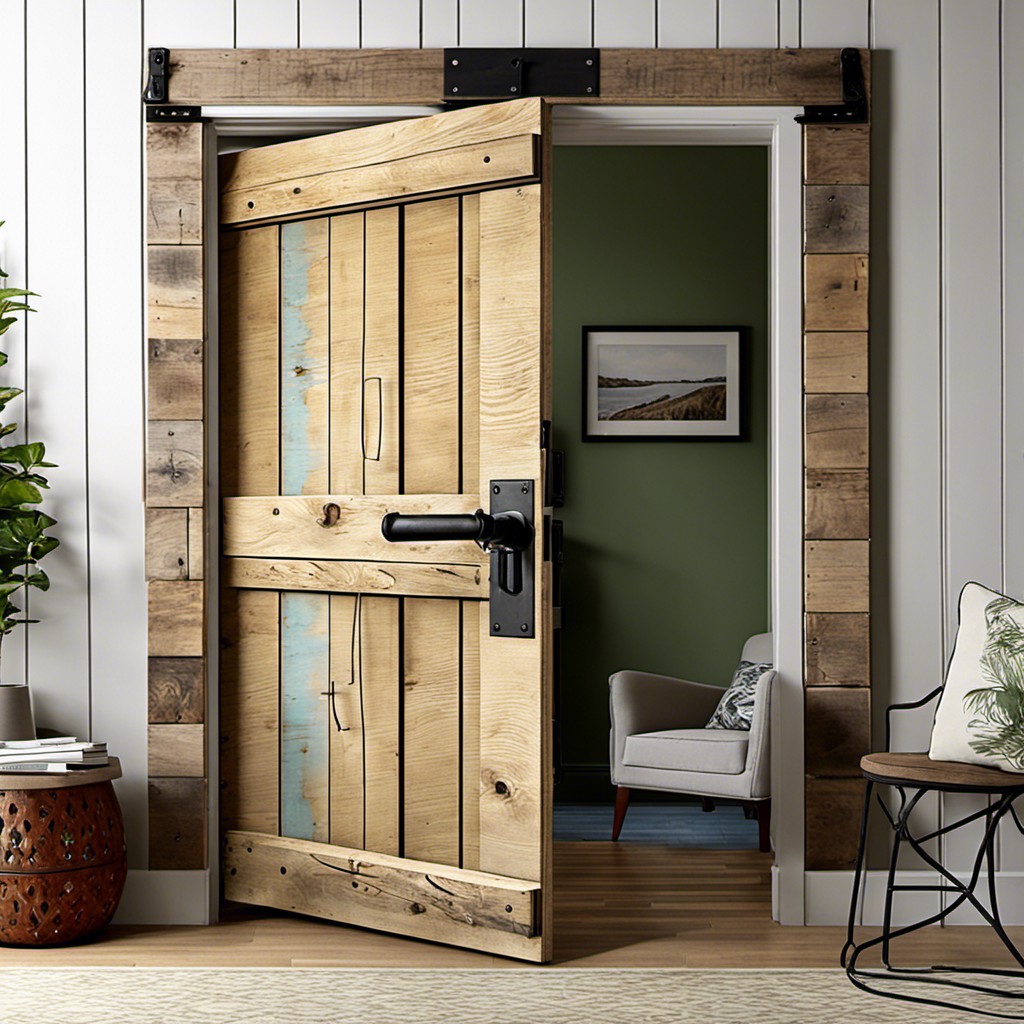 Offering authentic charm and intricate textures, the process of reclamation is key to crafting such a panel. Fetched from old barns or buildings, shiplap wood carries historical significance that frames the access area attractively.
1. Distinct Character: The marks, scratches, and weathered detail are symbols of a story told through time, adding unique visual interest.
2. Eco-friendly: Using reclaimed wood is an excellent sustainable option that promotes recycling and reduces landfill waste.
3. Robust Durability: Often sourced from sturdy old-growth trees, reclaimed shiplap is more resistant to warp and rot.
4. Increased Value: This panel brings an antiquated aesthetic that can enhance home resale worth.
5. Unique Look: No two reclaimed doors are the same, guaranteeing a one-of-a-kind look.
By choosing a reclaimed shiplap door, a homeowner can infuse a space with a touch of the past while maintaining modern functionality.
Coastal White Shiplap Access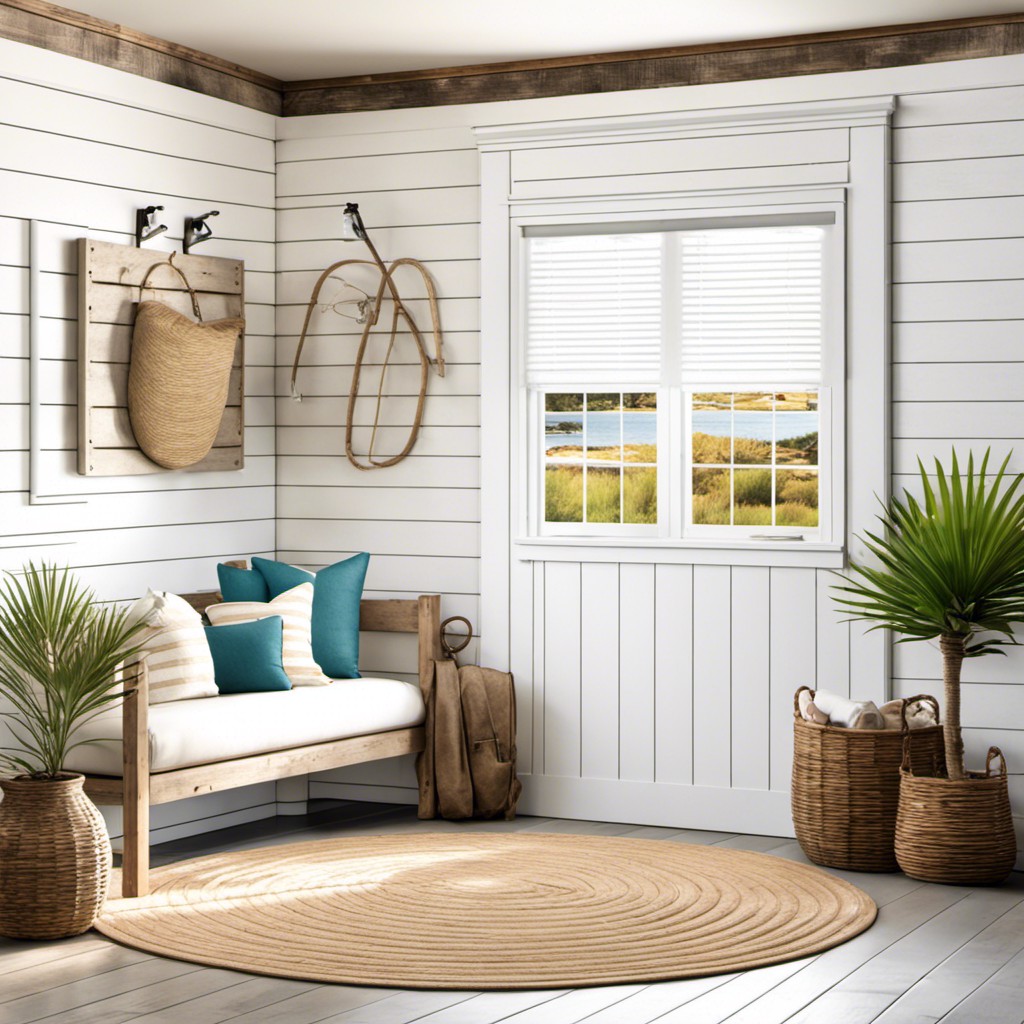 Taking cues from beach houses and marine landscapes, this style offers a fresh, clean, and calm ambiance. A few points of consideration for infusing this aesthetic are:
1. Clean Color: Oceanic hues of white are hugely popular as they imbue rooms with brightness. A crisp white finish draws more light into the space, making it look larger.
2. Wide Planks: Typically, the panels are broader and more elongated, amplifying the impression of spaciousness.
3. Vertical Installation: Panels are installed vertically, a signature characteristic of coastal styles, to mimic the look of cottages on the shore.
4. Meaningful Accessorizing: Brass or nautical themes such as rope handles accentuate the coastal vibe.
5. Textured Finishes: Slightly textured paint work can add a sophisticated weather-worn, beachy look subtly.
Remember, the aim is to reflect serenity, openness, and light – all synonymous with a coastal side aesthetic.
Vintage Inspired Shiplap Panel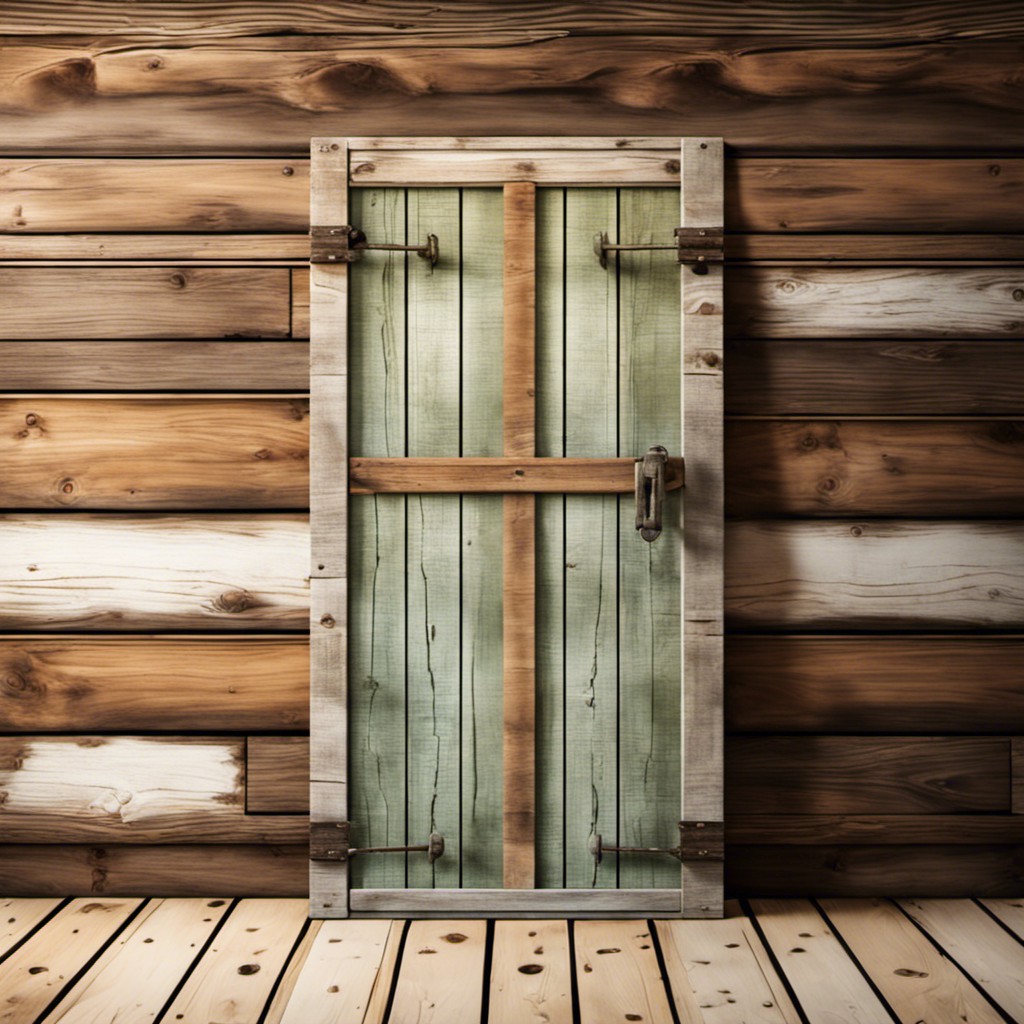 This timeless option draws its inspiration from early 20th century home designs. To get this look, you can use either authentic salvaged boards or newly distressed shiplap. Both options provide a distinctive warm vibe for the space.
The central concept is old-world charm. From potential wear marks to the grain's rustic appeal, every detail contributes to its antiquated feel. If authenticity is a goal, mild tonal discrepancies in the panels may be desirable. Add vintage-styled handles, perhaps brass or wrought iron, to enhance the character.
Remember, the aim is to create a feature that seems directly lifted from a bygone era, seamlessly integrating with the rest of your decor. Go for natural, warm wood stains or muted colors to perfectly capture the vintage atmosphere.
Cottage-theme Access Panel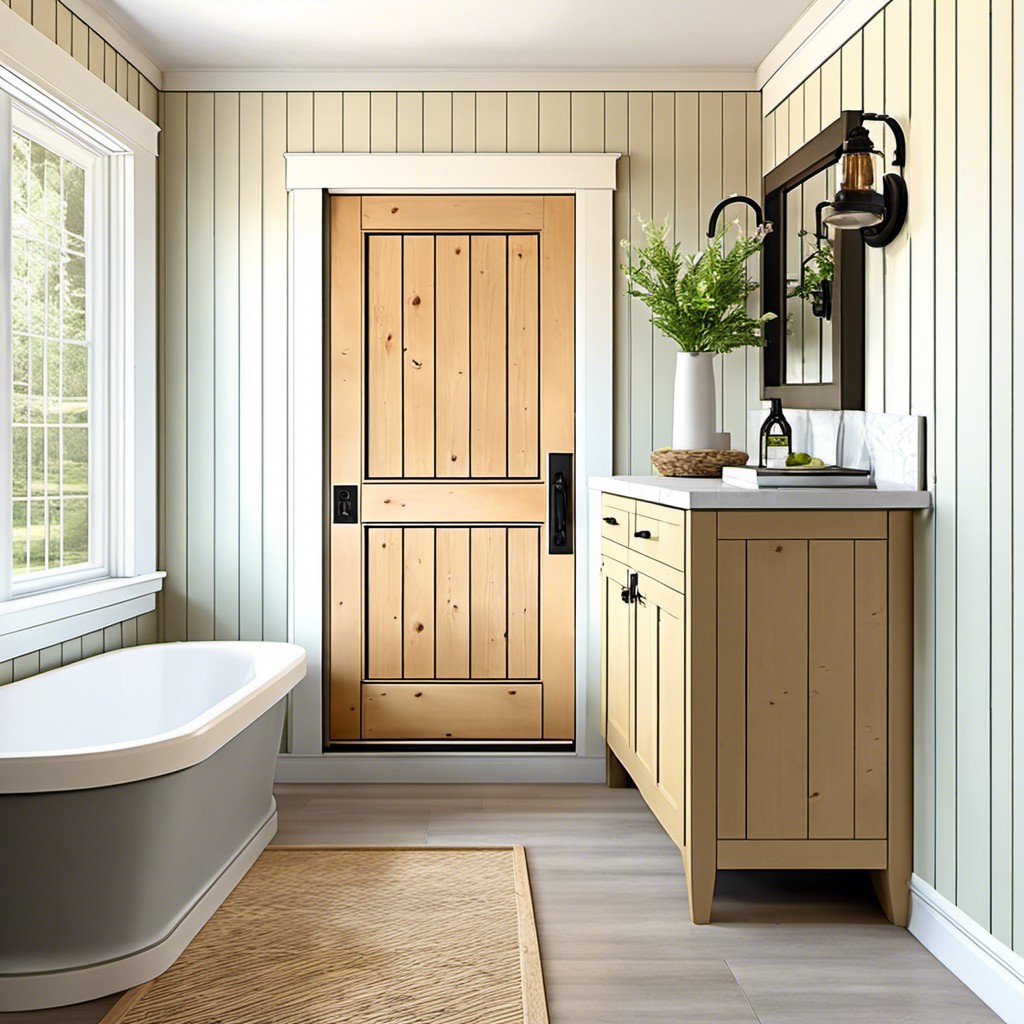 Perfectly embodying the comfort of rural living, this lodging-inspired design fosters a warm and welcoming atmosphere without compromising practicality. Typically crafted from light-colored wood, it maintains a timeless appeal, seamlessly integrating with most decor styles.
Let's delve into the main concepts behind this design:
1. PASTEL PALETTE: This mainly revolves around soft earthy and pastel color palettes. It could range from chalky white to muted tones of gray, green, or blue.
2. WORN-IN LOOK: Achieving a slightly distressed or whitewashed finish can enhance the vintage charm while adding texture and depth.
3. COMFORTABLE AESTHETIC: The cottage-theme aims for a casual, easy-living look. Think simplicity, functionality alongside that homey essence.
4. TEXTURAL RICHNESS: Consider incorporating selected textures, perhaps a natural stone wall juxtaposed against the paneled door, for a rich, layered look.
5. HANDLES & HARDWARE: Iron or brass handles, exposed hinges, or latch-style hardware, can add an extra level of authenticity.
6. ACCESSIBILITY: Despite the stylistic attributes, ensure it does not hamper the panel's ease of use and the underlying function to access utilities or storage.
Remember, while these are guidelines for structuring your desired cottage-theme access panel, personal interpretation and adaptability maintain the charm and authenticity of this relaxed style.
Grey Weathered Shiplap Door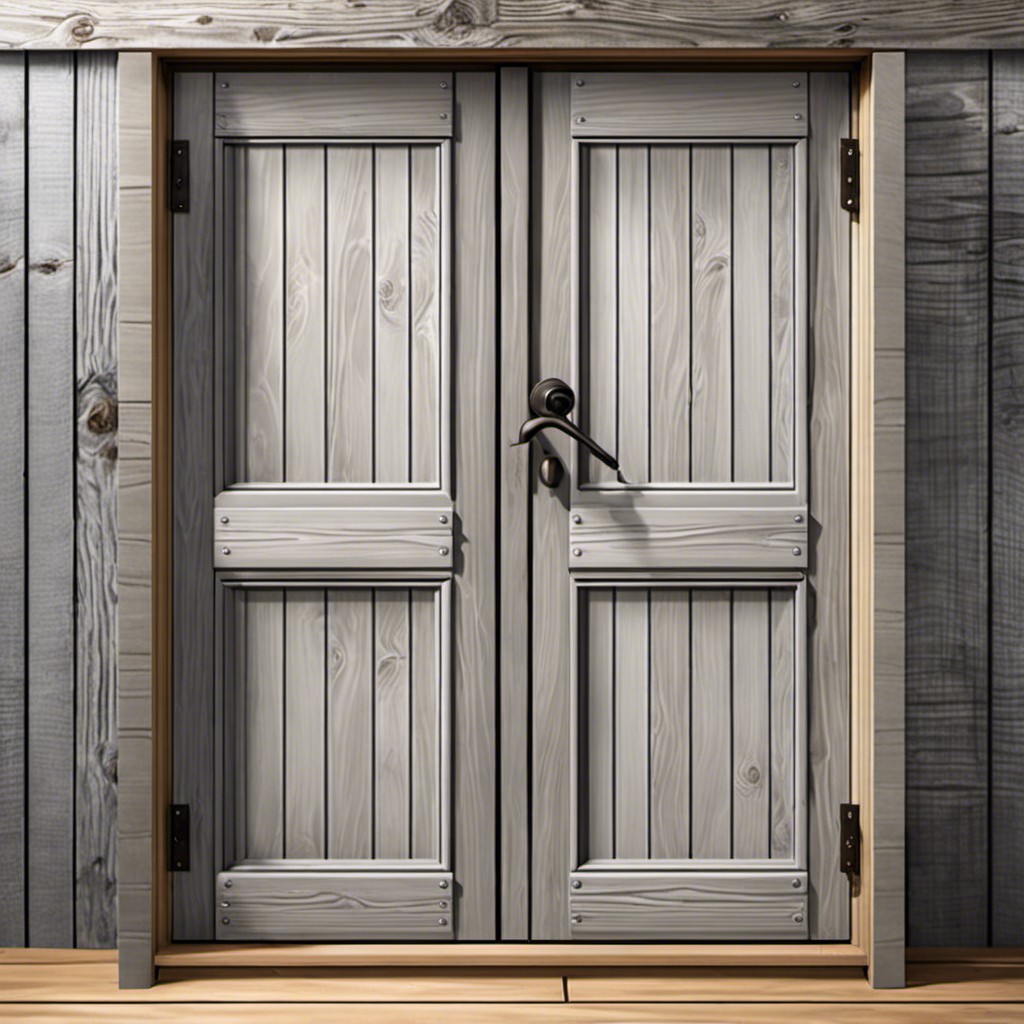 Distinguished by its muted tones and time-worn look, this style bestows a sense of calm and serenity. The weathered aesthetic alludes to coastal and farmhouse styles, making it a perfect choice for homes that reflect these vibes.
Consider points such as:
Subtle color: This access door is characterized by its grey, lightly distressed paint finish, replicating the effects of weather and age.
Matching decor: Paired with a beige or white color scheme and rustic furniture, it ties the room together beautifully.
Inconspicuous look: Its understated charisma aids in making it blend seamlessly with the walls, preventing the access panel from standing out awkwardly.
Texture: The lines and slight imperfections in the shiplap add depth and texture to the room, promoting a cozy atmosphere.
Remember, the charm lies in the imperfect finish, so don't strive for the polished look. Instead, embrace the uniqueness of each wooden plank. Think of it as an artwork in itself.
Simple Unfinished Wood Panel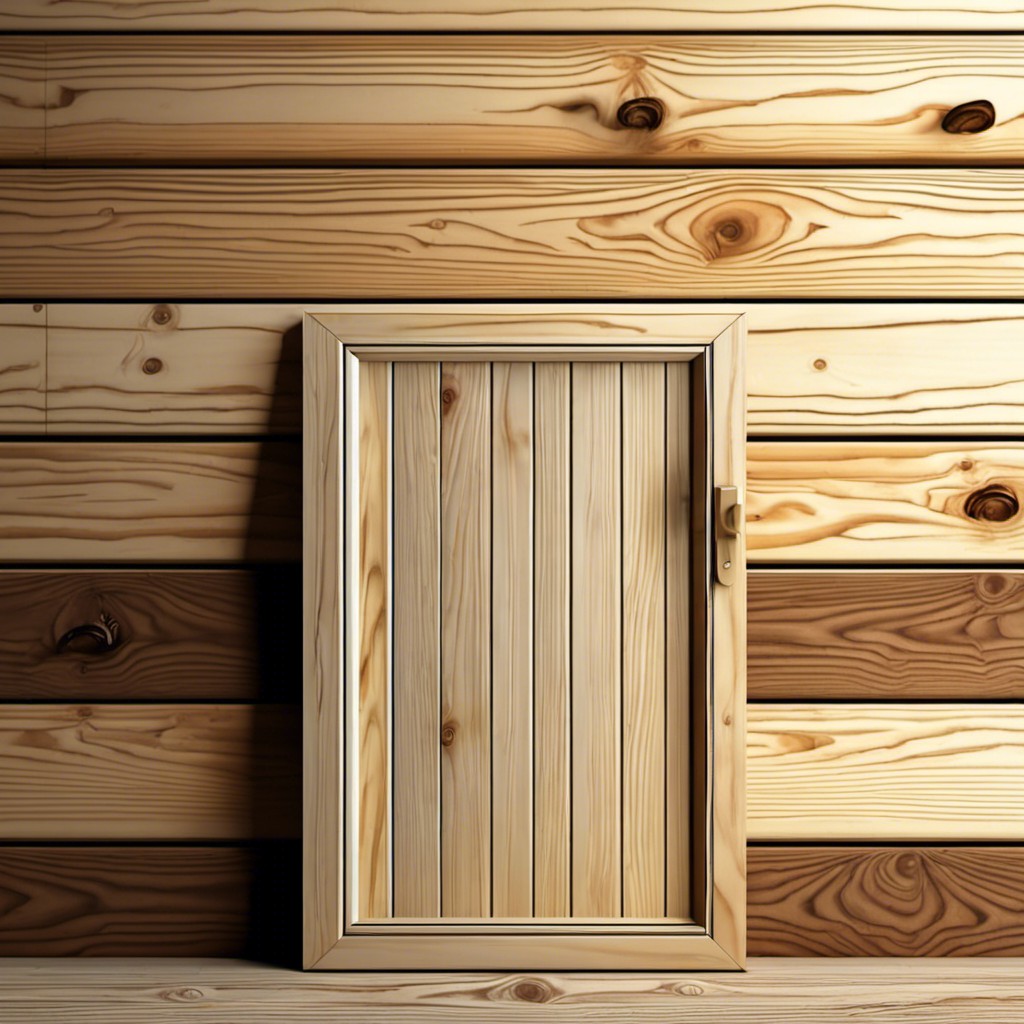 This style relies on the beauty of natural material. The wood's intrinsic patterns and grainy texture means uniqueness in every piece. It's minimal and understated, yet adds warmth. Ideal if you lean towards Scandinavian or modern farmhouse aesthetics.
Consider using a clear varnish or wood sealant. This keeps the panel functional, protecting it from moisture and dings, without losing the wood's raw appeal. Choose hardware that complements the panel – brushed bronze or matte black handles stand out against the wood's simplicity.
Keep it clean and let the natural allure do the talking. This approach presents an opportune way to incorporate an organic element in your space, subtly infusing a rustic charm to your interiors.
Shiplap Panel With Brass Handle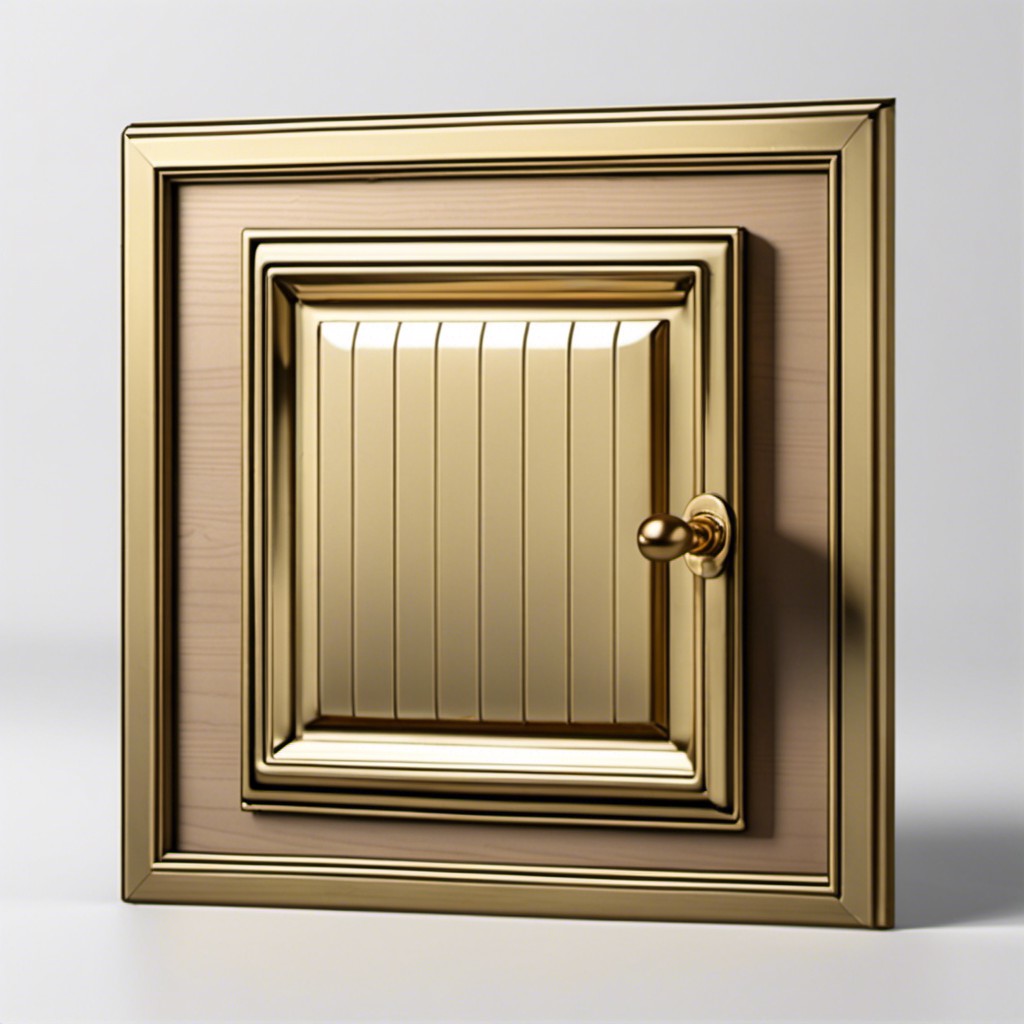 Adding a brass handle gives an elegant touch to a shiplap access panel. This classic hardware offers a subtle contrast against the textured wood surface.
To incorporate this style:
Opt for a vintage-styled brass handle to enhance the panel's rustic charm.
Place the handle in the center of the panel to create a balanced look.
Consider the handle's shape – a round knob or a pull handle, both are suitable.
Ensure the brass finish complements other fixtures such as faucets and lights for visual cohesion.
Regular polishing of the handle will maintain its shine and prevent tarnishing.
To make a statement, choose an oversized handle or a ornate design.
Remember, a shiplap panel with a brass handle combines practicality with aesthetic appeal, adding a unique character to your home.
Wainscoting Styled Panel
Delving into this style further, it's important to note the unique aspects that make it stand out. Featuring a decorative panel design, typically the bottom third of the wall, wainscoting is an old-school design element that's made a massive comeback in traditional and contemporary homes.
Firstly, there's the material. Often made from moulded wood, wainscoting styled panels bear just enough detail to draw visual interest, yet stay on the subtle side to blend seamlessly with your shiplap aesthetic.
Secondly, incorporating such panels into your access areas can enhance the dimensional depth and character of your space. A great aspect of this style is its versatility, they fit of a wide range of interior styles, from minimalist to classical.
Lastly, consider color. While white painted wainscoting panels are timeless, opting for a unique color can punch up the intrigue, adding your personal touch to your décor. Remember to balance out your color choices with the rest of your interior for a harmonious effect.
Whether integrated into your bathroom, basement, or bedroom, wainscoting styled panels can truly elevate your interior.
Charred Shiplap Access Panel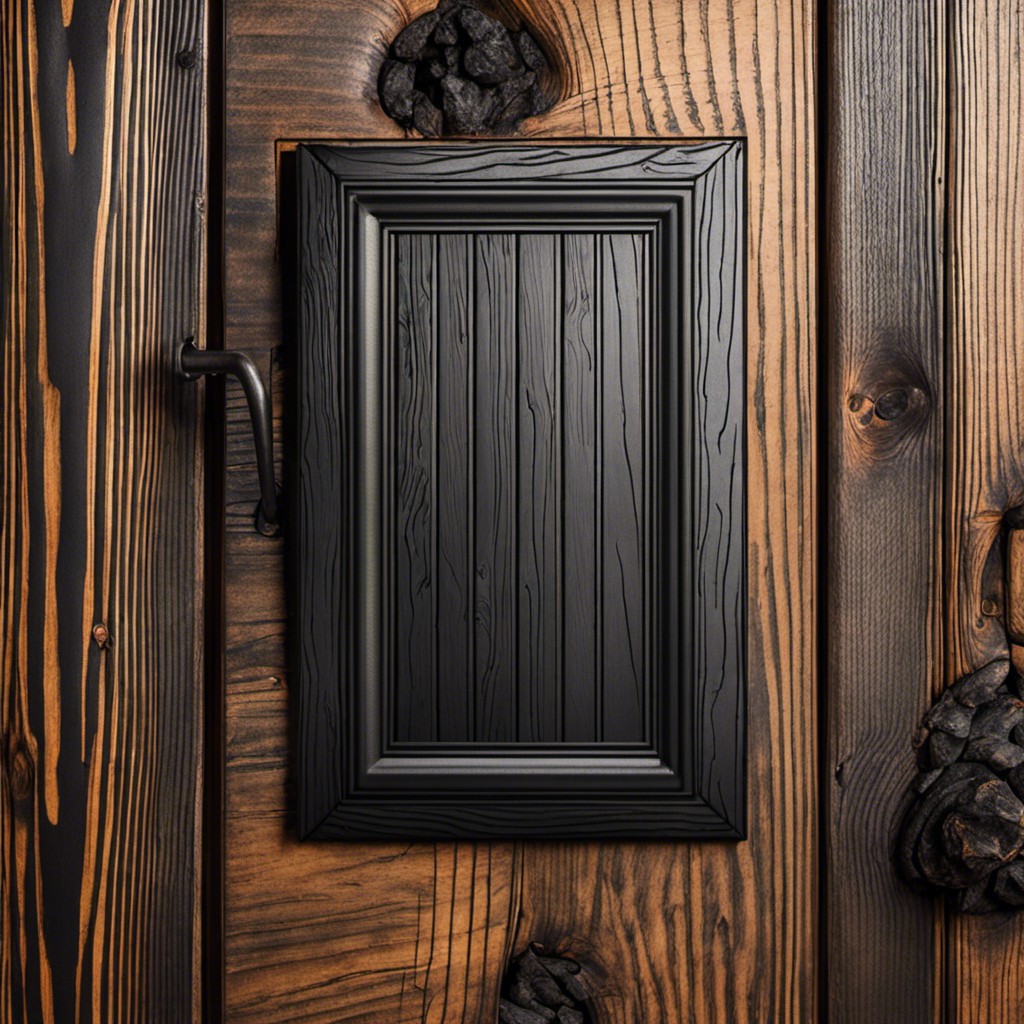 Charred or "shou sugi ban" shiplap can bring an unexpected bold aesthetic to any space. The allure of this design lies in its strikingly unique appearance and practical benefits.
1. Unique Appearance: The process of charring gives the wood a rugged, beautiful texture. The deep, smoky hue adds a dramatic sophistication that is a conversation starter in any room.
2. Durability: Charring the wood enhances its durability, making it resistant to pests, rot, and fire. This feature aids in longevity, ensuring your access panel stands the test of time.
3. Easy Maintenance: Due to the charred finish, the panel requires less upkeep. Dust and marks are less visible, and the surface can be easily cleaned with a dry cloth.
Remember, your panel is not just a functional element, but also a design installment. Therefore, consider aligning the panel's placement carefully to maintain optimal aesthetic appeal. Also, consider adding a metallic handle or discreet latch to complement its robust look.
Vibrant Painted Shiplap Door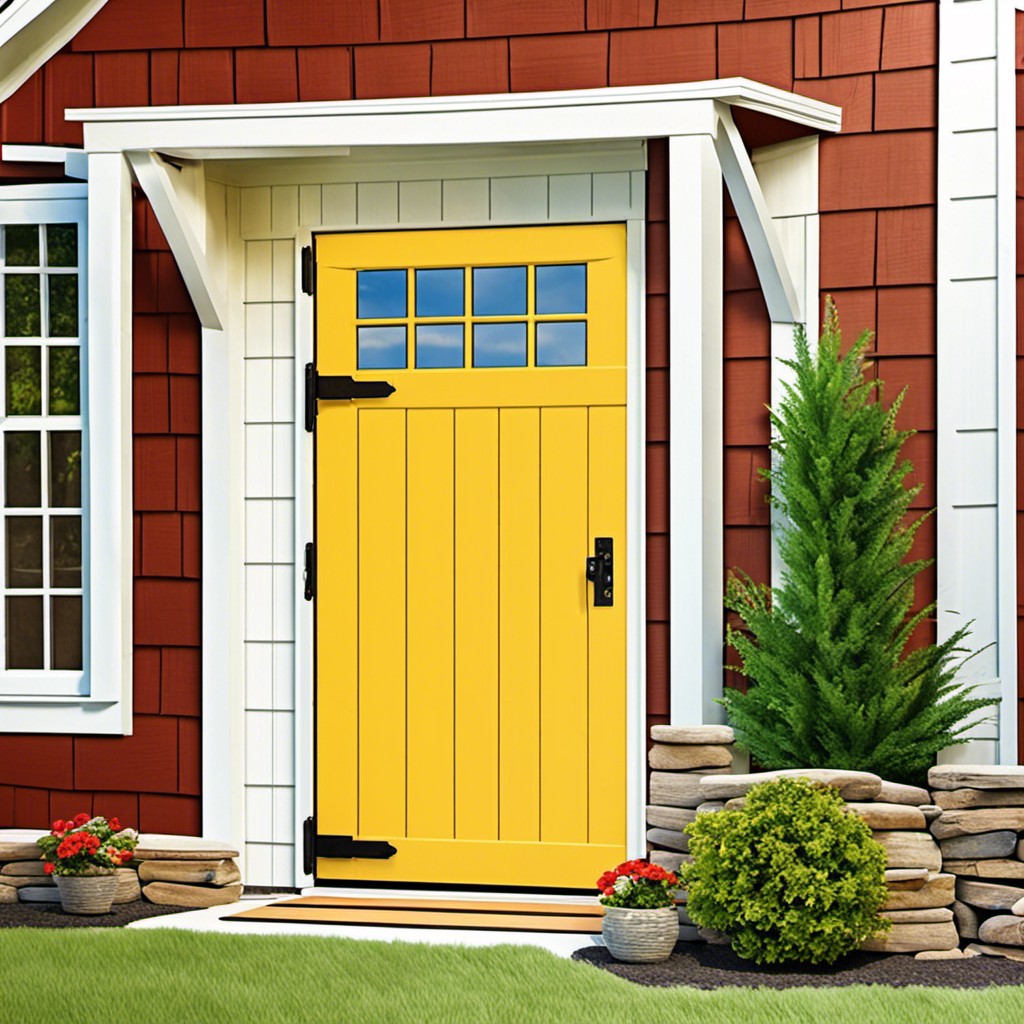 One appealing aspect of this choice is the possibility for color customization. It allows for a pop of color in an otherwise monochromatic space or blends harmoniously by picking up a color from the existing palette. Consider utilizing a semi-gloss or satin paint finish for easy maintenance and enriched aesthetics.
When choosing your hue, look for one that complements your interior design scheme. For a harmonious atmosphere, try a color in the same family as your wall paint. Alternatively, a contrasting vibrant color can create a bold visual interest.
Furthermore, if your shiplap access door is located in high-traffic areas or where it can be easily spotted, a striking color will make it an interesting focal point.
Lastly, vibrant painted shiplap doors can also contribute to setting the room's mood. Cooler, soothing shades might provide a relaxing atmosphere, while warmer, energetic colors might infuse life and activity.
Remember, it's not only about hiding practical aspects of your house. It's also an excellent opportunity to highlight your taste and creativity.
Sliding Barn-style Panel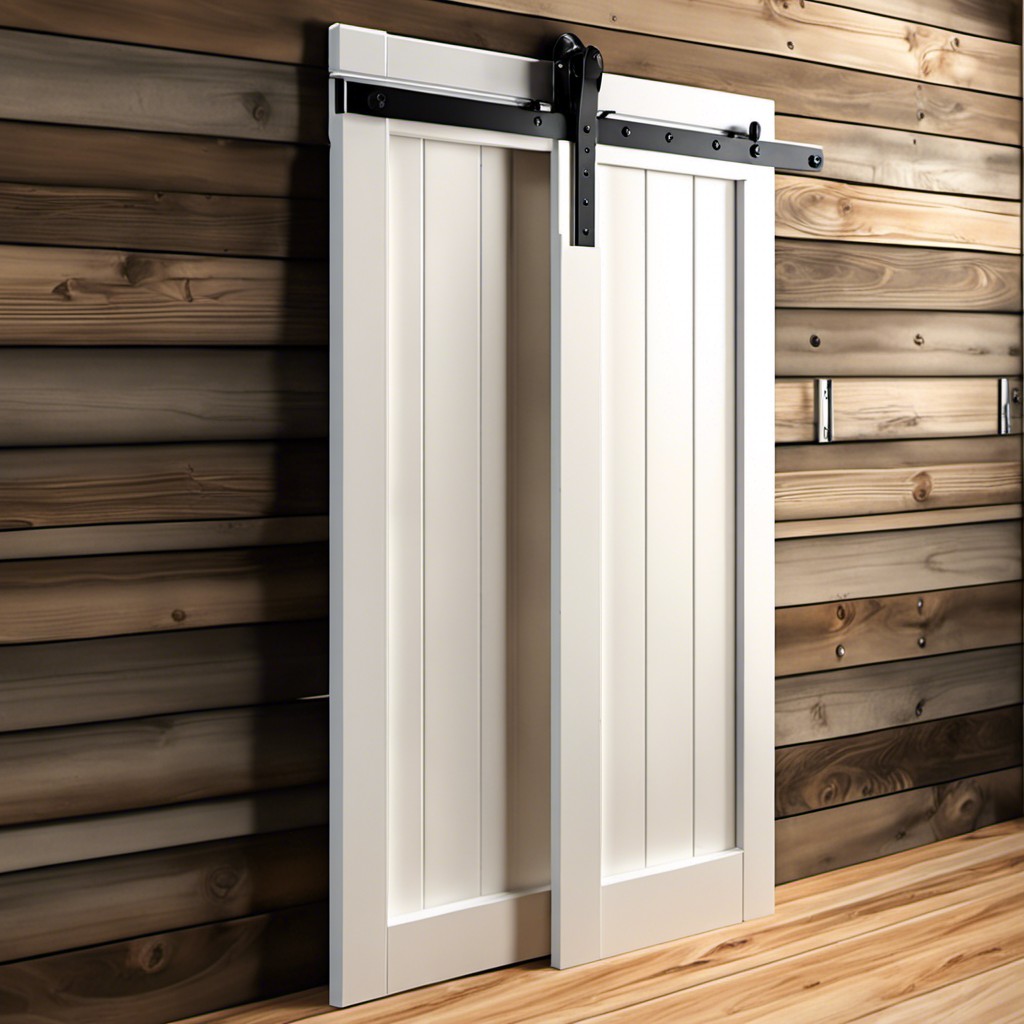 Designed for functionality and style, the sliding barn-style panel mimics the look of authentic barn doors. This option utilizes a track system for smooth operation, ideal for larger access areas. The rustic charm complements shiplap specifics, effortlessly flowing with other interior elements.
1. Space-Friendly: Sliding along a track, it requires no room for door swing, saving space in compact areas.
2. Customizable: Select from multiple stains and paint colors, even mix different finishes for a unique touch.
3. Added benefits: Not just aesthetically pleasing, it provides easy seamless access to utility areas.
4. Installment: While track hardware may be visible, it becomes a part of the decor, enhancing the rustic appeal.
5. Versatility: Works exceptionally well for both vintage or more modern aesthetic, blending effortlessly with the home's decor.
Distressed Shiplap Access Panel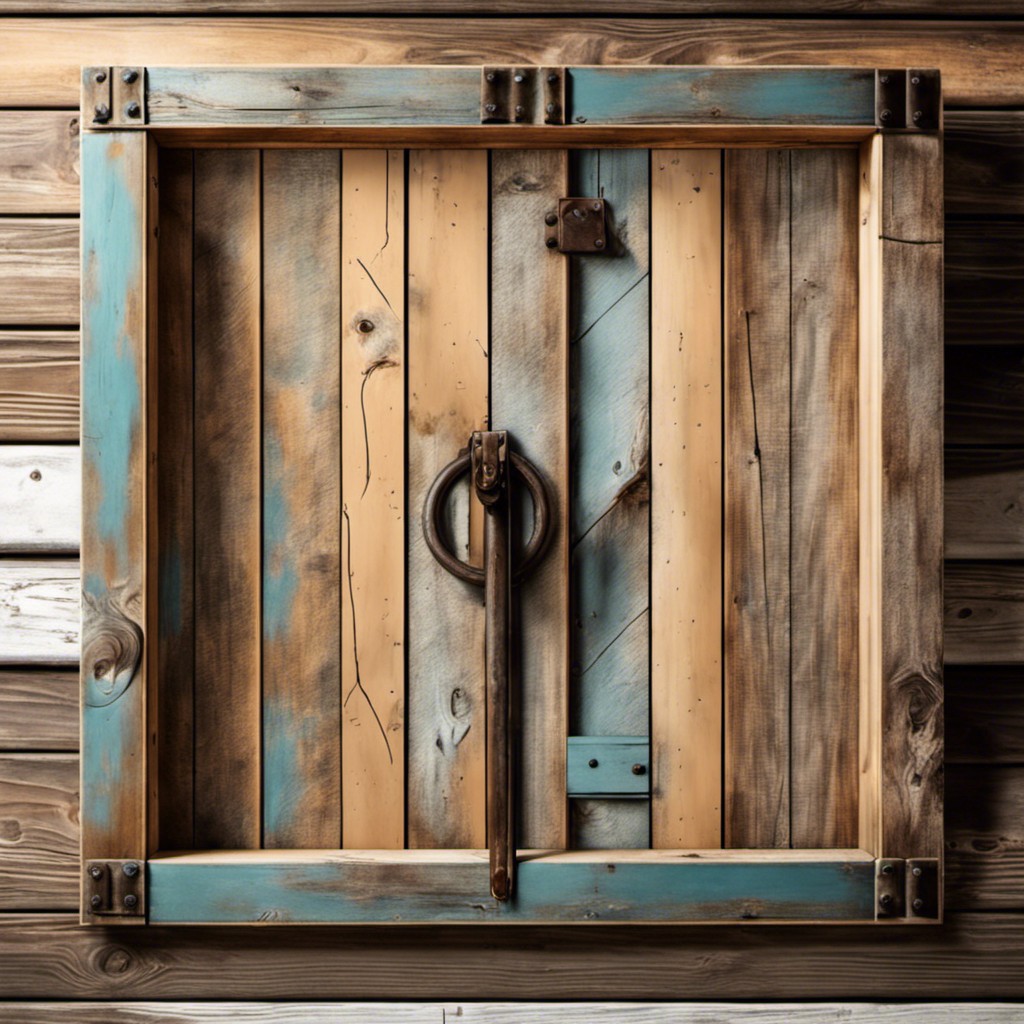 Creating a distressed finish brings an added layer of warmth and character to the homely shiplap access panel. This technique of artful surface damage and wear gives off an airy, worn-in charm reminding us of a cozy, rustic countryside house.
1. To achieve this, a lighter paint color is first applied as a base. Once dried, a layer of wax is typically brushed on, particularly focusing on the edges and corners.
2. A second darker color is then painted over the first. This top layer is sanded down strategically, revealing the undertones and creating an antiquated look.
3. For extra depth and texture, various tools can be used for making marks, such as hammers, nails, or wire brushes.
4. It's imperative to finish with a sealing coat of clear, flat varnish to preserve the distressed look long-term.
5. Highlighting its versatility, the panel can be adapted to blend in with a range of decor styles, from rustic farmhouse to shabby chic.
6. Despite its weathered appearance, this panel won't compromise on durability – it's equally robust as it is visually striking.
By incorporating these into your access panel design, you invite a piece of history and personality into your well-loved spaces.
Espresso Stain Shiplap Door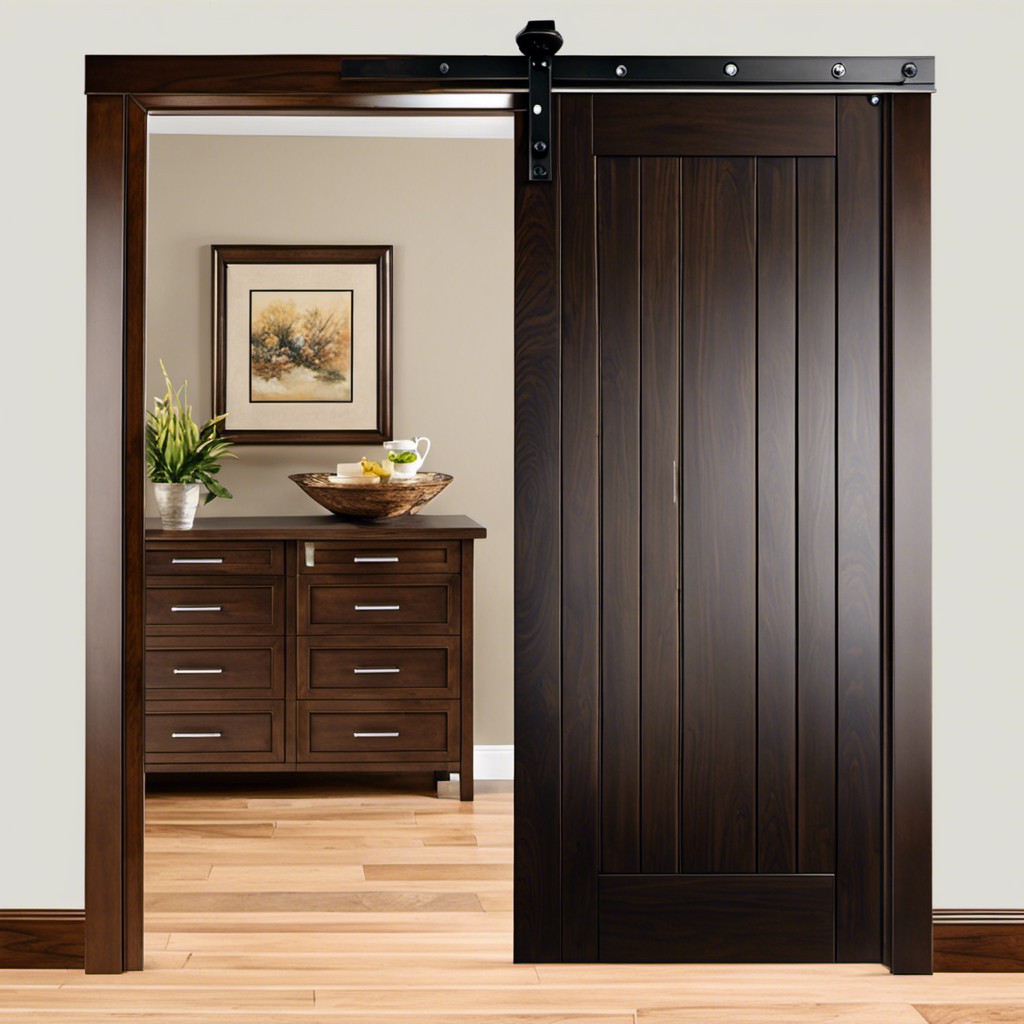 An espresso stain essentially imparts a rich, dark color reminiscent of coffee. This color choice could significantly enhance the ambiance of any room, introducing a note of elegance and sophistication. Try this approach for an access panel in a room with lighter shades to create contrast and make a statement.
Do pay careful attention to the stain application process. Multiple coats may be needed to achieve the desired shade depth. Remember to allow each coat ample time to dry before applying the next. Consider a sealant application after achieving the optimal color for added protection.
Pair this panel with gold or bronze hardware to accentuate its luxurious frame, resulting in a thoughtful blend of modern and traditional design elements.
Panel Matching Wall's Paint Color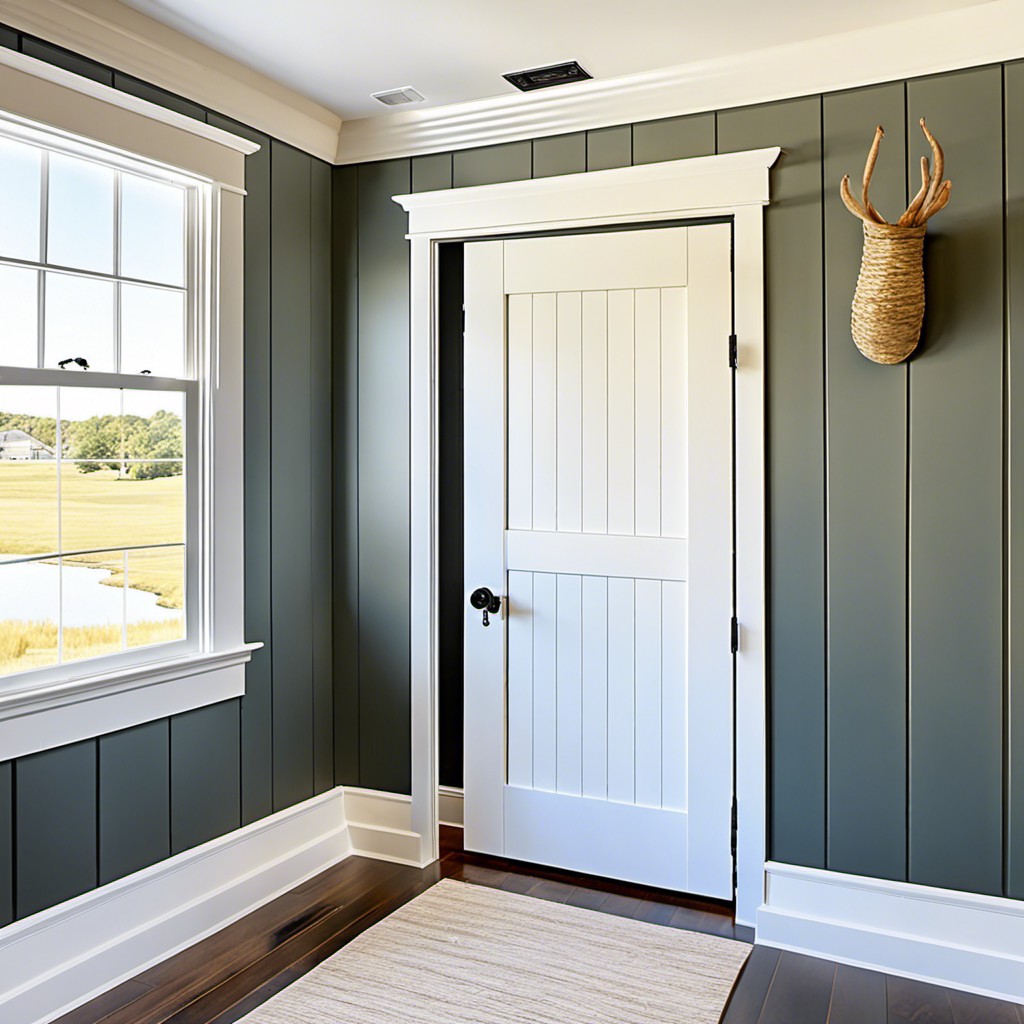 Breathing life into this option demands keen attention to details. A perfect match requires that the selected paint for the panel mirrors the existing wall color. Regardless of the paint finish – matte, eggshell, satin, semi-gloss, or gloss, consistency is paramount.
Firstly, ensure to keep a record of the original paint used on the wall. If it's unavailable, use a paint chip for reference at your local paint store. They can provide an exact match.
Secondly, meticulously apply the paint to the shiplap panel. Be generous with the number of coats you apply. A single application might result in an uneven or streaky finish. Typically, two to three coats yield the best outcome.
Finally, consider the applied texture. If your wall has any texture, attempt to replicate this on the panel. It'll enhance the camouflage effect, making the concealed access point less detectable. Bear in mind, the aim is a seamless transition from the wall to the panel.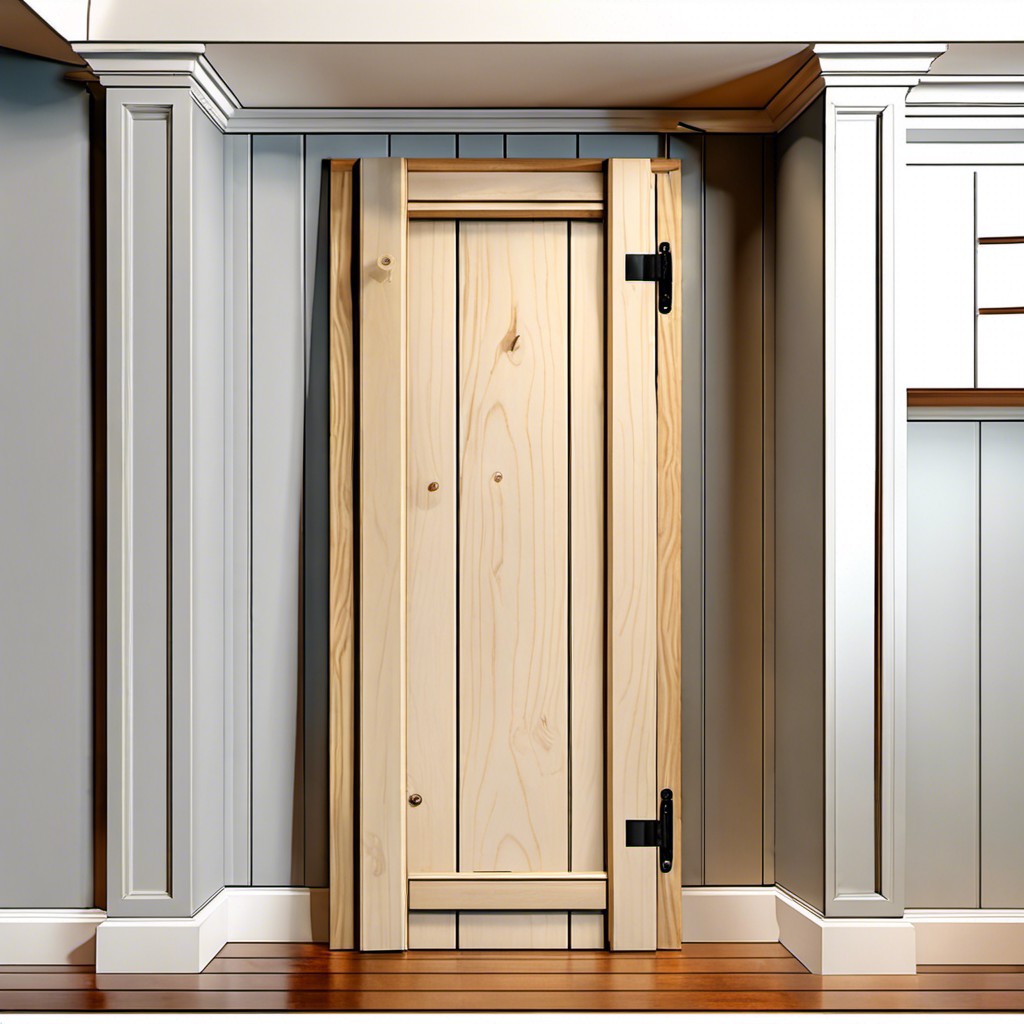 Implementing hidden hinges into your shiplap access panel brings clean lines and an unobstructed view, allowing the beauty of your shiplap to shine. These hinges are concealed within the panel and wall, not visible when the door is closed.
Consider these points:
Seamless Design: Hidden hinges create a smooth, flawless appearance, perfect for a modern aesthetic.
Practicality: Despite being unseen, their functionality isn't compromised. They offer full accessibility to the concealed area.
Variety: Available in different models, catering to various weights and door dimensions.
Installation: The fitting procedure requires precision and expertise, for which hiring a professional might be necessary.
Maintenance: Periodic adjustment of tension and oiling may be required to ensure smooth movement.
Choose hidden hinges for an uncluttered, sleek access panel design that doesn't skimp on functionality.
Shiplap Door With Iron Latch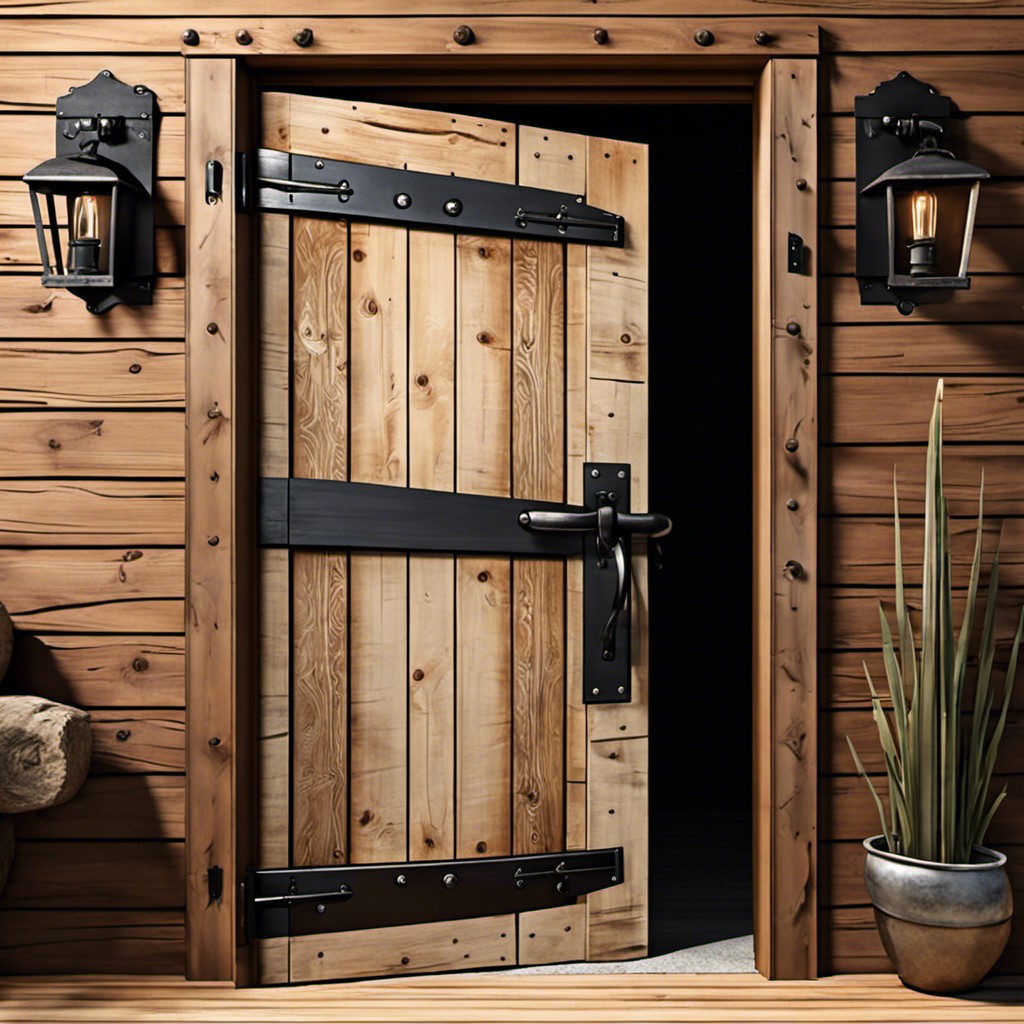 Opting for an iron latch presents a mix of practicality and stylistic flair. Providing a sturdy, reliable method of opening and closing, the rustic charm inherent in iron latches enhances the overall appeal.
These latches come in a range of designs – from sleek and modern to vintage and elaborate – offering something for everyone, regardless of their design preference. Pairing an iron latch with a beautifully finished shiplap door can result in an ageless combination – a nod to the past but perfectly suited for present day living. This touch elevates the functionality of a standard access panel into a design feature to be admired.
Consider, for instance, a simple shiplap panel contrasted by an ornate iron latch or vice versa. The contrast brings a touch of intrigue to the setup. Additionally, ironwork latches are durable, easy to handle, and require low maintenance, making them an ideal choice for rotational use on an access panel. An iron latch not only improves the accessibility of the shiplap door, but also adds an authentic rustic touch to your interior decor.
Remember: Always hire a professional or experienced do-it-yourselfer for installation to ensure the durability and longevity of the access panel and latch assembly.
Stacked Shiplap Access Panel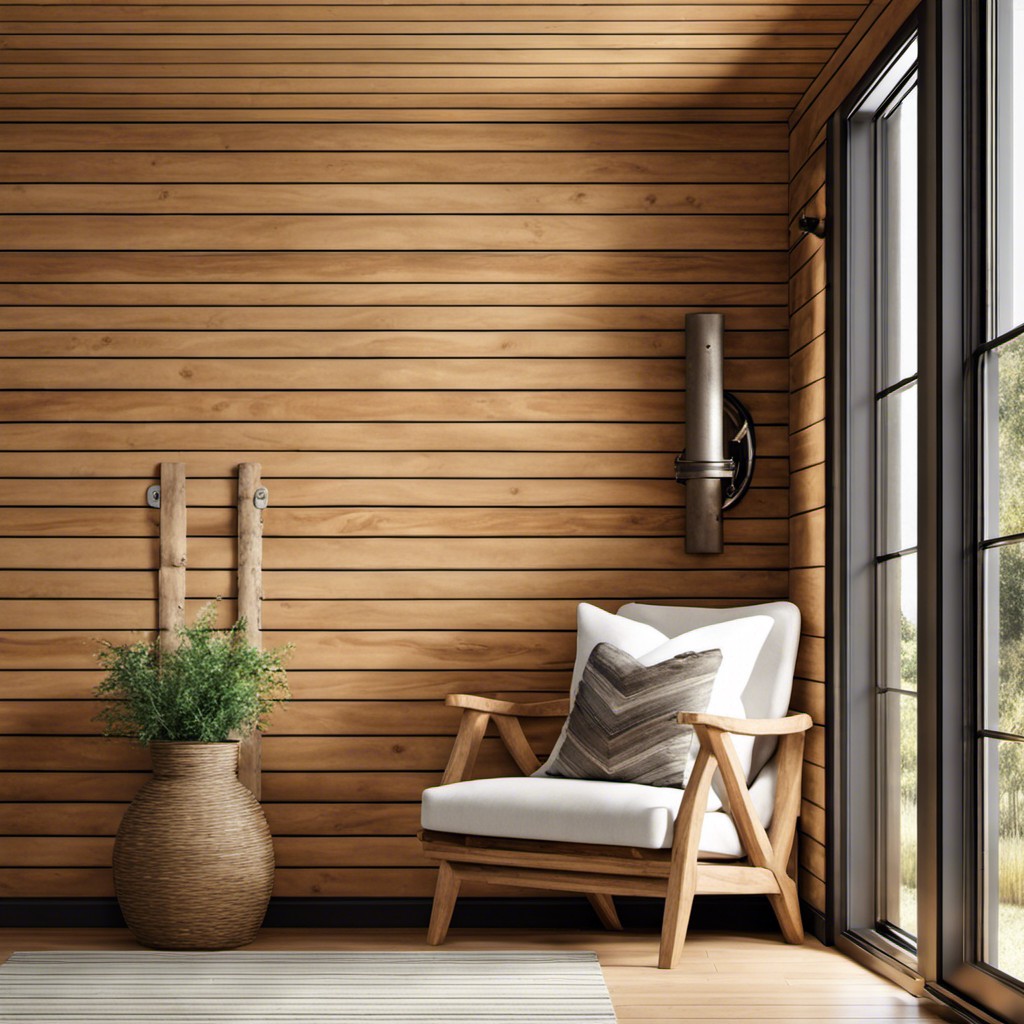 Opting for stacking shiplap can add a unique visual texture to your access panel. The technique gives a delineation in the design and can make a striking impression. It involves installing each plank so its lower edge overlaps the upper edge of the plank below, a bit like laying bricks. This method provides an added sense of depth and detail to the panel, enhancing its overall charm and character.
Here are some key takeaways for a stacked approach:
Choose the Right Grain: Since every piece will be exposed, selecting shiplap with distinctive grain can enhance the visual appeal.
Consider Width Variety: Using different plank widths can make the design more dynamic, ranging from wide boards to super slim strips for balance.
Add Stain: An application of stain can bring out the natural beauty of the wood grain to emphasize the stacked design.
Align Carefully: Precise alignment during installation is a must to achieve a cohesive and professional look.
Panel With Wall Trim Details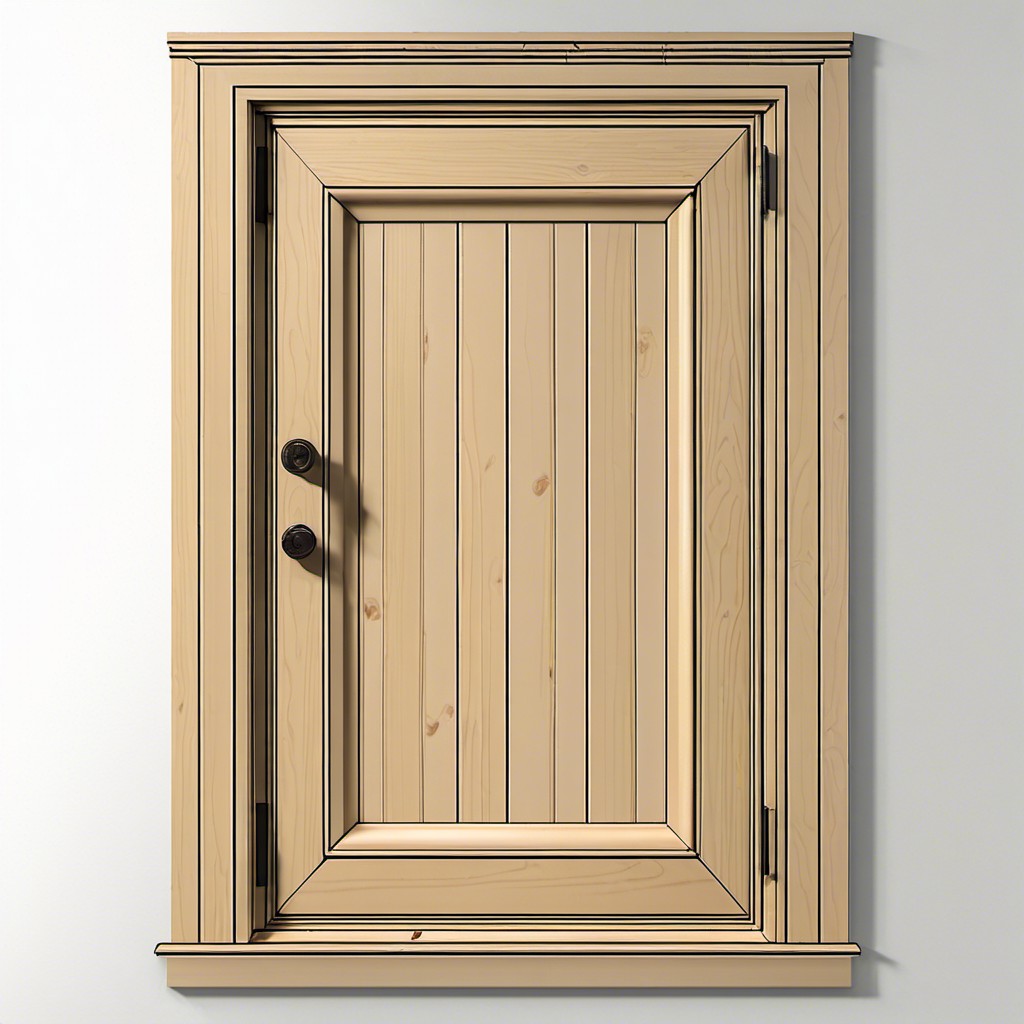 Trim detailing can add a layer of elegance and depth, setting your shiplap access panel apart. With styles ranging from simple to ornate, it's an opportunity to showcase personal aesthetics. Consider these points for captivating designs:
1. Baseboards: Employing this trim at the bottom of the panel can add a substantial grounding element, blending the fixture with the walls.
2. Crown Molding: A crown is not just for ceilings. Applied at the top, it can elevate the overall look, adding a touch of sophistication.
3. Corner Blocks: These can soften the right angles of an access panel, prompting an eye-catching divergence from the shiplap's typical linear emphasis.
4. Panel Molding: This decorates the panel surface in relief, producing visual interest and introducing a chance to incorporate delicate design motifs.
5. Picture Frame Molding: Mimicking the appearance of a picture frame around or inside the panel, this provides a classic, refined result.
Selection of style, size, and color of trims ought to align with your overarching room theme, striking coherence and balance. The idea is to permit detail without entering the territory of distraction.
Plantation-style Shutter Door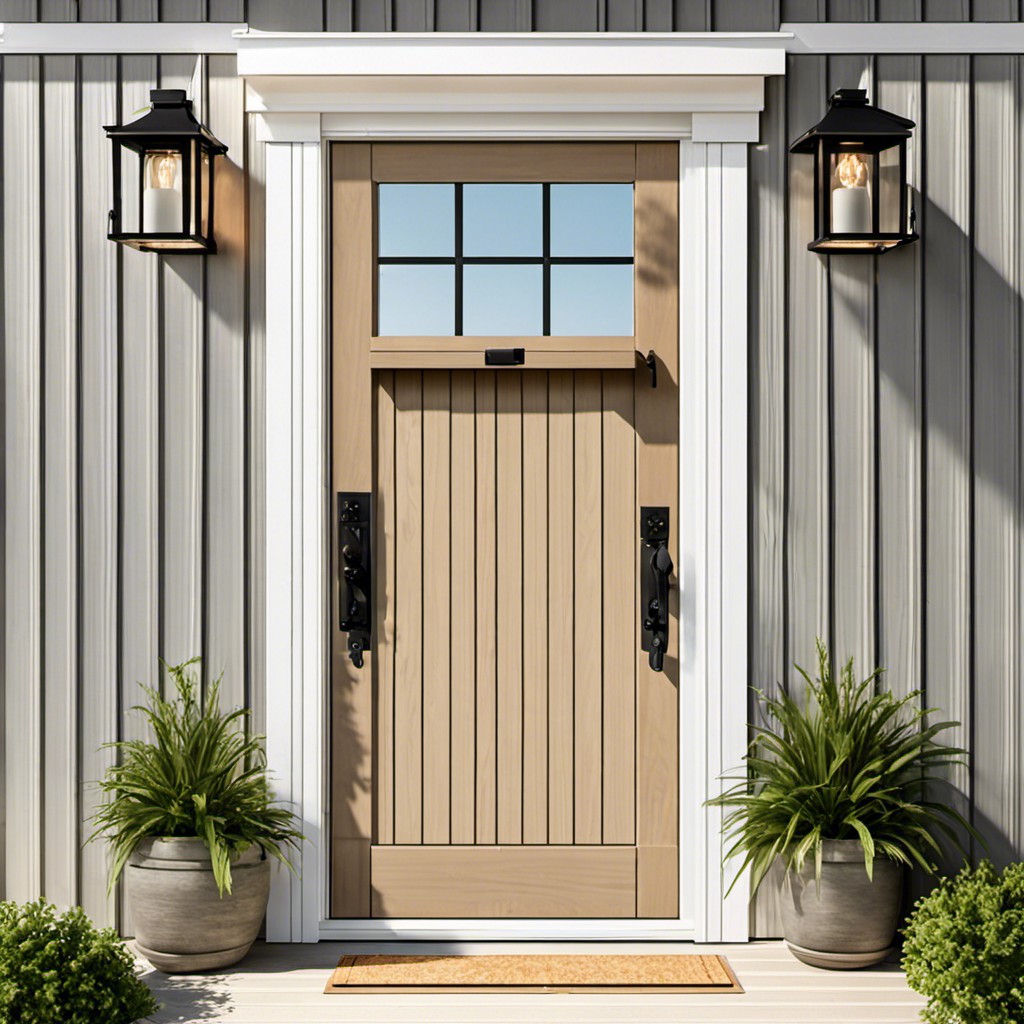 Adopting a plantation-style shutter door can infuse a touch of southern charm into the overall decor. This option is characterized by wide louvres or slats that can be opened or closed to control light flow and air circulation, adding functionality to the aesthetic appeal. Quality wood, precision in detailing, and an elegant design give this style its timeless appeal.
Some key considerations when implementing a plantation-style shutter door as your access panel:
Ensure it blends with the overall decor, as it is traditionally more formal.
Choose the right louvres size for aesthetic proportions. Larger slats often coincide with a more contemporary look.
Opt for high-grade wood to withstand regular use, and finish with a complimentary stain or paint.
If required, consider outfitting the door with mechanisms to fully utilize the louvres functionality.
With a plantation-style shutter door, you can embody the warmth of the deep south while adding a distinct, functional feature to your space.
You may also like to read: