Last updated on November 9, 2023
Knowing the weight of a pull-out couch becomes essential because it affects the layout plans, mobility decisions, and overall design of your living space.
The weight of a pull-out couch can vary significantly depending on its size, the materials used in its construction, and the type of pull-out mechanism it employs.
On average, a typical pull-out couch can weigh anywhere between 150 to 200 pounds.
However, larger models with more robust frames and mattresses can weigh upwards of 250 pounds.
This article will delve into the factors that contribute to the weight of a pull-out couch, offering a comprehensive guide to help you understand what to expect when considering the logistics of moving or installing one in your home.
Key takeaways:
Pull-out couches can weigh between 150 to 200 pounds on average.
Larger models and queen-size options can weigh upwards of 250 pounds.
Futon-style models can weigh between 100 to 150 pounds.
Inflatable pull-out couches can weigh as little as 20 pounds.
Sectional sofas are typically heavier than pull-out couches.
Table of Contents
Pull Out Couch Measurements and Sizes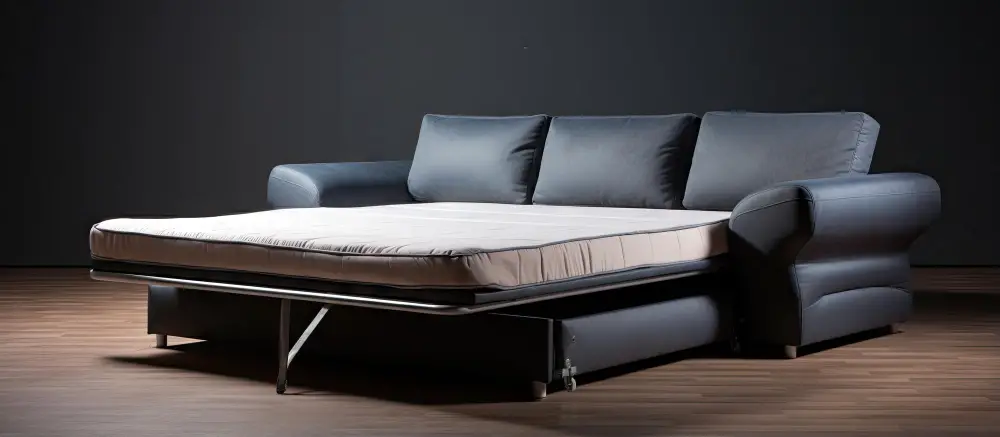 Pull out couches, also known as sleeper sofas, typically have the same dimensions as their regular counterparts when folded. The most common sizes include:
Loveseat Sleeper: Ideal for small apartments or bedrooms, measuring around 52 inches wide, which unfolds into a twin or a double bed.
Full Sleeper: Gives more sitting space at around 72 inches wide and extends into a double or a queen bed.
Queen Sleeper: Offers maximum seating space and stretches to a full queen-sized bed, measuring about 84 inches or more when folded.
When pulled out, they can extend in length from 86 inches to 92 inches. The mattress width usually varies between 60 and 72 inches, and lengths from 72 to 84 inches depending on the design. Remember to account for additional space for walking and other furniture, as a pull out couch in bed-form takes up more room in your living area.
Types of Pull Out Couches and Corresponding Weights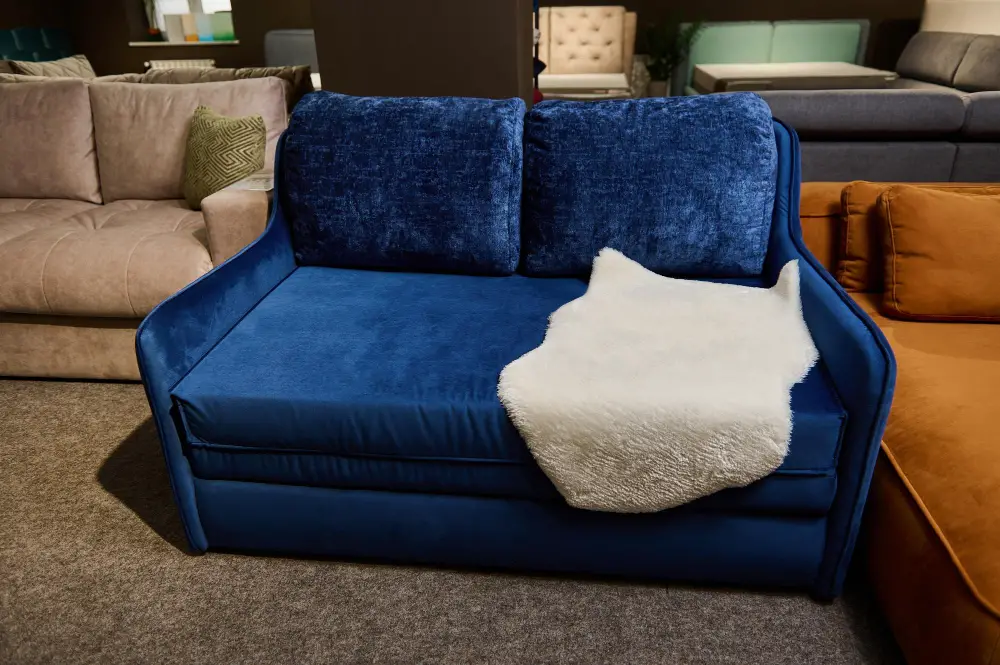 A variety of design and construction elements cause the weight of pull out couches to differ. To begin, the traditional, standard size sleeper sofa typically weighs between 200 to 300 pounds, depending on the specific model specification and materials used.
Then we move onto the ultra-compact light and easy-to-move futon style models, generally weighing in from 100 up to 150 pounds.
The comfortable loveseat models, a preferred choice for many, tend to fall in the range of 150 to 220 pounds.
Meanwhile, the more spacious queen size models that provide ample sleeping space may weigh upward of 250 pounds, sometimes reaching as heavy as 350 pounds.
For those particularly concerned about ease of movement and astonishingly light weight, you might prefer an inflatable pull out couch, which weighs hardly 20 pounds!
Always remember to double-check product details for precise weight information specific to the model you are considering.
Weight Factors in Pull Out Couches: Frame Materials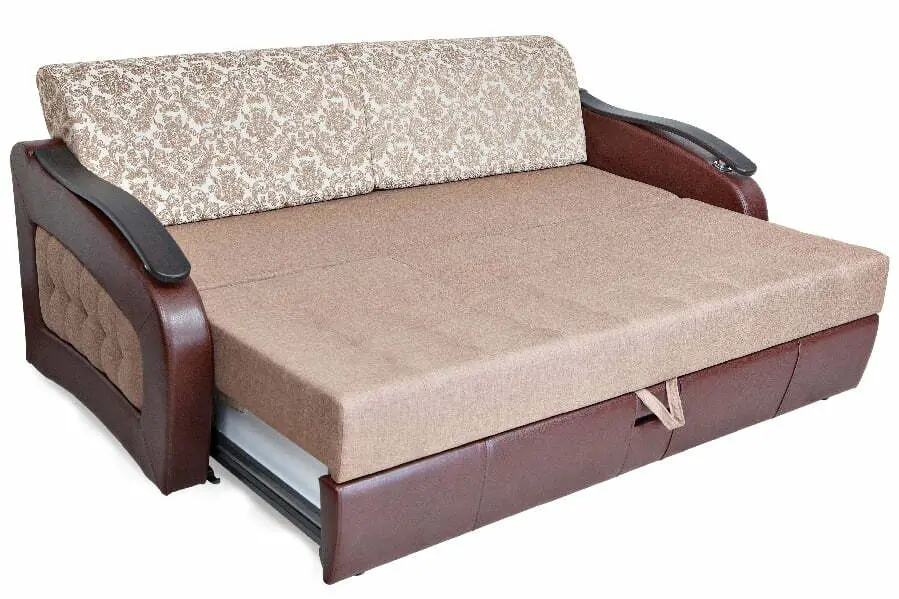 Common options for frame materials include hardwood, metal, and engineered wood, which significantly affect the overall weight of pull out couches.
Hardwood frames, like mahogany and walnut, are durable but notably heavier.
Metal frames, although generally lighter, add substantial heft, considering their strength and durability.
Lastly, engineered wood frames are on the lighter side too, but might not offer the same longevity as hardwood or metal.
Depending on choice and necessity, each material has its pros and cons that relate to weight. Always consider this aspect to anticipate manageability and ease of transport.
Weight Factors in Pull Out Couches: Mattress Types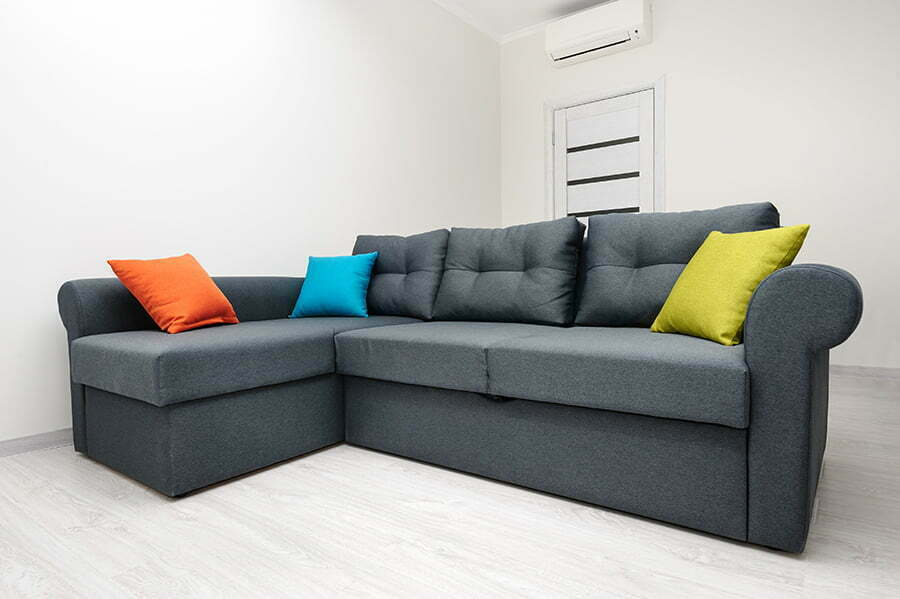 Foam mattresses take the lead when it comes to being lightweight, making them a popular option for small spaces. They typically weigh between 20 to 50 pounds.
Next in line are innerspring mattresses, offering a fine combination of comfort and durability, weighing between 70 to 100 pounds.
The heaviest are memory foam and latex mattresses, both providing excellent support and contouring, although they weigh a whopping 75 to 125 pounds.
A vital factor to remember is that the thickness and dimensions of these mattresses also influence their weight. It's essential to consider the pros and cons of each type in relation to your specific needs and space before making a decision.
Cot Size Sleeper Sofas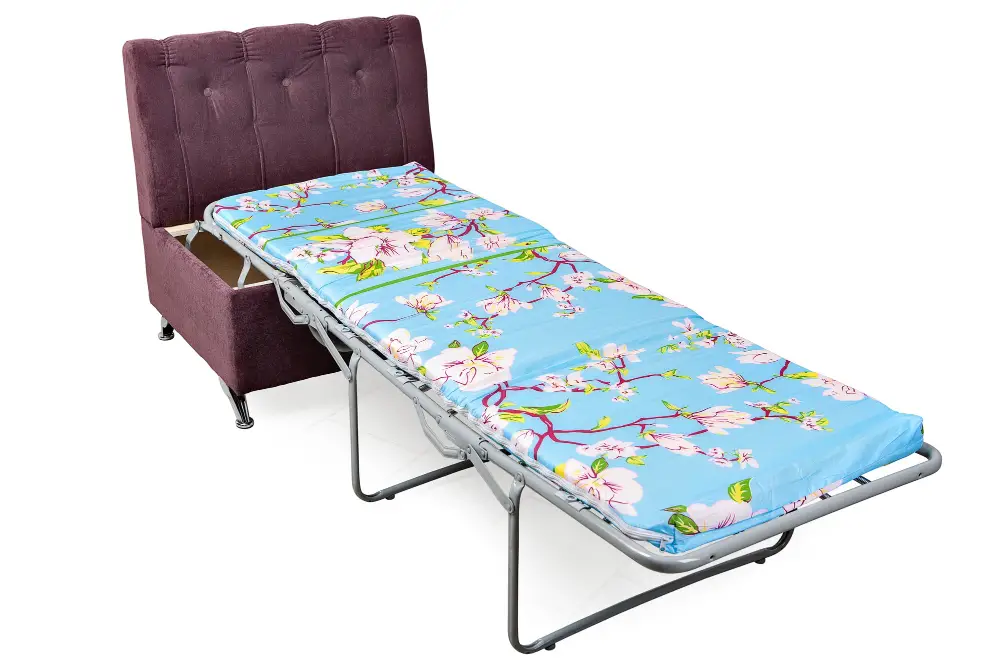 Cot size sleeper sofas are a compact choice for small spaces or single occupancy.
On average, their weight varies between 60-80 pounds due to their scaled-down dimensions.
Camouflaging your bed as a luxurious lounge chair, these sofas are usually paired with memory foam or innerspring mattresses, each adding varying amounts to the overall weight.
The frames constructed from wood are lighter, adding approximately 50 pounds to the total weight, while metal frames are heavier, tipping the scale at approximately 70 pounds or more.
Despite being the lightest type of sofa bed, moving them can still be challenging, especially without the proper approach and equipment.
Always remember safety first!
Sectional Sofas Versus Pull Out Couches Weights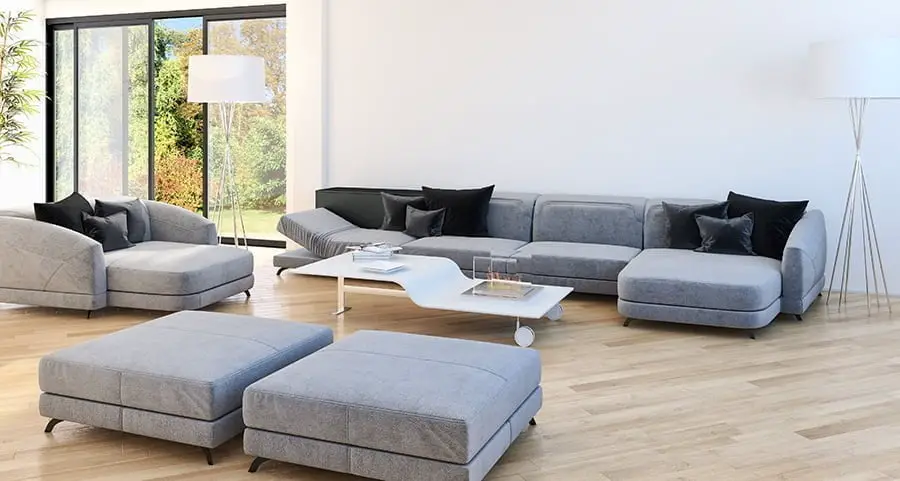 Now that we've identified various pull-out couches, let's compare them with sectional sofas. Remember, sectional sofas primarily differ in that they're composed of individual pieces that connect together, as opposed to a single-piece pull-out couch.
It's essential to know that sectional sofas often weigh more than pull-out couches due to their multiple components. Each section contributes to the total weight, with an average piece typically weighing between 100 and 150 pounds. They also offer a more substantial seating area which makes their weight higher.
Oppositely, a pull-out couch has one primary construction – the couch with an integrated bed. Because of its design, it's typically lighter, with many models weighing between 100 and 350 pounds. The exact weight, however, depends on the frame material and mattress type.
Although the difference in weight may not seem significant, even a few extra pounds can impact your ability to move and handle these items. Both sectional sofas and pull-out couches bring unique perks to your home. So, when making a choice between the two, consider the practical implications of their weights along with their aesthetic appeal and functionality.
Weight Comparison Between Different Types of Pull Out Couches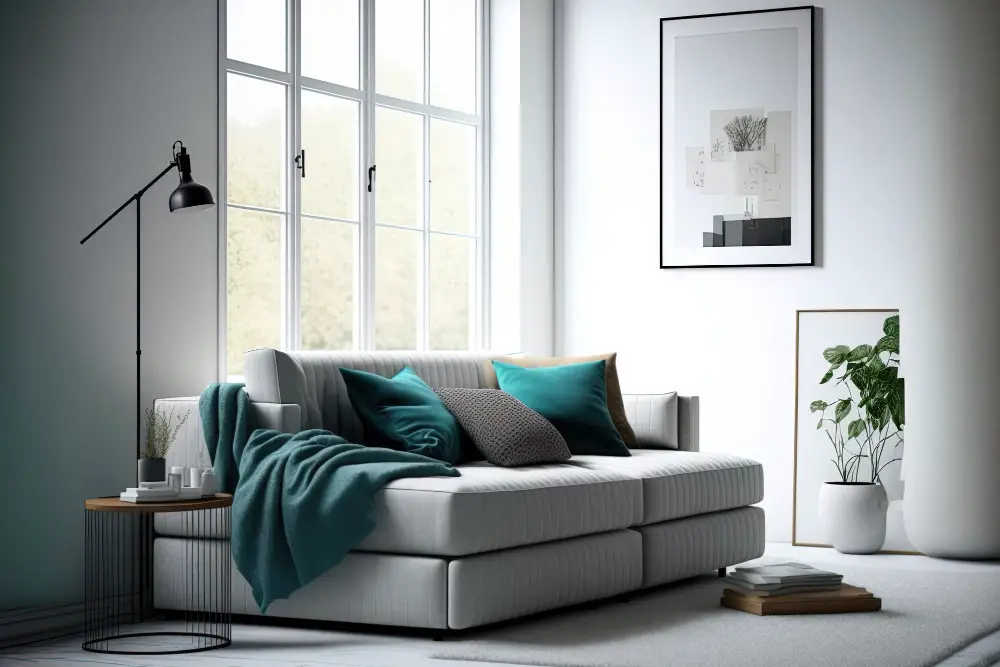 Delving into specific models, the twin sleeper sofa, a compact choice, weighs between 150-200 pounds. A full-sized sleeper, designed to accommodate two people comfortably, generally hovers at about 200-250 pounds. Roomier options like queen and king-sized sleepers tend to surpass the 250-pound mark, often weighing between 250-350 pounds and above. The nuances in weight do not merely stem from size; various factors including design complexity, frame material, and mattress quality also play key roles. Remember, the key to making the right choice lies in aligning the sofa's weight with the owner's needs and limitations. Heavy may imply sturdiness, but it also signifies difficulty in moving or rearranging.
Should I Disassemble My Sofa Bed Before I Move It?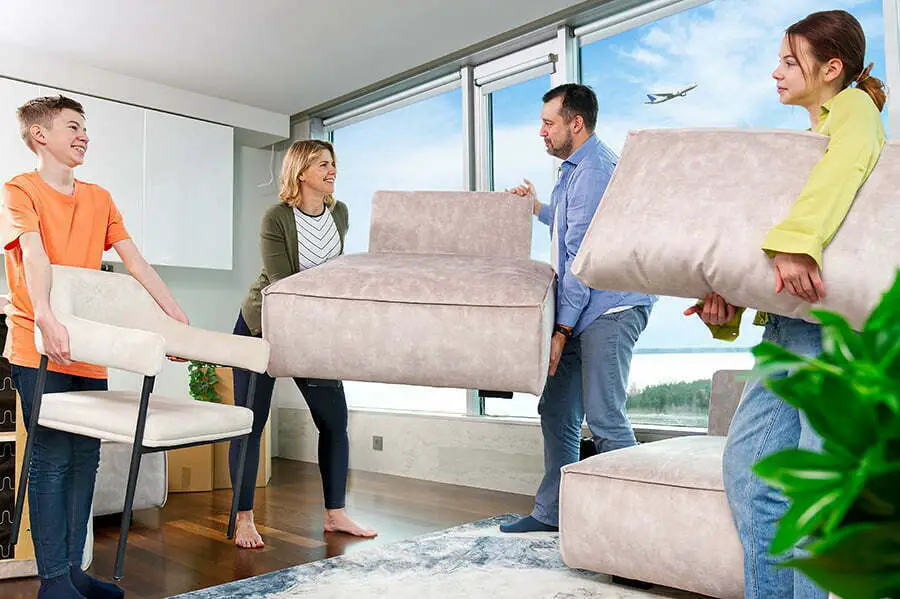 Carefully considering the weight and size of your sofa bed, it could prove beneficial to disassemble it before moving. Removal of the mattress is the first recommended step, as this significantly reduces the overall weight. Moreover, it aids in avoiding potential damage to the mattress during the moving process.
For certain models, you may also have the ability to detach the pullout mechanism or separate sections of the couch. Check the owner's manual or consult the manufacturer's website for specific instructions for your model.
However, remember to exercise caution during disassembly and reassembly. Keep track of all hardware and take careful note of how pieces fit together. Consider labeling or photographing the setup to make reassembly smoother. This effort could save both time and unnecessary stress when it comes to settling into your new space.
It's noteworthy that professional movers have experience in handling such furniture and can provide both disassembly and reassembly services. Depending on your comfort level and manpower, it might be worth considering their expertise for a stress-free move.
Challenges of Moving a Heavy Pull Out Couch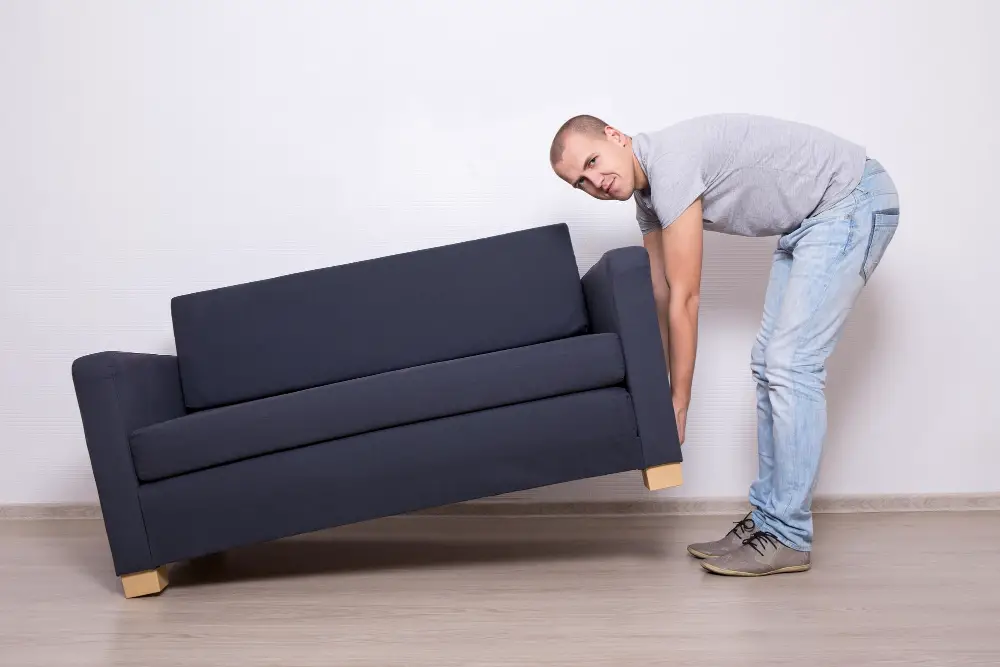 Relocating a hefty piece of furniture such as a pull-out couch can present some unique difficulties. The first among these is the inherent risk of injury. Even with proper lifting techniques, the sheer weight of the couch can cause strain leading to potential harm.
Secondly, navigating through narrow doorways or staircases while maneuvering such a bulky item can be a logistical nightmare. Also, there's the worry of potential damage. With its multifaceted construction, including moving parts like the pull-out mechanism, the couch is prone to more damage than regular furniture.
Lastly, transportation can also be a concern. The heavy couch might exceed load limitations of some vehicles and require specialized moving equipment or professional movers, which could be an additional cost.
Tips for Safely Lifting and Moving a Pull Out Couch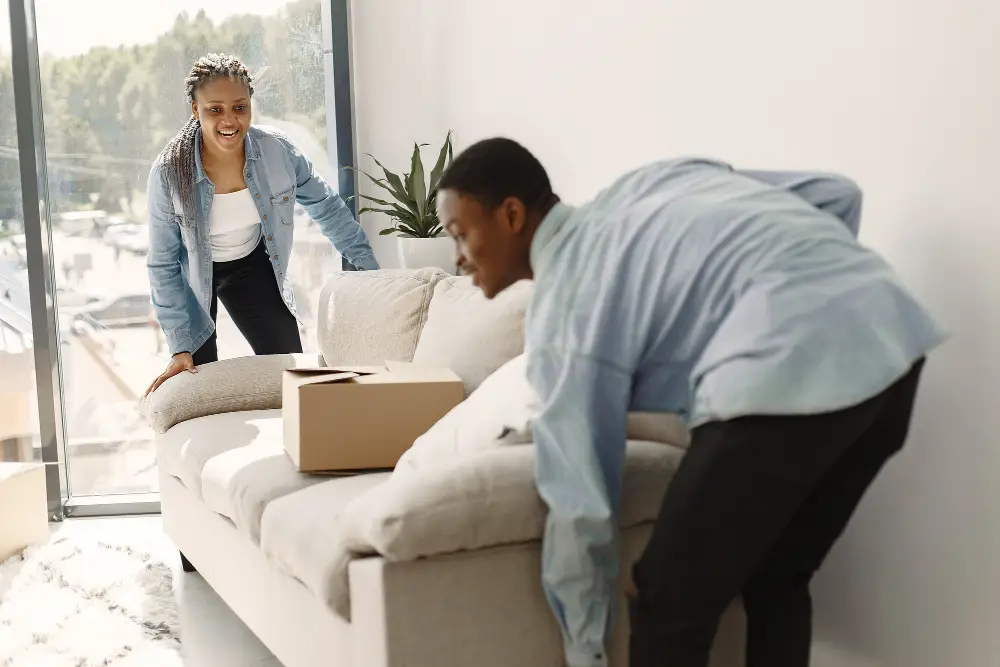 Ensure the couch is in its most compact form. If it includes a pull-out bed, push that back inside. Remove cushions, pillowcases, and anything else detachable.
Enlist help. It's crucial not to attempt moving a substantial piece of furniture like this solo. Gather a minimum of two people. One person could handle each end of the couch.
Lift properly. Bend at the knees, not the waist, to forestall possible injury. Keep your back straight and level as you lift, using your legs to bear the bulk of the weight.
Plan your route. Prior to moving the couch, free any obstacles from your path. Make sure your destination area is clean and ready to receive the couch.
Use moving tools. A furniture dolly can bear the brunt of the weight and streamline the moving process. Alternatively, furniture slides can also ease movement over short distances.
Wrap the couch. Use furniture covers or moving blankets to protect your pull-out couch from damage during the move. This prevents scratches or tears to the upholstery.
When maneuvering through doors or tight spaces, go slow. Navigate angles with care, and be prepared to adjust your grip or direction as necessary. Remember to communicate effectively with your helpers throughout the move.
FAQ
How do you move a heavy pull out couch?
To move a heavy pull-out couch, engage a helper to assist in tipping the couch vertically onto one end, slide it onto a flat furniture dolly or a hand truck, secure it with tie-down straps, and wheel it to the intended destination.
How heavy is your average couch?
The average weight of a couch is approximately 300 pounds, with larger four-seater options reaching around 350 pounds.
How do you secure a sleeper sofa for moving?
To secure a sleeper sofa for moving, tightly tie movers tape around both the front flat kick-board and the top of the spring bed mechanism, ensuring to double or triple knot for added security.
What types of material can impact the weight of a pull out couch?
The weight of a pull-out couch can be significantly impacted by the type of materials used in its construction, particularly the frame (often constructed from wood or metal), the mattress (which may be foam or innerspring), and the upholstery (which can vary from lightweight fabric to heavier leather or suede).
Is a professional moving service necessary for relocating a pull out couch safely?
While not absolutely necessary, a professional moving service is highly advisable to ensure the safe and hassle-free relocation of bulky furniture like a pull-out couch.
Could the weight of a pull out couch affect its durability and lifespan?
Yes, a pull-out couch's weight can impact its durability and lifespan, as heavier models often indicate more robust construction and use of long-lasting materials.
You may also like to read: