Last updated on July 8, 2023
To carry a heavy couch, lift with your legs and not your back. Get a good grip on the couch and use teamwork if possible. Take breaks if needed and use proper lifting techniques to avoid injury.
Moving can be a daunting task, especially when you're dealing with bulky furniture. I remember when my friends and I decided to move into a new apartment.
We were excited about the change, but as soon as we started packing our belongings, reality hit us hard. We had underestimated the weight of our furniture and were left clueless about how to move them.
The biggest challenge was moving our couch. It was a comfortable three-seater with us for years, but it weighed an absolute ton! None of us wanted to leave it behind or spend money on hiring professional movers.
So, we decided to take matters into our own hands and figure out how to carry this heavy couch ourselves.
Through trial and error, we developed some tips that made moving this heavy piece of furniture more straightforward than we thought. In this article, I will share those tips with you so that you don't have to go through the same struggle we did!
Key takeaways:
Lift with your legs, not your back
Use teamwork and assign roles
Invest in a good quality furniture dolly or hand truck
Pivot the couch to fit through doorways
Prioritize safety and communicate effectively
Table of Contents
The Couch Chronicles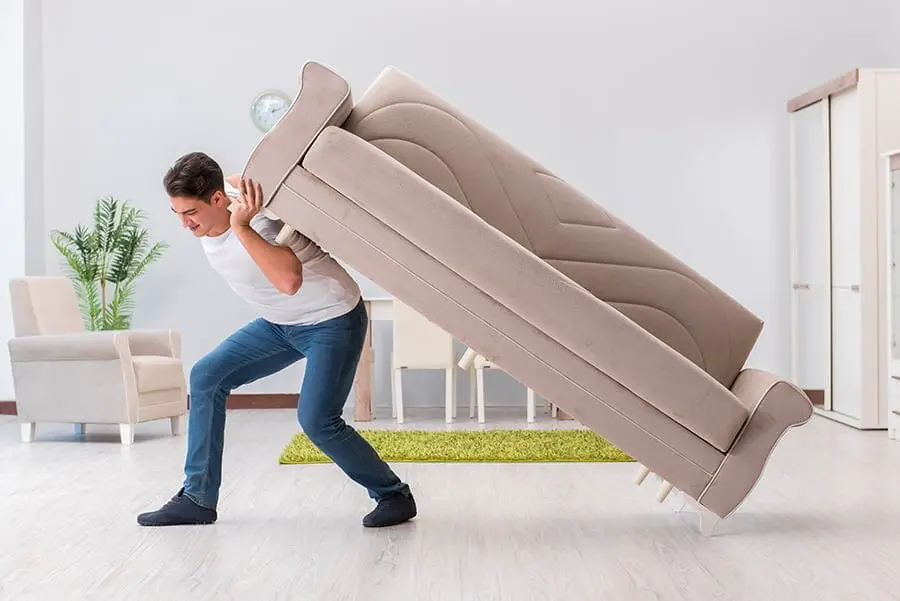 We named our couch "The Beast" because it was so heavy and difficult to move. The Couch chronicles began when we realized that we had no experience moving furniture, let alone a three-seater couch.
We tried pushing, pulling, and even attempting to lift it together, but nothing seemed to work. We were about ready to give up when one of my friends suggested using a dolly.
It was an excellent idea! However, we didn't have one and couldn't afford the time or money required to rent one. So instead of giving up altogether, we decided to improvise with what we had available at home – old blankets! We wrapped them around the bottom edges of The Beast as padding before lifting each end onto our shoulders like weightlifters preparing for competition.
It wasn't easy carrying such a heavy load on our shoulders, but with teamwork and determination, we managed to get The Beast out the door without causing any damage or injury! From this experience came valuable lessons that I'm excited about sharing with you today: How do you carry a heavy couch?
Teamwork Makes the Dream Work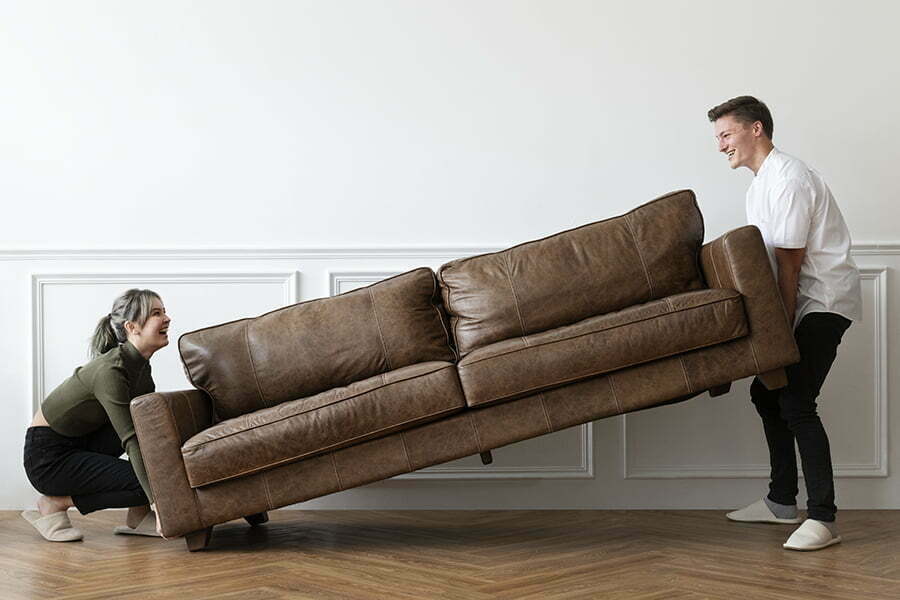 As we stood in front of the couch, scratching our heads and wondering how to move it, one thing became clear – teamwork was going to be essential. We knew that we couldn't do this alone and needed each other's help.
We started by assigning roles. Two people were responsible for lifting the couch from either end while two others supported it from underneath.
The person at the back had to guide everyone else through tight spaces or corners.
It wasn't easy at first, but things started moving smoothly as soon as we got into a rhythm. We communicated with each other constantly and made sure that no one was straining themselves too much.
Teamwork not only made carrying the heavy couch easier but also brought us closer together as friends. It felt like an accomplishment when we finally managed to get it onto our truck without any damage or injuries!
So if you're planning on moving a heavy piece of furniture like a couch anytime soon, remember that teamwork makes all the difference! Don't hesitate to ask your friends or family members for help because sometimes all you need is an extra pair of hands (or four!)
Tools of the Trade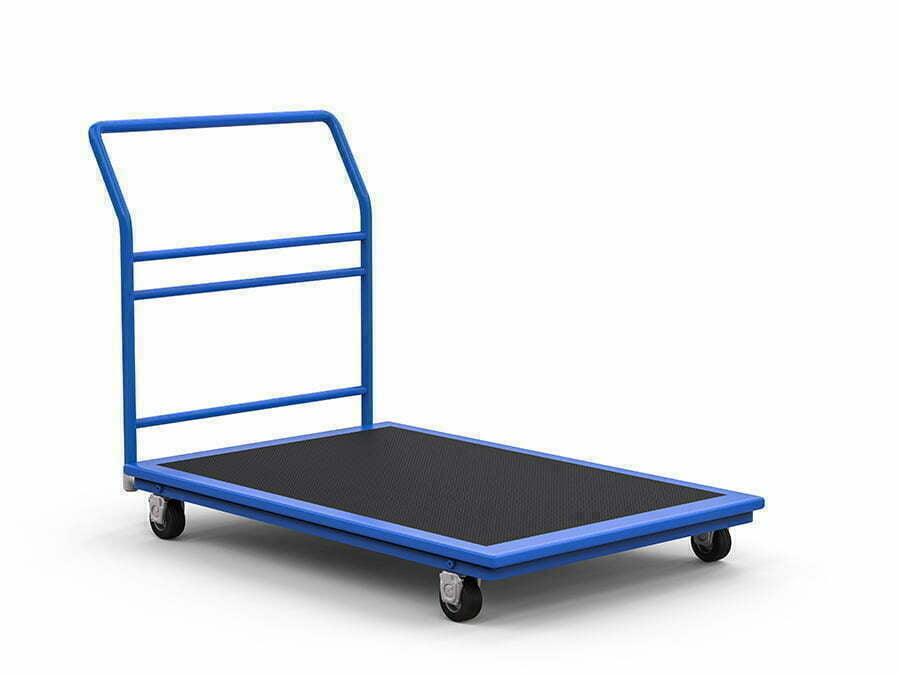 Before we dive into the tips on how to carry a heavy couch, let's talk about the tools you'll need. Trust me; these will make your life much easier.
Firstly, invest in a good quality furniture dolly or hand truck. This tool has wheels and can support heavy weights, making it perfect for moving bulky items like couches.
You can rent one from your local hardware store if you don't want to buy one.
Secondly, get some furniture sliders or gliders that go under each leg of the couch. These will help reduce friction between the floor and sofa legs when moving it around.
Lastly, grab some sturdy straps or ropes that are long enough to wrap around your couch securely without damaging it.
Now back to my story – armed with our trusty dolly and sliders; we were ready for action! We slid each slider under every leg of our beloved three-seater sofa before carefully tilting it onto its side so that we could slide the dolly underneath.
Pivot and Persevere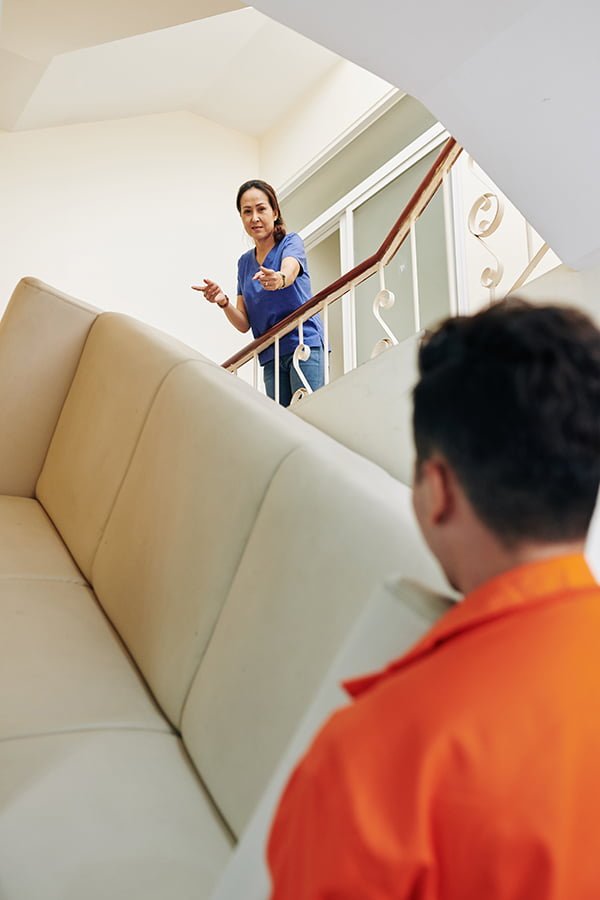 One of the most important things we learned while moving our heavy couch was to pivot and persevere. When we first tried to lift it, we quickly realized it was too heavy to carry straight out the door.
We were stuck in a narrow hallway with no room to maneuver.
That's when one of my friends suggested pivoting the couch on its side to fit through the doorway. It seemed like a crazy idea at first, but we managed to get it done after some trial and error! We lifted one end of the couch while keeping the other on its legs and then rotated it 90 degrees until both ends faced us.
Once in this position, carrying became much easier as there was more space for us all around. However, even with this new technique in place – perseverance is key! The weight still made our arms ache within minutes; however, taking turns lifting each corner or using straps under each leg helped distribute weight evenly among everyone involved.
Pivoting your furniture can be an excellent way to save time and prevent damage during transportation, especially if you're dealing with bulky items such as sofas or beds, which are difficult enough without adding extra obstacles into play!
Safety First, Couch Second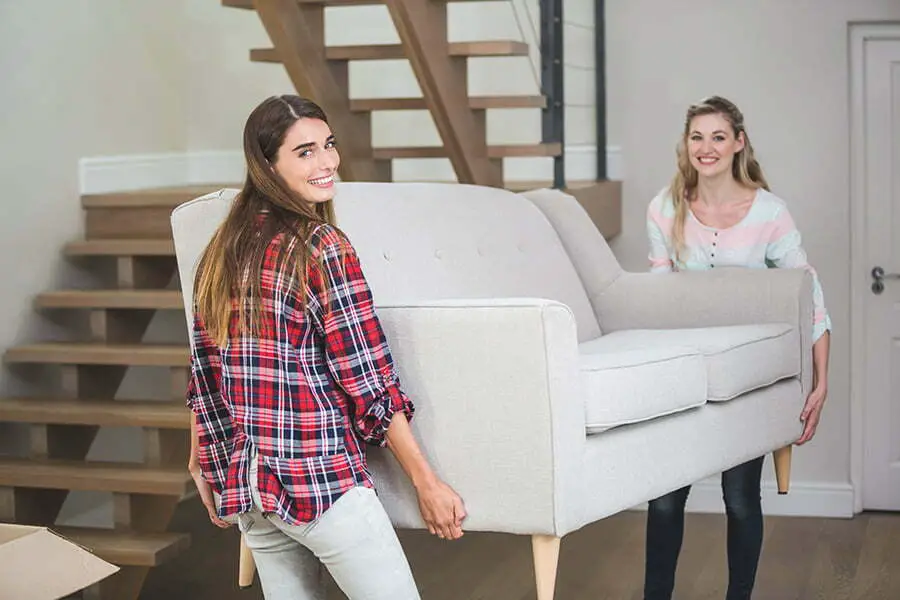 Before we dive into the nitty-gritty of moving a heavy couch, let's talk about safety. It's essential to prioritize your well-being and those around you when moving furniture.
In our case, we were four friends trying to move a three-seater couch down two flights of stairs – not an easy feat! We knew that if anything went wrong, it could result in serious injuries.
So before lifting or carrying, ensure you have assessed the situation and taken necessary precautions. Clear out any obstacles on your path and ensure there is enough space for everyone involved in the process.
We also made sure to wear appropriate clothing – comfortable shoes with good grip and clothes that allowed us free movement without getting caught on anything. And most importantly, we communicated effectively throughout the entire process so that everyone was aware of what was happening at all times.
Remember: safety first; couch second!
You may also like to read: